What We Know About Martina Navratilova's Marriage To Julia Lemigova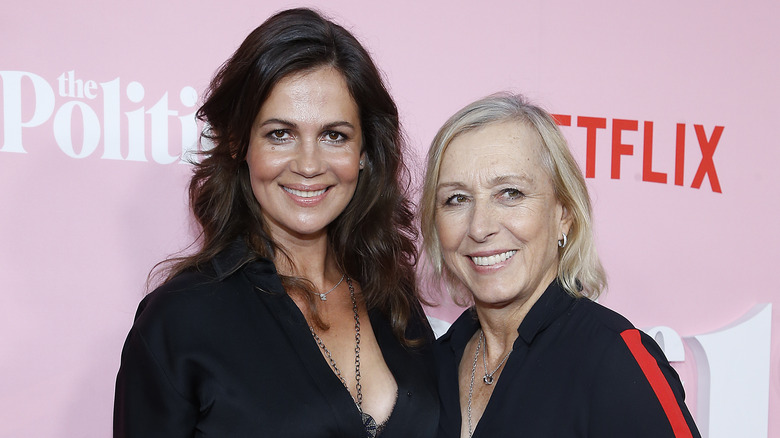 John Lamparski/Getty Images
From a fleeting moment to a forever family
Julia Lemigova recalled the first moment she met Martina Navratilova on an episode of "RHOM." The pair had a brief introduction in a bar in 2000, but ultimately, they parted ways until 2008 when Lemigova and Navratilova ran into each other again at the French Open. Lemigova invited Navratilova to breakfast, and not long after, they moved in together. The twosome fell fast for each other, but they met at different parts of their coming out journeys. 
Navratilova is widely regarded as one of the most openly LGBTQ+ athletes of all time. However, at a time when gay marriage was still illegal in several parts of the world, Lemigova was hesitant to go public with her relationship. Lemigova told The List in our exclusive interview that, while she felt safe in her sexuality in the modeling world, "[The] not safe zone was the rest of the people and the rest of the world." 
During a chat with NBC News, the former beauty queen shared that she got the courage to come out after seeing her daughters, Victoria and Emma, proudly boasting that they had two moms. In 2014, Navratilova proposed to Lemigova at the US Open. The moment was aired on the Arthur Ashe Stadium's jumbotron to an excited crowd. 
Their ups, downs, and in-betweens
The couple married one year afterward in a private ceremony at New York City's Peninsula Hotel (via BBC) and have been enjoying marital life ever since. Martina Navratilova and Julia Lemigova are hugely active on social media, frequently sharing sweet snapshots of their family outings with their two daughters, date nights, and fur babies (including dogs, cats, cows, goats, and more). 
These days, the couple splits their time between city life in Miami and farm life in rural Florida. Lemigova has described trying to find a balance between their two homes on "RHOM," though the model and former beauty pageant winner tends to prefer life on the farm, which she calls her sanctuary. But, naturally, this isn't the only struggle the couple has faced in their time together. 
According to AP News, in January 2023, Navratilova publicly announced that she had been diagnosed with early-stage throat and breast cancer and would begin treatment immediately. By June of that year, Navratilova confirmed she was cancer-free, once again demonstrating her indomitable spirit made even stronger with her wife by her side. And if the power couple's first decade together is any indication, they have plenty more history to make.