Inside Jenna Bush Hager's Lavish Lifestyle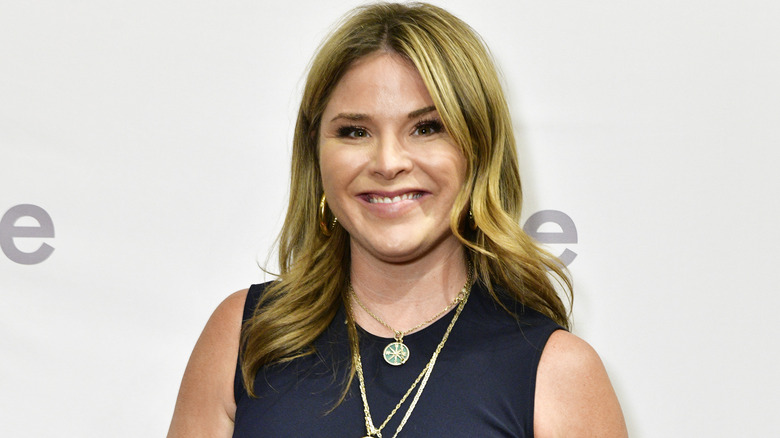 Eugene Gologursky/Getty Images
It shouldn't come as a surprise that Jenna Bush Hager has quite the lavish lifestyle, considering that she was once the first daughter. Hager first gained notoriety because her father is former President George W. Bush, but she initially didn't want her family in the White House. According to The Daily Beast, she once told her dad, "Oh, I just wish you wouldn't run. It's going to change our life." Of course, Hager eventually did come around and even campaigned for him. Bush went on to serve two terms as president, which did change their lives, but seemingly for the better. 
These days, Hager is mostly recognized for hosting the fourth hour of "Today" with Hoda Kotb. The mother of three transitioned into that role in 2019 after serving as a correspondent on the show for a decade. At the time, Hager told People, "It feels organic and it feels right." You could say that the money was right, too, because as a contributor, Hager reportedly made $500,000 a year, and as a host, her salary was said to have increased to $4 million.
Hager is a success even if she feels that her hosting gig isn't as respectable as her twin sister Barbara Pierce Bush's job running a health care nonprofit. "I always kind of belittle myself next to my sister, just because she's saving the world and I'm drinking pinot grigio," she told People. Regardless, Hager has afforded herself the good life. Let's go inside her lavish lifestyle.
Jenna Bush Hager grew up in the White House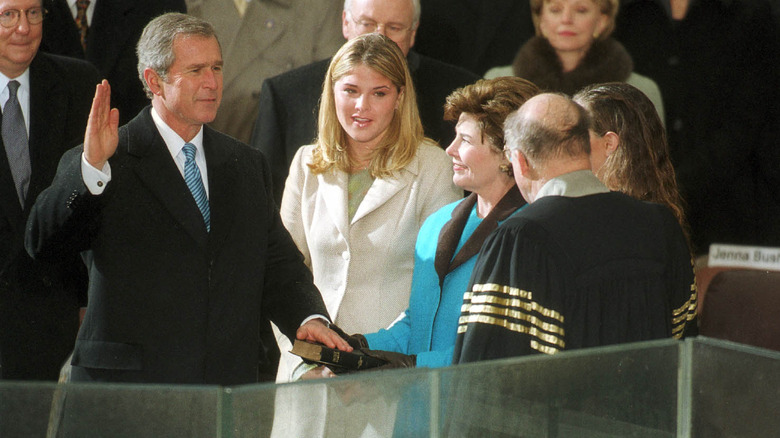 Steve Liss/Getty Images
Jenna Bush Hager was probably living large well before she found success on TV since, as mentioned, she grew up in a very powerful, political family. Not only was Hager's grandfather, George H.W. Bush, the 41st president of the United States, but her father, George W. Bush, later became the 43rd president. Because of that, Hager and her twin sister, Barbara Pierce Bush, practically grew up in the White House. Hager even once told Hello Magazine that one of her favorite memories was crafting bouquets in the White House flower shop when she was 7 years old.
Hager also developed close friendships with the people who worked for her family, including the Secret Service. She said on "Today," "People always said, 'That must've been so hard.' But it wasn't hard. It became life and they became friends." 
She did point out that she never lived in the White House full-time, because she'd been in college at the University of Texas during the majority of her dad's presidency. Hager even feels that she still had a normal childhood for the most part, because she had gone to public school in Texas. However, she's aware of the privilege she had growing up too. She explained to New York Family, "My parents included Barbara and me on trips around the entire world," adding, "[It] opened our eyes to the global world we live in ... and also how we are so lucky."
The former first daughter practically had a royal wedding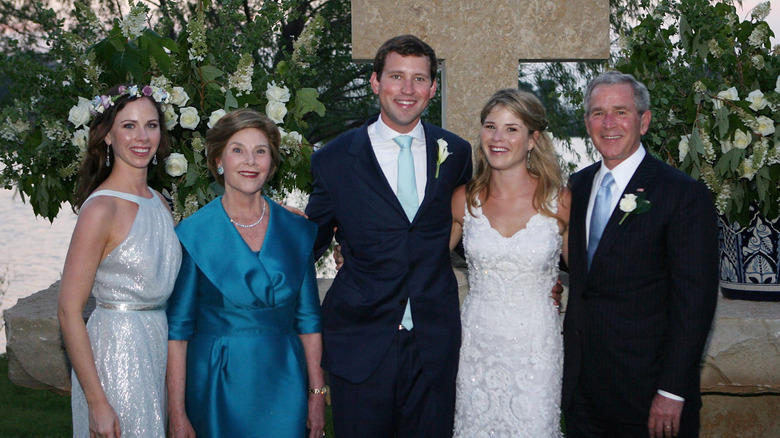 The White House/Getty Images
It's safe to say that Jenna Bush Hager had the U.S. version of a royal wedding when she married Henry Hager in 2008. The two had met four years prior, when campaigning for her father, former President George W. Bush's, reelection. The wedding was just as grand as you'd expect the daughter of a former head of state to have, since it was held on the family's picturesque Prairie Chapel Ranch in Crawford, Texas. While the event was private for just their 200 guests, The New York Times reported that the adjacent town of Salado held a parade for the couple. Crawford shops apparently also displayed giant banners and sold souvenirs.
If that's not lavish enough, Hager's wedding dress was designed by the iconic Oscar de la Renta, and her bridesmaids wore creations by another high-end designer, Lela Rose. Hager then accessorized with Anthony Nak quartz-and-diamond earrings that she designed herself. In terms of flowers, she recruited her favorite florist from the actual White House.
President Bush, however, originally advised his daughter to not have that kind of grandiose wedding. Hager revealed on "Today," "My dad wanted us to elope because it was a pain" (via Southern Living). He did come around, since he built a limestone altar on his property for Hager's ceremony. He also later told People, "The wedding was spectacular. It's all we could have hoped for."
The Today Show co-host has a lucrative career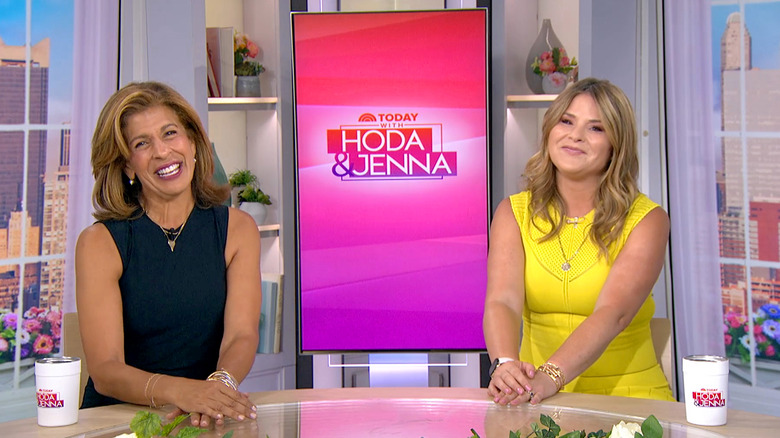 Alliance For Women In Media Foundation/Getty Images
Jenna Bush Hager doesn't just live a lavish lifestyle because she came from a high-powered family, since she has a lucrative career of her own. Most notably, she's a co-host of the fourth hour of the "Today" show. Hager took over the position from Kathie Lee Gifford in 2019, after serving as a correspondent since 2009. Before that, Hager had been working as a teacher in Baltimore, when an NBC boss suggested she contribute to the show. She recalled on "Today," "I was walking home from school ... one of our old bosses called and said, 'Do you want to go to the Olympics?' And I remember thinking, 'Me?'" (via YouTube).
That wasn't Hager's only glamorous job. In 2012, she became editor-at-large for Southern Living magazine. "I'm excited to interview influential Southerners, explore iconic places, and show how the next generation of women entertain," she said (via USA Today). Hager has a penchant for writing, because she also authored several bestselling books like "Ana's Story." She even has a very influential book club that led to a movie production deal with Universal.
If that's not enough, Hager brings in cash from paid endorsements on social media due to partnerships with brands like Boll & Branch. She's definitely staying busy, as is her husband. Yet, she told People, "Since Henry and I both have big jobs, I'm hoping that our kids realize the biggest job and the biggest priority is them."
Jenna Bush Hager reportedly moved into a Connecticut mansion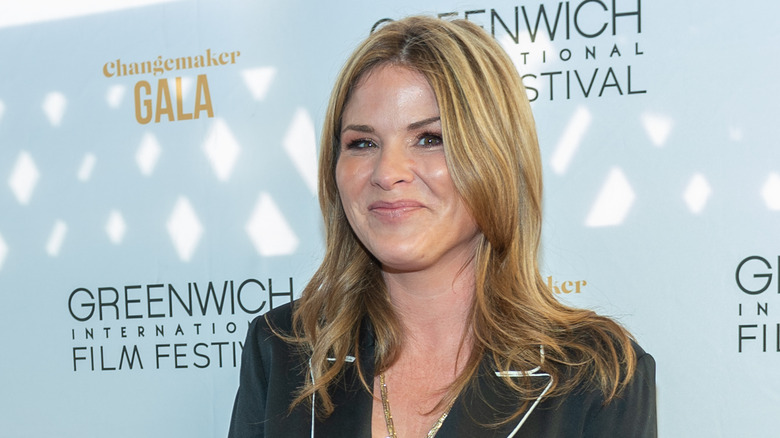 Mark Sagliocco/Getty Images
Jenna Bush Hager is obviously raking in the dough at work, so it makes sense that she'd want to go home to a luxury mansion when she's done. That's reportedly in the ritzy Fairfield County area of Connecticut. While it's a bit farther from NBC Studios than Hager's previous home in Manhattan, a "Today" host like her probably has a car service to escort her there. 
Hello Magazine reports that Hager's move to the suburbs may have been delayed because her Tribeca condo took longer to sell than expected. However, by December 2022, she seemingly confirmed that she and her family had moved into their Connecticut home, by wishing her loved ones happy holidays from their "new stomping ground" on their card. After that, she apparently gave her followers glimpses into that house on Instagram, sharing photos of her dining room, living room, and her son's room. She also showed off her kids hanging out in their new kitchen.
In terms of the outside, Hager may have shared that their yard is lined with cherry blossom trees when posting a pic on Instagram of her daughter with their cat. The mom of three explained to Veranda that it's important for her homes to include an outdoor space for her kids to play: "It's how Henry and I grew up, and it's what we want for our children."
The author has lived in other luxury homes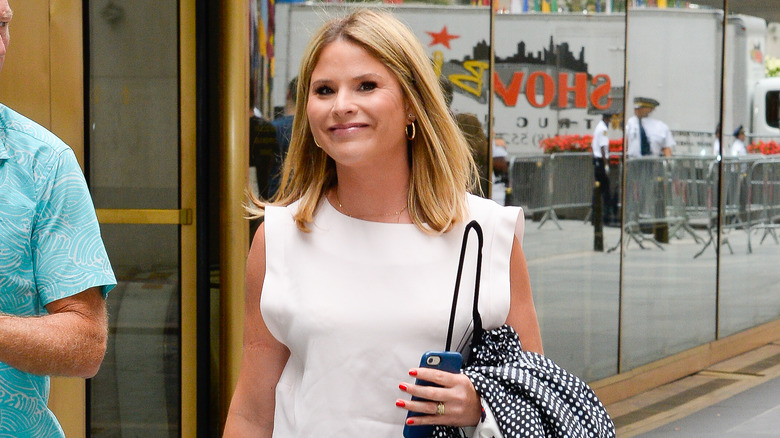 Raymond Hall/Getty Images
Jenna Bush Hager's Connecticut residence isn't her first opulent home, because she did have that high-priced home in New York City. She was the first to move into a brand-new, luxury condo in the chic Tribeca neighborhood of Manhattan back in 2015. The 2,545 square foot apartment not only had several large windows — hello, natural lighting — but also a secret passageway through a bookcase. Hager was able to later put that home on the market for a whopping $5.375 million in 2022, which was an increase from the $4.58 million she paid for it.
Hager also has a four-bedroom cottage in North Shore, Long Island, which seems to serve as a weekend home. According to Veranda, Hager and her family had rented in the area in previous summers, but decided to purchase their own place there after attending an open house for fun. "There was something about it that reminded me of Texas, of being outside. Even this close to the city, there was a remoteness to it," she said. Hagar loves to entertain guests there too, especially because it has a pool and is close to farm stands.
Hager definitely has a dream real estate portfolio these days, but her first home with her husband in Baltimore wasn't too shabby either. It was an 1800s corner house that had a rooftop terrace and actual sea grass carpets. They put that on the market for $474,900 back in 2010.
Jenna Bush Hager goes on a lot of vacations
When Jenna Bush Hager isn't working her glamorous job or hanging out in a lush home, it appears she goes on fabulous vacations. She often shares photos of her travels with her Instagram followers too. For instance, in August 2022, she posted about "Magical Maine," showing her and her family enjoying time on a New England beach and in some gardens. That wasn't the last time she went to the Lighthouse State, considering that Christmas, she went back for holiday-themed festivities. "I basically stepped into a Hallmark Christmas movie," she said on "Today," adding, "The whole town is decorated."
Hager didn't waste any time going on another vacation after that, since in January 2023 she posted photos of her family on what appeared to be a tropical vacation, complete with palm trees. The Hagers were somewhere else tropical that following March too, because she then shared a reel recapping her month, which depicted them on a boat and back on a beach. Before that, in February 2023, Hager took her kids to Universal Studios in Florida.
Nevertheless, Hager doesn't just travel for fun. As a TV host, she often goes on excursions for work. For example, in September 2022, she was in Ayrshire, Scotland, where she shared a meal with King Charles III. She went to Canada after that with her co-host Hoda Kotb, as well as New Orleans, and then Aspen for the Ideas Festival.
The former teacher wears designer clothes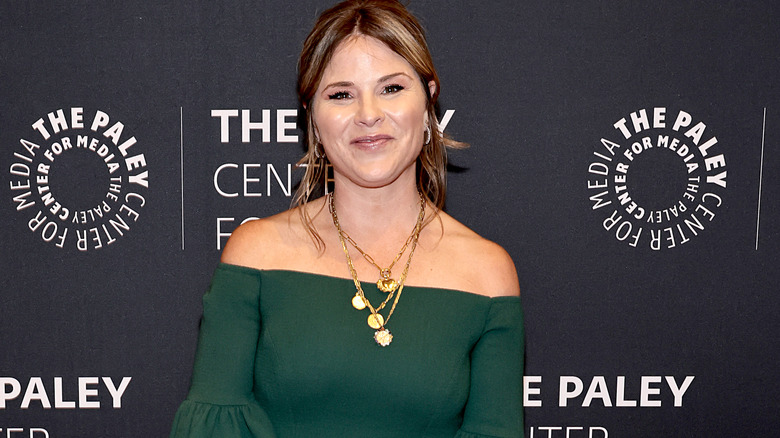 Jamie Mccarthy/Getty Images
It appears that high-end fashions have been part of Jenna Bush Hager's lush lifestyle for a long time. Back in 2013, for example, she was front row at designer Lela Rose's fall fashion show at New York Fashion Week. Her attendance was about more than just the clothes. "I always come to Lela's, and I try to go to Oscar de la Renta's, too," she told CultureMap Houston, "just because I have a personal connection to both of them as friends."
That doesn't mean Hager hasn't been into fashion, though, even if it seemed to escalate particularly after she joined "Today" as co-host. That's because the "Our Great Big Backyard" author often posts videos of the various fabulous outfits she wears on the show on the "Hoda and Jenna" Instagram account. She even asks their followers on Instagram, "Which look was your favorite?" She sometimes polls them too, so they have a say in picking out the outfits.
Hager's fans also often inquire about where she gets most of her looks, like the multicolored Moschino dress she wore in a promo. When it comes to her style, Hager explained to Good Housekeeping, "I think clothes are fun. But I think it's more fun to dress other people. [Hoda Kotb and I] don't have our own stylist, we do our own thing."
Jenna Bush Hager works out with a personal trainer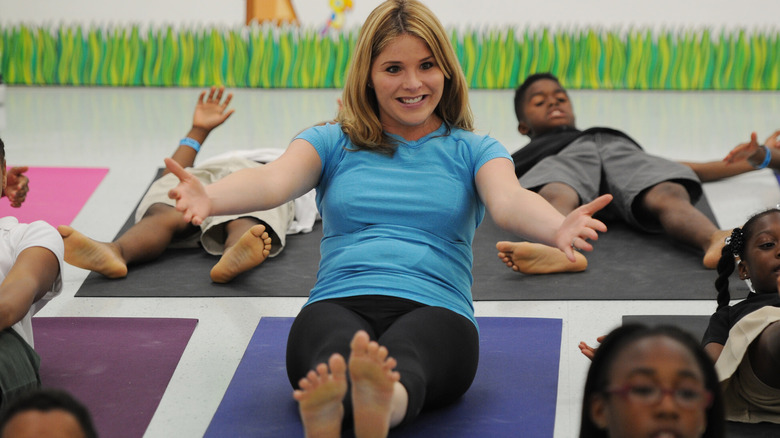 Larry Marano/Getty Images
It seems that staying in shape is just another part of Jenna Bush Hager's luxuriant way of life, because she doesn't have your average fitness routine. She told Women's Health that she gets to work out at the presumably fancy NBC Studios gym, where she has access to a costly Peloton bike. Besides that, she dished, "I'm obsessed with jumping on mini trampolines or doing dance cardio." Hager can, of course, afford her own personal trainer too, who happens to be dance fitness instructor Amanda Bartolomeo. She talked about her on "Today," saying, "I wake up before the show and work out ... with an awesome woman named Amanda" (via Instagram).
Another way Hager stays fit is by eating healthy. It probably helps that she landed a deal with the superfood powder company, Amazing Grass, which means she gets paid to use the product and promote it on Instagram. She explained to People, "I have it with me on the way out of the door so that I put the little scoops into my water bottle and I get two servings of veggies."
The TV star has even got to try out some other high-priced ways of toning her body on "Today." In 2018, NBC paid $7,800 for Hager to get two sessions of CoolSculpting for a segment on the show. That's a cosmetic treatment that reduces the appearance of fat. Hager said her results felt only temporary.
Jenna Bush Hager had big 40th birthday celebrations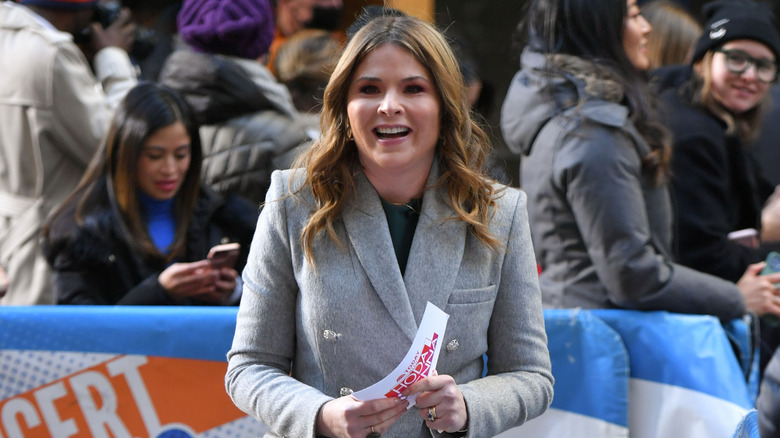 Ndz/star Max/Getty Images
When you make the big bucks, you have big birthday celebrations, which is what Jenna Bush Hager did for her 40th birthday in 2021. Not only did her parents, former President George W. Bush and Laura Bush, record a heartfelt message that was played on "Today," but her husband, Henry Hager, filmed his own segment for her too. He then surprised her again by coming on the show to present her with a bouquet of flowers.
However, the most elaborate part of Hager's birthday festivities was definitely her surprise from legendary musician, Bono. During the filming of an interview, Bono took Hagar to Central Park for a pop-up concert put on by a marching band. Hager was thrilled, saying on "Today," "Bono had evidently found out about my 40th birthday this week. ... One of the world's biggest stars, creating an incredible memory" (via Twitter). She even later tweeted, "This. Made. My. Decade."
With that said, it may be surprising that Hager made headlines a year later for throwing shade at Kim Kardashian for giving her daughter, North West, an exorbitant, camp-themed birthday party. Hager said on "Today," "I have a 9-year-old. She did not have a party like this. Because, y'all, this party was over the top!" Hagar probably does have the means to throw parties like a Kardashian. She seemingly wants to stay down-to-earth and relatable to her fans, as much as someone with her lavish lifestyle can.