The Recurring Bit The Friends Cast Would Do When A Joke Flopped While Filming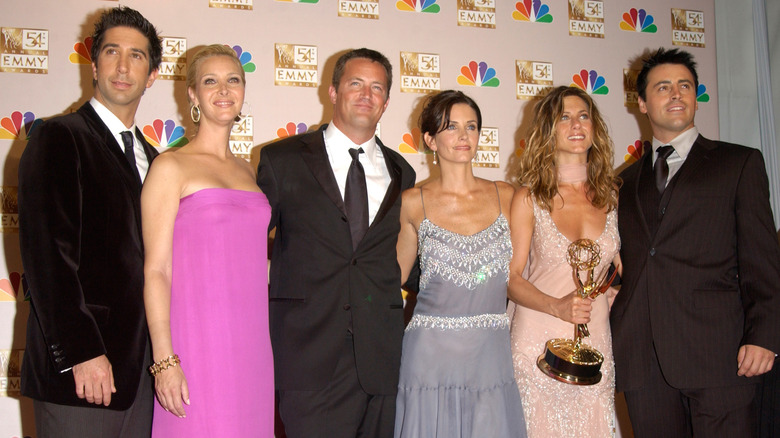 Featureflash Photo Agency/Shutterstock
A few flop jokes here and there are to be expected on a long-running comedy series — after all, comedy can be highly subjective, and they can't all be zingers, right? Nonetheless, if you were on the cast of "Friends," you might've been asked to participate in a (lovingly) teasing ritual if your attempt to make the live audience laugh fell flat. 
Jennifer Aniston, who played Rachel Green, shared memories of her time on the 10-season sitcom during her acceptance speech for the Artist Inspiration Award at the 2019 SAG-AFTRA Foundation's Patron of the Artists Awards. Onstage with co-stars and friends Courteney Cox (Monica Geller) and Lisa Kudrow (Phoebe Buffay), the crowd was transported back to apartment #20 as they strolled down memory lane. 
One such memory was a bit that would've only occurred off-screen, making it all the more special to get to peek into the real-life friendships they created while on set.
Bad joke? Time to turn in your SAG card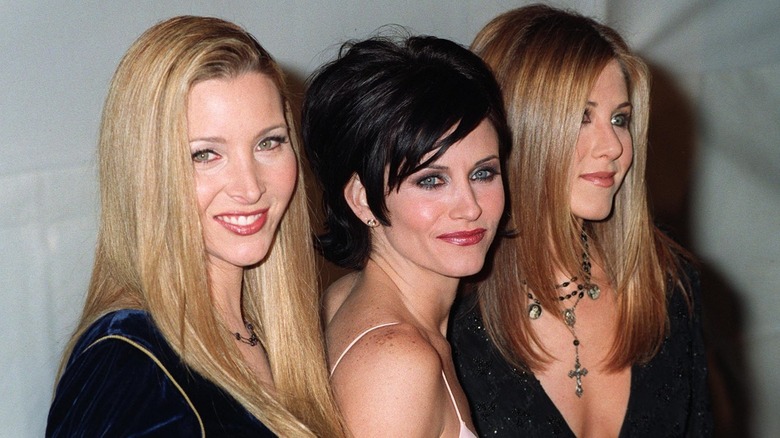 Featureflash Photo Agency/Shutterstock
Aniston remembered the "Friends" set as an egoless space where the six up-and-coming actors could learn from, riff off of, and bond with one another. The cast built their comradery in front of a live audience, adding an element of spontaneity to their performances that led to the development of certain traditions and inside jokes between the actors. 
"We had this thing, this bit we called it," Aniston said (via E! Online). "If any of us tried a joke that failed miserably, we were just sort of sheepishly pull out our [Screen Actor's Guild] card and say, 'Here you go,' or we were demanded by our cast mates to just give it to them. But as long as we made the audience laugh, that's all we really cared about." 
Despite Aniston's complicated feelings about Rachel from "Friends," she went on to say that watching the cast grow, improve, and evolve was what transformed them from colleagues to friends to family — a chemistry that was palpable throughout the over 200 episodes of the cult-favorite sitcom.
The magic of real-life pals playing friends on screen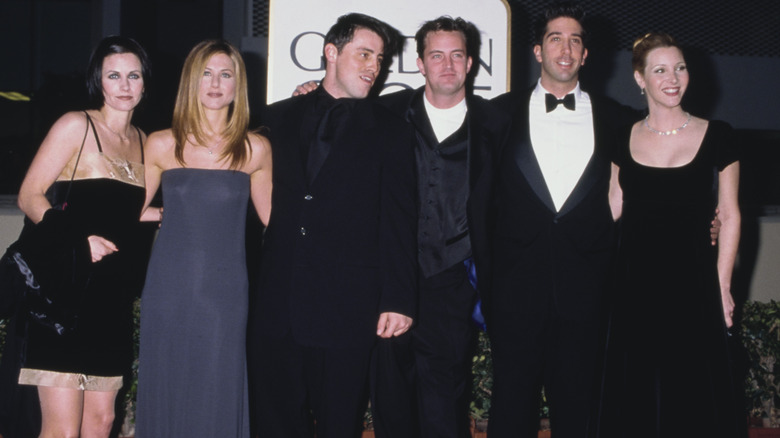 Michael Ochs Archives/Getty Images
Aniston likened the NBC sitcom to lightning in a bottle, a type of once-in-a-career magic that the cast and crew managed to capture for an entire decade. "Friends" was full of timeless hijinks and subtle Easter eggs that made the series all the more remarkable for the cast and audience alike. 
In the end, Aniston summarized her experience on the show as having shown her the importance of "[surrounding] yourself with supportive people who made me better, not only a better actor, but a better person." The show came to a close in May 2004 as over 50 million viewers tuned in to see their beloved group of pals part ways. 
The real reason "Friends" ended was a topic of debate following the series' wrap, but we're just happy that it lasted as long as it did — and that no actor actually had to revoke their SAG card after a bunk joke or two.