Inside Geri Halliwell-Horner's Relationship With The Royal Family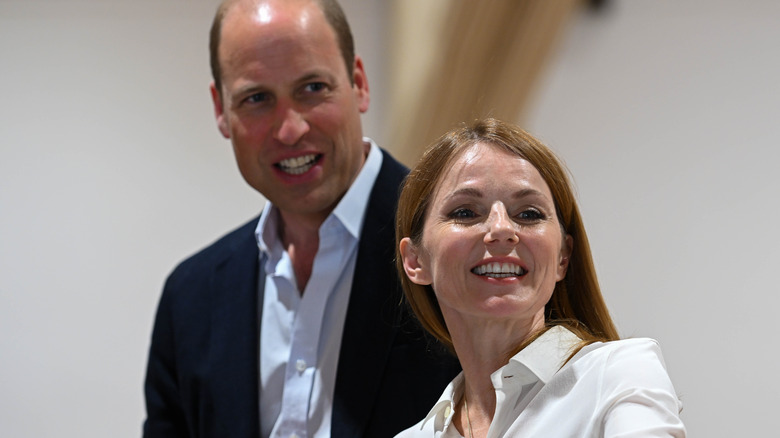 Finnbarr Webster/Getty Images
They are technically celebrities themselves, so it's no surprise that the royal family is pretty well-connected. The likes of Elton John and Oprah Winfrey are friendly with the family, and so are a few other celebs, such as Karlie Kloss, George Clooney, the Obamas, the Beckhams, and Reese Witherspoon, among others. But there's one celeb that the royal family, especially King Charles III, is particularly fond of, and that's former Spice Girl Geri Halliwell-Horner (also known as Ginger Spice).
Halliwell-Horner and the royal family go way back — she was still in her Spice Girl heyday when she first met Charles and Prince Harry, and she left quite an impression on both of them, so much so that one can't quite think of Halliwell-Horner without one's thoughts drifting to the royals. Perhaps it's because she completely ignored royal protocol when she first met Charles, and is also open about how much she loves and respects the monarch. 
She hasn't been shy to tell media outlets that she practically considers Charles family, and she's still often seen at some royal events. Some outlets have gone as far as to dub Halliwell-Horner Royal Spice. We'll admit, it's been fun to watch her relationship with the royals grow over the years, and we're happy to report that she's still as friendly with them (particularly Charles) as ever. Read on for an in-depth look at this Spice Girl's relationship with the royal family.
King Charles III once wrote Geri a letter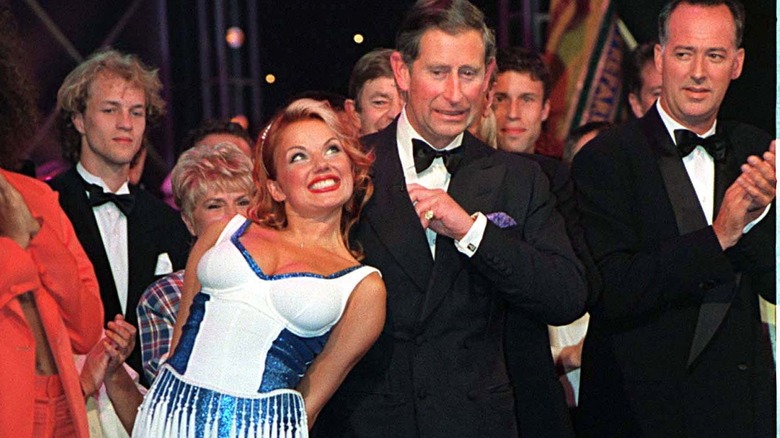 Tim Graham/Getty Images
It might be safe to say that, when Geri Halliwell-Horner announced her departure from the Spice Girls in 1998, no one was more devastated than King Charles III. The monarch even wrote Halliwell-Horner a letter, expressing his regret at her exit. We're pretty sure his letter echoed the thoughts of millions of fans who were equally heartbroken by the news.
"The group will not be the same without you," Charles wrote, according to the Daily Mail, adding, "What will I do without your wonderfully friendly greeting?" The friendly greeting Charles referred to is likely the one that occurred in 1997, when Halliwell-Horner pinched the prince's behind upon meeting him. The Spice Girls were performing at his charity's 21st anniversary, and to say they were excited to meet him is an understatement. Halliwell-Horner and her bandmate Mel B gave the prince a smooch on the cheek, and the latter even asked him on a date. Charles appeared thrilled, despite the beach of royal protocol. Obviously, the butt-pinching moment made history, but Halliwell-Horner later calmed the excitement by making it clear that she did not pinch the then-prince's bum. "I patted it," she insisted. Whatever you say, Ginger Spice.
In his letter, Charles thanked Halliwell-Horner for her support over the years. "Really wanted you to know how deeply I've appreciated your great generosity to my Prince's Trust and how much I wish you well for whatever the future holds," he concluded.
Prince Harry felt a connection with Geri when he first met her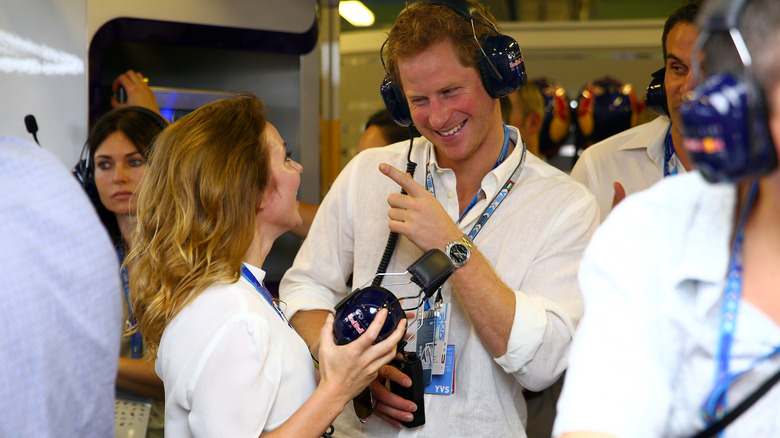 Mark Thompson/Getty Images
Prince Harry's memoir, "Spare," contains plenty of interesting tidbits, one of which is his first encounter with the Spice Girls. The prince was only 13 years old when he met the group, while he and his father, King Charles III, were paying a visit to South Africa. The Spice Girls were set to perform an honorary concert for President Nelson Mandela in the country's capital, Johannesburg, and Harry and Charles were set to attend what would be the young prince's first public outing since his mother Princess Diana died in a tragic car accident.
In his book, Harry recalls the concert and how shocked he was when he realized his father was genuinely enjoying the Spice Girls' show. "Concert? Pa? Impossible to believe. But I saw it with my own eyes — Pa gamely nodding to the beat and tapping his foot," Harry recalls in "Spare." Charles didn't let an opportunity to meet up with the band go to waste, so Harry got to meet the entire group. 
Geri Halliwell-Horner was the one Harry seemed to feel an instant connection with, which he attributes, in part, to the fact that she had red hair like him. "I spied Ginger Spice, the only Spice with whom I felt a real connection – a fellow ginger," the prince wrote. He went as far as to include lyrics from the group's hit song "Wannabe" in his memoir, which delighted royal and Spice Girls fans alike.
Geri once serenaded King Charles III for his birthday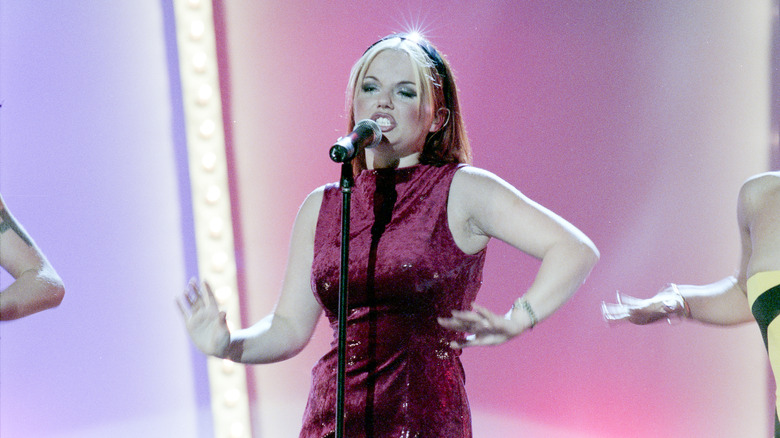 Jmenternational/Getty Images
When you're the monarch or have the special privilege of being next in line to the throne, your birthday is going to be a spectacular affair, and King Charles III has enjoyed some pretty festive celebrations over the years. His 1998 birthday celebration is likely one the king looks back on fondly. Even though Charles' actual birthday is on November 14, a royal gala was held in honor of his 50th birthday in October of that year, and the lineup included, among other stars, none other than Geri Halliwell-Horner.
The event took place shortly after Halliwell-Horner left the Spice Girls, and it marked her first-ever solo gig. Yup, Charles was incredibly lucky to be turning 50 that particular year. Halliwell-Horner surprised the then-prince by appearing in some skits and performances that made up the gala, but the highlight of the evening was when she took to the stage to perform a Marilyn Monroe-inspired rendition of "Happy Birthday." Talk about literally spicing up a classic. Charles, we imagine, was probably thrilled, especially when she blew him a kiss after her performance.
Geri considers King Charles III a Spice Boy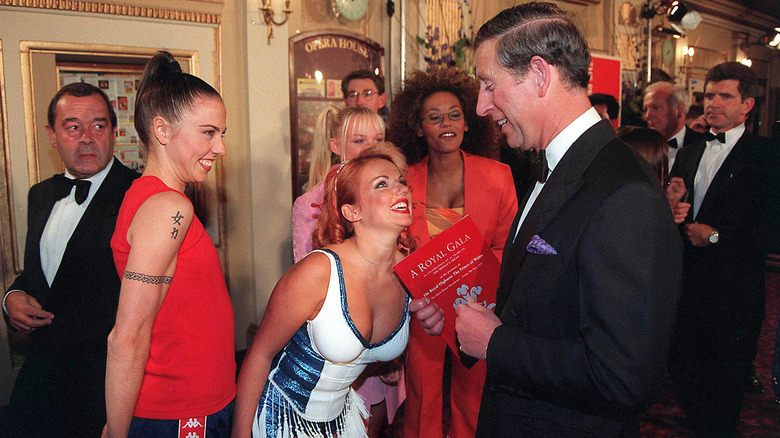 Tim Graham/Getty Images
Even though Geri Halliwell-Horner is friends with various members of the royal family, it might be safe to say that King Charles III is her favorite. For anyone who hoped to be the Spice Girls' sidekick at some point, we're sorry to say the role has already been filled. At least, that's what Halliwell-Horner insinuated in 2019 when she spoke to Hello! Magazine. "We consider him [Charles] a Spice Boy," Halliwell-Horner told the outlet. "He was there from the beginning, and to see him just grow and shine, our future king, I think it's brilliant what he does," she gushed. To think Charles didn't even have to walk around in sky-high platform boots to land this honorary title.
Aside from praising the monarch's good deeds, Halliwell-Horner also took the opportunity to tell media outlets that Charles basically has a free ticket to every future Spice Girls show (we're not jealous, you're jealous). "He's always welcome. He's part of our heritage," Halliwell-Horner said. She also took the opportunity to speak about how she deemed Charles a "modern royal" and that she thought he was pulling off this somewhat difficult task effortlessly. 
Royal watchers are well aware that many view the monarchy as outdated, but Halliwell-Horner clearly believes the royal family still has an important role to fulfill in the 21st century. "I feel we should be really proud of what he does," she added.
Her video tribute for Queen Elizabeth II's Platinum Jubilee concert was a little cringe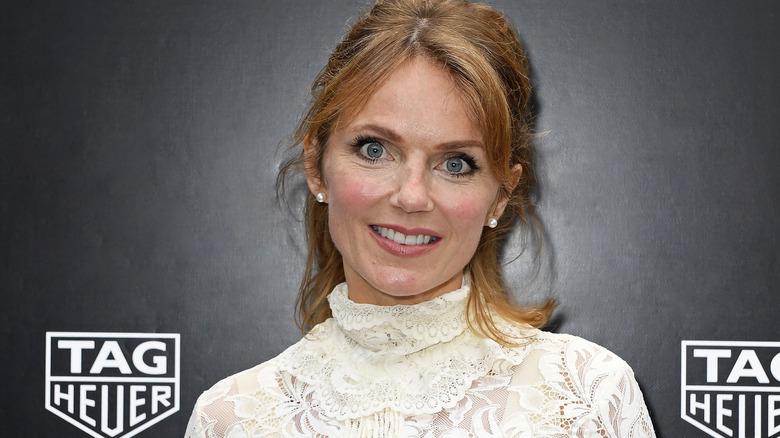 Kristy Sparow/Getty Images
The year was 2022, and Britain was preparing to celebrate the first-ever Platinum Jubilee. Queen Elizabeth II was set to make history as the first British monarch to celebrate this enormous milestone, so naturally, Buckingham Palace pulled out all the stops when it came to arranging the festivities that would accompany this historic event. In addition to all the planned festivities, celebrities from across the globe were asked to send in video tributes that were showcased during the celebrations.
Naturally, Geri Halliwell-Horner was among some of the familiar faces to congratulate her majesty. Her video tribute made headlines, but not because fans thought it was great. In fact, the short clip was met with some widespread criticism, with many saying the Spice Girl appeared less than sincere. "Watching Geri Horner doing a tribute!!! What an embarrassment. Didn't seem sincere, more forced and written for her," one fan tweeted (via The Daily Mail). "Geri Horner has gone from ginger spice to cringer spice," another quipped.
Whether the clip is actually as cringe as some say is up for debate, however. Some might argue that Halliwell-Horner was simply trying to be respectful. It's no secret she's broken various royal protocols in the past, and perhaps she really just wanted to make sure she got it right this time, but many were of the opinion that she didn't quite stick the landing.
Geri landed the role of inaugural ambassador for the Royal Commonwealth Society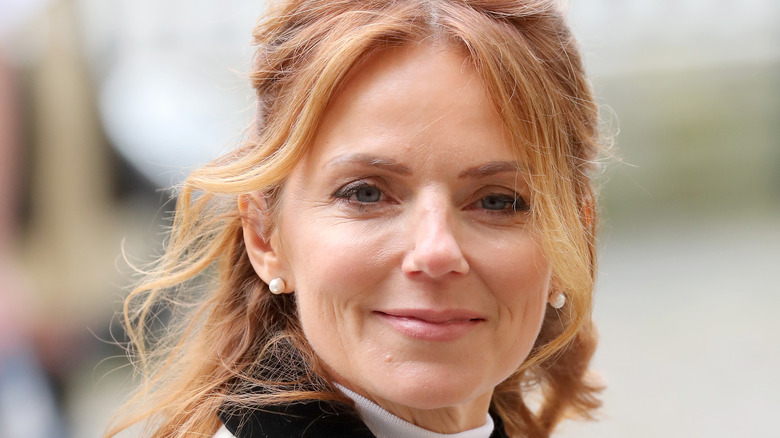 Chris Jackson/Getty Images
Those in the know are aware that, much like the royal family, Geri Halliwell-Horner is passionate about giving her time and resources to various charities and organizations. She's a big advocate for women's rights and has supported various causes that are geared toward educating children and young adults. So when Halliwell-Horner made headlines after the Royal Commonwealth Society selected her as one of its first ambassadors, it wasn't exactly a surprise — not just because she's friends with the royal family, but because the organization supports many of the same causes Halliwell-Horner has supported over the years.
When Halliwell-Horner took to social media to announce the news, her excitement was palpable. "I am delighted to have become an inaugural Ambassador of the Royal Commonwealth Society," she gushed, adding, "Throughout my life, I have been a big believer in the power of coming together and breaking down barriers." 
Joining Halliwell-Horner as first-time ambassadors were writer Gyles Brandreth, comedian David Walliams, and singer Alexandra Burke, among others. They got to work almost immediately, inviting youngsters to submit their writing to The Queen's Commonwealth Essay Competition, which aims to give the Commonwealth's youth an opportunity to weigh in on some global affairs. Halliwell-Horner appeared to be very excited about the competition, and used the backdrop of the COVID-19 pandemic to encourage youngsters to speak up, and seize the opportunity to share their views on ongoing issues that affect the global community.
Geri's managed to win over Queen Camilla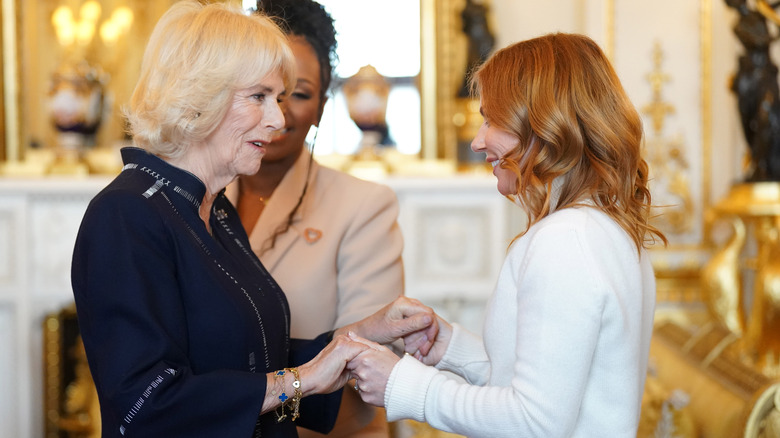 Pool/Getty Images
Five short months after Geri Halliwell-Horner was appointed as one of the Royal Commonwealth Society's first ambassadors, a special event was held to honor the winners of The Queen's Commonwealth Essay Competition. Naturally, Halliwell-Horner was at the event, and so was Queen Consort Camilla. It's safe to assume Camilla knows the former Spice Girl well, given King Charles III's fondness of her, but per some British outlets, the public affection Camilla showed towards Halliwell-Horner was unprecedented.
Photographs from the event made headlines. The two women were even seen hugging each other affectionately, and apparently, that isn't something the queen consort does very often when she's attending formal events. Other snapshots showed Halliwell-Horner and Camilla holding hands as they engaged in easy conversation. Clearly, Ginger Spice is very good at stealing royal hearts, and it's likely Camilla appreciated Halliwell-Horner's efforts to encourage young students to submit their work to the competition. 
The queen consort, who is an avid reader, even started her own charity, The Queen's Reading Room, to encourage children and adults alike to rediscover the magic of books. Needless to say, the essay competition is something that's very important to her, and it's likely she and Halliwell-Horner connected over their shared interest to help educate children and provide them with opportunities to build a bright future.
Geri and Prince Harry have stayed friendly over the years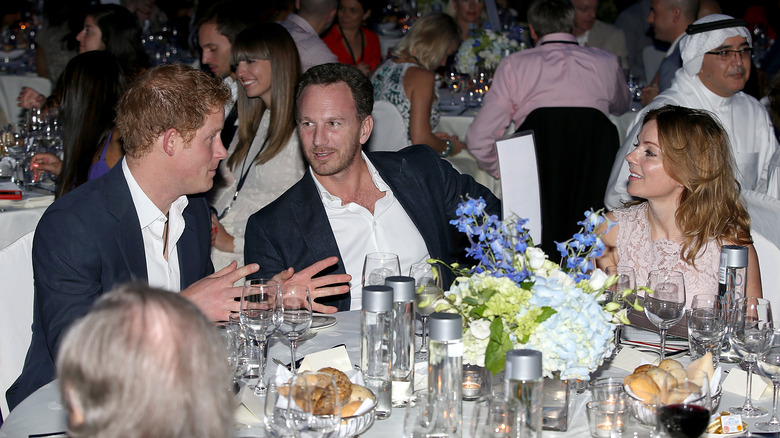 Chris Jackson/Getty Images
Prince Harry and King Charles III might not always see eye to eye, but they both appear to agree that Geri Halliwell-Horner is a lot of fun to be around. While Charles is occasionally spotted striking up a conversation with Ginger Spice whenever she attends some royal events, eagle-eyed fans and photographers have spotted Harry and Halliwell-Horner having some good old fun on a few occasions.
The prince and the Spice Girl were spotted enjoying each other's company more than once in 2014. The two met up in Abu Dhabi that year, with Halliwell-Horner supporting the prince at a polo match (which his team ended up winning) and later meeting up with him again to watch the Grand Prix. Photographs taken of the two redheads showed them having a grand time — the two were pictured laughing together in various snaps, and had it not been for the fact that Halliwell-Horner's future husband, Christian Horner, had been by her side at the time, media outlets would probably have dubbed them a couple. The three of them were even spotted enjoying dinner together after the day's activities, and Harry didn't appear to feel like the third wheel at all.
Prince Harry invited Geri to his wedding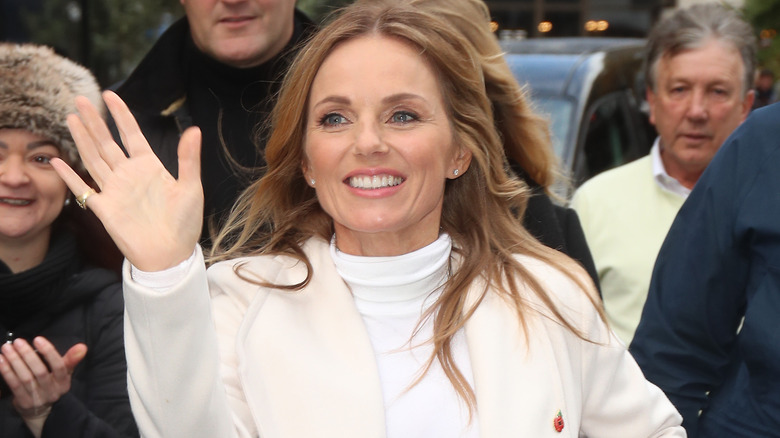 Neil Mockford/Getty Images
Few wedding guest lists managed to cause as many waves as Prince Harry and Meghan Markle's. The whole world was incredibly curious about who would make the cut, and rumors were swirling that, given Harry's friendship with Geri Halliwell-Horner, the Spice Girls might be performing at the wedding. Then Page Six did some digging and shattered hearts across the world.
Sources told the outlet that only three of the five Spice Girls made it onto the wedding list. Aside from Halliwell-Horner, Emma Bunton and Victoria Beckham were invited, but Mel B and Melanie C were left out in the cold. "The Spice Girls were never going to perform," the source told Page Six. Regardless of the fact that the wedding did not result in a Spice Girls reunion, it was great to see that Harry and Halliwell-Horner's friendship was still going strong. As to why the other two Spice Girls were left off the guest list, one can only guess.
Mel B technically started the rumor that the band would be performing at the royal wedding, when she claimed that all five Spice Girls had received an invitation. But then Mel C told The Sun that the public had been misinformed. "We were never invited, we were never asked to perform ... and I was a little bit annoyed, actually," she admitted.
Geri doesn't watch The Crown out of respect for the royal family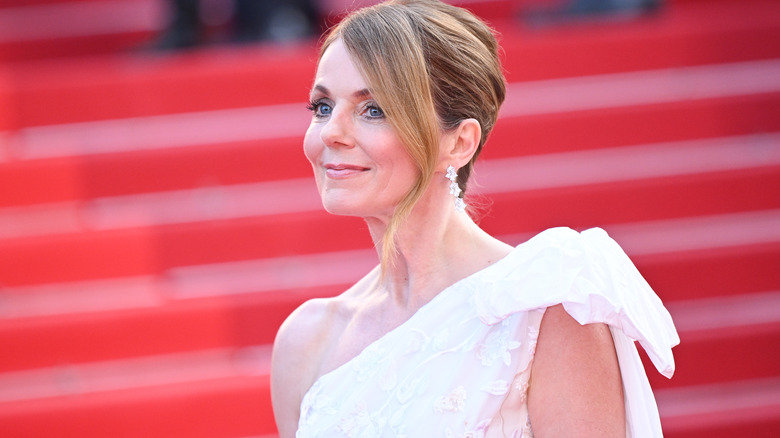 Stephane Cardinale - Corbis/Getty Images
Raise your hand if you're waiting for the final season of "The Crown" with bated breath. While the rest of the world can't wait to dive into the final season of the very popular (and somewhat controversial) Netflix show, Geri Halliwell-Horner will not be adding the show to her Netflix cue. Yup, Halliwell-Horner takes her friendship with the royals very seriously, and admitted to The Sun that the show and its contents don't exactly sit well with her.
"It's beautifully shot but I don't connect with it. I feel it's someone's mother, is that right that it should become someone's entertainment?" she told the outlet. Oof! She did not hold back. She added that, like the rest of us, she was a little curious about the show at first. "I watched a little bit of it but I feel uncomfortable doing so," she admitted, adding, "These people are still alive. There's something about it which doesn't sit right."
While Buckingham Palace has been very quiet about the series since its inception, it did reportedly release a statement in 2022 that reminded the public that the show is "a drama, not a documentary." Halliwell-Horner clearly feels that the show is taking things just a little too far. Given that she personally knows the people who are portrayed in the series, it makes sense that watching it would be an awkward experience at best.
Geri joined Prince William for one of his projects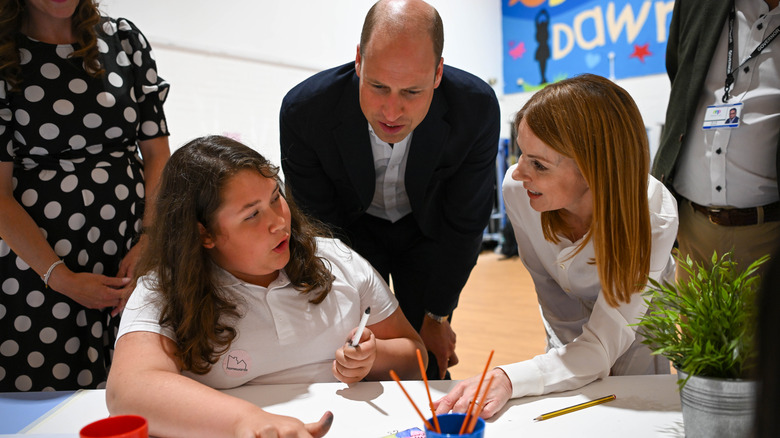 Finnbarr Webster/Getty Images
Prince William, like the rest of the royal family, has various passion projects, and one of them, called Homewards, is geared towards preventing and tackling the issue of homelessness. The prince went on a tour to create awareness about this new project while also giving people a chance to tell their stories. 
As it turns out, Geri Halliwell-Horner is in full support of Homewards, and even teamed up with the prince when he visited Maindee Primary School in Newport, Wales. Photographs of the prince and Spice Girl's visit to the school show them hugging affectionately, and sharing some special moments with the children.
Fans are well-aware that Halliwell-Horner is incredibly passionate when it comes to advocating for women's and children's rights. It makes sense, then, that William's new project tugged at her heartstrings. She jumped at the chance to help the prince make a difference, and it appears their visit to the school was pretty productive. The two of them presented some of their ideas and learned firsthand about the work educational institutions do, to ensure kids have a home to go back to after school.
Geri gave King Charles a peck on the cheek at an event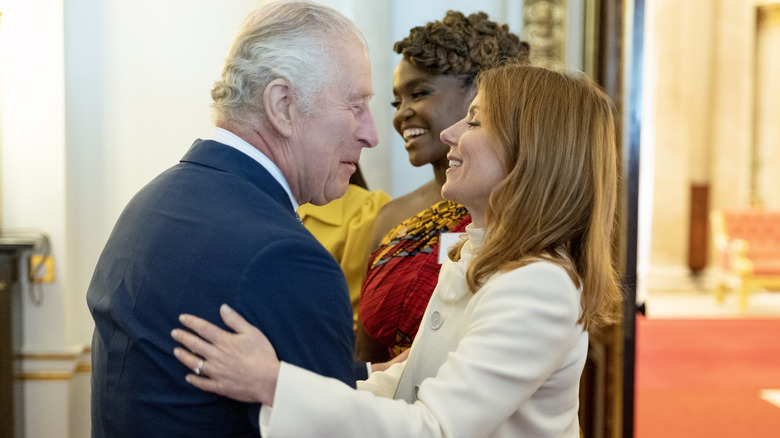 Wpa Pool/Getty Images
Shortly after his coronation on May 6, 2023, King Charles III held an event for his charity, The Prince's Trust, at Buckingham Palace. Naturally, Geri Halliwell-Horner made it onto the guest list, and the king and the Spice Girl's reunion at the event was a very sweet one.
Be still, our hearts, because Halliwell-Horner greeted the newly crowned king with as much enthusiasm as she did when she first met him back in 1997. Guests looked on as the two friends reunited with a warm hug, then Halliwell-Horner went ahead and kissed the monarch on the cheek, before whispering something inaudible in his ear. Charles, who clearly realized that every eye in the room was curiously trained on them, told stunned onlookers, "I've known her for a very long time" (via The Independent).
Halliwell-Horner took the opportunity to congratulate Charles on his new role and to tell him how proud she was of him. "You're a very modern king," she told the monarch. She later praised the king's charity and all it has accomplished over the years. "[W]hen he was 28 years old, he started the Prince's Trust. He could have been out partying, instead, he created this amazing organization – a modern king that believed in investing in the potential and possibility of people," Halliwell-Horner said.