The Disney Princess That Inspired Halle Bailey In Her Little Mermaid Role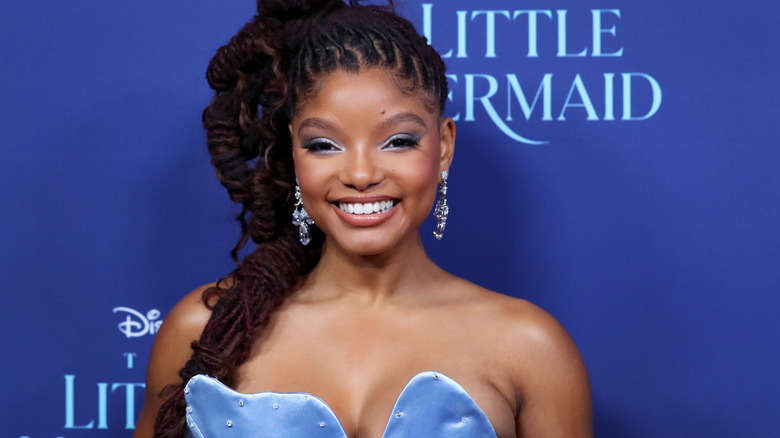 Lisa Maree Williams/Getty Images
When Halle Bailey was cast as the titular role of Ariel in the 2023 remake of "The Little Mermaid," she made history as only the second Black woman to play an iconic Disney princess in a live-action remake. And according to Bailey, she was only able to become part of that world thanks to the groundbreaking work of the pioneering women who came before her, per the New York Times. 
Of course, if you were to ask the creators of the movie, they would say that they knew Halle Bailey was the right Ariel from the very beginning. In a press conference for the film, producer John DeLuca recalled having Bailey perform Ariel's iconic ballad, "Part of Your World," at her first audition — a performance that moved director Rob Marshall to tears. 
The Grammy Award nominee's undeniable talent might have landed her the role as this classic Disney royalty, but as far as Bailey is concerned, she had her own set of princess role models to thank.
Disney princesses were a large part of Bailey's childhood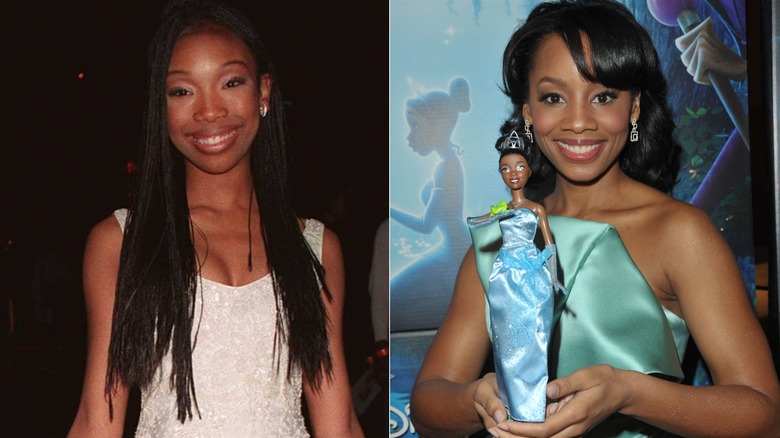 Brenda Chase & Jon Furniss/Getty
Halle Bailey was born in 2000, meaning she grew up with an immense Disney princess catalog to enjoy, from the original 1989 "Little Mermaid" to "Mulan" (1998), "Pocahontas" (1995), and the more contemporary "The Princess and the Frog" (2009). The actress shared how these movies, along with a 1997 ABC television remake of "Cinderella," inspired her from a young age with
"Entertainment Tonight."
"I loved Brandy as Cinderella," Bailey said of the 1997 ABC special. "She was so amazing. Such a role model and inspiration and a really big studying point for me, too, as I was taking on Ariel. I just watched how amazing she was in that role, and how comfortable she was in her skin, and how impactful that was to audiences, and little girls, like me, who watched it."
Bailey also credited Anika Noni Rose, who played the role of Tiana in "The Princess and the Frog," as another significant inspiration as she prepared for her role. She recalled Rose's kindness and artistry during a Disney sing-along where Rose performed with Bailey and her sister, who perform under the musical moniker Chloe x Halle.
Halle Bailey's Ariel will inspire the next generation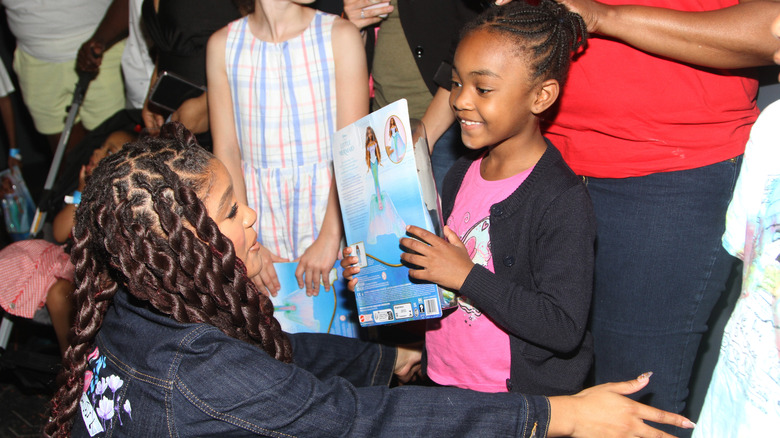 Joi Stokes/Getty Images
While heartwarming, Halle Bailey's transformation from singer to Disney princess came at a cost. The internet was widely divided over the casting choice following the first trailer's release in 2022, a phenomenon with which other Black actors who took on famous roles are all too familiar. Stephanie Mills of "The Wiz" related to Bailey's "The Little Mermaid" backlash, telling Bailey she was proud of her and how she handled the racist criticism in a touching Facebook post. 
Indeed, Bailey managed to push past the cynics and deliver a stunning performance as Ariel, and she cites the next generation of Black girls as her driving force. She told ET's Nischelle Turner that watching the reactions of young Black girls seeing themselves represented on-screen through Bailey was emotionally overwhelming. 
"I think of the little girl that's still in me, honestly, and it heals that girl inside of me to watch them feel like they have representation and someone to look to, to know that they deserve to be in those places, too. [It's] so important. It just makes me cry any time I see any of those videos," Bailey said. There's no doubt that Bailey's role as Ariel will serve as the same type of inspiration for future generations that Brandy once was for her.