Details We Know About RFK Jr.'s Wife, Cheryl Hines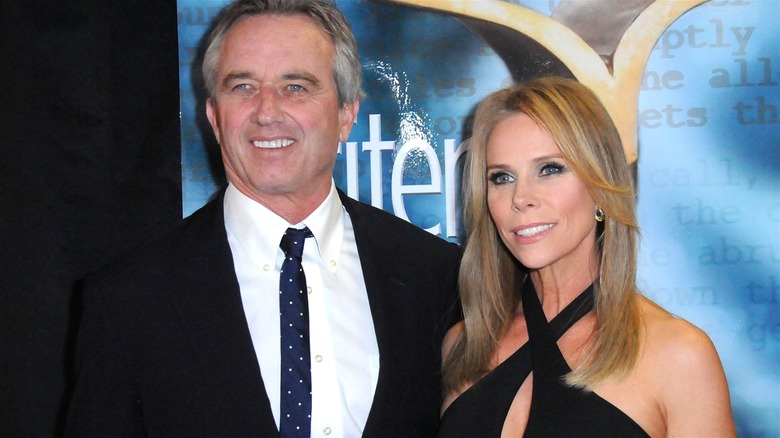 Barry King/Getty Images
Robert F. Kennedy Jr., son of the late senator and attorney general Robert F. Kennedy and nephew of President John F. Kennedy, has announced he's joining in the 2024 presidential race. The Democrat, who once stated he was "proud" to receive praise from Donald Trump, is getting media attention left and right due to his controversial stances. Unlike his Democratic colleagues, RFK Jr. has been pretty open about not supporting the COVID-19 vaccination, comparing the ordeal to the Holocaust.
In the wake of his tendentious statements, his wife Cheryl Hines has consequently also found herself under a public microscope. She has, however, publicly criticized RFK Jr.'s vaccine views, calling his remarks "reprehensible."
Hines has a reputation of her own to look after as an established Hollywood star with more than 70 major projects behind her. She is an actor, a director, and a producer with a business on the side, as well as an experienced poker player who partakes in the game for noble causes.
Hines was a Hollywood star way before she married RFK Jr.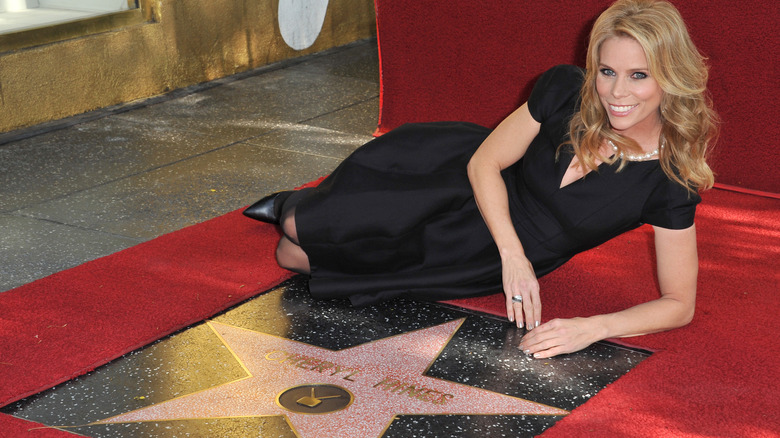 Featureflash Photo Agency/Shutterstock
Cheryl Hines already had a successful career in Hollywood before meeting Robert F. Kennedy Jr., her politically keen husband. Hines is a Florida native who moved to Los Angeles after finishing college in hopes of pursuing her show business dreams, which soon came true. Her first acting gig, according to NBC News, was an Alfred Hitchcock tribute play that helped her hone her improv skills. 
Hines got her big break in 2000 after Larry David cast her as his wife in HBO's sitcom "Curb Your Enthusiasm." The role landed her two Emmy Award nominations, one in 2003 and the other in 2006. "She has less ego than anybody I've ever worked with. She knows exactly where to take a scene to make it funny, and she'll sacrifice herself completely for the scene," David said of his on-screen spouse in a conversation with NBC News.
Other than playing David's wife for over two decades, Hines starred in a number of movies, most notably "RV" alongside Robin Williams and "A Bad Moms Christmas" as Kristen Bell's character's mom. In addition to acting, Hines has also dabbled in producing and directing. She directed the movie "Serious Moonlight" with lead Meg Ryan and has also worked as an executive producer for the TV series "Hollywood Help."
She shares a strong bond with daughter Catherine
Before she got involved with Robert F. Kennedy Jr., Cheryl Hines was married to Paul Young, an executive producer with an Emmy award under his belt. Young produced the award-winning Comedy Central series "Key & Peele," as well as hit movies like "Central Intelligence" and "Keanu." Hines and Young were married from 2002 until they split in 2010 for unknown reasons. During their nearly eight-year marriage, the ex-spouses welcomed a daughter, Catherine Rose Young, in 2004.
Hines and Catherine have a strong mother-daughter bond, which the actor often displays on social media. They share similar interests and care about similar causes, which is demonstrated in their eco-friendly beauty line, Hines+Young, which endeavors to stop contributing to single-use plastic waste in the beauty industry.
Catherine also dabbled in acting as a child, appearing in the movie "The Grand" alongside her mom. Little is known of her personal life, as all of her social media is set to private.
She launched a luxury eco-friendly skin care line with her daughter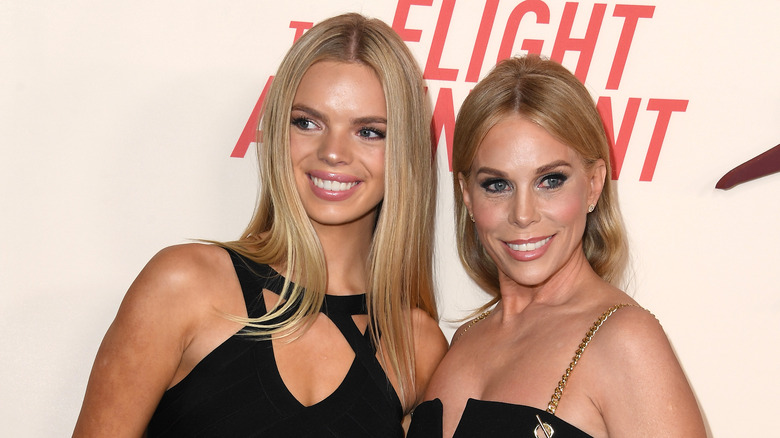 Steve Granitz/Getty Images
Count Cheryl Hines among the various actors to have veered out of their lanes, so to speak, to launch a product line. As mentioned, when it came to launching her own branded line of skin care items and scented candles, Hines didn't have to look far to find the perfect business partner, starting the business alongside her daughter, Catherine Young, from her first marriage to Paul Young.
That company, Hines+Young, launched in July 2023, and featured items such as body cream, soap, and linen spray. The twist comes in the packaging, with the products encased in glass and aluminum containers that are designed to be recycled by customers. "When I knew that Cat was getting ready to leave [home] ... I asked her if she would like to start a company with me," Cheryl told Access Daily. 
In fact, the business is more than just a mother-daughter effort, with the company's website noting that Hines' sister, Rebecca, and brother, Michael, are also involved. "We've made this a family affair," Hines wrote on the site.
Hines plays poker to raise funds for charity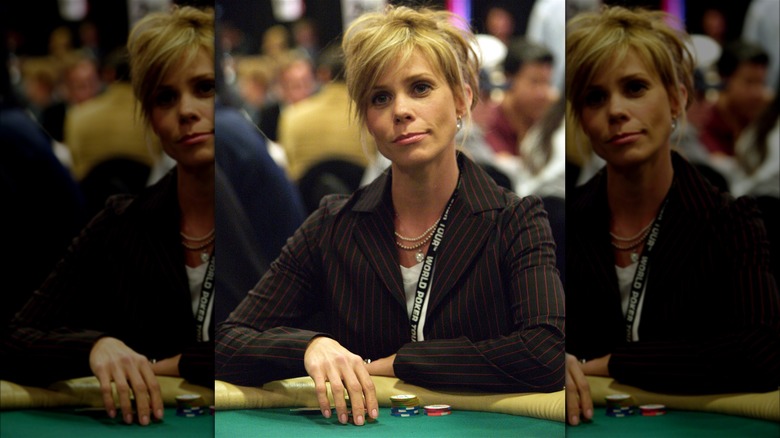 Michael Tran Archive/Getty Images
Other than her impressive Hollywood career and other business ventures, Cheryl Hines is an avid poker player. According to America's Card Room, the "Curb Your Enthusiasm" actor got into video poker when she was pregnant and had to take a break from the show business industry (via Cheat Sheet). "Once I had my baby, I could actually go play with real people. It was very exciting," Hines revealed.
However, she mainly participates in poker tournaments in order to raise funds for charity, specifically to aid individuals affected by cerebral palsy, a neurological condition that affects the use of one's muscles, and their families. The cause is close to Hines' heart, as her nephew Michael was born with the disorder. In a conversation with Brain & Life, Hines shared that the family was unfamiliar with cerebral palsy before Michael was diagnosed and that she ultimately became an advocate for the cause in order to educate herself and others.
As for poker, Hines claims she's quite the player. "I have a tendency to talk a lot at the poker table, which throws people off because they spend a lot of time trying to read me. I tend to win more than I lose, which is good," she told Brain & Life.
She distanced herself from her husband's anti-vax stance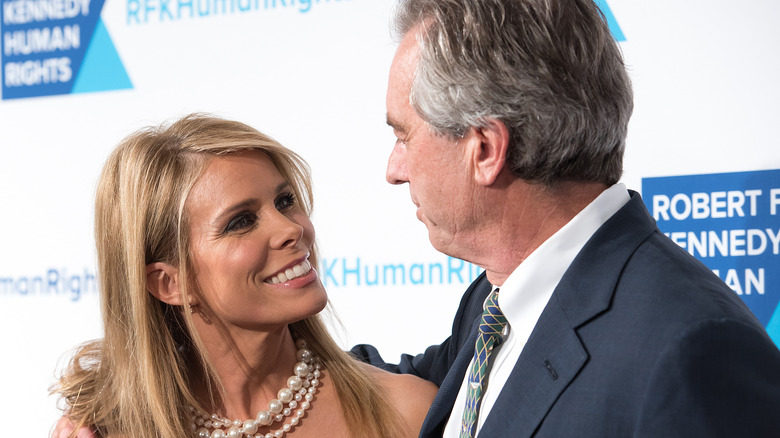 Mike Pont/Getty Images
Before his presidential run, Robert F. Kennedy Jr. made the controversial comparison of having to get the COVID-19 vaccine to living under Hitler's regime in Germany. According to Politico, RFK Jr. took to an anti-vaccine mandate rally to share his opinion on the topic in 2022. "Even in Hitler's Germany, you could cross the Alps into Switzerland, you could hide in an attic like Anne Frank did," he told the crowd, implying that it was possible to escape the Nazis. "Today, the mechanisms are being put in place to make it so that none of us can run and none of us can hide."
However, Cheryl Hines didn't share her husband's sentiments. "My husband's opinions are not a reflection of my own. While we love each other, we differ on many current issues," the actor shared on Twitter soon after the protest.
While RFK Jr. ultimately apologized for his ill-received analogy, he didn't want it to take a toll on Hines' reputation. So much so that the presidential candidate offered to announce their separation to clear her name, which she refused. "I felt so desperate about protecting her at a time when my statements and my decisions were impacting her," RFK Jr. shared when speaking to The New York Times. Despite distancing herself from her husband's statements at the time, Hines is staying by his side while he runs for president.
Hines wants RFK Jr. to 'feel loved' during his presidential run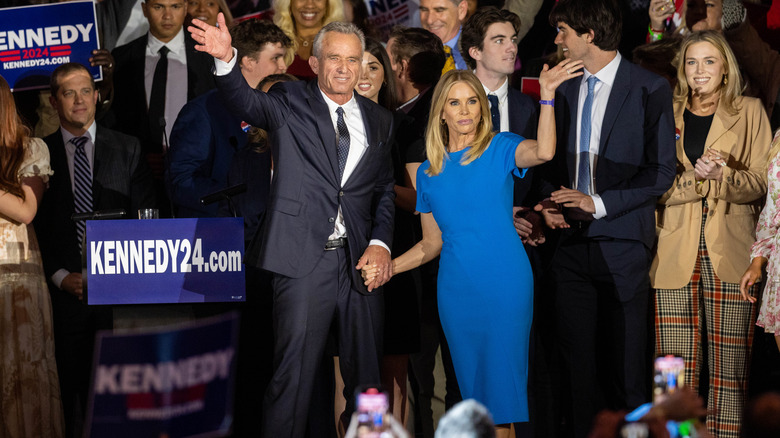 Scott Eisen/Getty Images
As Robert F. Kennedy Jr. runs for president, Cheryl Hines won't be taking a back seat — the potential FLOTUS showcased her support in an interview with The New York Times. "I support Bobby and I want to be there for him, and I want him to feel loved and supported by me," Hines stated. The actor emphasized that despite standing by her husband and his decision to run for president, she won't be with him at every political gathering as she is still concentrating on her own career in show business.
When asked how she's handling the media attention following her husband's announcement to run for president, Hines admitted that knowing improv has helped her a lot but that she's learning as she goes. The actor also weighed in on the vaccine debate, stating that her husband is asking the "right question" when he asks about the safety of the COVID-19 shots. 
Caitlin Moscatello, the journalist who spoke to her, disclosed that Hines tried to avoid multiple vaccine-related questions, including its effect on children. Ultimately, Hines hasn't clearly stated her stance on the topic or criticized her husband's.
She was once Rob Reiner's personal assistant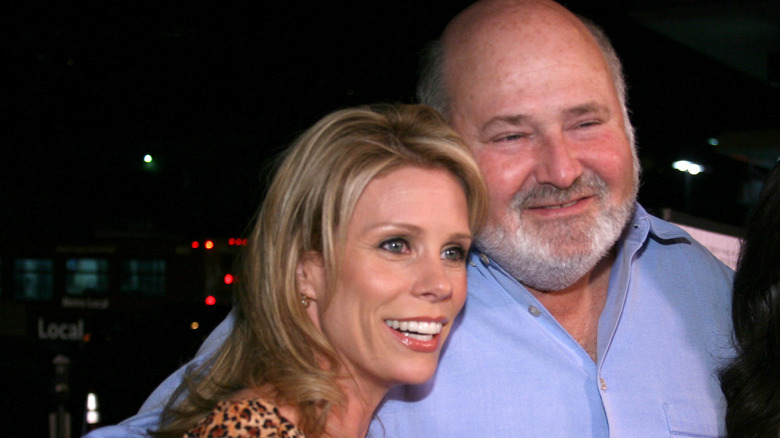 Jesse Grant/Getty Images
Long before landing her breakout role on "Curb Your Enthusiasm" — in fact, before she even began her career as a professional actor — Cheryl Hines worked as the assistant to a famous movie director: Rob Reiner, known for such films as "The Princess Bride," "When Harry Met Sally," and "A Few Good Men," to say nothing of playing Mike "Meathead" Stivic on classic TV hit "All in the Family." 
As she told The Hudson Union, Hines had recently moved to Los Angeles to pursue her acting dreams and was bartending in a hotel when a friend told her that her sister was involved with organizing Reiner's 50th birthday party. The friend asked Hines if she was available to help out during the days, which would allow her to keep bartending at night. "I said, 'Yeah, that sounds fantastic,'" Hines said. "So I started part-time doing that, helping with this one event, and then it turned into a full-time job."
Ruminating about her experience as a personal assistant to a Hollywood celebrity in an interview for The Washington Post, she explained, "In the world of personal assistants, there's a very gray line drawn between professional and personal." That was certainly the case when Hines became successful enough to hire her own assistant, and instructed her to clean out the cages of her daughter's various pets — one of which was a hedgehog. "They are prickly and there's a lot of poop involved," Hines said. 
She's stepped behind the camera to direct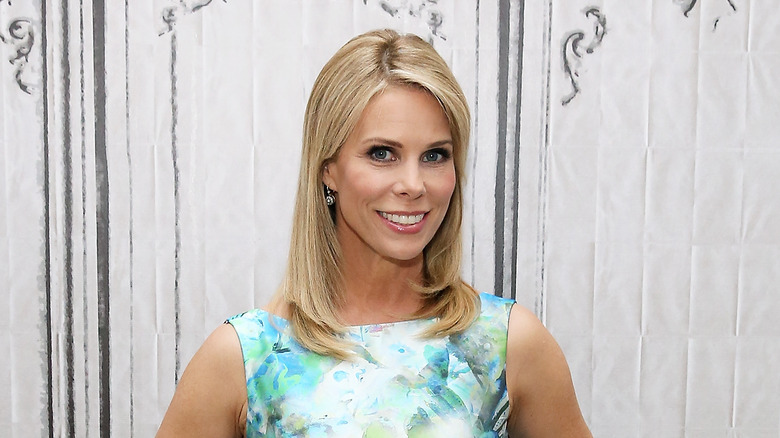 Monica Schipper/Getty Images
Cheryl Hines is a bona fide Hollywood hyphenate, racking up credits not just as an actor, but also as a producer (on three TV series), and director. In the latter role, Hines has directed episodes of "Campus Ladies" and "Hollywood Help" (on which she was a producer), the 2009 movie "Serious Moonlight," and a 2020 episode of "Curb Your Enthusiasm." 
According to Hines, the opportunity to direct her first feature film arose from tragic circumstances. The "Serious Moonlight" script was written by Adrienne Shelly, whose plans to direct the film ended when she was murdered in 2006; Shelly's widower, Andy Ostroy, asked Hines to step in as director. "I had directed television before, but never film," she told SFGate. "So I was hesitant to say yes immediately." Upon reading the script, she was tempted to cast herself in the role, but ultimately decided against it. "Good thing, because my hands were pretty full directing," she said. "I don't know how people star in their own films."
Directing "Curb," on the other hand, placed Hines on familiar ground, but presented its own unique set of obstacles, in that all the show's dialogue is ad-libbed on the spot. "The challenging thing about directing an improvised show is that you have to cover, have a camera on both people in the scene at the same time, because you don't know what anybody's going to say," she told BUILD Series.
She beat out a lot of other actors to win her Curb Your Enthusiasm role
While Cheryl Hines had to wait 20 years before Larry David asked her to direct an episode of "Curb Your Enthusiasm," landing the role of his character's wife took considerably less time. According to David, who is both star and creator of the show, 15 other women auditioned for the role before he met with Hines. "I made up this scenario, and I think the scene was that I told her I'd given up chicken," he told NBC News of Hines' audition. "And I ask her what's for dinner and she says 'chicken.' When I complained, I just loved the way she handled it. She didn't get angry. She actually made me laugh, and when that happened, it was all over." 
Hines, he said, had just the right quality he was looking for to confront the awkward scenarios he had in mind for his groundbreaking comedy. It didn't hurt that Hines, a veteran of the Groundlings improv troupe, brought her killer sense of humor to the audition. "It was funny, because they were looking for an unknown actress, so that worked in my favor," she joked during an appearance on "The Talk."
She's often mistaken for a Modern Family star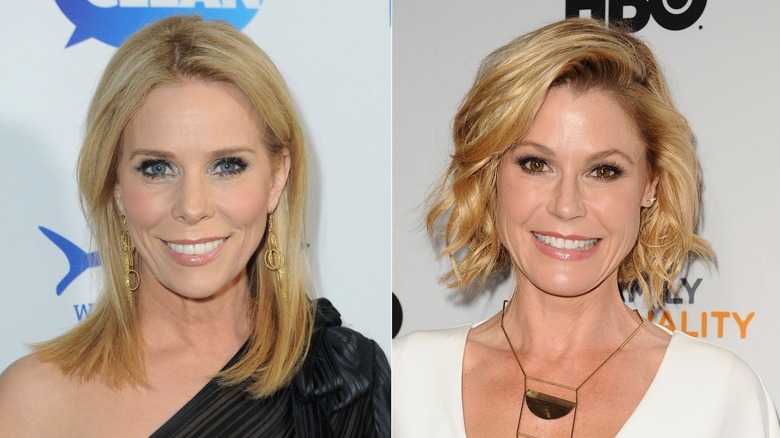 Joshua Blanchard & Jason Laveris/Getty
Cheryl Hines has played Cheryl David on "Curb Your Enthusiasm" since the series' debut in 2000, and has starred in numerous films and TV series during that time. Despite reaching that level of fame, Hines admitted that she's frequently misidentified as the actor in an entirely different hit series. She told Us Weekly: "People often mistake me for Julie Bowen and say, 'I love "Modern Family."' I say, 'I love "Modern Family" too!'"
According to Hines, there have been numerous occasions when a stranger has approached her and mistaken her for Bowen. Sometimes, she's found it easier to just go with and let that person believe that she's who they think she is. 
"So I was on a plane, and this person came up and said, 'Oh my gosh, I love you,'" Hines recalled while appearing on "The Kelly Clarkson Show." When Hines realized the person thought she was Bowen, she was quickly put on the spot when the stranger asked if it would be okay to take a picture with her. "And I was like, 'Yes!'" Hines said.
She and RFK Jr. were introduced by her TV husband Larry David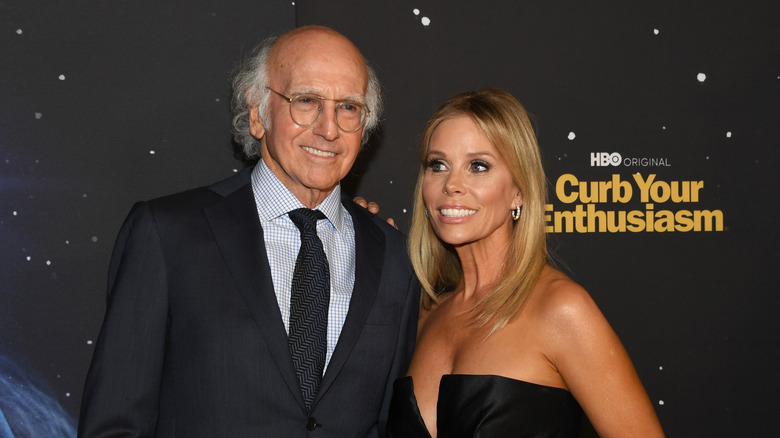 Jon Kopaloff/Getty Images
Cheryl Hines and Robert F. Kennedy Jr. tied the knot in 2014, but first met each other in 2006. Interestingly enough, Hines met her future husband through her make-believe TV spouse. As Hines recalled for The New York Times, she and "Curb Your Enthusiasm" co-star Larry David were attending a fundraising event hosted by Waterkeeper Alliance, an ecologically minded nonprofit of which Kennedy was co-founder, when David introduced them. 
Hines had never been a particularly political person, and that extended to her knowledge of the Kennedy political dynasty. "Really, the only thing I knew about the Kennedys was what I learned in public school, in history," she said. At that time, embarking on a romance was the furthest thing from either of their minds, as both were married to other people. 
When they met again, in 2011, their circumstances had changed dramatically. Both Hines and Kennedy, in fact, were in the midst of divorcing their respective partners, and they started dating. According to Hines, David's introduction was not intended to spark a love affair — in fact, when she told him they'd started dating, he was pretty, pretty, pretty pessimistic. "He said, 'Ah, that's a terrible idea. That's never gonna last,'" Hines recalled during an appearance on "The Meredith Vieira Show." According to Hines, David has yet to admit he was wrong. "I think if you asked him now, he'd say, 'We'll see.'"
The touching reason why she's become a major advocate for cerebral palsy research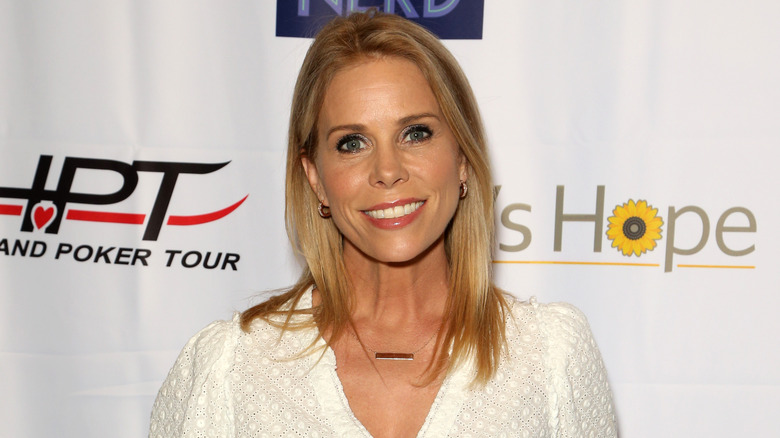 Gabe Ginsberg/Getty Images
When Cheryl Hines' brother and his wife welcomed son Michael, their lives were turned upside down when he was diagnosed with cerebral palsy (CP). "My entire family was in such a state of confusion after Michael's diagnosis: We didn't know what it meant to have CP, what resources were available to help Michael, or even where to begin," she told Brain & Life. As she educated herself about the neurological condition, she and then-husband Paul Young launched a fund for Michael that would help to cover some of the medical expenses associated with raising a child with CP. 
That eventually led her to become an advocate for CP research through United Cerebral Palsy (UCP), which provides resources for individuals with CP and their families. As Hines told Ability Magazine, before that, it hadn't occurred to her to use the platform she'd established as a celebrity to promote a worthy cause. "You know, there is a light bulb that goes off when your life is touched by something such as a disability," she said. "I'm sure the onset of different extreme medical conditions makes you think about the world differently."
Since becoming involved with UCP, Hines has hosted numerous fundraisers for the organization. "I just speak from the heart," she told the Orlando Sentinel of her role at these events. "We need to raise a lot of money. And awareness."
She's expressed concern for how her husband's political run will impact their family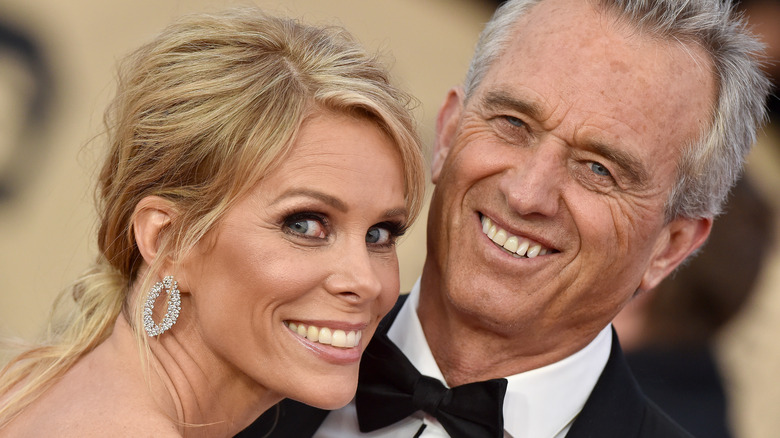 Axelle/bauer-griffin/Getty Images
When Robert F. Kennedy Jr. announced he'd be seeking the Democratic nomination in the lead-up to the 2024 presidential election, this promised to be problematic for Cheryl Hines. Not only was this true of her husband's controversial opinions on various hot-button issues, but also due to the increased level of scrutiny she'd be facing as the wife of a presidential candidate. "I'm bracing myself for it," she admitted to The New York Times. 
In fact, Kennedy's often-polarizing opinions have forced her to walk a fine line, supporting her husband even as she distances herself from him. Kennedy told the Times he'd offered to pretend that they'd separated — and had even drafted a news release. Hines, however, dismissed the idea. 
When it comes to the campaign itself, Hines has been insistent that she's fully aware of what she's stepping into, and the potential fallout. "Elections are really dramatic, mean-spirited, and invasive," she told Newsweek. "I just want to make sure that my family — me, Bobby, our seven children — come out intact. That we'll still be the same people when it's all said and done. That we'll still be grounded — but wiser."