How Alyssa Farah Griffin Sparked Confusion On The View With A Shirt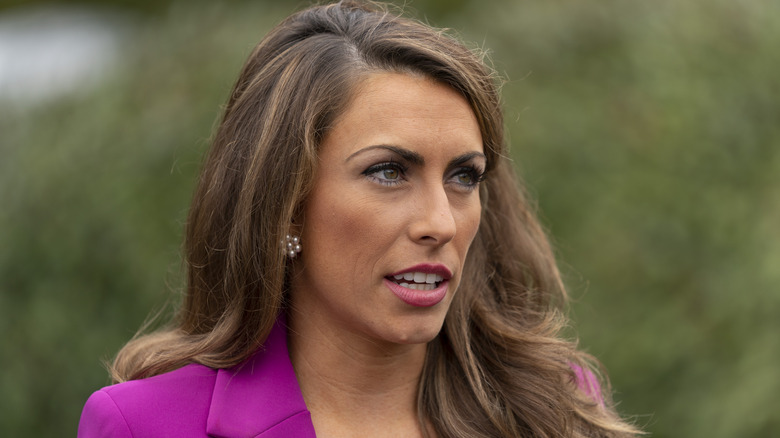 Bloomberg/Getty Images
The hosts of ABC's "The View" are rarely afraid to say exactly what's on their minds — even when it means getting into hot water with "The View" fans — and that includes thoughts on their fellow panel mates' questionable fashion choices. Co-host Alyssa Farah Griffin was a recent topic of discussion after donning a blouse that confused her colleagues, even prompting Whoopi Goldberg to get some scissors to fix it.
Joy Behar was the first to draw attention to Griffin's blue and white long-sleeve blouse, which featured a large shoulder cut-out that separated the collar from the shirt via a thin white fabric panel. Behar called the shirt fascinating, prompting laughs from the audience and panel. Griffin responded that she wasn't sure if she was wearing the shirt correctly but liked how it looked, so she decided to go with it (via YouTube).
However, her co-hosts weren't as easily convinced. So, they called in some stylistic backup to squash the confusion surrounding Griffin's outfit.
What the show's stylist had to say about Griffin's top
While it's not uncommon for "The View" panel to have mixed opinions, everyone seemed to agree regarding Alyssa Farah Griffin's top's strange silhouette. Unlike when things got awkward between Joy Behar and Whoopi Goldberg, the two co-hosts concurred that the shirt's slouchy shoulders looked ill-placed. Goldberg brought out a pair of scissors, suggesting they cut the shirt's other side to match, but decided to bring out the show's long-time stylist Fran Taylor instead. 
Taylor walked onto the sound stage to set the record straight. "The shirt is right," she explained. "Because the shirt is really supposed to be worn like this," adjusting Griffin's shirt to sit centered across her shoulders. As she did this, she revealed a second shoulder cut-out previously covered by Griffin's long hair. 
Griffin was a good sport about the line of questioning regarding her outfit choice that day, laughing while Taylor fixed her shirt and admitting that the new adjustment made way more sense.
Griffin said she was just following directions from her stylist
After Fran Taylor slid Alyssa Farah Griffin's shirt to the center, the blouse's expanded collar sat directly on top of Griffin's shoulders instead of draped completely over one side. Taylor said it was supposed to embody a 1980s "Flashdance" vibe before explaining that it could technically be worn both ways and that she might've told Griffin it was an off-the-shoulder top. 
"I think I did follow instructions," Griffin agreed, smiling. "You cannot trust me about fashion, which is why we have Fran," the "View" host said while hugging the stylist who has worked on the talk show since 1997. Luckily, the panel seemed pleased with the shirt's adjustment, unanimously praising their long-time stylist and avoiding the debacle from joining the list of "The View" arguments that went way too far. 
Griffin's shirt appears to be Alexander Wang's stripe-print button-down shirt, available on Farfetch for $325. The model wearing the shirt has the top evenly centered over her shoulders, similar to how Taylor adjusted Griffin's shirt on-screen. Or, you can style it in Griffin's original way and add this top to the list of the coolest looks to nail the asymmetrical trend in 2023.