Lisa Marie Presley's Twin Daughters Are Growing Up Fast
Elvis Presley's legacy spans generations. Even 50 years after his death, he's still one of the most famous musicians in the world — that's why they called him "The King," after all. When Elivs died, he left behind his ex-wife, Priscilla Presley, and his 9-year-old daughter, Lisa Marie. She grew up to have four children of her own (along with four famous husbands). 
After the heartbreaking death of Lisa Marie Presley in January 2023, her twin daughters Harper and Finley Lockwood were left in the care of her ex-husband, musician Michael Lockwood. In June 2023, they celebrated their Eighth-grade graduation with their grandmother Priscilla Presley and half-sister Riley Keough. "Happy Graduation girls! You're now in high school!!!" wrote their grandmother in a celebratory Instagram post. 
Lisa Marie was extremely protective of her daughters. "They are my priority. That's what I do. That's what I care most about. I keep them close to me and make sure they are happy and healthy," she told Healthy Living in 2014. Now, in the wake of their mother's passing, the twins' older sister is equally protective. "Riley has always been close with her sisters," an insider told People, adding, "She wants the best for them. They have been surrounded by drama for years."
Lisa Marie's daughters attended the 'Elvis' premiere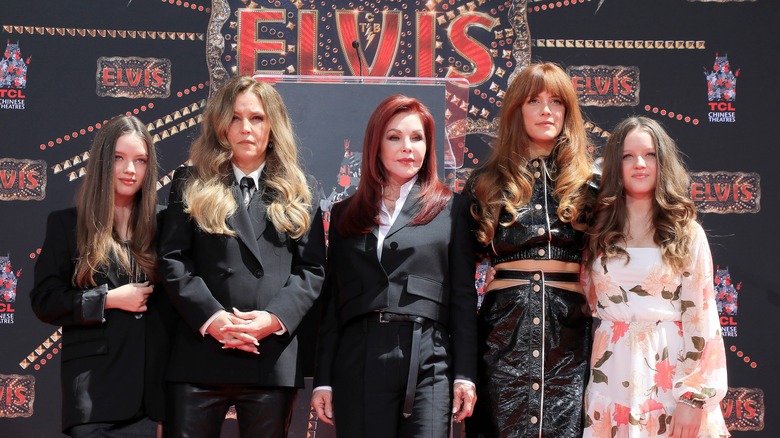 Joe Seer/Shutterstock
Shortly before Lisa Marie Presley died unexpectedly, Harper and Finley Lockwood, and Riley Keough attended the Memphis premiere of Baz Luhrmann's "Elvis" alongside their mother and grandmother. Although the twins have remained more or less out of the spotlight throughout their childhoods, the Austin Butler-led biopic brought several generations of Presleys out of the woodwork. Lisa Marie's daughters (and mother) accompanied her to the hand and footprint ceremony outside the TCL Chinese Theatre in Hollywood, literally cementing their familial bond.
Still, after Lisa Marie passed, the Presley family entered into a legal disagreement regarding her trust, which controls The King's estate. In a 2016 amendment to her will, Elvis' daughter appointed Riley Keough and her late son, Benjamin Keough, as sole trustees. Although Pricilla Presley questioned the validity of this new stipulation, she and Riley eventually settled the dispute. The terms of their agreement are still unclear, and not much is known about what will happen to Graceland and Elvis's memorabilia. "I want to make clear that there was never any lawsuit filed against my beloved granddaughter," Priscilla Presley clarified in a statement, putting rumors of a falling out to rest, per The Los Angeles Times. "As a family, we are pleased that we resolved this together. My family and I hope that everyone will grant us the privacy we have needed to properly grieve Lisa Marie and spend personal time together," she added.
Riley Keough is continuing the Presley family legacy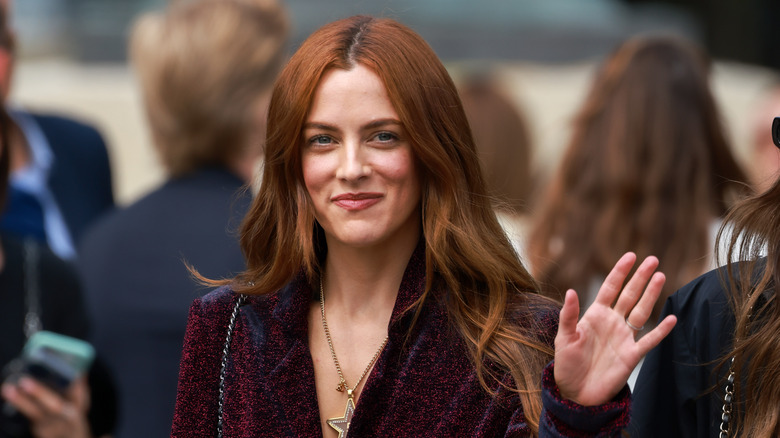 Arnold Jerocki/Getty Images
While her younger sisters begin their high school careers, Elvis's granddaughter Riley Keough is paving the way in Hollywood. She co-directed the award-winning film "War Pony" and went on to star in "Daisy Jones and the Six" in 2023. As Keough is quick to point out, her familial connections granted her "amazing opportunities" in the entertainment industry. Still, she's no stranger to insecurity, often worrying she won't be taken seriously (via The Guardian). "I grew up with a family that was very much in the public eye, and my childhood was really intense in that way, especially in the '90s and early 2000s," the actor told Vanity Fair. 
During her tween and teenage years, her mother was married to her father, Danny Keough, and then remarried to Michael Jackson and Nicolas Cage. Of course, these relationships came with plenty of media attention, and this was all before social media. 20 years later, public scrutiny is something Harper and Finley Lockwood are learning to deal with themselves. "Just a lot of attention," summarized the "Mad Max Fury Road" star about her experience. "Not being able to do normal things. I really started to appreciate normal things in life — being able to go to the coffee shop and sit there." Now, along with her burgeoning career, the singer, director, and actor is focused on raising the next generation of Presley women. Keough and her husband Ben Smith-Petersen welcomed a daughter in 2022.