The Young And The Restless Forbidden Love: Sharon And Adam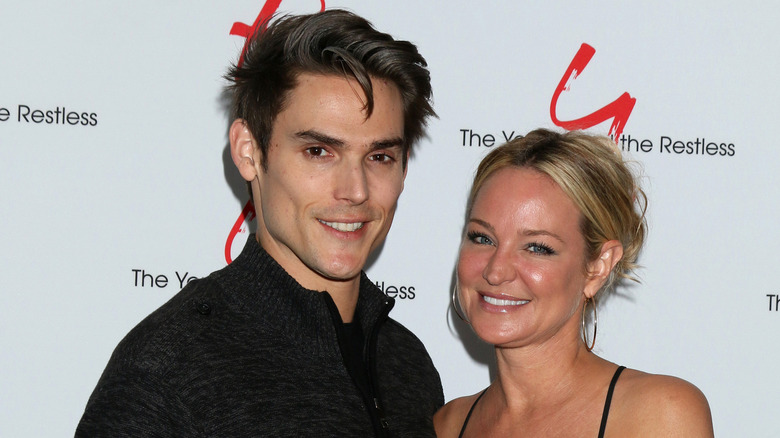 Kathy Hutchins/Shutterstock
Sharon and Adam's relationship on "The Young and the Restless" was the epitome of a toxic romance. Adam Newman (Mark Grossman), the son of Hope Wilson and Victor Newman, got involved with Sharon (Sharon Case) after the tragic loss of her baby during childbirth. Unknown to Sharon, her baby was not dead; instead, Adam had stolen her at birth and deceitfully given her to an unsuspecting Ashley Abbott (Eileen Davidson) after secretly causing her to experience a miscarriage. Sharon, vulnerable and newly separated from Nicholas Newman (Joshua Morrow), Adam's half-brother, fell prey to Adam's manipulation and eventually married him.
For months, Adam managed to conceal the truth until Victor, his father, and Jack, Victor's nemesis, joined forces to expose him for his many other sins. Although the doctor involved in the baby switch blackmail had passed away, he left a note for Ashley, revealing the truth about her baby and the pregnancy she had experienced. This revelation created a chaotic situation, but a DNA test confirmed that baby Faith was Sharon's and Nick's, sparking outrage against Adam, who was already widely despised.
Merely four months after their rushed marriage, Sharon served Adam with divorce papers, furious with him. Adam responded by faking his own death to escape the results of his actions. However, Sharon's determination to clear Nick of murder charges led her to uncover the truth about Adam's deception.  This was a perfect opportunity for Sharon to take over Nick Newman And Phyllis Summers' relationship.
Sharon goes back for more
Nick and Sharon's relationship went well until Sharon's troubling kleptomaniac blackouts resurfaced. Sharon hesitated to accept when Nick proposed to her because she knew the danger of her condition and didn't want to involve Nick in it. Instead, she decided to start afresh in New Orleans, hoping to leave her past behind. However, Adam saw this as an opportunity to reconnect with her.
Coincidentally, he "ran into" her and managed to win his way back into her heart. Sharon started to defend Adam and played the devil's advocate for his heinous crimes. She even hired a lawyer to defend him against murder charges after he allegedly killed a woman he'd slept with following his faked death. In response, Nick initiated legal proceedings to gain custody of Faith, ensuring Adam would be kept away from her forever. However, Adam was ultimately released, and Sharon, a suspect, was arrested instead.
Adam broke Sharon out of prison, but she encountered a man and woman who robbed her of her purse and ID during her escape. Tragically, the woman died in a car crash, and her body was too badly burned for proper identification. With Sharon's ID found nearby, everyone believed she had died. Sharon saw this as an opportunity to start anew and began a new life and relationship with a veterinarian until her eventual capture and return to Genoa.
Adam betrays Sharon
When Sharon's trial began, Adam resumed his search for evidence to clear her name and was successful in finding it. However, he saw Sharon embracing her new partner and chose to discard the evidence. Adam even testified against her in court, claiming she'd abandoned her children. He manipulated her emotions by professing his love and orchestrating a jailhouse wedding, only to cruelly leave her at the altar. Despite Sharon being found guilty, Phyllis eventually uncovered evidence that proved her innocence.
Finally, Sharon seemed to recognize Adam's true nature and declared that she could never forgive him. Victor Newman had been married many times. Victor (Eric Braeden) married Sharon to use her to control his company while he was in prison. Additionally, he planned to frame Adam, who had managed to evade charges of fraud and stock price manipulation despite being guilty. In response, Adam and Chelsea Lawson (Melissa Claire) eloped.
However, when Sharon discovered Victor's plot against Adam, she informed him, and they had a passionate encounter in Victor's office. Sharon and Adam's relationship led to his divorce from Chelsea, who ended up with Dylan McAvoy. Finally, the stars had aligned for Sharon and Adam's relationship. Yet, Adam told Sharon that he only wanted a sexual relationship. She agreed to his terms, but when she visited for an arranged rendezvous, Adam told her he wanted nothing to do with her. Sharon warned him that he'd regret it and walked out, officially ending their torrid relationship.