How Kody Brown Got Involved In The Polygamous Lifestyle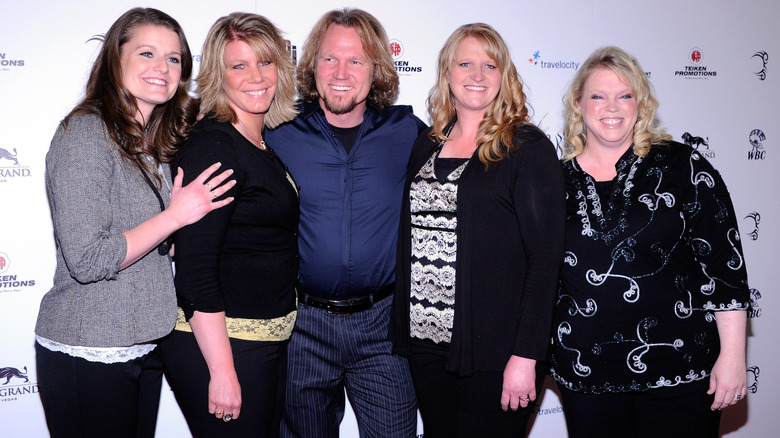 Ethan Miller/Getty Images
TLC's hit show "Sister Wives" introduced viewers to a world that had previously been somewhat hidden in the mainstream. Back in 2010, patriarch Kody Brown let cameras film his multiple wives and children to provide a glimpse of what a plural family was really like. While the Brown family has become recognizable and perhaps even relatable, many wonder what made Kody opt to live in a plural marriage.
The question is perhaps even more sought after since the disintegration of Kody's marriages. While Kody once had four wives, he presently only has one monogamous relationship with Robyn Brown, his fourth wife. In 2021, Christine Brown announced via Instagram that she left her husband, writing, "After more than 25 years together, Kody and I have grown apart and I have made the difficult decision to leave." Then, on the show, second wife Janelle confirmed to TLC that she and Kody had been separated for several months, stating "Kody and I have separated and I'm happy, really happy." In January 2023, he and his first wife Meri released a joint statement about their decision to part ways.
With three of his four wives gone, Kody may be wondering what possessed him to get involved in it in the first place.
Kody wasn't raised in polygamy
Ironically, unlike a few of his wives, Kody Brown didn't grow up in a polygamist home. Neither did Janelle. However, Meri, Christine, and Robyn all grew up with a polygamist lifestyle. Kody grew up with his mother and father married only to each other and was raised as a typical Mormon. In mainstream Mormonism, polygamy is banned. 
As Kody shared with TLC, when Kody's father hit midlife, he decided to move away from his church and delve into a more tolerant church and belief system, and Kody did the same. Soon after, Kody met Meri who had been indoctrinated into the polygamist lifestyle and intended to be a sister wife. When he was interviewed on The Today Show, Kody was asked what made him choose polygamy. "It was faith-based. It was part of a faith belief and I followed through with it," he said. "This is kind of where it landed."
The religion that Kody, Meri, Janelle, Christine, and Robyn followed and raised their family in is known as the Apostolic United Brethren church. It's a fundamentalist Mormon group, not the Church of Jesus Christ of Latter-day Saints (FLDS), which stopped practicing polygamy over 100 years ago.
The Browns left their church
Although the Brown family set out to show viewers how normal their lifestyle was and what a loving and cohesive family they are, their story has had its twists and turns. Long before the divorces and separations, the "Sister Wives" family was actually kicked out of their church.
According to RadarOnline, a source said the church did want the publicity that the Brown family brought to it. "This has been brewing for a long time and Meri's catfishing scandal was the final straw," said the source. "It was a huge, kind of war in the church. The church elders told Kody that he would never be welcomed back."
In a cameo from 2023, Kody shared that he is through with living the polygamist life and says that he and his fourth wife Robyn are now basically monogamous. He also does not have good relationships with the majority of his children, with the exception of Robyn's kids.