The Complete Evolution Of Barbara Palvin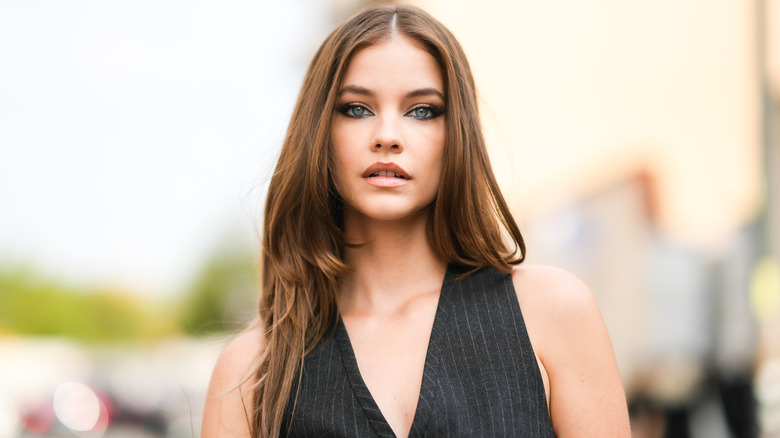 Edward Berthelot/Getty Images
Barbara Palvin is known as many things: one of the world's most famous supermodels, the first-ever Hungarian Victoria's Secret Angel, a Sports Illustrated Swimwear Rookie of the Year, Dwayne "The Rock" Johnson's former co-star, and Dylan Sprouse's wife, to name a few. With tens of millions of Instagram followers and a net worth nearly as high, Palvin is a bona fide It-girl — and after her nuptials to the "Suite Life of Zack and Cody" alum, even more people are falling into her irresistible orbit. 
From her happenstance discovery to her rapid rise to superstardom as a teenager, Palvin has celebrated quite the modeling career. With a laundry list of runway appearances, brand campaigns, magazine covers, and beauty ambassadorships, the supermodel has earned a reputation as one of the most successful models of her generation. To get to know Barbara Palvin's complete evolution from her childhood in Hungary to her history-making achievement as a Victoria's Secret Angel, read on.
Barbara Palvin was born and raised in Budapest, Hungary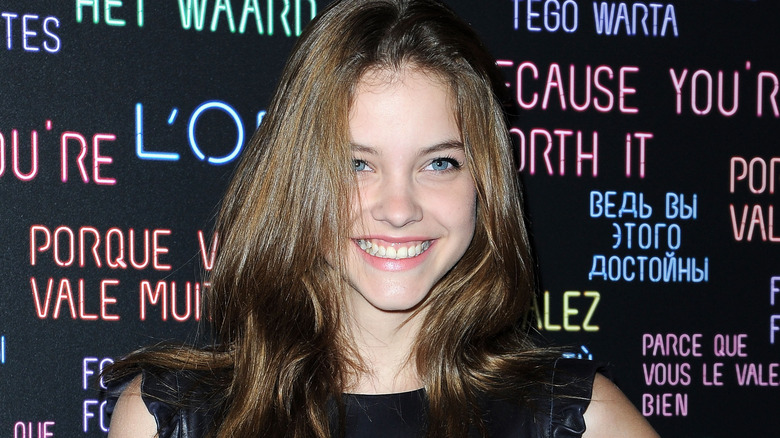 Pascal Le Segretain/Getty Images
Barbara Palvin wasn't born into fame and fortune like some of her peers in the elite modeling industry. A few years after she was discovered, Palvin told W Magazine in a 2010 interview, "[I grew up] in an average family in Budapest. I was born there and we still live there." Emphasizing how quiet her formative years were compared to her whirlwind life post-discovery, the supermodel added, "We often went out of town to a small village in the countryside to visit my grandmother and great-grandmother."
Reflecting on how much her world changed after pursuing modeling full time, Palvin said, "I've learned so much about life. Working was a new thing; waking up early in the morning and going to bed late at night." She gushed about making connections with lovely people in the industry and traveling all over the world while working hard to finish her schooling with the help of her friends. Though she faced the challenge of balancing her teenage life with her unexpected high-profile career, Palvin confessed, "Now I cannot imagine my life without modeling."
She was scouted as a model off the street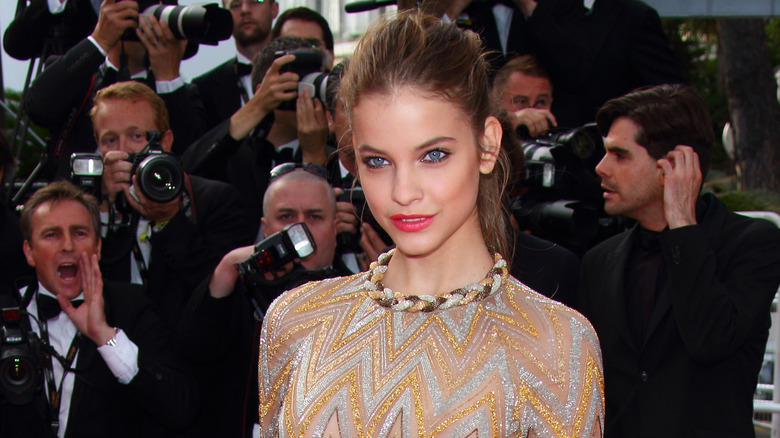 Mike Marsland/Getty Images
Similar to the origin story of "Euphoria's" Angus Cloud, Barbara Palvin was unexpectedly scouted while going about her day. "I was walking on the street with my mother in Budapest, near where I live, when Balazs, who's now my manager, saw me," the young model told W Magazine. She explained, "He asked me if I could go to their office and took some test photos. Then I started modeling." It was 2006, and Palvin was just 13 years old.
That same year, Palvin shot her first cover with Spur magazine. Shortly after this debut, she gained popularity in Japan, which prompted her first international move to Asia to better facilitate her pursuit of a full-time modeling career. Three years later, Palvin joined IMG Models and returned to Europe to infiltrate the continent's market. Soon after this, the teenager would achieve worldwide fame as a model in the fashion and beauty industries.
Barbara Palvin's runway debut took place during Milan Fashion Week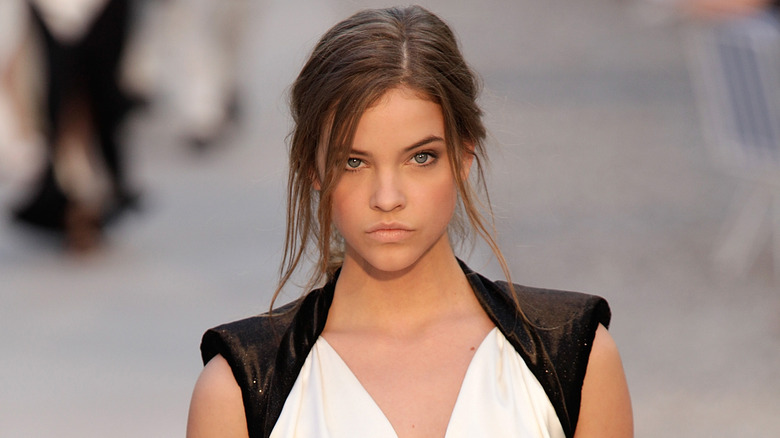 Kristy Sparow/Getty Images
In February 2010, Barbara Palvin made her runway debut during Milan Fashion Week. At just 17 years old, she walked for Prada in its autumn/winter fashion show. "I was very excited — more excited than nervous," Palvin recalled during her interview with W Magazine just a few months after her inaugural runway appearance. Of the experience, she said, "To be on a catwalk was one of my biggest dreams. I met famous models, and it was a pleasure to work with Miuccia [Prada, granddaughter of the brand's founder and the label's former co-CEO and lead designer]."
Before the summer of that year, Palvin walked in fashion shows for Louis Vuitton, Miu Miu, Nina Ricci, and Giles. When the spring/summer fashion season came around, she also added Chanel, Vivienne Westwood, Loewe, and Christopher Kane to the list of major luxury labels for which she walked the runway — all within a single year of her debut. 
She's appeared on the cover of Vogue, Elle, Allure, Harper's Bazaar, and more prestigious fashion magazines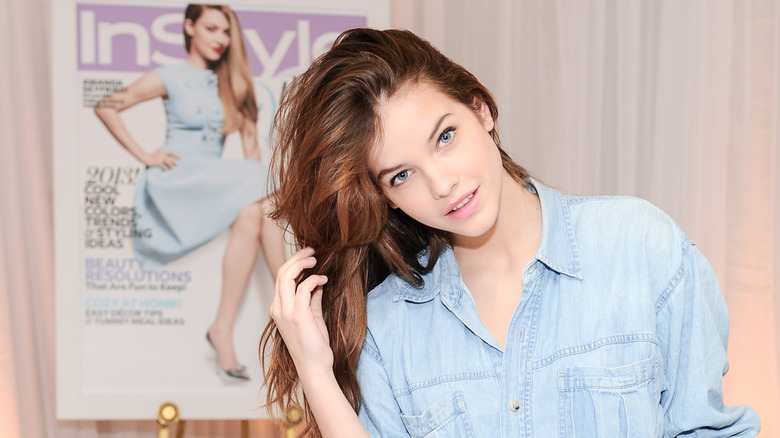 Stefanie Keenan/Getty Images
According to her profile in the Fashion Model Directory, Barbara Palvin has made nearly 140 solo magazine cover appearances for some of the most prestigious publications across the globe. Her extraordinary CV includes appearances for Vogue, Elle, Harper's Bazaar, GQ, Allure, Maxim, Tatler, Grazia, Cosmopolitan, Marie Claire, Glamour, L'Officiel, WWD, InStyle, Wonderland, and more. Not only has Palvin shot covers for all of these world-renowned magazines, but she's also shot multiple covers for most of them, proving just how much people in the industry love working with her. 
The supermodel revealed the conscious effort she puts into being a joy to work with during a 2019 interview with Fashion Street. "Personality is always the most significant factor: The career of a model is undoubtedly a team effort, but it is you who stands alone during photo shoots or events, not the manager, therefore it is important to communicate in a way so, at the end of the day, people like working with you," Palvin explained. She added, "People say that I still remain myself, real. I have not been swept up by the fashion world."
Barbara Palvin has modeled for world-renowned fashion houses including Chanel, Louis Vuitton, Armani, and more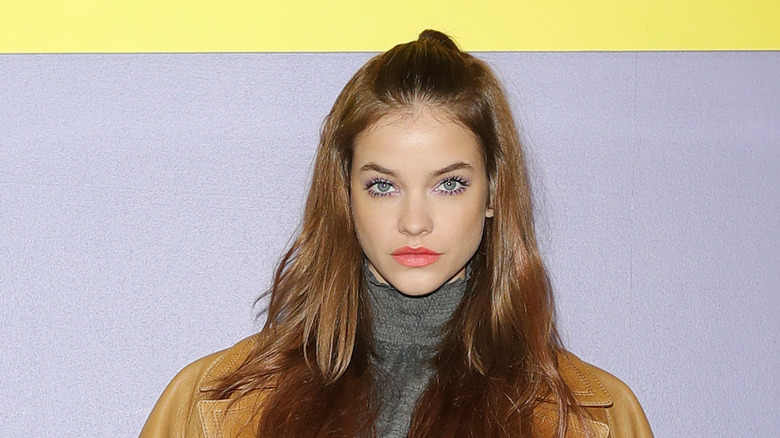 Vittorio Zunino Celotto/Getty Images
Since her Prada runway debut in 2010, Barbara Palvin has walked for esteemed fashion brands including Chanel, Dolce & Gabbana, Louis Vuitton, Armani, Miu Miu, Vivienne Westwood, Loewe, Moschino, Christopher Kane, Nina Ricci, and more.
During a 2015 interview with Luxuo, Palvin divulged that her favorite runway show at that point had been her first with Chanel. She recalled, "It was at the Grand Palais, there was live music, and it was just so beautiful. It was just such an intense experience." When asked why she doesn't appear on the catwalk as frequently as she once did, the supermodel explained, "It's partly because I'm not very good at it. I'm not very tall or skinny. I don't have the runway look," she stated with candor. Palvin added, "It's also a personal choice because I always ended up being disappointed, and that's not good for my confidence."
She's been a brand ambassador for several major cosmetics companies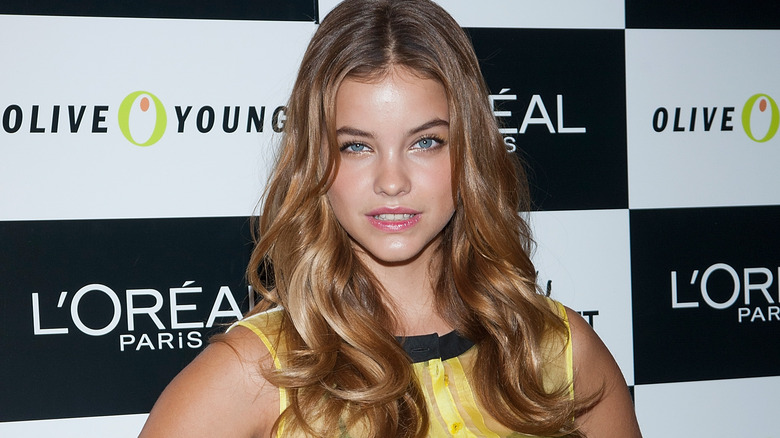 Han Myung-gu/Getty Images
In 2012, 18-year-old Barbara Palvin scored her first beauty brand ambassadorship with L'Oréal Paris. Of the partnership, Palvin told WWD, "I'm very excited about the prospect of joining the L'Oréal Paris family alongside huge, iconic celebrities such as Gwen Stefani and Claudia Schiffer." She added, "I have a very personal vision of beauty, which is very closely aligned with [L'Oréal Paris'] modern approach." Six years later, in 2018, Palvin was named among five new ambassadors for Armani Beauty. She joined Cate Blanchett (who had already been named an ambassador earlier that year), Elaine Zhong, Madisin Rian, Sara Sampaio, and Greta Ferro as the faces of the brand.
In 2022, Armani Beauty hosted the supermodel at the Venice Film Festival, during which she wore a stunning black sequined gown by Armani Privé to the "White Noise" premiere. The floor-length, short-sleeved number featured a red and silver pendant design down the center of the bust. Palvin's makeup included a fierce cat eye, and all products used for her gorgeous glam were presumably from Armani's collection. As of early 2023, the accomplished model was still starring in campaigns for the brand's beauty division.
Barbara Palvin was selected as a model for the Victoria's Secret Fashion Show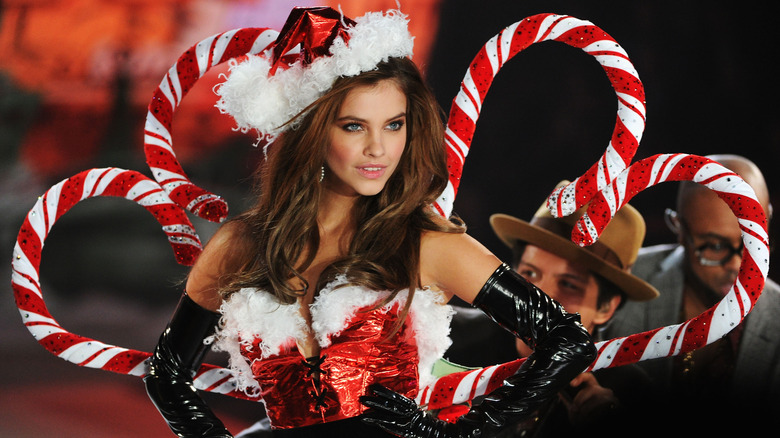 Jamie Mccarthy/Getty Images
Another major moment in Barbara Palvin's modeling career was when she was selected to walk in the 2012 Victoria's Secret Fashion Show. The 19-year-old wore a sexy Christmas-inspired outfit comprised of a metallic red corset with curly white fluff along the bust and hem — a nod to jolly old Saint Nick — as well as bright red underwear, thigh-high latex boots adorned with Santa-esque buckles, matching latex gloves nearly reaching her shoulders, a classic Kris Kringle hat matching her corset, and bedazzled "wings" constructed out of giant candy canes paired together in the shape of two hearts.
Following her runway debut with the iconic lingerie brand, Palvin went on to star in several campaigns for Victoria's Secret, including its 2012 designer collection, spring/summer 2013 catalog, and fall 2013 collection alongside Victoria's Secret Angels Candice Swanepoel and Behati Prinsloo.
She made her acting debut with a role in a movie alongside Dwayne The Rock Johnson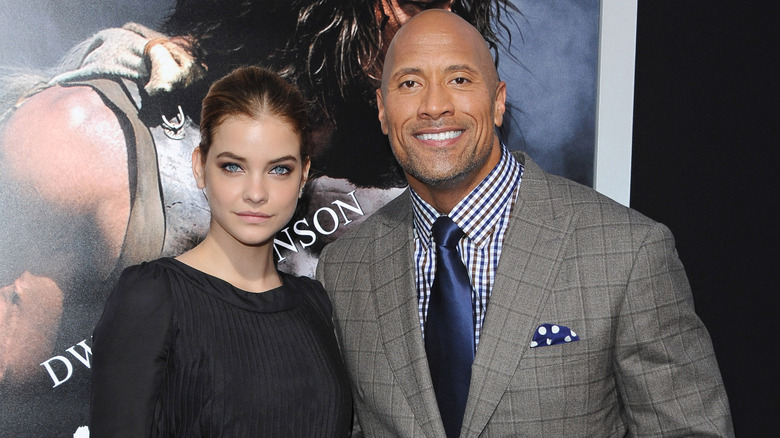 Axelle/bauer-griffin/Getty Images
In 2014, Barbara Palvin tried her hand at acting with a minor role in "Hercules," which starred Dwayne "The Rock" Johnson. Palvin played Antimache, Queen of Mycenae and wife of Eurystheus. Two years after the film premiered, Palvin told Harper's Bazaar she was interested in taking on additional film projects. "I love acting and would love to do it more," she said before adding, "It's harder to go into acting as a model now than it ever was because so many models are doing the same thing. I want to do anything that's challenging and not within my comfort zone," she said, listing potential roles as "a Bond girl, a Marvel character, a psycho, or a loser who doesn't work hard," as interesting to her because they're personas that are different from who she is in real life. 
Since her debut role in "Hercules," the supermodel has gone on to appear in 2019's "Tyger Tyger" and the 2023 short film "Serpentine."
Palvin was the 2016 Sports Illustrated Swimsuit Issue Rookie of the Year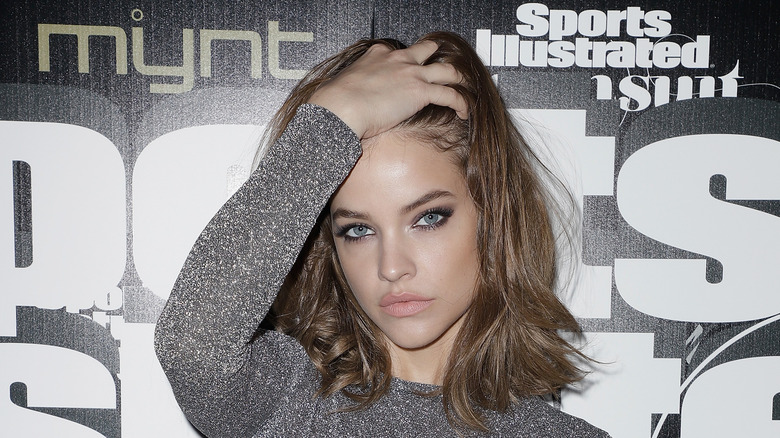 John Parra/Getty Images
Barbara Palvin received another accolade in 2016 in the form of being named Sports Illustrated Swimwear's Rookie of the Year. When this was announced, Palvin told Yahoo! Beauty, "I was super-happy. It's a huge thing in my career. It's going to change a lot — like everything's going to change — after this comes out. And you know, it's an honor," she said.
The supermodel also shared some of the ways she prepped for the shoot, explaining her agency pushed her to exercise four or five days each week. "But actually the reason why [Sports Illustrated] chose me is because they like my body type, so they didn't want me to change anything for the shoot; they wanted me to stay the same way," Palvin shared.
Prior to being named Rookie of the Year, Palvin was at the receiving end of fat-shaming comments when her images for the campaign were released. She responded to the comments on Twitter, writing, "Wooow. i got some nasty comments about me being fat. well i am not as skinny as i was when i was 18. but i dont consider myself fat!" Palvin followed up with a second tweet that included a filtered photo of her face stretched out, cheekily captioning the silly selfie, "I eat boys!"
She began dating Dylan Sprouse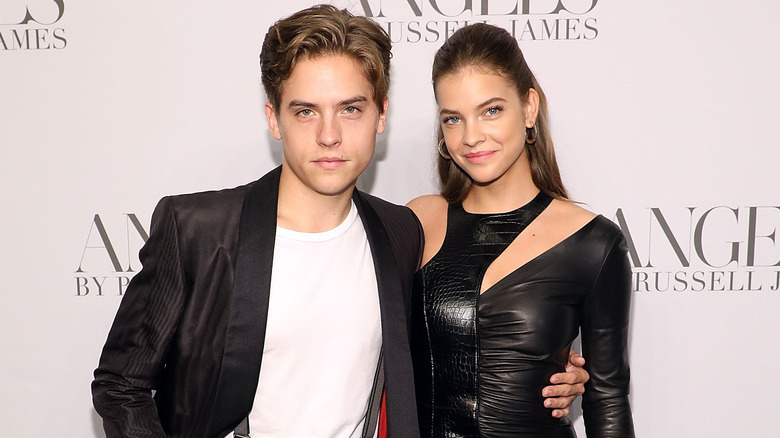 Taylor Hill/Getty Images
In 2018, Barbara Palvin and Dylan Sprouse went public with their relationship. In a joint interview for W Magazine in 2019, the couple shared that they'd met at a party, but it took them six months to connect again after being introduced. The "Suite Life of Zack and Cody" alum explained that the supermodel had followed him on Instagram, so he did what any other guy would do in our day and age. "She followed me, so I was like, I guess I'll give her something. And I slid into her DMs," Sprouse said, "I was like, 'Hey, I don't know if you're in New York for very long, but we should hang out if you want to. Here's my number.' And she didn't message me for six months," he deadpanned.
While Palvin said that she "wasn't in a good mindset at the time," she did eventually circle back to reconnect with the actor. After months of communicating via phone, the supermodel flew to China to visit Sprouse while he was filming a project, and they got along just as well in person. In fact, Palvin told People that she knew she wanted to be Sprouse's girlfriend "the first minute we met" when they got together in Asia — and the rest is history.
Barbara Palvin returned to the Victoria's Secret Fashion Show after a six-year hiatus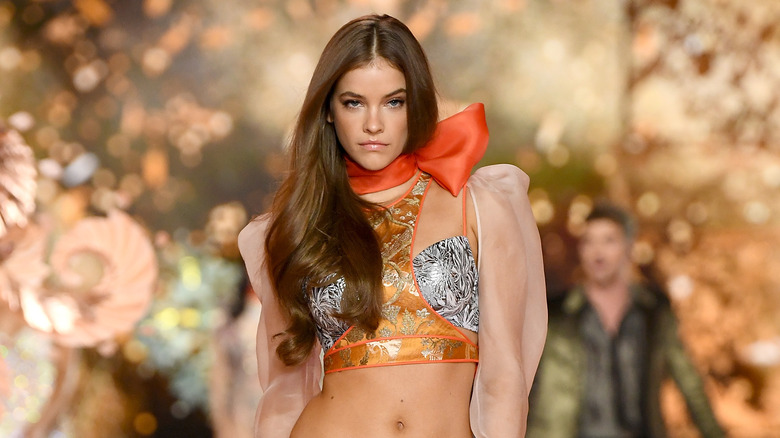 Dimitrios Kambouris/Getty Images
After a six-year hiatus, Barbara Palvin made her second appearance in the 2018 Victoria's Secret Fashion Show. While she strutted down the catwalk in one outfit during her 2012 debut, Palvin traversed the stage several times throughout the 2018 show, modeling three outfits. Her ensembles included a metallic patterned bra and underwear set with a sheer orange cropped bolero shirt, a black sports bra and leggings set with a cropped black puffer jacket, and a rainbow-colored Pink-branded bra and undies set with a black cropped bolero hoodie.
During her W Magazine interview with Dylan Sprouse, Palvin reflected on her experience walking in the show for a second time. "I didn't walk for six years, and it was this big comeback so I felt a lot of pressure," she said before adding, "But I think it had a very positive response to my body shape, so I want to keep up that message of body positivity."
Palvin became the first Hungarian Victoria's Secret Angel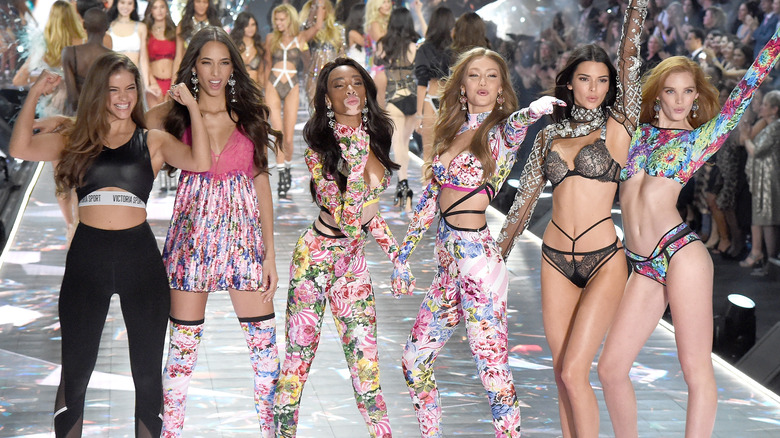 Kevin Mazur/Getty Images
A few months after the 2018 runway show, Barbara Palvin officially earned her wings as a Victoria's Secret Angel, making history as the first Hungarian model to do so. Announcing the news with a video compilation of her work with the brand, Palvin captioned in an Instagram post, "I don't know where to begin but I'll try: I never thought it would happen and it has exceeded all my expectations. I'm very excited to announce that I'm officially a @victoriassecret ANGEL! Thank you for believing in me," she gushed. "There were times where I let my own thoughts hold me back and it was a hard climb away from those but my family, my team, Ed, and everyone at VS they were always there to support me and uplift me," Palvin wrote. She added, "I am proud to represent Hungary, and most importantly, all of you in this new chapter of my life! Thank you all so much again ♥️♥️♥️."
She's one of the highest-paid models in the world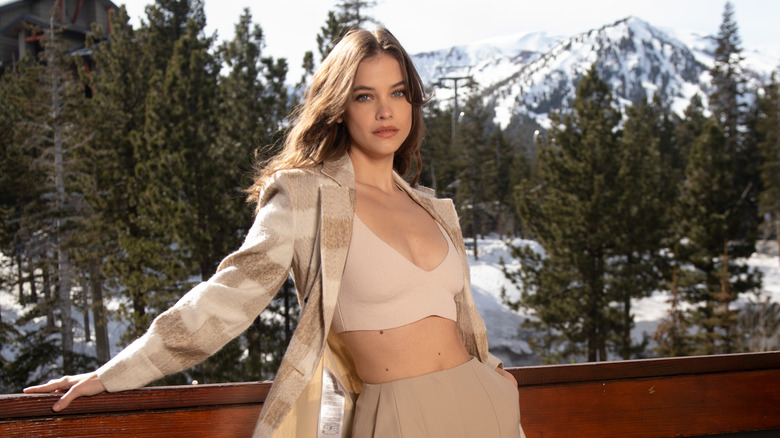 Michael Bezjian/Getty Images
According to Celebrity Net Worth, Barbara Palvin has an estimated net worth of $6 million. In addition to her many types of modeling work, acting roles, and beauty brand ambassadorships, the supermodel also has a massive Instagram following of nearly 20 million followers, which she leverages to secure sponsored posts promoting products and brands she enjoys. Her social media partnerships have included content plugging Armani Beauty, Tiffany & Co., PlayStation, Calvin Klein, Jimmy Choo, Victoria's Secret, Alo, Versace, and more.
In 2016, Forbes valued Palvin's net worth to be $4 million, ranking her as the 17th highest-paid model in the world that year. With the Victoria's Secret Fashion Show making a return as the reimagined "Victoria's Secret World Tour" film in the fall of 2023, the supermodel's net worth could soar even higher if she's included in its lineup of models.
Palvin and Sprouse married in a Hungarian countryside wedding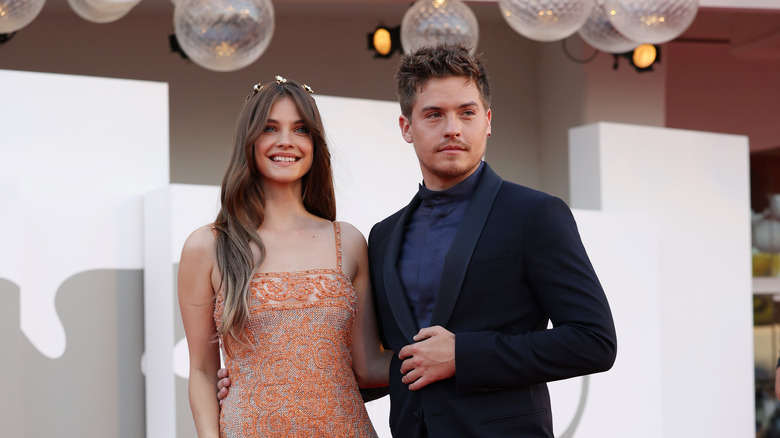 Stefania D'alessandro/Getty Images
After five years of dating, Barbara Palvin and Dylan Sprouse wed during a countryside ceremony in Hungary on July 15, 2023. The blushing bride shared a video of the romantic day on Instagram, captioning the post, "So thankful to everyone who has supported us over the years. We will never forget the memories we made on this day 🤍." Palvin was a vision in an elegant yet sexy silk wedding gown by Vivienne Westwood, which featured a figure-hugging corset bodice, a low scoop neckline, and an A-line skirt. Sprouse was dapper as ever in a classic black tuxedo by Giorgio Armani.
The supermodel described their wedding day to Vogue, saying, "All the people we love and care for were there. We all cried a little. The weather was perfect with a little cool breeze. It was a beautiful moment that we will never forget," she concluded. The pair had quietly gotten engaged in September 2022, which they kept secret from the world until June 2023.