What Kelly Clarkson's Relationship With Carrie Underwood Is Like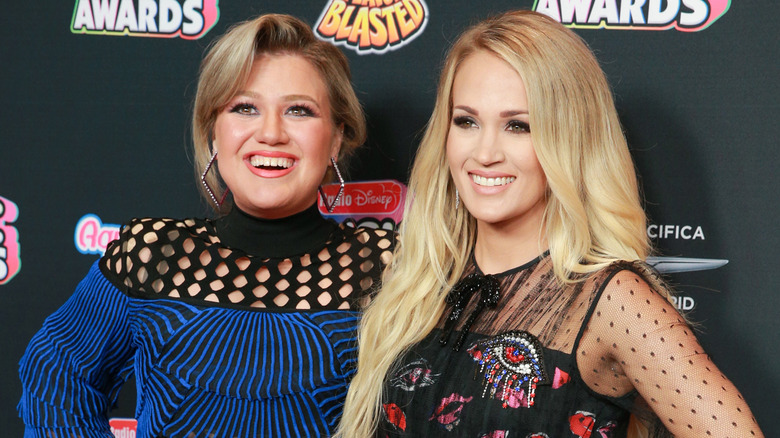 Rich Fury/Getty Images
Powerhouse vocalists, "American Idol" winners, moms of two, philanthropists, country girls — there is a lot of common ground for Kelly Clarkson and Carrie Underwood to stand on. Yet, the question of whether or not the two singers have beef never seems to go away. 
Clarkson, who won "American Idol" in 2002, jumped at the opportunity to defend her relationship with Underwood — who, despite almost not competing on "American Idol," won in 2005 — in a June 2023 appearance on "Watch What Happens Live" with Andy Cohen. While taking a phone call from a fan who prefaced their question to Clarkson with a sidebar about her alleged feud with the "Before He Cheats" singer, Clarkson interrupted to confirm that there is, in fact, no beef, drama, or otherwise between the two. 
Until, of course, the fan caller revealed that wasn't what she was about to ask. Here's what Clarkson had to say about her relationship with Underwood.
Kelly Clarkson said she and Carrie Underwood aren't close enough to have beef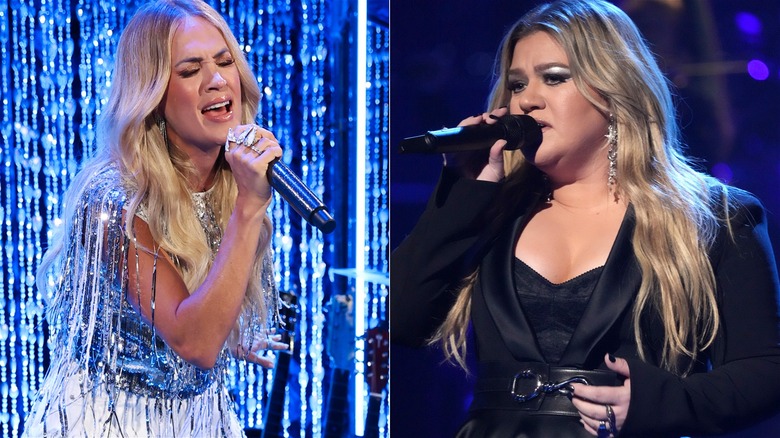 Jeff Kravitz & Terry Wyatt/Getty
Kelly Clarkson quickly responded to the fan while on the show, saying, "I think I know where you're going with this. People always pit us together, and we don't even know each other well enough to be pitted together. Like, literally, we've run into each other a handful of times. There's no beef between us." 
The fan continued her question, asking Clarkson what it was like to have Carrie Underwood featured on her talk show, causing the "Since U Been Gone" singer to embarrassedly get up from her chair and hide behind the bar. Realizing she had jumped the gun on answering the question, Clarkson returned to her seat, saying how great it was to have Underwood as a guest and that she'd love to have her in person since her guest appearance was done via video call during the COVID-19 pandemic. 
Clarkson also added that she didn't know why people are always so quick to pit her and Underwood against one another, as they don't do that with their male counterparts.
This isn't the first time Kelly Clarkson has had to address the rumors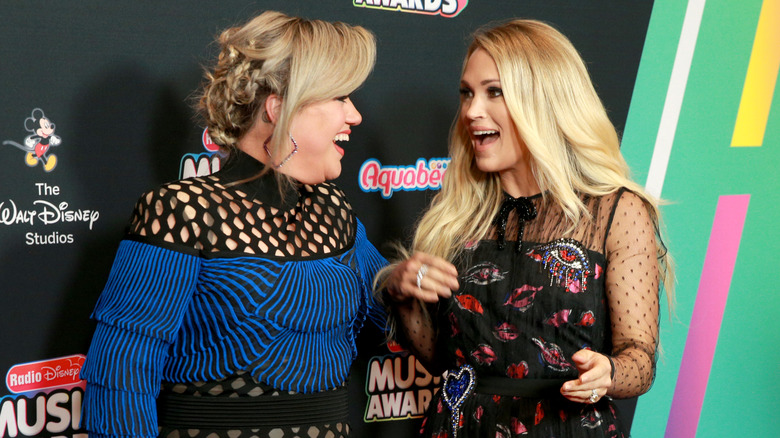 Rich Fury/Getty Images
Kelly Clarkson also addressed the long-lived rumors in 2019 after the talk show host was sent a picture from Star magazine that featured her and Carrie Underwood on the cover with the headline, "Secret feud explodes!" Clarkson tweeted the picture, joking that she only had a feud with the person who chose her photograph, which Clarkson said shows her with "the worst expression I've ever made w/ zero muscles being used in my face." 
Underwood responded via Twitter with a tongue-in-cheek GIF of Reba McEntire, writing, "At least Reba is here to save the day," referencing the Star cover's suggestion that Clarkson's relationship with Reba McEntire caused the country star to intervene in the supposed drama. The singers also tweeted a poll by The Tylt that asked users to decide which of the two "American Idol" winners was more iconic. 
"I think we're both winning in life and pretty blessed! Singers, mamas, CEOs ... go ahead, Carrie Underwood!" Clarkson wrote. In a heartwarming display of solidarity, Underwood replied that she had actually voted for Clarkson. It appears there's no bad blood between the two, and anyone who suggests otherwise is trying to rile up drama that doesn't exist.