Sasha And Malia Obama's First Time Hosting Their Parents Didn't Go Quite As Planned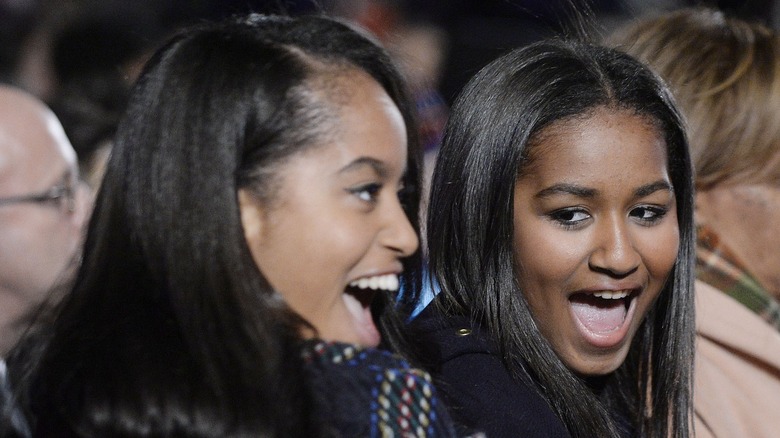 Pool/Getty Images
While many of us have memories of Sasha and Malia Obama as being the adorable little girls that we first met when their dad, Barack Obama became president, they have become grown women seemingly overnight. Since entering adulthood, they both moved out of their parents' home and have begun a new life for themselves. The young ladies invited their parents over to their apartment and had a few mishaps.
Sasha and Maila left the East Coast and moved to California to start their lives as young women in as private a way as possible given their recognizability. Michelle and Barack planned to take the girls out to dinner but stopped by their new apartment to visit them first. The former first daughters invited their mom and dad over to have drinks and appetizers before heading out to the restaurant.
When they got there, Michelle told Robin Roberts on the ABC special, "Michelle Obama: The Light We Carry, A Conversation with Robin Roberts," that she was quite surprised at what she saw, per ABC News. "They had prepared a charcuterie tray and tried to make two very weak martinis," she explained.
Sasha and Malia forgot a few things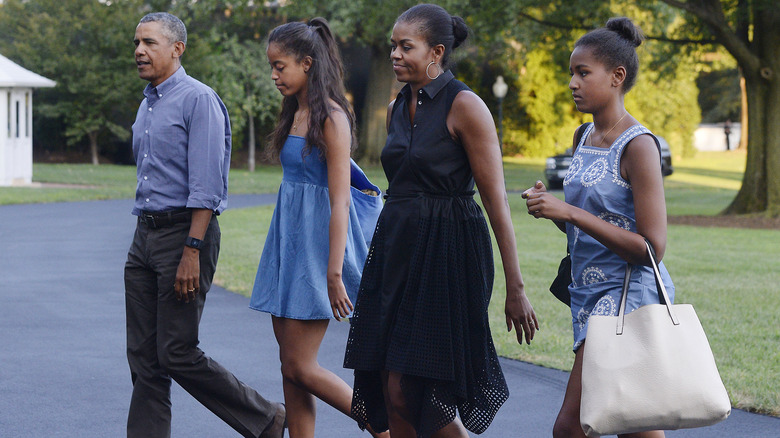 Pool/Getty Images
According to Michelle Obama, Sasha and Malia had the best intentions when they offered to make drinks for their parents. However, that quickly spiraled downward when they realized they were ill-prepared. "They realized they didn't have any of the ingredients, but they were trying to, they were hosting us," said the former first lady during her interview with Robin Roberts for her ABC special. Still, she says it's a lot of fun to watch the girls become who they were meant to be and see them as adults on their own.
The girls managed to make the best drinks they could with what they had on hand. Malia and Sasha also tried to serve their parents as properly as knew how. Michelle laughed as she said that her girls had coasters under her and Barack's drinks though they never used them while in the White House. 
"They didn't care about the watermarks on my table in the White House, but ooh they got their coasters out," Michelle joked to Roberts. "So, you know, as you said, they were paying attention."
What Malia and Sasha are doing now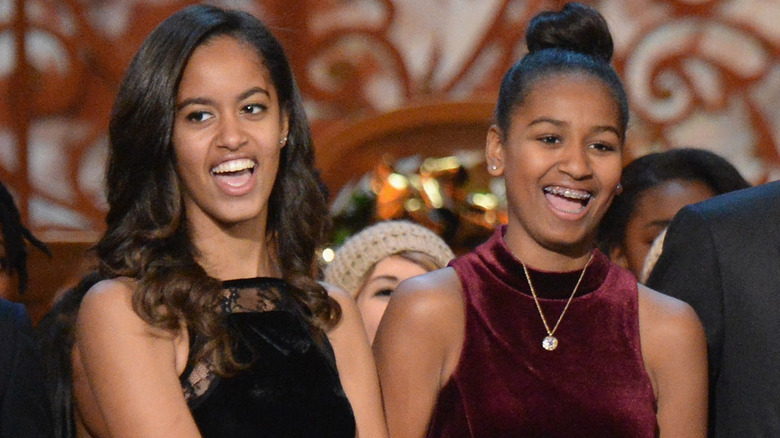 Kevin Mazur/Getty Images
Malia Obama graduated from Harvard in 2021 and moved to California to begin her Hollywood career. She landed a very big project working for Donald Glover and is helping create a short film for Glover's company, Gilga, which will actually be one of the company's first projects. Glover suggested that Malia has a bit of pressure on her and is helping mentor her. "The first thing we did was talk about the fact that she will only get to do this once," he told GQ. "'You're Obama's daughter.' So if you make a bad film, it will follow you around."
Meanwhile, Sasha Obama recently graduated from the University of Southern California (USC). She graduated with a degree in sociology in May 2023 and has yet to make any public work plans.
Michelle is proud of both of her girls and is pleased with how they are entering adulthood — though she and Barack do have some feelings about Sasha and Malia dating. In her book, "The Light We Carry," she writes (via ABC News), "Socially speaking, Sasha and Malia are in that slightly wild, slightly ragtag flea-market stage of life, where new friends are exciting treasures that can be found almost anywhere."