Michelle Obama Explains Sasha And Malia's Deep And Unique Bond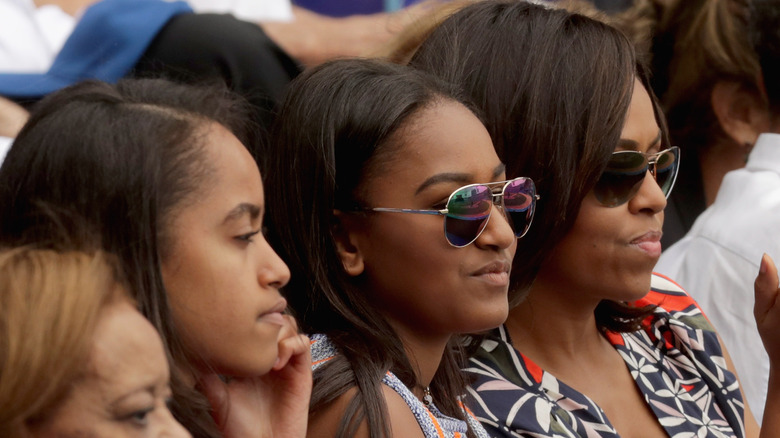 Chip Somodevilla/Getty Images
Malia and Sasha Obama had an unusual childhood. At ages 10 and 7, Barack and Michelle Obama's two girls spent their formative years growing up at the White House. Over roughly 200 years, only about two dozen kids have had this experience. Michelle believes this atypical home life is central to the Obama sisters' lives today. "I think that they realize that they have a unique bond because they're the only two who know what they just went through — growing up in the White House with the brightest spotlight in the world on you as you were going through adolescence and puberty. They uniquely know what that means for them," Michelle told People.
As further proof of their tight relationship, Sasha moved in with her big sister Malia after she transferred to the University of Southern California. Michelle was ecstatic about the news. "To see them in that place where they're one another's support systems and they've got each other's backs, it's the thing that a mother would want," she told "Today." Even so, the former first lady played it cool in front of her daughters. "You don't want to go, 'Oh my gosh, I'm so happy for you!' because then they think, 'Well, maybe this is not a good thing if my mom likes it,'" she explained to People. "So I just said, 'Okay, well that's interesting that you guys are going to try living together. We'll see how it goes.'"
Malia and Sasha had their share of sibling squabbles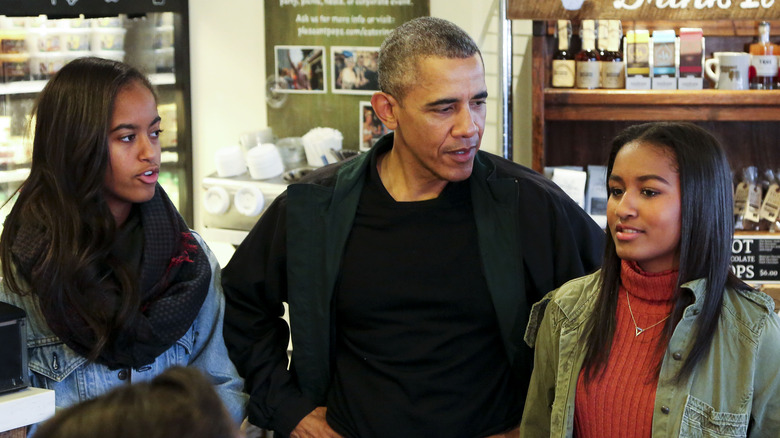 Pool/Getty Images
Like many siblings, Malia and Sasha Obama had plenty of times when they didn't get along. During their teen years in particular, the sisters were known to bicker. "When one is 16 and the other one's 13, there's still that sister competition," Barack Obama explained to Hello! in 2020. "'Did you grab my halter top? Where is it? Why haven't you returned it? Why are you doing this, why are you doing that?'"
Despite being residents of the White House, Barack and Michelle Obama endeavored to provide their kids with a normal childhood, including responsibilities like keeping their rooms clean. "People [here] want to make your life easy, and when you have small kids ... they don't need their lives to be easy. They're kids," Michelle told People in 2009.
Even amidst the sibling quarrels, Michelle foresaw her daughters' future closeness. "There was a period of time when they couldn't stand each other, and I said, 'You wait, you are going to wake up one day and you're going to look over at that other person, and you're going to know that you two share something very unique,'" Michelle recalled on "Today." Now the former FLOTUS is happy to see her prediction has come true. "The thing that I love the most is that those two girls are each other's best friends," she added.
Barack and Michelle Obama's parenting style was integral to the sisters' relationship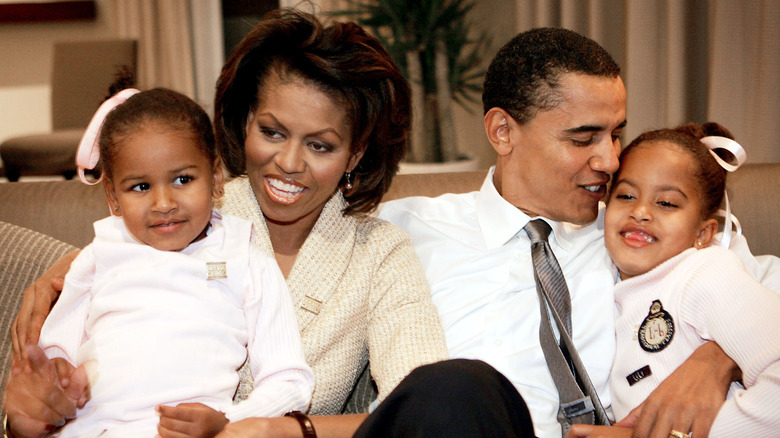 Scott Olson/Getty Images
Barack and Michelle Obama set the stage for Malia and Sasha's bond by appreciating their individuality. "Malia and Sasha couldn't be more different. One speaks freely and often, one opens up on her own terms," Michelle informed British Vogue in 2019. "They've both grown into smart, compassionate, and independent young women, fully capable of paving their own paths." Barack likened these differences to types of plants. "You just roll with that unfolding, that unfurling of who they are, being comfortable just discovering them," he explained in 2021 on his podcast "Renegades," per PopSugar.
Now that Sasha and Malia are adults, their interactions with their parents have evolved. "Our conversations are more peer-oriented than they are mother-to-daughter," Michelle told People in 2021, reflecting how the pandemic altered the Obamas' relationship. "To be together as a family and see how they've become these marvelous young women — there's been no greater joy than that," Barack commented to People in 2020.
Even with their confidence in Malia and Sasha, and knowing the sisters are looking out for one another, Michelle and Barack recognize it's hard to let go. To cope, Barack texts helpful info and reminders to his daughters. However, stepping back also has its rewards. "When I see them owning all their choices, and succeeding and failing on their own terms, and growing from that process, it is one of the most satisfying experiences," Michelle told NPR.