Lady Gaga's Heartbreaking Tribute To Tony Bennett Relives Their Transcendent Friendship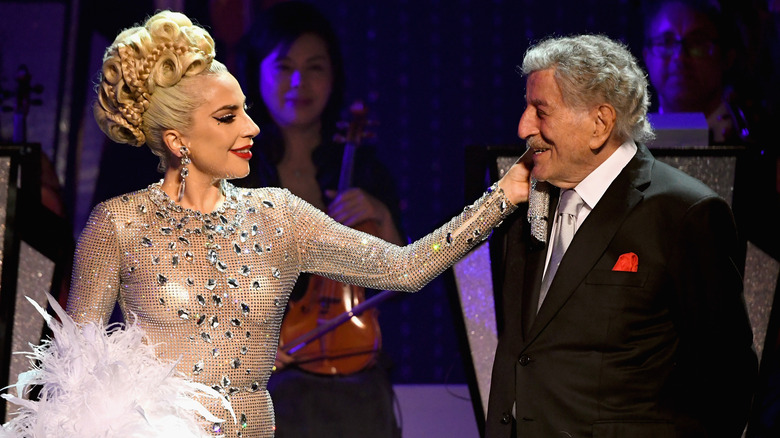 Kevin Mazur/Getty Images
As news of the heartbreaking death of Tony Bennett broke, celebrities reacted on social media, including his friend and collaborator Lady Gaga. Bennett died on July 21 at the age of 96, two weeks before his birthday, USA Today reported. Though no specific cause of death has been announced yet, the singer had been diagnosed with Alzheimer's in 2016.
Many recall the touching relationship Bennett had with Lady Gaga. The pair not only performed at President Barack Obama's inaugural ball but also put out two albums together, "Cheek to Cheek" and "Love for Sale" (via The U.S. Sun).
Gaga performed at the 2022 Grammys and sang a tribute to Bennett, performing two songs from the album that she and Bennett released, "Love for Sale" and "Do I Love You." Bennett retired from performing in 2021 after his last concert at New York's Radio City Music Hall. Now Lady Gaga has heartfelt words after learning of her dear friend's passing.
Lady Gaga says she'll 'miss [her] friend forever'
Lady Gaga shared a touching tribute to Tony Bennett on Instagram, writing, "I will miss my friend forever . . . With Tony, I got to live my life in a time warp. Tony & I had this magical power. We transported ourselves to another era, modernized the music together, & gave it all new life as a singing duo." Lady Gaga continued, "Though there were 5 decades between us, he was my friend. My real true friend. Our age difference didn't matter– in fact, it gave us each something neither of us had with most people. We were from two different stages in life entirely–inspired," wrapping up the post with, "I love you Tony. Love, Lady."
In recent years, Lady Gaga was tender with Bennett in light of his Alzheimer's diagnosis. She learned to frame how she asked him questions while working, per the Independent, noting that although he may have gotten confused when talking, music made everything clear. "When that music comes on . . . something happens to him," said Gaga. "He knows exactly what he's doing. And what's important for me, actually, is just to make sure that I don't get in the way of that."
In an interview with 60 Minutes, Lady Gaga shared how it felt to see changes in him. "It's emotional," she said. "He really pushed through something to give the world the gift of knowing that things can change and you can still be magnificent."