Do Zooey Deschanel's Kids Approve Of HGTV's Jonathan Scott?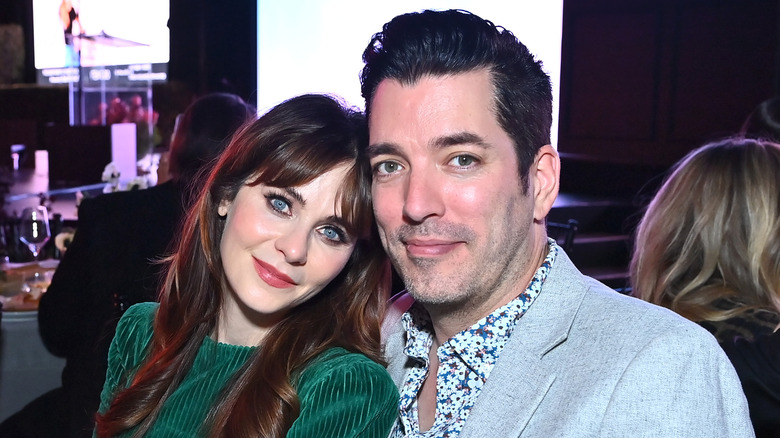 Stefanie Keenan/Getty Images
Maintaining a happy blended family is hard work — a lesson that actress Zooey Deschanel and "Property Brothers" star Jonathan Scott are having to learn in real-time. In an exclusive Father's Day-themed interview published on the Scott brothers' website, Jonathan opened up about what it's been like co-parenting Deschanel's son and daughter with her ex-husband, Jacob Pechenik.
News of Zooey Deschanel and Jonathan Scott's relationship garnered mixed reactions back in 2019, and it seems like Deschanel's kids were equally wary of Scott at first. The HGTV star explained that he was most worried about the two young children thinking, "Who is this giant guy who's all of a sudden showing up around us?" However, he said that his background as a clown and magician (add that to the list of things you didn't know about the Property Brothers) helped him learn how to engage and connect with kids.
Nevertheless, it took some time for the kids to warm up to Scott — and to find an appropriate name to call their new second dad.
Jonathan Scott said the early stages 'hurt a little bit'
Jonathan Scott revealed some of his struggles as a new paternal figure to Zooey Deschanel's kiddos, including their initial coolness towards him. "The kids didn't necessarily run up and jump in my arms and give me a big hug," he said. "I also remember several times when they'd be out with other kids, and someone would say, 'Oh, your daddy's so funny,' and they'd be like, 'That's not my daddy; he's my Jonathan.' So that would hurt a little bit." 
While it took some time to get used to the children's matter-of-fact nature regarding their relationship with Scott, they did come up with a pretty cute nickname for the "Property Brothers" star: My Jonathan. Scott explained that Daddy and Papa were already taken by the kids' dad and grandfather, so eventually, the family landed on this heartwarming term of endearment instead. 
Scott said that over time, he realized being "My Jonathan" didn't mean he was less of a paternal figure — it was simply how the kids knew him. These days, Scott says his relationship with Deschanel's kids is far warmer, and they do, in fact, run up to him and ask for a big hug. He attributes this positive relationship to open communication with the kids, their father, and Deschanel and always being willing to be silly.
The Deschanel-Scott-Pechenik family is a drama-free zone
Jonathan Scott said that he, Zooey Deschanel, and Jacob Pechenik have all made a conscious effort to keep their co-parenting drama-free. "We focus on letting go of all those other things and figuring out what's most important, which is to make sure the kids have a healthy childhood," he explained. "Sometimes things will pop up, and there's never any frustration. We're pretty spoiled. We have a great relationship."
He added that he works hard to keep things light — but disciplined — with the kiddos, serving as both the family clown and the parent who will follow through with enforcing certain guidelines and rules (like the infamous pick-up-your-toys-or-I'm-donating-them parental struggle). Scott also said that part of being a great dad means being a compassionate, attentive partner to Deschanel, simultaneously supporting her and teaching the kids how to be helpful, thoughtful, and kind. 
Deschanel and Scott's relationship might've been unexpected at first, but everyone — kids and Scott's fellow HGTV stars alike — has fallen into an upbeat rhythm since. "You go through these different phases and adapt," Scott said. "But I think as long as that communication and sincerity is there, they'll know they can trust you and that you have feelings, too."