Everything We Know About Sydney Sweeney And Glen Powell's Relationship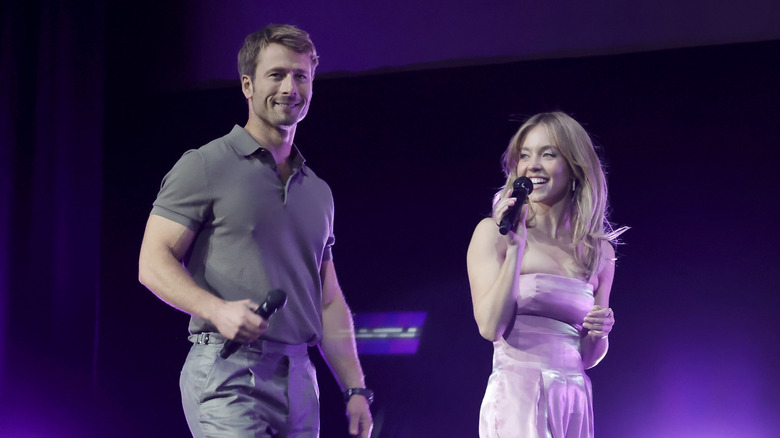 Kevin Winter/Getty Images
In January 2023, Deadline announced that Sydney Sweeney, best known for playing Cassie on "Euphoria" would star alongside "Top Gun: Maverick" star Glen Powell in a romantic comedy. Directed by Will Gluck, the film, titled "Anyone But You," has an enemies-to-lovers plot line. Filming began in early 2023 in Australia and ended in April. Since then, Sydney Sweeney has spoken about how much she loved working on the film and costarring with Powell. She told People, "It was just laughter 24-7. Literally, we were just having a great time every day." Before adding, "It was a really, really fun experience."
However, during production, Sweeney and Powell appeared to get exceptionally close. On their social media accounts, the two posted a series of photos with each other where they seemed to look like more than coworkers. In one post, Sweeney and Powell are pictured embracing each other. In another photo, Sweeney stares deeply at Powell. Sweeney even met Powell's family and joined them on an excursion to the zoo in Australia. Both Sweeney and Powell documented the trip on their individual Instagram accounts. In a video uploaded to Twitter, Sweeney and Powell giggle as he dips and lifts Sweeney while they sit on a couch. Ultimately, the photos and video alarmed fans and caused a flurry of cheating rumors.
Did Sydney Sweeney play a part in Glen Powell's breakup?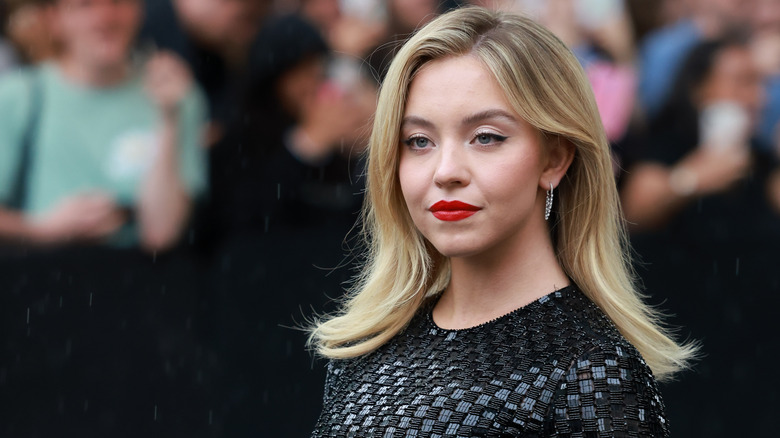 Arnold Jerocki/Getty Images
Sydney Sweeney has been engaged to her boyfriend, Jonathan Davino, since 2022. On the other hand, Powell was in a relationship with model Gigi Paris during the production of "Anyone But You." Powell and Paris broke up before the film wrapped, which left many wondering if Sweeney was to blame for the split. Adding fuel to the fire, Paris posted a video on Instagram with a caption that read, "Know your worth & onto the next." Moreover, she unfollowed Sweeney on Instagram. 
However, a source told People that this was not the case and that Powell's career and the physical distance between him and Paris caused the end of their relationship. The source also explained, "Gigi only unfollowed Sydney on social media because Sydney never followed her back. This had nothing to do with Glen and Sydney. Gigi is aware that Glen and Sydney never hooked up." But in April 2023, Sweeney and Powell made an appearance at CinemaCon 2023 to promote "Anyone But You."
The two appeared to flirt with each other, and at one point, Sweeney referred to Powell as "Top Gun," per CNN. Powell replied, "I love it when she calls me that." According to Vulture, Sweeney and Powell were seen holding hands at the event.
Sydney Sweeney shut down Glen Powell cheating rumors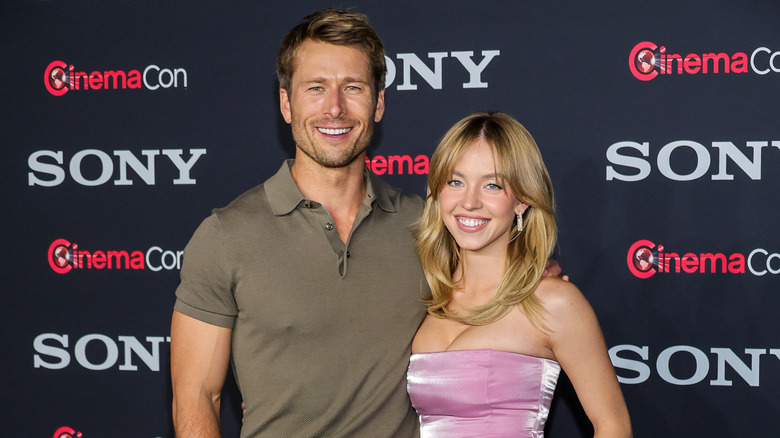 Ethan Miller/Getty Images
In an interview with The Age, Syndey Sweeney briefly discussed Glen Powell and put the cheating rumors to rest. She told the publication, "I mean, it's honestly ... we filmed a romantic comedy!" She added, "So, of course, people see what they want to see. But really, they saw us on set. All those pictures are of us in character, so of course that's what we're gonna do." She also noted, "I think, you know, it just proves that we're great actors." 
Powell, however, has kept quiet about the situation. Similarly, a source told People that nothing transpired between Sweeney and Powell. They said, "It's like when people say about movie stars, 'Oh, they have such good chemistry.' It's just their job. They're friends that met on set. They're costars." At the time of this publication, Sweeney and her fiance Jonathan Davino are still engaged and have been pictured together in the months after the "Anyone But You" and Powell scandal. Speaking to TMZ, celebrity branding expert Jeetendr Sehdev told the news outlet that he believes the situation and subsequent rumors were created to sell the film. In other words, it was all a PR move. "Anyone But You" is set to be released on December 15, 2023.