Meghan Markle's First Fangirl Moment With Victoria Beckham Comes To Light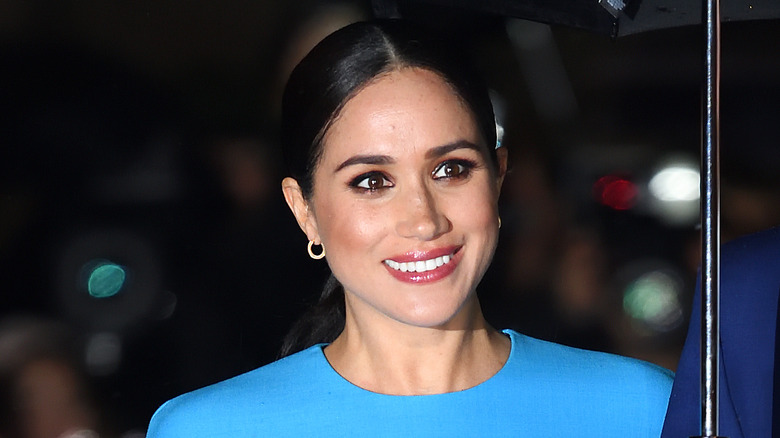 Karwai Tang/Getty Images
When Meghan Markle, Duchess of Sussex, moved to the U.K. in 2017, she embarked on a friendship with former Spice Girl Victoria Beckham. Early on, the two women bonded over their interest in fashion and beauty. "Meghan really likes Victoria's style and was keen to pick her brains about pulling together a working wardrobe," one of Victoria's friends informed Vanity Fair in 2018. "She loves Victoria's elegant but smart dresses."
Meghan already held the singer and designer in high esteem before she got to know Victoria. Back in 2013, before Meghan met Prince Harry, Duke of Sussex, she was visiting the U.K. to explore acting opportunities. Although Meghan was enjoying success from her role on "Suits," she wasn't immune to being star-struck when she spotted Victoria at the Global Gift Gala. "I've never seen anyone squeal quite like it," Meghan's former friend Lizzie Cundy recalled to the Mirror. "She went 'Oh my God, that's Victoria Beckham!'" Cundy, however, didn't approve of Meghan's exuberance. "It was crazy, I thought 'You've got to calm down and be cool.'"
Soccer legend David Beckham, Victoria's husband, was already friends with William, Prince of Wales and Prince Harry, so this royal friendship made it easy for the two couples to bond when Meghan and Harry started dating. As further evidence of the two families' closeness, Victoria and David were invited to William and Catherine, Princess of Wales' 2011 wedding, and the Beckhams were also guests at Harry and Meghan's 2018 ceremony. 
Victoria and David Beckham's friendship with Harry and Meghan has reportedly ended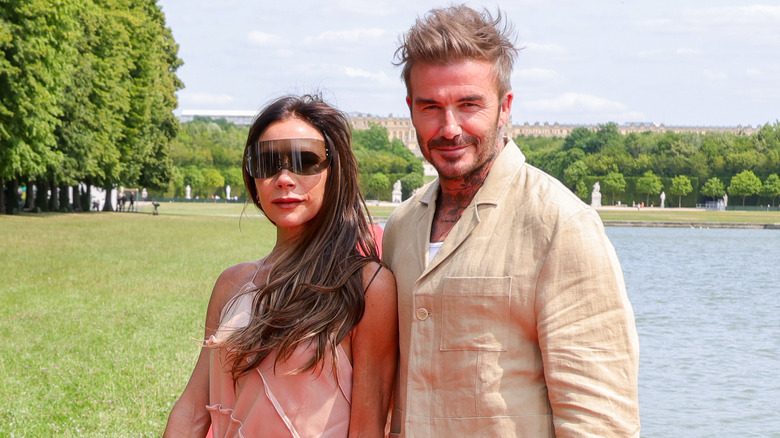 Pierre Suu/Getty Images
In 2012, David Beckham praised his connection with William, Prince of Wales, and Harry, Duke of Sussex. "It's a very normal relationship," David told Esquire (via Express). "They're very easy to get along with." Victoria Beckham and Meghan Markle, Duchess of Sussex enjoyed a similar ease in the early days of their friendship. Using her connections, the former Spice Girl helped the duchess get into U.K. beauty hot spots. Meghan, in turn, showed her fandom of Victoria's designs by wearing one of Victoria's sweaters for her engagement photos, making the garment into a must-have item. 
The couples' relationship had started to cool when Victoria and David declined to invite Harry and Meghan to their son Brooklyn's 2022 wedding. Now the Beckhams have reportedly kicked the friendship to the curb over Harry's allegations that they divulged info about the Sussexes to the media. Lizzie Cundy, Meghan's former friend, is skeptical. "These are real big family people, there's no way Victoria would've leaked stories," she asserted to the Mirror. 
Victoria and Meghan also have different approaches to the media. "[Victoria's] saavy, she has a sense of humor and uses it to her advantage," a London-based PR explained to The Telegraph. "People like Meghan, who try to control the narrative and only present themselves in a perfect light, forget that the public warms to a humor and the ability to show a flaw."