The Stunning Transformation Of Irina Shayk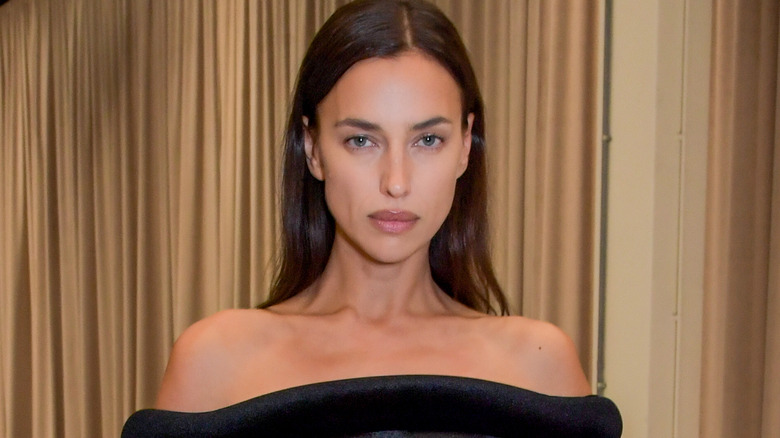 David M. Benett/Getty Images
From her challenging childhood in Russia to her soaring fame as one of the world's foremost supermodels, Irina Shayk underwent quite a stunning transformation as her career blossomed, exploded, and evolved. Shayk hails from a family of strong women, and her matriarchal influence is evident in the way she carries herself in the modeling world and raises her own daughter today. The supermodel has stayed proudly true to herself despite frequently hearing she needed to change to fit the mold, and her loyalty to who she is has paid off as the modeling industry has changed.
In addition to appearing on the cover of the world's most prestigious fashion magazines and walking the runway for the planet's leading luxury brands, Shayk has also dabbled in acting, become a mother, and overcome several traumatic events to become an incredibly resilient and unapologetically confident person. To learn more about Irina Shayk and her stunning transformation, read on.
Irina Shayk was born and raised in Russia and experienced poverty as a child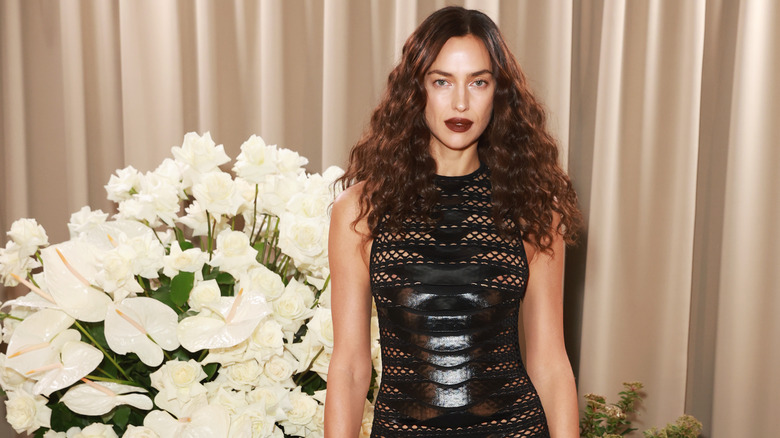 David M. Benett/Getty Images
Irina Shayk hails from Yemanzhelinsk, a town she described to Vogue as "the middle of nowhere in Russia." Her father worked to support the family by mining coal, and her mother was a pianist, though she struggled to find work in their area. With only one consistent stream of income, the supermodel grew up experiencing poverty. "I remember having no food at home. Sometimes there was no salary, or my mom and dad's salary was delayed," she told Elle. 
One of the key ways Shayk, her sister, and her parents navigated financial hardship was to plant their own food. "In summer, you grow vegetables and bury them, so in wintertime you have potatoes, carrots, everything, so you can survive," she explained to Vogue. The model added, "When I moved to New York, I was shocked that people go to the supermarket and buy potatoes. I was like, 'That's crazy.'"
She was the victim of a traumatic home invasion at 6 years old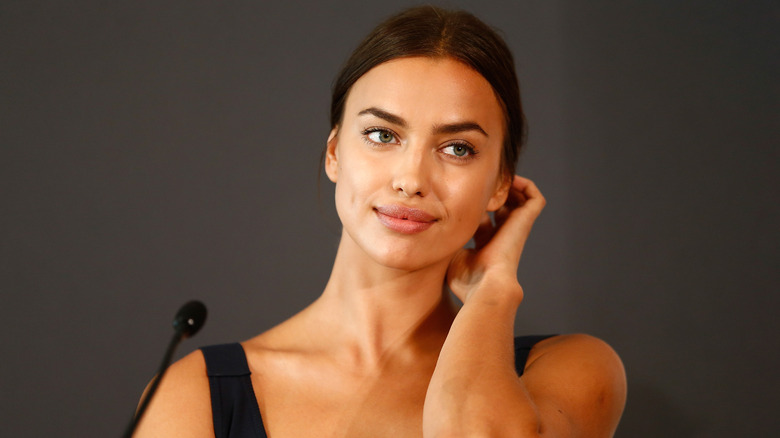 Andreas Rentz/Getty Images
When Shayk was young, her father bought a car — a very rare luxury for people who lived in her village. He sold the vehicle intending to use the money to purchase a new house and send his daughters to college, but those plans were dashed when the family was robbed at gunpoint. Shayk was 6 years old. "I opened the door and three guys wearing masks came in, and they were pointing a gun to my head," the supermodel recalled to Vogue, fighting back tears. 
"They were like, 'Where is your father? We know you have money in the house.' My first reaction was, don't talk," Shayk said. "I didn't tell them my father was taking a shower. Then they broke the bathroom door and there was a huge fight. ... One was pointing a gun to my head, and the two others were fighting with my father," she recounted. Ultimately her father was able to escape and run for help, which spooked the robbers enough that they fled the house. Shayk said the family later realized it was her father's best friend who told the robbers of the money in their home because he was the only person outside of the family who knew her father sold the car. She said that to this day, she's hesitant to trust others and keeps her inner circle small because of the mental and emotional impact of the incident.
Her father tragically died when she was a teenager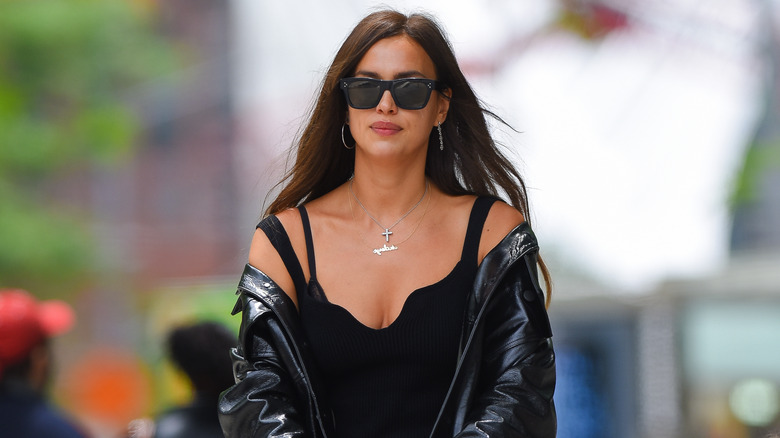 Robert Kamau/Getty Images
At the very start of her teenage years, Irina Shayk unexpectedly lost her father when his health quietly then quickly declined. "He was the healthiest man alive, and at 44, out of the blue, he was coughing for a while, then got pneumonia and died," she told Vogue of his tragic premature death. "Me, my mom, and my sister were left. Three women." Shayk was 14 years old. She said the loss was staggering, saying, "[H]e was the love of our lives." Her mother was especially distraught after his passing, having spent 21 years of her life by his side, 14 of them married. "She was terrified," the supermodel recalled. "But I think what is very special about the Russian woman, and women in general, is they always shape up in the right moment," Shayk opined.
Raised by her mother and two grandmothers from then on, the model learned how to survive without the help of a man. "You have to learn how to put a nail in the wall, how to hang the curtains," Shayk told Harper's Bazaar. As difficult as losing her father was, she said, "[I]t was really inspiring to grow up in a women's family because you learn so much from the strong women in your life."
Irina Shayk was discovered while attending beauty school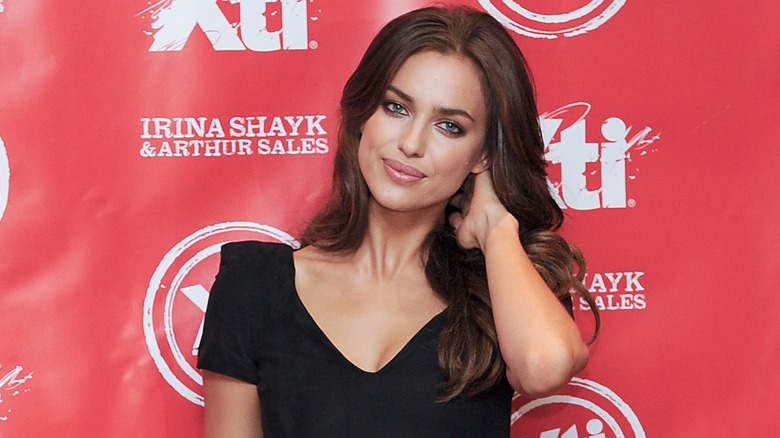 Fotonoticias/Getty Images
Like her supermodel contemporary Barbara Palvin, Irina Shayk was discovered by happenstance. She and her sister had moved to a bigger city to attend college, and in addition to taking university classes in marketing, Shayk was a part-time cosmetology student. "There was a beauty school we went to in the afternoons, and there was a modeling school next door," she told Vogue. "Guia Jikidze, who became my manager and who unfortunately passed away, sent a scout to this beauty school. He saw me, took pictures, and sent them to Guia, who said, 'Oh, do you wanna be a model? Do you wanna go to Paris?'" 
And that's exactly what Shayk did, making her first international move to France at 19 years old. She recalled sharing an apartment with eight models, living off of 50 euros a week and not knowing any English other than "My name is Irina" and "How are you?" As challenging as it was, Shayk said, "[I]t was the most beautiful time I've ever had. I'd known about the world existing out there, but it was my first stop from Russia."
She launched to stardom with an appearance in the Sports Illustrated Swimsuit Issue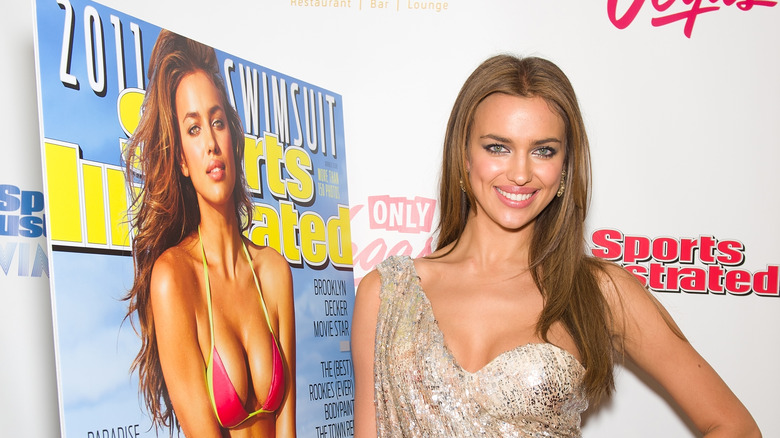 Gilbert Carrasquillo/Getty Images
After moving to Paris, Shayk booked her first big job: a photoshoot in the Caribbean for a Lacoste catalog that paid 4,000 euros. Her next career break was becoming the face of Intimissimi, a lingerie brand, in the late 2000s. After three years of starring in their campaigns, the company named Shayk their brand ambassador in 2010. Then came the job that would skyrocket her to global fame: her 2011 appearance on the cover of Sports Illustrated Swimsuit Issue. While she had already appeared in the pages of the magazine for four consecutive years, starring on the cover of the iconic publication made Shayk the first Russian model to do so and launched her career into supermodel territory.
Reminiscing about her cover nearly a decade after her first Sports Illustrated shoot, Shayk told Women's Wear Daily, "I've learned a lot about being more confident with my body, because Sports Illustrated always hires girls who love their bodies, their curves, and it's really important to love your body." She added, "My journey with them really showed me how you can be a better woman — how you can experience your body in a better way and be more confident."
Shayk has walked the runway for dozens of prestigious designer brands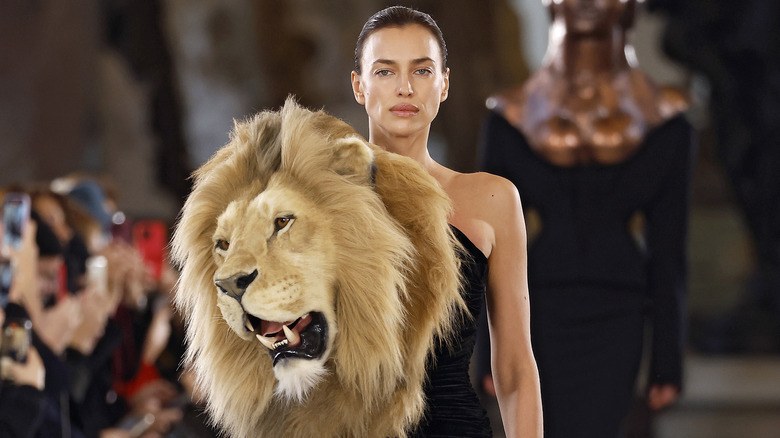 Estrop/Getty Images
Irina Shayk became one of the most highly sought models after her February 2011 Sports Illustrated Swimsuit Issue cover. That year alone, she shot covers for StyleCaster, GQ, Harper's Bazaar, Cosmopolitan, Elle, and Men's Health. In the decade that's followed, Shayk has appeared on the cover of every major fashion and lifestyle magazine — some of them multiple times — including Vogue, Glamour, Marie Claire, Vanity Fair, Esquire, Allure, Maxim, W, InStyle, and more.
In addition to her hundreds of magazine appearances, Shayk has also walked the runway for the most prestigious fashion houses on the planet. Her first major catwalk appearance was for Yeezy in 2012, and the following year she walked for Givenchy and Jeremy Scott during Paris Fashion Week and New York Fashion Week, respectively. Shayk has also walked the runway for Victoria's Secret, Versace, Bottega Veneta, Miu Miu, Marc Jacobs, Moschino, Burberry, Valentino, Etro, Missoni, Oscar de la Renta, Jean Paul Gaultier, Michael Kors, Savage x Fenty, Vivienne Westwood, and many others during all of the major fashion weeks around the world. Like her magazine cover appearances, the supermodel has walked multiple times for a number of these designer brands.
Irina Shayk debuted as an actress in a film with Dwayne The Rock Johnson and fellow supermodel Barbara Palvin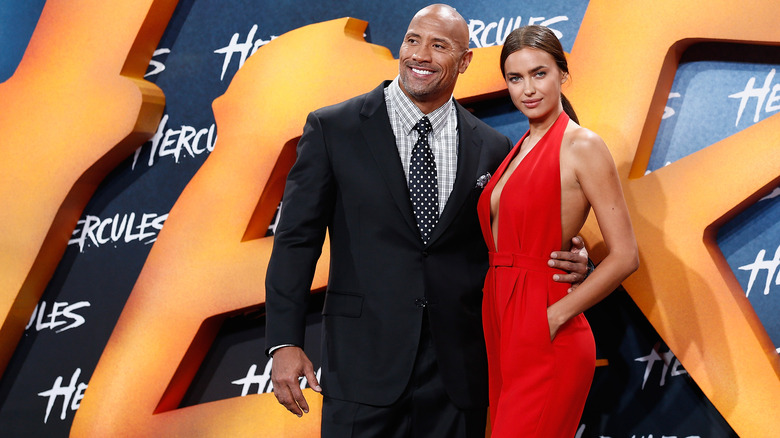 Andreas Rentz/Getty Images
For her acting debut, Irina Shayk starred alongside Dwayne "The Rock" Johnson in the 2014 film "Hercules." The supermodel played Megara, Hercules' wife, and she raved about the project during the movie's London preview. "It was a really great experience, especially as I've never taken acting classes in my life," Shayk had said at a preview for the film, as reported by Hello! Used to being primped for fashion shoots and runway shows, she said, "I loved the set, being covered in mud and fake blood — it was different and fun!" Shayk added, "To be on set with these amazing people was a dream come true." Fellow supermodel Barbara Palvin also had a role in the film — an acting debut for her as well.
In 2016, Shayk appeared on an episode of "Inside Amy Schumer" but hasn't starred in any other major projects since. Before both the comedian's television show and "Hercules," Shayk's first foray on set was for Kanye West's 2010 "Power" music video.
Four years into their relationship, she and Cristiano Ronaldo shot the cover of Vogue Spain together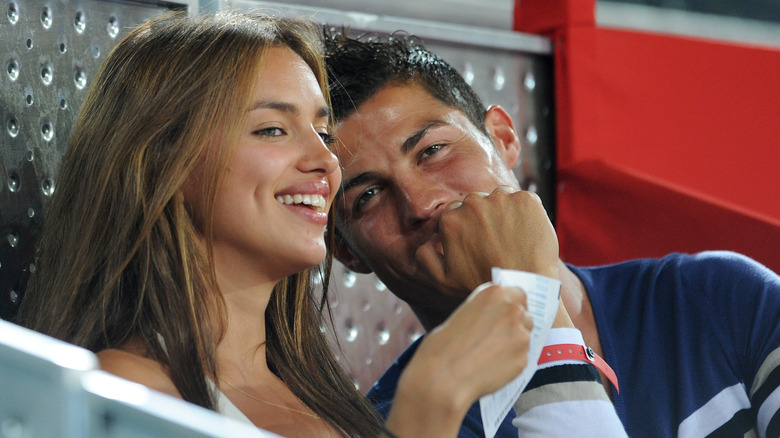 Jasper Juinen/Getty Images
Irina Shayk and soccer superstar Cristiano Ronaldo began dating in 2010 after meeting on the set of an Armani swimwear photoshoot. Four years into their relationship, the stunning couple shot the cover of a fashion magazine together — and not just any fashion magazine. Shayk and Ronaldo posed for Vogue Spain, with the professional athlete completely naked and the supermodel standing in front of him in an edgy white dress. Shayk possessively smized at the camera with an arm around Ronaldo's shoulders, leaving a suggestive sliver of her beau's body exposed. The soccer player told the publication, "Sharing the cover with Irina means a lot. Irina is the most beautiful woman in the world, and working with her has been, in addition to being a surprise, something very special." He added, "It was the first time we did something together. And I've enjoyed it."
Half a year later, Shayk and Ronaldo called it quits, with the supermodel notoriously losing 11 million Instagram followers in 24 hours after telling people to unfollow her if they "only know her as Cristiano Ronaldo's ex-girlfriend."
After her split from Ronaldo, she began dating Bradley Cooper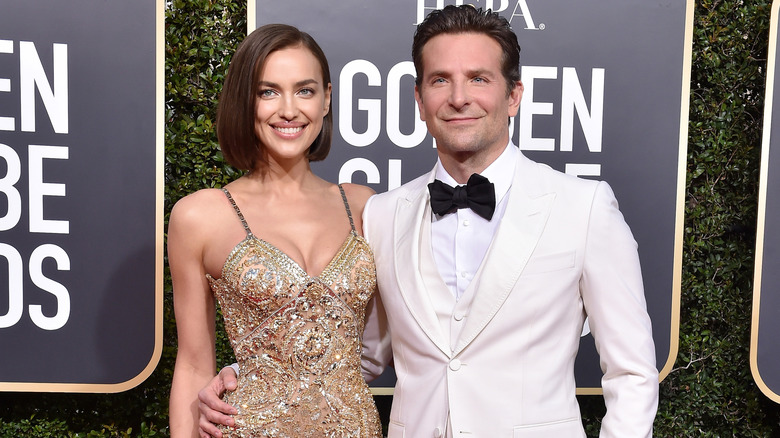 Axelle/bauer-griffin/Getty Images
Shortly after she and Ronaldo parted ways, Shayk began seeing Bradley Cooper in the spring of 2015. Over the course of a year, the supermodel and actor were spotted on several dates and vacations, but it wasn't until March 2016 that they attended their first event together, confirming their relationship. While in Paris for L'Oréal's Red Obsession Party, Shayk and Cooper were reportedly inseparable and even kissed for a photo op. Though they were frequently seen together from that point forward, both the model and the "Silver Linings Playbook" star were notoriously tight-lipped about their relationship and still are to this day.
By November 2016, the couple was confirmed to be pregnant with their first child. While rumors of an engagement followed, fueled by photos of the supermodel wearing an emerald and diamond ring on her ring finger, Shayk and Cooper never made it to the alter.
Irina Shayk walked in the Victoria's Secret Fashion Show while secretly six months pregnant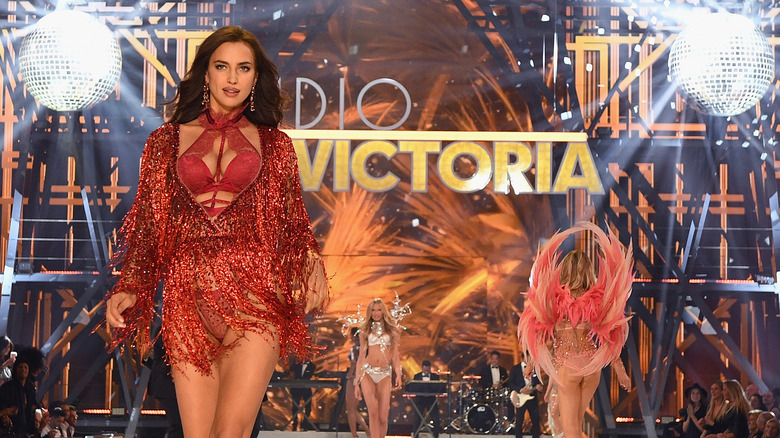 Dimitrios Kambouris/Getty Images
Irina Shayk made her debut at the famed Victoria's Secret Fashion Show in 2016, and unbeknown to the world, including her fellow runway models, she was six months pregnant with her and Bradley Cooper's daughter Lea. After the news of the supermodel's pregnancy went public, a source from the fashion show told People, "Looking back, some of her outfits were less revealing in the stomach, and seeing the news after the show, it made sense." They added, "No one suspected backstage, that's for sure! She looked as beautiful as ever." 
Shayk modeled two outfits on the catwalk that year. One included a strappy red lace lingerie set with a sparkling fringe coverup overtop, and the other featured a gray lace thong and matching garter belt, a white and gray lace pushup bra, sheer black thigh-high stockings, and a champagne-colored silk trench coat with a bow-tied belt at the waist.
She struggles with work-life balance as a mother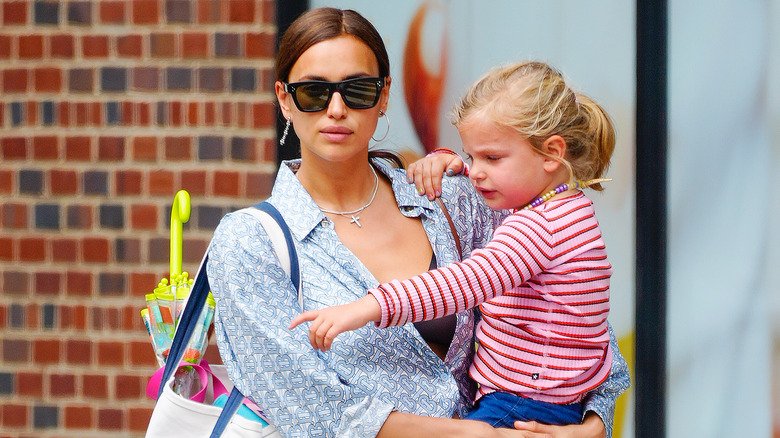 Gotham/Getty Images
Like many working moms, Irina Shayk experiences guilt when it comes to maintaining a semblance of work-life balance. The supermodel admitted to Vogue, "It's hard to find a balance between being a single mom and being a working woman and provider." Shayk expressed her conflicting feelings, explaining, "I always try not to stay away from my daughter for more than a week, but I also don't want to be this woman who's not truthful to herself, because I love my work and I was raised in a woman-run household. I want my daughter to know that momma has a job in her life because I want to raise a strong, powerful woman." Recalling her own childhood, she said it's important that Lea knows "[p]resents and food do not come out of the blue" and that their lifestyle stems from hard work and dedication.
Irina Shayk and Bradley Cooper maintain an amicable relationship as exes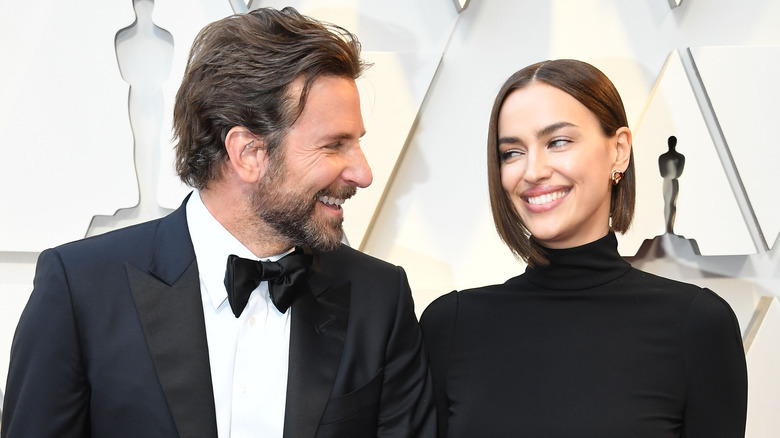 Steve Granitz/Getty Images
A little over two years after welcoming their daughter in March 2017, Irina Shayk and Bradley Cooper were confirmed to have ended their romantic relationship in June 2019. While they're no longer a couple, the supermodel and actor have remained friendly. As Shayk told Vogue in 2021, "I think in all good relationships you bring your best and your worst — it's just the nature of a human being." She added, "Two great people don't have to make a good couple. I think we've been very lucky to experience what we had with each other."
In an interview with Elle that same year, Shayk praised Cooper, calling him "the most amazing dad." She also spoke about their co-parenting dynamic in an interview with HighSnobiety, telling the outlet, "He's a full-on, hands-on dad — no nanny. Lea went on holiday with him for almost two weeks — I didn't call them once." Shayk doesn't quite stand behind the "co-parenting" buzzword, though. She told Elle, "I never understood the term co-parenting. When I'm with my daughter, I'm 100% a mother, and when she's with her dad, he's 100% her dad. Co-parenting is parenting," the mother of one asserted.
Rumors about Irina Shayk's romantic involvement with Tom Brady are rampant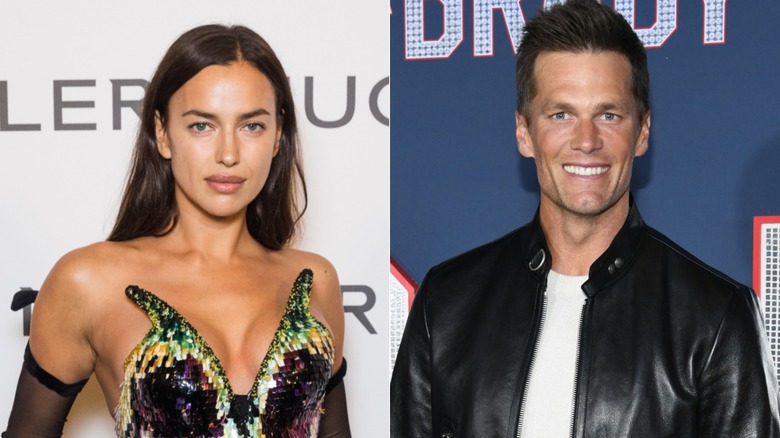 Richard Bord & Jon Kopaloff/Getty
From the end of 2021 till as recently as the 2023 Met Gala, speculation about a reunion between Irina Shayk and Bradley Cooper ran abound. The supermodel attended the actor's "Nightmare Alley" premiere in November 2021, and in August 2022, she shared a carousel of photos on Instagram from their island adventure trip with a red heart emoji as the caption. The duo was spotted walking with their arms around one another in November 2022, and they were photographed while chatting at the Met Gala in May 2023. 
But then, in July 2023, the media exploded with rumors about Shayk dating retired NFL quarterback Tom Brady. Page Six published photos of the pair spending the weekend together in Los Angeles, with one shot showing him gently holding a hand to her face as they sat inside his car. A source told People the two "have been in touch for a few weeks," adding that "there is a spark" between Shayk and the recently divorced dad of three. 
Shayk and Brady's reported relationship follows the former professional football player's October 2022 divorce from Shayk's industry peer, Brazilian supermodel Gisele Bündchen. Brady and Bündchen were married for 13 years and welcomed two kids along the way. The retired athlete also shares a son with actress Bridget Moynahan, whom he dated from 2004 to 2006.