Why HGTV's Ben Napier Decided To Go On His Weight Loss Journey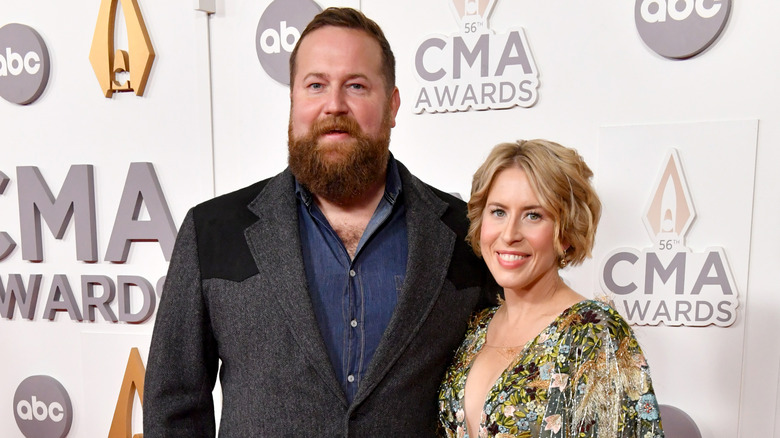 Jason Davis/Getty Images
Erin and Ben Napier, the couple behind HGTV's "Home Town," have been together since college. They never expected fame and weren't even watching HGTV before starting the revitalization project of their hometown in Mississippi, but their wit and skills brought them into the public eye. The two complete each other in every way possible, and their relationship is stronger than ever. "Being on TV is unnerving for me, and since we met, he's always understood," said Erin in an interview with Country Living. "Every time he touches my arm, my back, he's letting me know I'm not alone. He's always right there, and then I'm not nervous anymore," she added.
Ben has always been on the heavier side despite his active lifestyle, but things changed after the birth of his first child, Helen. "I've lost 55 pounds since last year," he told Country Living in 2019. The "Home Town" host has since continued his weight loss journey so he can stay healthy for his family and avoid some of the health issues that have plagued his own relatives. More recently, Erin shared a video of her husband on Instagram, saying he "got hardcore about his health and fitness." The 39-year-old woodworker looks much slimmer than he once did, so his efforts have clearly paid off. 
Ben Napier has lost 65 pounds as part of his journey to better health
Ben Napier's remarkable fitness transformation began in 2018 when the "Home Town" co-host welcomed his daughter Helen into the world. "Having Helen made me want to be healthier so I could be around a lot longer and see her grow up and see her whole life," he said in his interview with Country Living. The woodworker also confessed that several of his family members have had heart problems, which motivated him to get in better shape.
In 2021, People magazine named him one of the sexiest men alive. A year later, Ben talked about the lengths he went to lose the extra pounds and improve his fitness. "I need to start working out a little more intentionally. And so I'm using pull-ups as a benchmark," he said in an episode of "Home Town." His fitness routine consisted of strength training, running, and body conditioning exercises such as battle rope workouts. The entrepreneur is training under the guidance of physical therapist Clark Rasberry, who also happens to be his brother-in-law.
Ben underwent surgery for a torn rotator cuff in 2023, but that didn't keep him from hitting the gym. His wife, Erin, said his workouts got more intense prior to the procedure "so he could sleep better on his back and lower his blood pressure." The HGTV star has lost 65 pounds in total, and now he's fitter than ever before. 
The Home Town co-host went low-carb and built his own gym
Ben wants to stay healthy for his loved ones, but he's also aware that aging and genetics can make everything a lot harder. These factors fueled his decision to lose weight and get fit. He takes his training seriously and he wakes up as early as 4:30 a.m. to get his daily dose of exercise. "I don't get bored playing basketball, and I could play for hours if I had the time," he told TODAY of his inclusion of the sport in his fitness regimen.
Ben Napier also went on a low-carb diet and embraced intermittent fasting as part of his weight loss journey. At the same time, he increased his protein intake so he could build and preserve lean mass. "He eats a lot of protein, and I eat a lot of carbs. So at night, rather than tempt him with the foods I know he missed, I would always eat something I knew he didn't care for (like cereal) and make an omelet for him," Erin explained in their interview with TODAY.
The "Home Town" co-host used to hit the gym four to five times per week, but he eventually built his own home gym in the barn. He got a squat rack, an adjustable weight bench, dumbbells, barbells, exercise balls, and other equipment to make getting in a sweat session as convenient as possible. "This is my new lifestyle. This is every day," Ben told People.