Zara And Mike Tindall Aren't Afraid Of Showing PDA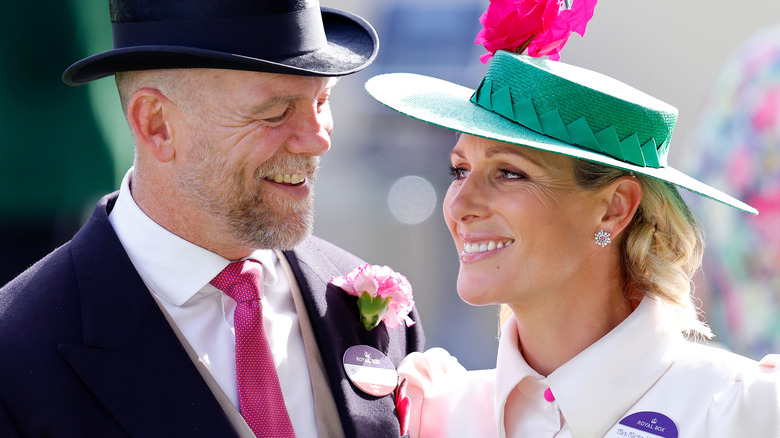 Max Mumby/indigo/Getty Images
British royal couple Zara and Mike Tindall are no strangers to public displays of affection — in fact, the married pair are seen holding hands, kissing, and leaning on each other so often, they rival Prince Harry and Meghan Markle's frequent but slightly more demure PDA moments. While the Tindalls can get quite cheeky with their lovey-dovey body language, it never elicits secondhand embarrassment or the urge to puke in your mouth a little. Rather, it makes you giggle a bit and yearn for the same type of romantic connection in your own relationship. 
Even body language expert Judi James agrees. She told Express that Zara and Mike "exist in an almost permanent state of PDA, but their body language never gets cheesy like red carpet celebs, because their nonverbal signals are such an obviously clear fit with their emotions and personalities." She added: "Their love, fun, and laughter look authentic and the fact they are happy to share it with the camera looks like an act of mutual happiness rather than vanity or boastfulness."
Of their frequent coordinating fashion ensembles, James said: "Zara and Mike's moods always look matching, with both looking upbeat and confident." From high-profile events to engagements with the royal family, Zara and Mike Tindall's sweetest PDA moments will leave you swooning.
Beaming hand in hand at Royal Ascot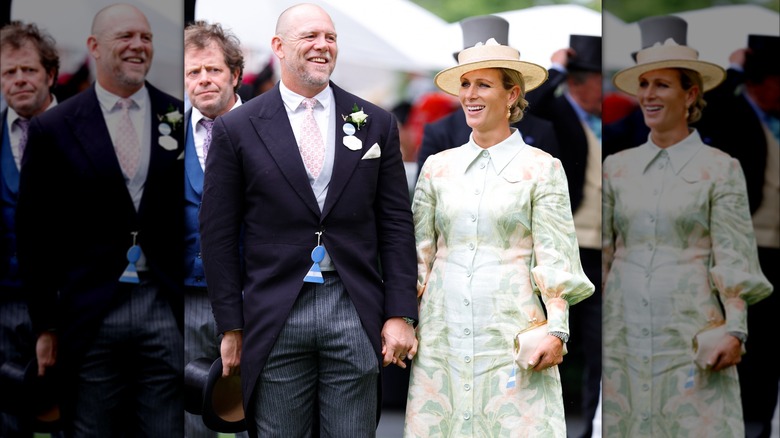 Max Mumby/indigo
Zara and Mike Tindall were all smiles during Royal Ascot in 2023. The duo navigated the crowded event hand in hand, occasionally snuggling closer with Zara's arm tucked into Mike's. Even when they weren't standing side by side, photographs from the annual garden party made it obvious that the two were always in each other's orbit. For instance, while in conversation with a group of fellow attendees, Zara appeared to be telling a story with everyone's eyes trained on her — including Mike, who wore an adorable smile as he gazed at her.
In contrast to the Tindalls' seemingly unconscious physical attentiveness toward one another, Prince William and Princess Catherine attended Royal Ascot side by side but not touching. They looked content to be at the event together, but there was no outward show of love via PDA — save for an uncharacteristic moment from Catherine in which she briefly rested her hand on William's bum but quickly dropped it after receiving a surprised look from the future king.
Body language expert Darren Stanton explained to The Mirror that both royal couples are similar "in that they will put on a united front at these types of events." He added: "However, Mike and William are incredibly different characteristically. ... There is also more pressure placed on Kate and William to adhere to certain protocols, while Mike and Zara still have a certain pressure but not to the same level."
Sharing a smooch with cheeky hand placement at the Festival of British Eventing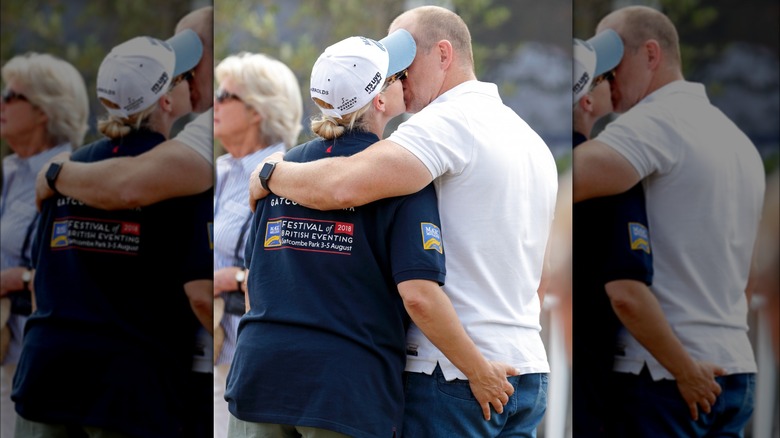 Max Mumby/indigo
On the third day of the Festival of British Eventing in 2018, Zara and Mike Tindall were laid-back and lovey as ever. The couple was photographed at various moments throughout the day with their arms wrapped around one another, holding hands, and even sharing a kiss with a cheeky hand placement from Zara — which was not rebuffed by Mike, as seen with Prince William and Princess Catherine in a similar situation at Royal Ascot in 2023. 
In stark contrast to the awkward moment between the Prince and Princess of Wales, one steamy photo captured Mike cupping Zara's butt as she reached her hand toward his backside, neither showing any hesitation nor care about whom may have been watching.
As body language expert Judi James told Express, the Tindalls' PDA comes across as playful and authentic to their very obvious love for one another. While many couples couldn't pull off such brazen physical displays without making the public cringe, the easy comfort with which Zara and Mike embrace one another makes moments like this appear very casual and natural rather than showy or excessive.
Holding hands at the Magic Millions polo event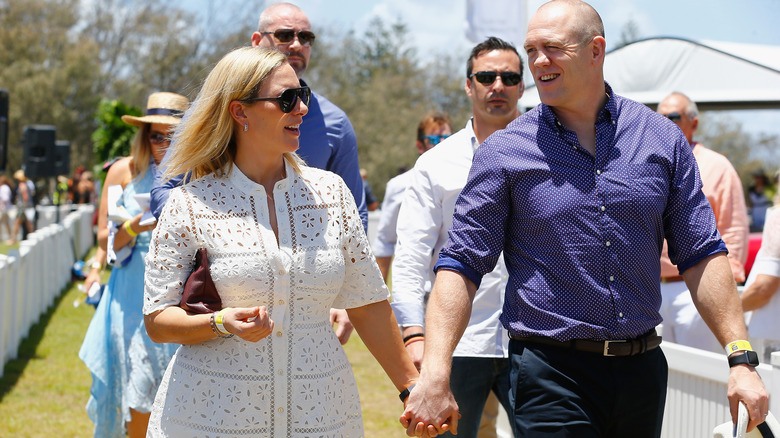 Jason O'Brien/Getty Images
During a 2017 trip to Australia for the Magic Millions polo event on the Gold Coast, Zara and Mike Tindall wore brilliant smiles and locked hands for their usual show of casual affection. While talking with a fellow attendee, the former professional athlete was completely enamored of his wife, bursting out in laughter at one point over something she had said. Locking eyes, the two stared at each other with extraordinarily smitten smiles — the energy of their connection crackles even when they aren't touching.
Later in the day, Zara — a former Olympic equestrian medalist — swapped her pretty eyelet lace sundress for a polo uniform, taking part in the Magic Millions polo game. While his wife played on the field, Mike narrated the competition as a guest commentator, and he made his admiration for her athletic abilities clear after she took a brief tumble off her horse and remounted. 
"That's her will to win. She's tough, she bounces," the proud husband said over the speakers (via The Royal Forums).
Smiling for a cozy photo at the Formula 1 Monaco Grand Prix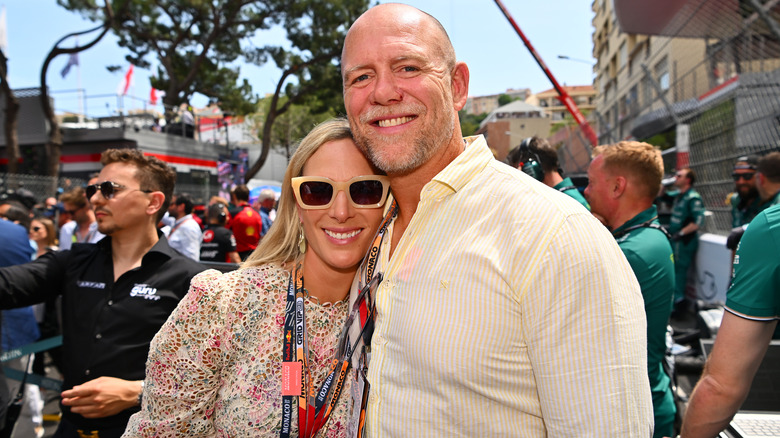 Dan Mullan/Getty Images
During the bustling prerace activities at the 2023 Formula 1 Monaco Grand Prix, Zara and Mike Tindall were photographed on the grid looking cozy as ever. The duo matched in pastel-colored summertime ensembles, with Zara in a feminine Zimmermann midi dress and Mike in a coordinating yellow and white pinstriped button-up. The royals smiled for a sweet photo, snuggling into one another with Zara resting her head against Mike's shoulder as he wrapped his arm around her back. 
In stark contrast to the British royals, Prince Albert and Princess Charlene of Monaco attended the F1 race in Monte Carlo looking tense around one another. Speaking to Express again, body expert Judi James opined the Monégasque princess looked "rigid, isolated, and doll-like" standing next to her husband. 
"Charlene's shoulders and her hand positioning suggest tension and, while Prince Albert seems to dance attendance around her, she doesn't seem to react to her surroundings or him," James explained.
Locking palms at King Charles' coronation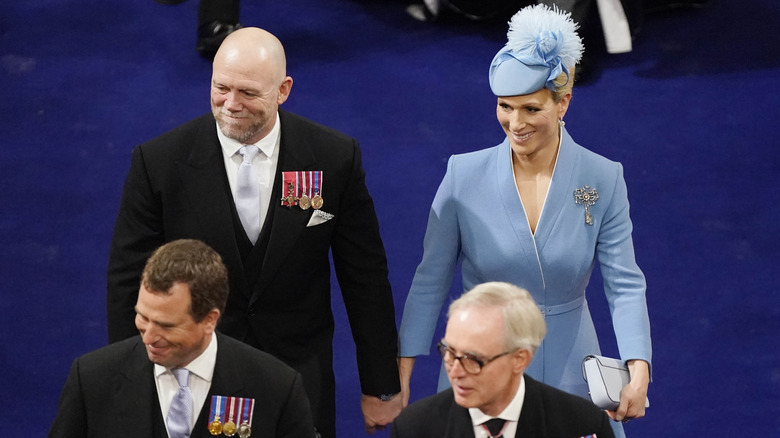 Wpa Pool/Getty Images
Similar to Prince Harry and Meghan Markle's show of unity at previous royal engagements, Zara and Mike Tindall held hands during King Charles' coronation ceremony. The couple walked into Westminster Abbey with their signature beaming smiles, keeping a respectable distance between one another while also staying connected at the palms. 
In fact, the pair were the only royal couple photographed showing physical affection for one another during the historic occasion. Not even Princess Beatrice and her husband Edoardo Mapelli Mozzi nor pregnant Princess Eugenie and her husband Jack Brooksbank embraced for the cameras. 
Every British royal couple aside from the Tindalls simply walked side by side during the crowning ceremony — though we're sure if Meghan had attended with Harry, the Sussexes' would have linked hands, and Harry may have guided his wife with a reassuring hand at her lower back, if prior royal events are any indication. 
Walking arms locked while holding their daughters' hands on Easter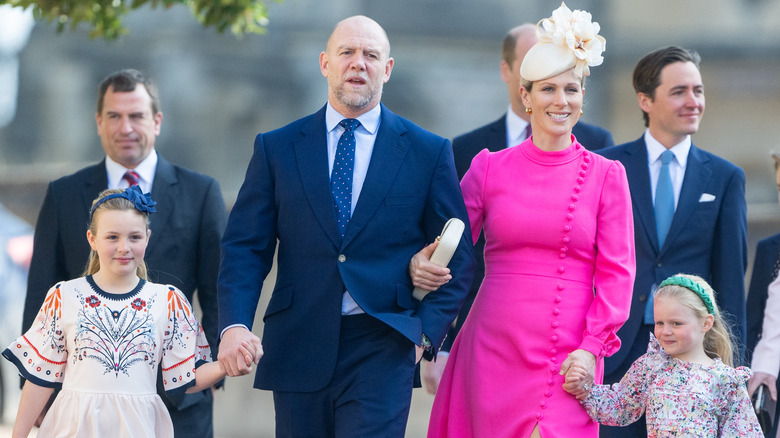 Samir Hussein/Getty Images
In 2023, Zara and Mike Tindall accompanied their royal family members to Easter Sunday service in Windsor, and they brought their daughters along for a coordinating family fashion moment with an adorable dash of PDA. 
Zara donned a stunningly vivid pink Jane Atelier dress, while Mike looked dapper in a navy blue suit and pink polka-dot tie. The eldest Tindall children, Mia and Lena, matched both their parents in pretty springtime frocks. Mia wore a cream-colored dress with bright orange, hot pink, navy blue, and turquoise floral embroidery, and Lena dazzled in a pink and blue flower-patterned frock.
The entire Tindall family was physically connected during their walk to St George's Chapel — Mike held Mia's hand while Zara claimed his other arm. The mom of three tucked her arm in the crook of her husband's elbow, and with her opposite hand, she locked palms with Lena. Considering how freely the couple engages in PDA, it's no surprise that they're liberal with physical affection for their kids as well.
Locking lips and having a laugh at Cheltenham Festival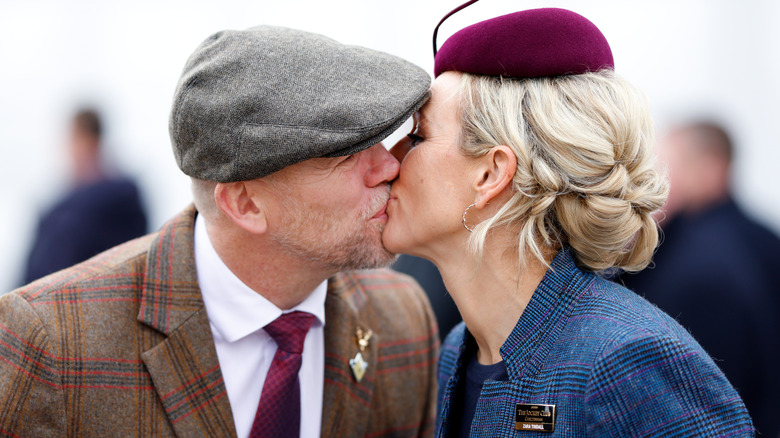 Max Mumby/indigo/Getty Images
At the Cheltenham Festival in 2023, Zara and Mike Tindall engaged in quite a bit of PDA for the cameras. On the third day of the event, the couple embraced with their arms wrapped around each other to smile for photos, and Zara seemed to make Mike explode with laughter again. He fondly smiled at his wife then leaned in for a modest kiss, and the two locked eyes while locking lips. Zara and Mike also coordinated outfits again for the occasion, both wearing tartan-print suits with the former rugby player's tie matching the former equestrian's fascinator.
The Tindalls also wore coordinating looks for the first two days of the Cheltenham Festival. They entered the event holding hands on day one, with Zara dressed in a navy blouse and trousers as well as a burgundy trench coat and fascinator. Mike matched in an inverted look of his own, which included a navy suit and burgundy tie.
On the second day of the horse racing festival, the couple wore coordinating blue ensembles, with Zara in a monochromatic teal outfit and Mike complementing her look with his cool gray suit and icy blue tie. During the photo op that day, the duo posed smiling again for photos, and Mike gazed at Zara with a besotted expression that conveyed every bit of the love he feels for her.
Holding hands at a holiday event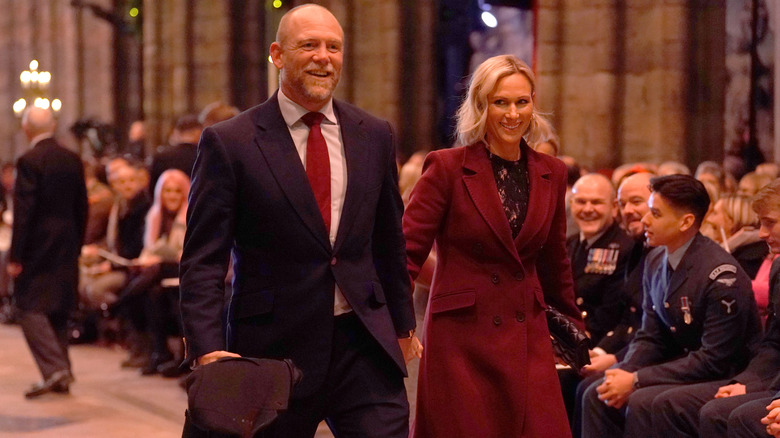 Pool/Getty Images
Zara and Mike Tindall attended the "Together at Christmas" carol service at Westminster Abbey during the holidays in 2022, and they were certainly feeling the warm tidings of the Christmas season. While walking through the church, the couple wore buoyant smiles and locked hands. 
The Tindalls were also seen strolling through the crowd with Zara's hand gripping Mike's forearm, locked arm in arm, and walking closely together as they cozied up against the cold. 
Additionally, the pair wore matching outfits again. Mike was handsome in a navy suit and maroon tie, and Zara looked festive in a black lace dress, sheer black tights, a maroon trench coat, and black velvet pumps. While there aren't any photos of a mistletoe moment, we're willing to bet all our Christmas gifts that the Tindalls are absolutely the type of couple to lock lips under the holiday decoration.
Physically connected for support at Queen Elizabeth's funeral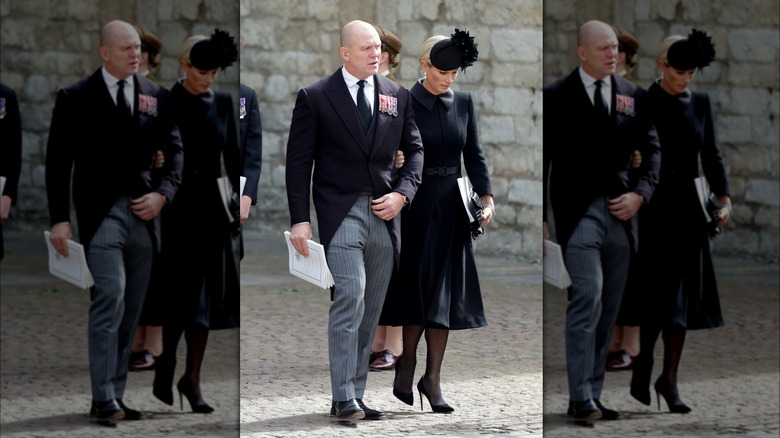 Chris Jackson/Getty Images
While leaving Queen Elizabeth II's state funeral service at Westminster Abbey, Zara and Mike Tindall were photographed leaning on one another for support. The couple linked arms ahead of the royal family's procession to Windsor Castle for the late monarch's committal ceremony at St George's Chapel, and they both looked somber in their black mourning ensembles. The couple was also seen holding hands while making their way to their front-row seats during the service.
Similarly, Prince Harry and Meghan Markle also held hands at the lying-in-state service for the queen, though, unlike Zara and Mike, the public criticized the display of affection as inappropriate for the occasion. Consequently, the Sussexes did not engage in any acts of physical support during the funeral service. 
Judi James told Page Six: "The best description of Meghan's body language at the funeral was 'understated.' She seemed to offer a continuation of that silent support to her husband while sitting and walking with a look of dignity tinged with sadness."
A neck nuzzle and cuddle at Wimbledon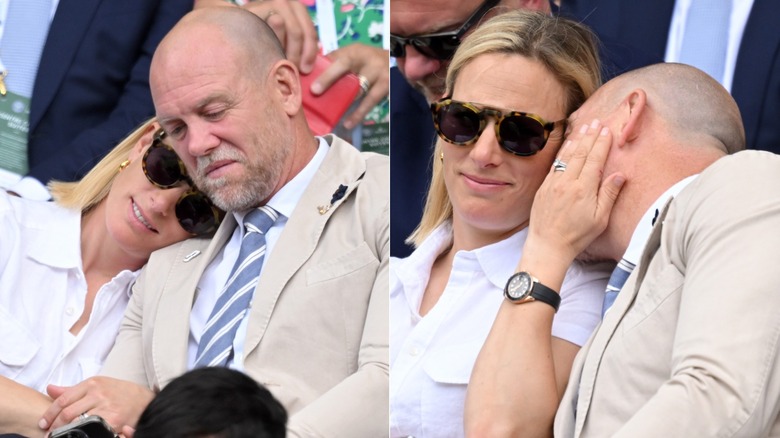 Karwai Tang & Karwai Tang/Getty
In 2022 while attending Wimbledon, Zara and Mike Tindall were cozier than ever. The couple had multiple moments of PDA while watching the tennis match. This included Mike nuzzling Zara's neck as she pressed a palm to his face, the Olympian leaning in to rest her head on the rugby player's shoulder, Mike pressing a kiss near the corner of Zara's mouth, Zara wrapping her hands around Mike's arm while they were seated, and the couple sharing a peck on the lips amid the crowd. 
While walking to their seats, the Tindalls also held hands, walked arm in arm, and stopped to smile at photographers, posing with their arms wrapped around each other.
The couple matched once again, this time in breezy linen outfits for the summer sporting event. Zara wore a white short-sleeved utilitarian dress and black espadrilles, and Mike donned black trousers, a white dress shirt, a beige blazer, a slate blue and white striped tie, and black and cream dress shoes.
Pulling each other close at Royal Ascot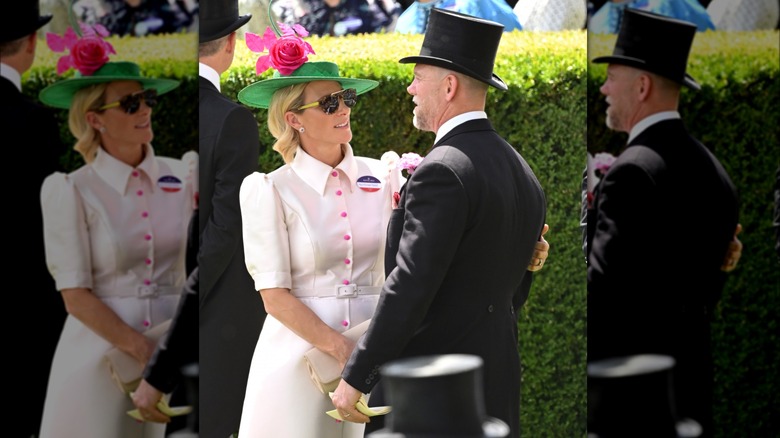 Karwai Tang/Getty Images
Zara and Mike Tindall were smitten as usual at Royal Ascot in 2022, as they were photographed lovingly gazing at one another and embracing comfortably during their conversations. Zara also frequently placed her hand in the crook of Mike's elbow as they walked the grounds among the other attendees. They were even spotted taking selfies, proving that sometimes, the royals can be just like the rest of us.
Body language expert Darren Stanton told Hello: "There's no denying that Mike and Zara Tindall have a very close relationship. They were pictured with Zara placing her arm through her husband's arm and she's gripping on tight."
The body language expert added that their proximity demonstrated the extent of their feelings for each other, saying, "It's clear to see they are a couple who thrive in each other's company and are very much in love."
Hand in hand at Queen Elizabeth's Platinum Jubilee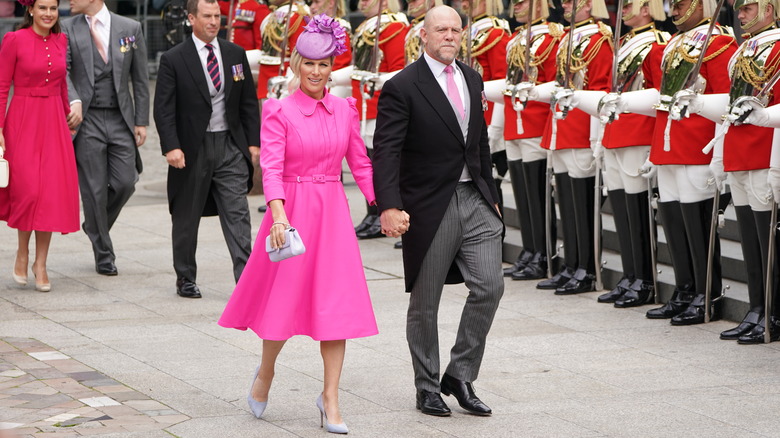 Wpa Pool/Getty Images
During the National Service of Thanksgiving for Queen Elizabeth's Platinum Jubilee, Zara and Mike Tindall were in their usual high spirits as they interlaced fingers while walking about St Paul's Cathedral with other members of the royal family. 
The couple arrived at the church with Mike leading Zara by the crook of his arm, and at one point, the retired rugby player raised his hand to wave at someone — and Zara never broke contact with his arm, following his raised elbow with her hand. As they walked up the steps to the cathedral, Zara was photographed talking to a clergyman while her husband walked in front of her, but the pair remained physically connected with Zara's hand placed on the center of his back.
Similarly, Meghan Markle and Prince Harry held hands for much of the National Service of Thanksgiving, even when standing in place and speaking to other guests. Unlike either Meghan and Harry or Zara and Mike, Prince William and Princess Catherine did not touch each other at all while entering the royal occasion. 
Leaning in for a laugh at Wimbledon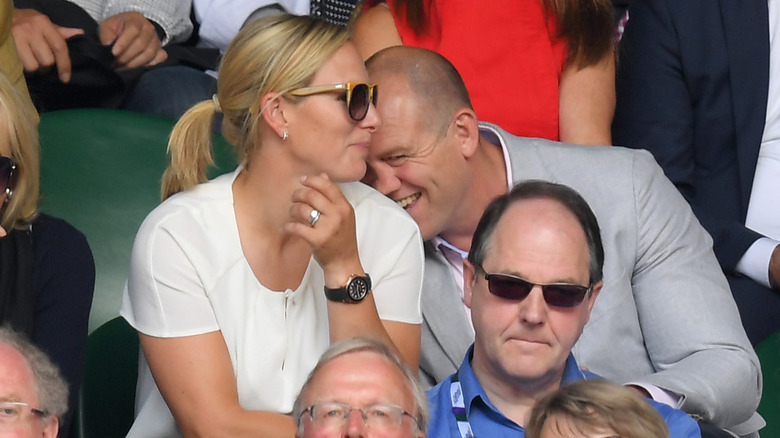 Karwai Tang/Getty Images
Wimbledon has long been a favorite sporting event for Zara and Mike Tindall. The couple attended the prestigious tennis competition in 2016, and they looked cozy as usual, at ease with each other even in the crowd of spectators. 
At one point, the pair shared a laugh and Mike leaned down, tucking his grinning face into Zara's shoulder as she turned her head toward him, looking like she was trying to contain her own burst of giggles.
While the Tindalls watched the tennis matches unfold, Zara sat with her elbow resting on the back of Mike's seat as she leaned his way. Even when they weren't physically touching, the husband and wife duo sat with their bodies angled inward toward one another and their shoulders overlapping, again conveying a sense of unconscious spatial awareness of and attentiveness to each other through their attuned body language.
Sharing a kiss and a cuddle at the ISPS Handa Mike Tindall Celebrity Golf Classic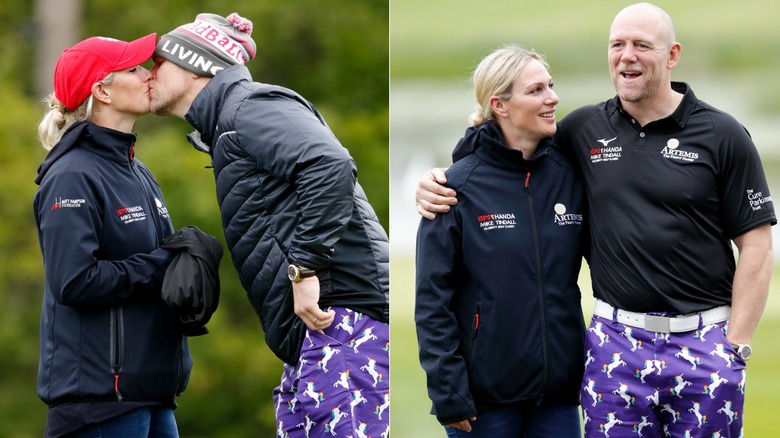 Max Mumby & Max Mumby/indigo/Getty
In 2019 at his annual fundraising event, the ISPS Handa Mike Tindall Celebrity Golf Classic, Zara and Mike Tindall were very cute and cozy with one another — and Mike's purple unicorn pants certainly added to the magic of the moments. 
At the celebrity scramble and gala, which supports the Cure Parkinson's Trust and the Matt Hampson Foundation, Zara and Mike posed for photos with their arms wrapped around each other, and they shared several kisses throughout the event. 
The couple leaned in for a quick smooch in the cold and seemed to share a chuckle about something, gazing at each other in laughter with Mike lightly touching Zara's arm. They were later seen locking lips again in the rain, and Mike also leaned down to press a sweet kiss to Zara's forehead. In a small gesture that conveyed how much she cares for Mike, Zara lovingly helped him straighten his beanie after he covered his bare head from exposure to the elements.
Spicy hand placement at Wimbledon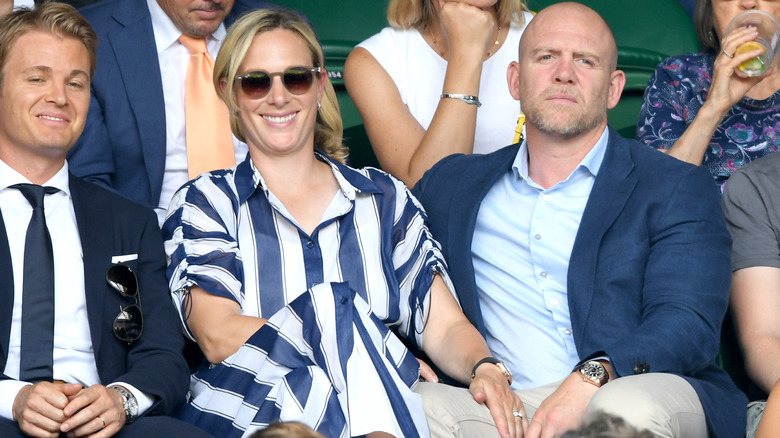 Karwai Tang/Getty Images
Zara and Mike Tindall proved they're totally unbothered by the public's opinion of their PDA at Wimbledon in 2019. The couple sat quite intimately beside each other, Mike leaning into Zara's side with his arm behind her and Zara resting her palm on the inside of his thigh — surprisingly high up on his leg, even for the extremely affectionate royal pair! 
The Tindalls were also photographed sitting with Zara's hands wrapped around Mike's forearm, her head resting on his shoulder, and the royal helping her husband get something off his lip at one point.
The couple notably did not sit in the Royal Box, which is reserved for members of the monarchy. Zara and Mike instead sat in the section designated for Rolex brand ambassadors, as she acts as such for the esteemed watchmaker. Even surrounded by the public and other famous folks, including retired Formula 1 world champions Nico Rosberg and Sir Jackie Stewart, the Tindalls weren't deterred in the slightest from carrying on with their signature PDA.