Kathleen Kennedy: 12 Facts About JFK's Rebellious Sister Who Married British Royalty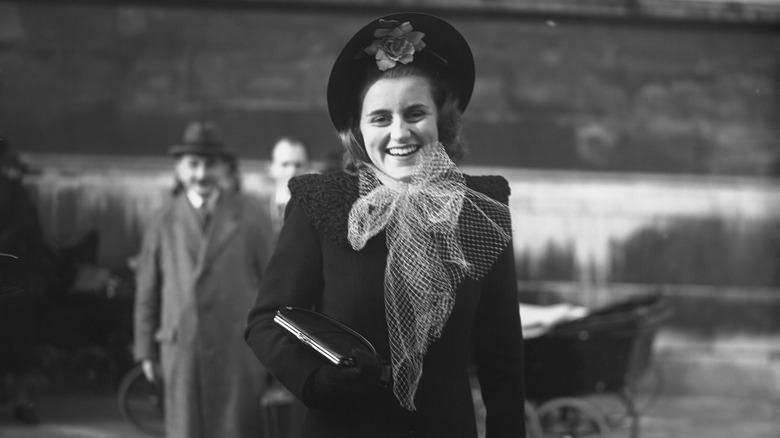 Keystone/Getty Images
Kathleen "Kick" Kennedy was the famed rebellious daughter of Joseph and Rose Kennedy. She was the fourth child born in the family, and was John F. Kennedy's second sister. During her short life, Kennedy accomplished a great deal. And as her great-niece Kathleen Kennedy — who is indeed her namesake — noted, she also possessed great character. "The times she lived in necessitated bravery and a strong ability to carry on in the face of tragedy," the younger Kick once said, per the New York Post. "Her decisions were informed by her own moral compass, not that of her parents or society."
However, her life also wasn't without controversy. While Kathleen "Kick" Kennedy was beloved for her spirit and charming personality, she also created a lot of problems for the conscientious Kennedy family due to her more rebellious nature. This included going against her parents' religious ideologies, engaging in a controversial affair, and making other challenging personal choices. Yet, at the same time, no matter what their differences were, Kennedy was a favorite of the family as well as friends and acquaintances who knew her. Below are 12 facts about the rebellious Kennedy.
She was born the fourth child born in the Kennedy family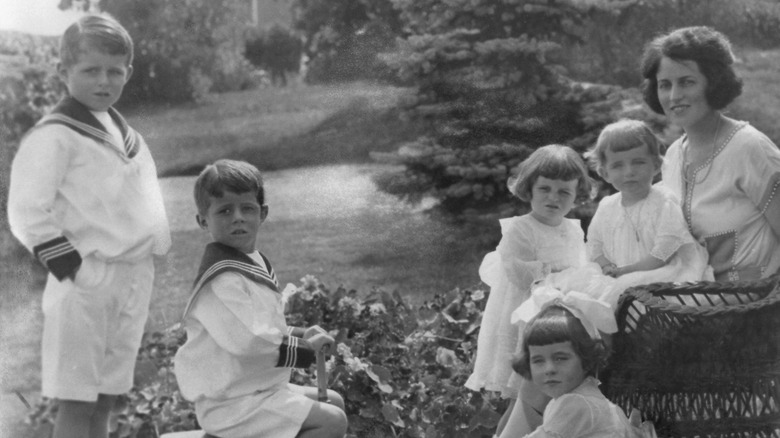 Bachrach/Getty Images
Kathleen Agnes Kennedy was born in February 1920, about a year and a half after her older sister Rosemary Kennedy. She also had two older brothers, Joseph Kennedy Jr. and John F. Kennedy. Kathleen was born in Brookline, Massachusetts, at the family home on 83 Beals Street, which became a National Historic site in 1967. 
Rose and Joseph Kennedy would go on to welcome five more children after Kathleen, but even in such a big family, their fourth kid managed to stand out. Later given the nickname "Kick," which was inspired by her playful and fun personality, Kathleen was said to be her father's favorite child; Joseph Kennedy once declared, "All my ducks are swans ... but Kick was especially special." She was also part of what her parents considered the "golden trio" of the family. 
The other "golden" siblings included Kick's two older brothers, Joseph Kennedy and John F. Kennedy. Kathleen and John, aka Jack, were very close growing up, and the pair of siblings were said to have had similar personalities and interests. As author Barbara Leaming told People (via Yahoo! News), "Like Jack, nothing stopped her. She was his psychological twin."
Kick Kennedy had a strong personality from an early age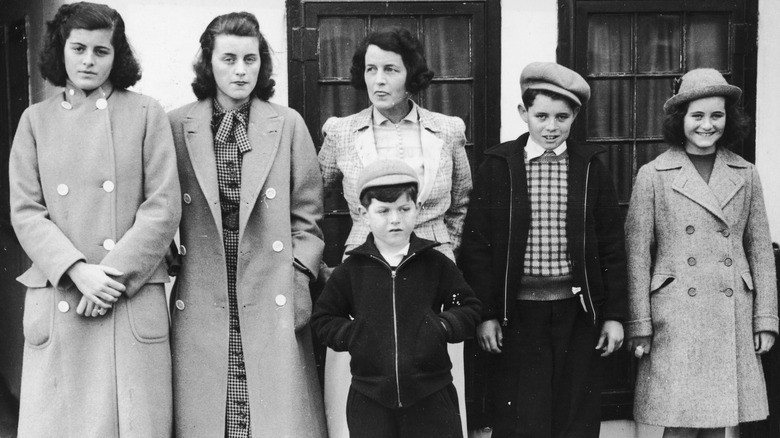 Express/Getty Images
Kathleen Kennedy was known for her playful, fun-loving personality. Her mother, Rose Kennedy, was quoted by the National Park Service as saying that her daughter "was lovely to look at, full of joie de vivre, and so tremendously popular." Though some relatives found her to be immensely charming, her personality often clashed with other members of her family. The Kennedy parents Rose and Joseph Sr. had high expectations for the children, especially the "golden trio" that included Kathleen. 
From an early age, Kathleen made it clear she would not fall into traditional gender roles and expectations of the time. For starters, she loved sports of all kinds, even playing tennis and football with her brothers. As Barbara Leaming noted in "Kick Kennedy: The Charmed Life and Tragic Death of the Favorite Kennedy Daughter," Kathleen was noted for her "ferocity" when it came to athletic activities. An outgoing, intelligent, and immensely social person, she was never one to hang back in a conversation. What's more, when her mother set her up to take care of her other siblings, she wasn't necessarily a perfect fit. "[A]lthough she loved them, she was not naturally suited to the role," Paula Byrne wrote in "Kick: The True Story of JFK's Sister and the Heir to Chatsworth." "She was too wild, too free-spirited." Author Lynne McTaggart echoed this sentiment, telling the New York Post, "If you look at all nine [Kennedy] children, she was the only one who didn't march down the prescribed road." 
She went to a convent in France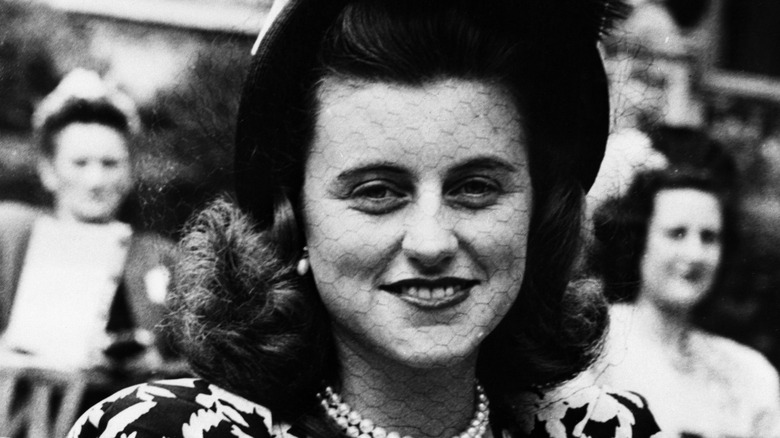 Bettmann/Getty Images
Kathleen Kennedy's more formal education first took shape at a convent in Connecticut. Kennedy was popular at her school, and she was most interested in studying theology and history. Evidently, it wasn't exactly a casual environment. As Edward J. Renehan Jr. wrote in "The Kennedys at War: 1937-1945," "Kick and other pubescent Catholic girls studied under the discipline of nuns who believed self-denial and obedience to authority constituted the routes to all things holy."  
Then at the age of 15, Kathleen's parents sent her to an all-girls school in France called the Holy Child Convent. It was located in Neuilly-sur-Seine, an affluent suburb of Paris. While her parents likely hoped the school would help tame Kennedy's free spirit, the opposite occurred. It was here that she fell in love with the country. France was a mecca for culture, arts, and politics during the 1930s, an atmosphere that was likely appealing to the open-minded and spirited Kennedy. While she was said to have experienced homesickness during her time at the institution, she reportedly also got to traipse around Paris, Venice, and other glamorous European cities. Not a bad way to spend your days off from school. 
Despite her ability to excel in academics, Kennedy's rebellious side also flourished at the convent. According to the National Park Service, the young socialite had earned a reputation for challenging strict policies imposed by the nuns at the convent. She would attend the school until 1937 before returning back to Connecticut.
She made her debut in England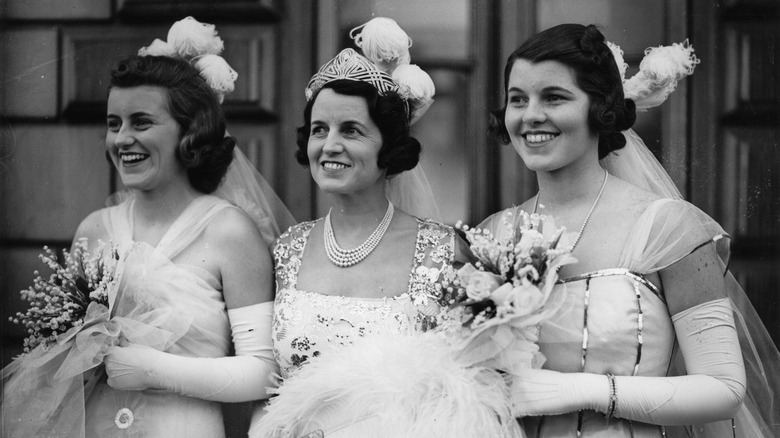 Brandstaetter Images/Getty Images
During the late 1930s, it would seem that Kathleen Kennedy would be constantly on the move. After spending a little time in France before moving to Connecticut, she headed back across the sea once again. In 1938, she traveled to England with the rest of her family. The change in location came about after Joseph Kennedy Sr. became the U.S. Ambassador to Great Britain with his then-boss President Franklin D. Roosevelt. 
While the Kennedy family lived in the UK temporarily, the stay was seemingly transformative for the young Kennedy as she came of age. It was here that Kathleen made her debut as a debutante in May of 1938, when she was 18 years old. She made her debut the same time as her older sister, Rosemary Kennedy.
And Kathleen sure made a splash: According to Vogue, she wore an eye-catching white dress made by the French couturier Lucien Lelong and was voted "debutante of the year." Lelong was known for his high-end label that swept France in the 1920s through the 1940s — a fitting pick for the dazzling socialite. Her real-life debutante experience even inspired a 2018 novel by Kerri Maher called "The Kennedy Debutante." 
She became widely popular in England, too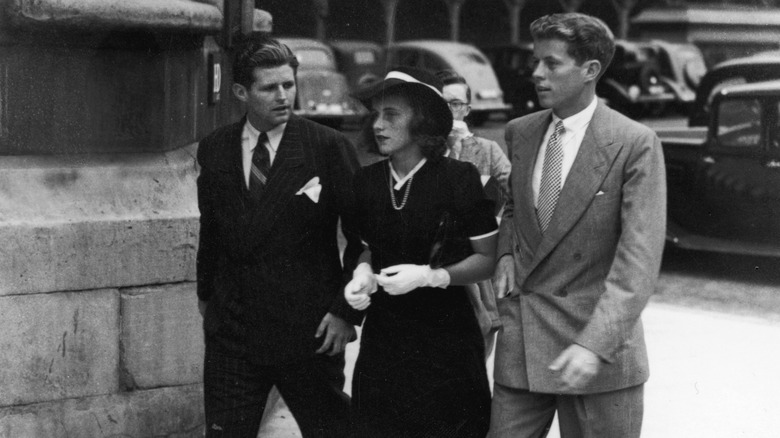 Fox Photos/Getty Images
The Kennedys' stay in England ended abruptly in 1939 at the start of World War II. Kathleen Kennedy was not pleased with having to go back to the U.S., especially since she had developed a romantic interest in William "Billy" Cavendish. As her great-niece (and namesake) said in an episode of "Million Dollar American Princesses," "She fought with her father for two weeks, endlessly begging him to let her stay." Ironically, as Barbara Leaming noted in "Kick Kennedy: The Charmed Life and Tragic Death of the Favorite Kennedy Daughter," Kathleen "was decidedly not in London in search of a marriage partner." In addition to her feelings for Cavendish, she also had a strong desire to be there to support the country at that time.
Soon after, Kathleen's own popularity remained high, while her father's reputation took a hit in London. This was due to the fact that he was seen as too lenient regarding Adolf Hitler and Germany's role in WWII. What's more, Joseph Kennedy's decision to leave London was also seen as weak. At this point, his credibility unraveled, and he resigned from the ambassador position in 1940. His stance on the Nazi invasion is widely seen as the beginning of the end of his political career. This also embarrassed his daughter, who was still enjoying popularity overseas. "He just doesn't understand the English like I do," Kathleen lamented to Cavendish, as reported by Vogue magazine.
She volunteered during World War II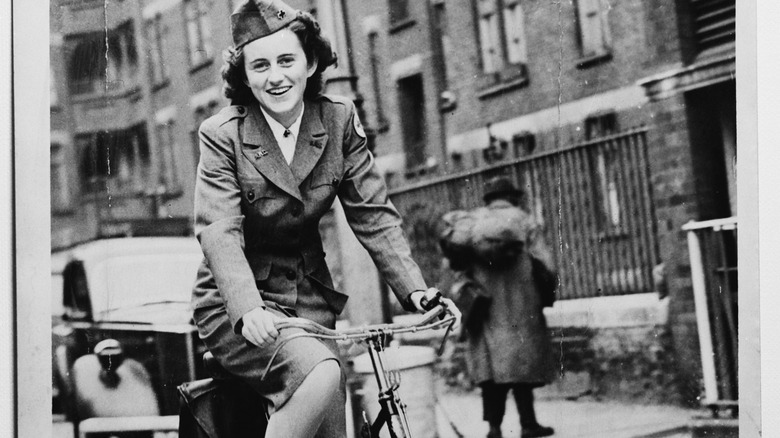 Keystone/Getty Images
After her family headed back to the United States at the start of the war in 1939, Kathleen Kennedy's interests still centered on England. She studied at Finch College in Manhattan, where she voiced her opinion about whether the U.S. should enter the war. According to the National Park Service, she was one of two students in a school vote who were in favor of the country getting involved. The U.S. didn't officially enter World War II until late 1941 after Japan attacked Pearl Harbor. 
Before they went back to the United States, the Kennedys were reported to gain a sense of the war after experiencing air raid drills in England. Her love of the country as well as her admiration of the British people stuck with Kathleen. This likely prompted her to enter volunteer services with the American Red Cross in 1940, and to put together fundraisers that helped provide medical funds for British servicemen who were injured during World War II. Eventually, her volunteerism helped her make her way to England once again, where she worked with the Red Cross starting in 1943. Her personality also likely made her popular in her volunteer work, which Barbara Leaming described in "Kick Kennedy: The Charmed Life and Tragic Death of the Favorite Kennedy Daughter" as "notably different." 
She briefly pursued a career in writing and journalism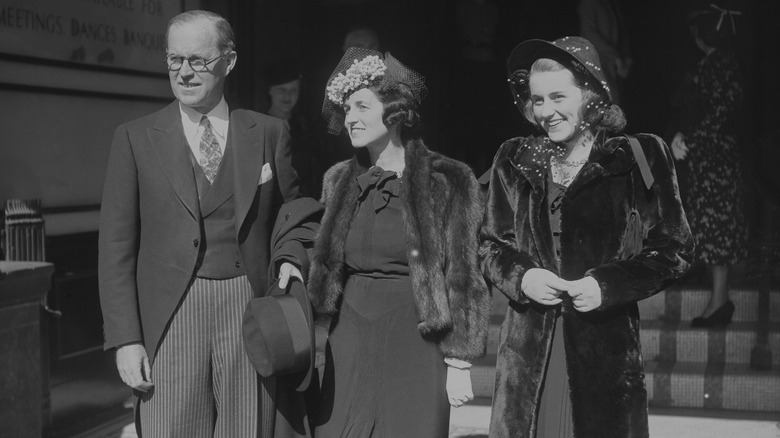 H. Allen/Getty Images
While Joseph and Rose Kennedy were eager to see their boys get into politics, it was a different story for Kathleen Kennedy and her sisters. Yet her personality likely propelled her to pave her own path. In "Kick Kennedy: The Charmed Life and Tragic Death of the Favorite Kennedy Daughter," Barbara Leaming noted that Kathleen wasn't shy, and that she had a good sense of humor regarding "her mistakes, her gaucheries, and even her physical flaws." 
After leaving New York's Finch College, she briefly attended Florida Commercial College before dropping out in 1941. At this time, she decided to pursue writing and journalism. Some of her work consisted of editorials published in The Washington-Times Herald, a newspaper that used to circulate in Washington, D.C. She also worked as a research assistant and scored her own column called "Did You Happen to See," which was previously written by Inga Arvad. She had also been a former research assistant for the column before eventually writing the series herself. "Did You Happen to See" was a human interest column geared towards people who worked in the government sector, which was likely a good fit for the outgoing and politically knowledgeable Kathleen. Aside from the column, Kathleen also penned movie and performing arts reviews. It was also reported during this time by the National Park Service that Kathleen's career opened her up to new worldviews, and she also started to question her own family ideologies.
She married against her parents' wishes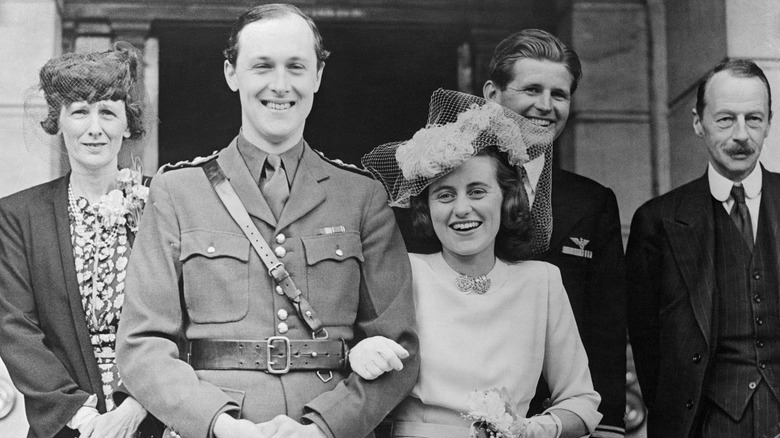 Bettmann/Getty Images
Still, Kathleen Kennedy's journalistic pursuits were short-lived. In 1943, due to her volunteer work with the American Red Cross, she was able to finally reunite with her romantic interest, William Cavendish. The dating phase was short, as Kathleen and Cavendish had long wished to be married. From the outside, it would seem that their partnership was a perfect match. While Kathleen was reportedly far more outgoing and free-spirited than Cavendish, the couple got along well. Also, while Kathleen was from a well-known and respected family, Cavendish was a member of an aristocratic, Anglican family. What's more, he was the current Marquess of Hartington and the future Duke of Devonshire. However, her parents were against their daughter marrying someone who was not Catholic. 
When Billy Cavendish and Kathleen Kennedy wed in May 1944, Rose and Joseph Kennedy refused to attend the wedding. Kathleen's older brother Joseph Kennedy, Jr. was her only family member in attendance. Members of the Cavendish family and social acquaintances also attended the couple's ceremony. According to an excerpt from Leaming's "Kick Kennedy: The Charmed Life and Tragic Death of the Favorite Kennedy Daughter" obtained by Harper's Bazaar, Kathleen and Cavendish agreed that their future kids would be Anglican, not Catholic. 
She became a widow four months into her marriage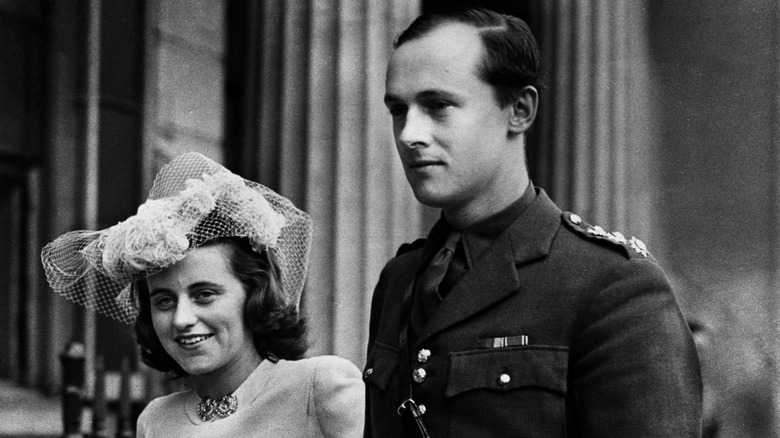 Bettmann/Getty Images
William Cavendish, who served in the British Army during World War II, was sent to fight in Normandy five weeks after he married Kathleen Kennedy. He was tragically killed in September 1944, which was just four months after their wedding. Kathleen's older brother Joseph Kennedy Jr. was also killed in a plane explosion not even a month prior.
While Kathleen had briefly gone home to Massachusetts with her family after Joe Jr.'s death, she soon went back to England when her husband died. At this time, she decided to stay in England and be with the Cavendishes. She also maintained volunteer work with the Red Cross, and even made some headlines at a war benefit where she encouraged more women's rights. As the National Park Service reported, Kathleen would later write that the event would "inspire the women to bigger and better things," a sentiment that was arguably progressive and ahead of her time. After the war ended, Kathleen still worked with the Cavendish family and maintained her title of Lady Hartington.
She started dating a married man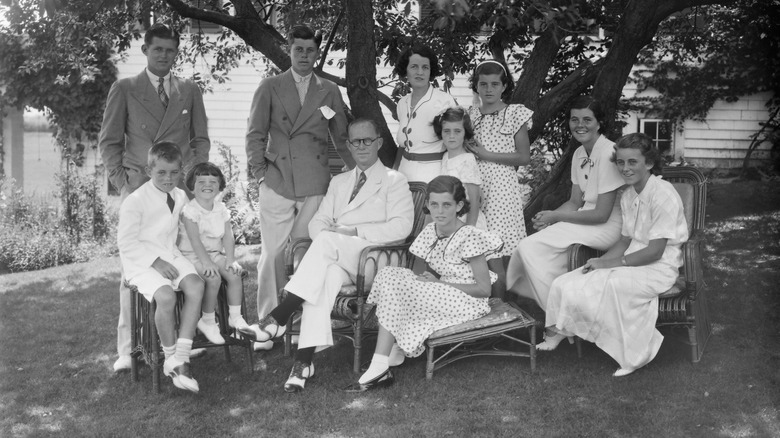 Bachrach/Getty Images
After William Cavendish's death, Kathleen Kennedy decided to live in England permanently. For a couple of years, she stayed busy in London. After the end of the war, she ended her Red Cross duties and became more involved with local politics, where she had friends who worked at the British Parliament. It was at a related event that she met a new love interest. In 1946, she connected with Peter Wentworth-Fitzwilliam, 8th Earl Fitzwilliam, at a charity ball she was running.
The pair soon fell in love, but under a veil of scandal. Not only was Kathleen still performing her duties as duchess with the Cavendish family, but Wentworth-Fitzwilliam was still technically married to his wife, Olive "Obby" Fitzwilliam. While the Fitzwilliams were in the middle of a divorce, Kathleen's parents condemned the relationship, even reportedly threatening that they would disown their daughter. According to an excerpt from Barbara Leaming's book obtained by Harper's Bazaar, Rose Kennedy apparently told Kathleen she would not be permitted to see any of her blood relatives if she moved forward with the wedding. Her mother cited her hardline take on the situation as being tied to their Catholic religion, and how divorce was viewed as an ultimate sin.
She died in a plane crash at the age of 28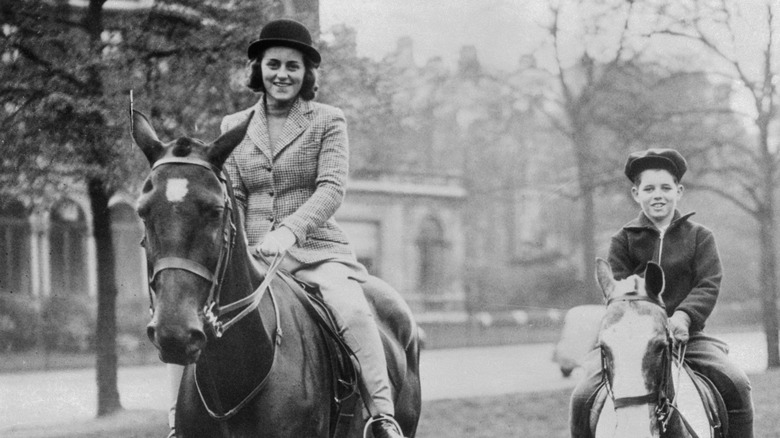 Bettmann/Getty Images
Despite yet another family drama involving her romantic relationships and religion, Kathleen Kennedy refused to break things off with Peter Wentworth-Fitzwilliam. She was hopeful that her father, Joseph Kennedy, might side with the couple and talk her mother Rose Kennedy into accepting their future wedding plans. Wentworth-Fitzwilliam reportedly wanted to marry Kathleen as soon as his divorce was finalized. 
The couple hoped to meet with the Kennedy patriarch while he was in France, where they planned a lunch date. As per the John F. Kennedy Presidential Library and Museum, on May 13, 1948, Kathleen and Wentworth-Fitzwilliam were on their way to Cannes when they made a pit-stop in Paris. When they went back to the plane, the pilot advised that they wait to take off for Cannes due to severe thunderstorms. The recommendation was disregarded, and the plane crashed shortly after departure, killing everyone on board. Kathleen was only 28 years old. The couple never got a chance to start their lives together in marriage, and Wentworth-Fitzwilliam never finalized his divorce. 
She was buried in the Cavendish family plot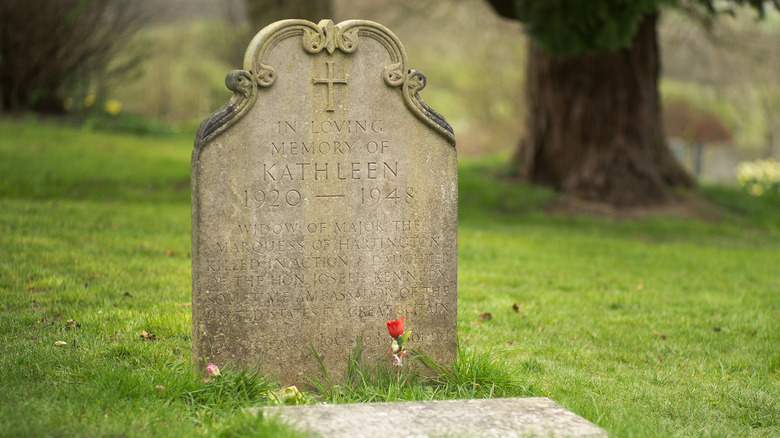 Christopher Furlong/Getty Images
Soon after the deadly plane crash outside of Paris, Joseph Kennedy made his way to the crash site to help identify his daughter Kathleen Kennedy's body. Her father was the only Kennedy family member that attended her official funeral and burial; her mother, Rose Kennedy, refused to attend. Her brother John F. Kennedy had reportedly made plans to attend his sister's funeral in England, but was unable to get there in time. Instead, Rose and the surviving Kennedy children held services back in the U.S. 
Ironically, while Kathleen was having an affair with Peter Wentworth-Fitzwilliam at the time of her death and fully intended to marry him, she was ultimately laid to rest with other members of the Cavendish family in England. According to the National Park Service, the Cavendish family also reportedly gave Kathleen a Catholic funeral. Her late husband William Cavendish is not in the family plot in Chatsworth, however, as he was already buried in Belgium where he had been killed during World War II.  Kathleen's tombstone reads, "Joy she gave, Joy she has found." 
In 1957, the Kennedys helped erect a new building at New York's Manhattanville College in honor of the late Kennedy. The building housed physical education classes. As Kathleen was active and enjoyed sports throughout her life, and was also fond of education, it is a fitting tribute.