JFK Jr. And Carolyn Bessette Didn't Want To Be Like Other Infamous Kennedy Family Couples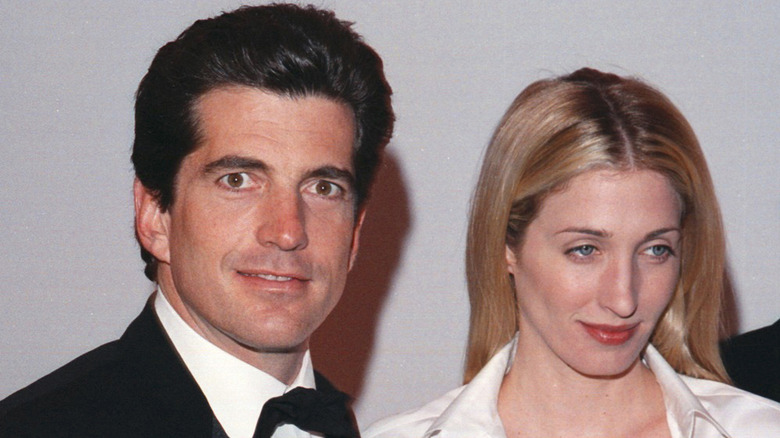 Rj Capak/Getty Images
Marrying into the Kennedy family means joining an exclusive club that carries soaring highs and tremendous lows on its crest, from international pomp and success to salacious infidelities and tragic, untimely deaths — something Carolyn Bessette was careful to keep in mind when she accepted a marriage proposal from former President John F. Kennedy's eldest son, John F. Kennedy, Jr. 
The heartbreaking love story of JFK Jr. and Carolyn Kennedy began in 1992 with an infatuated Kennedy falling for Bessette at first sight, per JFK Jr.'s friend Brian Steel (via Yahoo!). The pair started dating in 1994 and married two years later in 1996 with the goal of moving away from the family's rocky relationship history. Bessette said she refused to be a "pathetic" Kennedy wife who tolerated unfaithfulness. Similarly, JFK Jr. said he didn't want to be a "creepy Kennedy." 
The promising young couple were trying to set themselves apart from the seedier sides of the family's legacy, and as far as remaining faithful to each other was concerned, they did. However, a tragic plane crash would add them to the canon of untimely Kennedy deaths before the turn of the 21st century.
Carolyn and John Jr. wanted to avoid the infamous Kennedy marriage cycle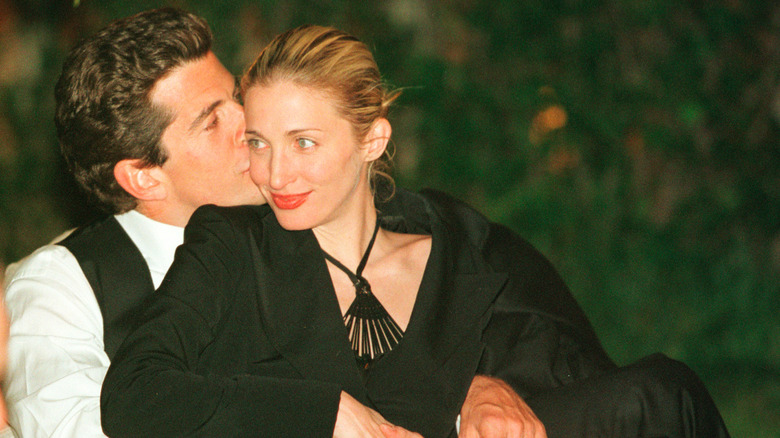 Tyler Mallory/Getty Images
JFK Jr. met Carolyn Bessett as she was embarking on a successful career in the PR department of Calvin Klein as an independent, confident New Yorker — a match for the eligible bachelor named People's Sexiest Man Alive in 1988, if ever there was one. But according to Stewart Price, a friend of Bessette's, she was wary of jumping into the family too quickly. "I see what goes on in the family, and it scares me," she told Price, per The Kennedy Heirs (via E! News).
When Price tried to assure Bessette that JFK Jr. seemed different from his predecessors, she replied, "It's a good thing, too. I know myself, and I'm definitely not that pathetic Kennedy wife who'll stay home with the kids while her husband is out screwing around. No. I'm that pissed-off Kennedy wife who'll be in prison because she took matters into her own hands." 
Luckily, her groom-to-be seemed to be of equal mind. E! News reports that poet John Perry Barlow, a friend of John's, recalled John saying he didn't want to be another "creepy" Kennedy who did whatever he wanted, regardless of his partner's thoughts or feelings. Despite this mutual agreement, the couple was not immune to their fair share of closely watched relationship drama.
The couple's marriage had its ups and downs before their untimely end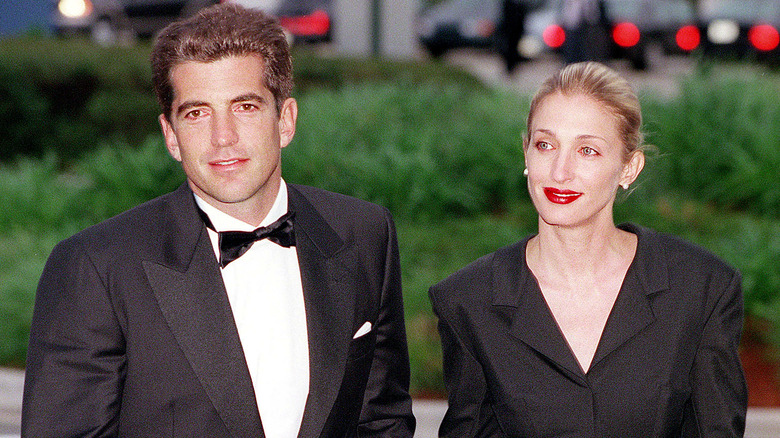 Justin Ide/boston Herald/Getty Images
After JFK Jr. and Bessette's secret island wedding off the coast of Georgia, it seemed like the world was waiting for the power couple on a silver platter. However, their fiery personalities made for a contentious bond that occasionally exploded within view of the public eye. Carolyn struggled under the harsh limelight of JFK Jr.'s notoriety, and this fame proved to be the one marital dispute they never put to rest.
While the couple endured several rough patches during their time together, it's thought that JFK Jr. never engaged in extramarital affairs, according to the author of "America's Reluctant Prince: The Life of John F. Kennedy Jr.," Stephen M. Gillon, JFK Jr. once confessed to his friends that he "wished he could cheat on her" (via YouTube). However, they couldn't escape the entire shadow of the Kennedy reputation, and in 1999, they joined the unfortunate ranks of Kennedys who died tragic deaths at a young age. 
JFK Jr., Carolyn, and her sister, Lauren, died after the plane John was piloting crashed into the Atlantic Ocean off the coast of Martha's Vineyard in 1999. JFK Jr. was 38 years old; Carolyn and her sister were 33 and 34, respectively, per the Washington Post. Although tumultuous at times, JFK Jr. and Carolyn's relationship was undoubtedly passionate and among the more prominent Kennedy couples of the family's history.