Hallmark's Andrew Walker And Tyler Hynes Also Have A Familial Connection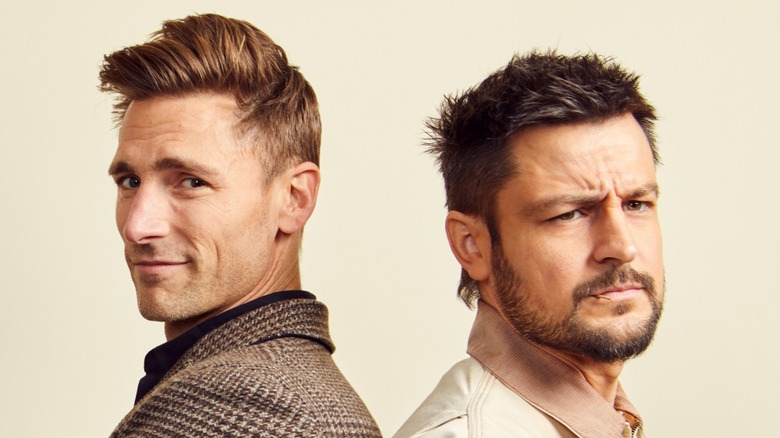 Emily Assiran/Getty
Andrew Walker, Tyler Hynes, and Paul Campbell starred in "Three Wise Men and a Baby" on the Hallmark Channel and it quickly became 2022's most-watched movie on cable TV. However, Walker and Hynes have a connection that extends beyond co-stars: The two of them are also family since Hynes is the cousin of Walker's wife, Cassandra Troy.
"We talk weekly," Walker told Us Weekly. "I've known the guy for 19 years since he started coming to her house for Christmases when I first met my wife. So we have a deep, deep, deep appreciation for each other." Due to their family ties and the friendship born from that, Walker and Hynes collaborated at Hallmark long before "Three Wise Men and a Baby." 
The lovable actors enjoyed brief cameos in each other's holiday movies in 2021 — namely, "My Family Christmas Tree" and "An Unexpected Christmas." Based on the slideshow Walker posted on Instagram, their fans immensely enjoyed the cameo appearances.
The cameos for the cousins-by-marriage started out as a joke
The actors' "Three Wise Men and a Baby" co-star Paul Campbell spoke with E! News about how the cameos came to be, noting that Andrew Walker and Tyler Hynes were constantly bantering back and forth about appearing in each other's movies since they were both filming at the same time. "It kind of started as a joke and then everybody realized what a great idea [it] was," Campbell said.
As the writer of Hynes' film, "An Unexpected Christmas," Campbell was supposed to have a cameo in it too. But he made an appearance in Kimberley Sustad's "The Nine Kittens of Christmas" instead, and didn't end up doing any additional cameos. Just one year later, however, he, Walker, and Hynes starred in "Three Wise Men and a Baby," which Campbell co-wrote with Sustad. Campbell knew that the film was going to be a Hallmark hit once his co-stars were cast.
Walker and Troy eloped instead of having a big wedding to start a business
Andrew Walker met his wife (and Tylers Hynes' cousin) Cassandra Troy in 2004. The duo bonded over their love of nature and eloped a little under a decade later. Walker and Hynes are not the only family members in the same business either. Troy and Walker used their wedding budget and some loans from family and friends to start a Los Angeles-based juice shop called Clover Juice. 
The company is still in business today but has been renamed Little West, perhaps after their first son West, who was born in 2015 (the couple's second son, Wolf, was born in 2019). Walker's work on Hallmark has really helped his and Troy's juice business, too. 
As Walker told LollyChristmas, in 2019, "I would be doing Hallmark gigs and I would come back from a job, and I would put a large portion of my paycheck into our business just to keep it alive, and keep it growing ... up until the point where it is now, we've been around for seven years but, that lasting power was given by Hallmark's hiring of me over and over again for projects."