What Did All Of The Royals Inherit From Queen Elizabeth?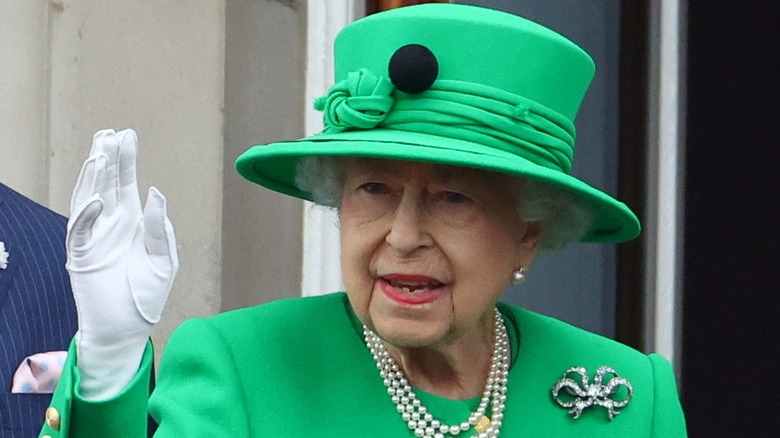 Wpa Pool/Getty Images
Queen Elizabeth II reigned over Britain and the Commonwealth for 70 years, cementing her place in the history books as a sovereign to be remembered for her longevity, poise, and dedication to her subjects. When she died in 2022 at 96, the world felt a profound sense of loss — but none more so than the ones that loved her the most, her family. Her son, King Charles III said it best. "We mourn profoundly the passing of a cherished sovereign and a much-loved mother," read his statement on The Royal Household. "I know her loss will be deeply felt throughout the country, the Realms and the Commonwealth, and by countless people around the world."
It was a time of monumental change for a country where most had never known another sovereign during their lifetime. As Charles took the throne, many were left wondering what this new monarchy would look like, but there were other questions to ponder. Who would inherit Elizabeth's monumental wealth? As the queen, she was responsible for the crown's property, but she also had a lot of personal assets. 
Would they be divided evenly among her children, Charles, Prince Andrew, Prince Edward, and Princess Anne? What would her grandchildren get? Would Prince Harry and Meghan, Duchess of Sussex, be in for a slice of the pie, or be left out in the cold? As it turns out, the entire process is a little bit more complex than the public may have realized.
All of Queen Elizabeth II's money was left to her son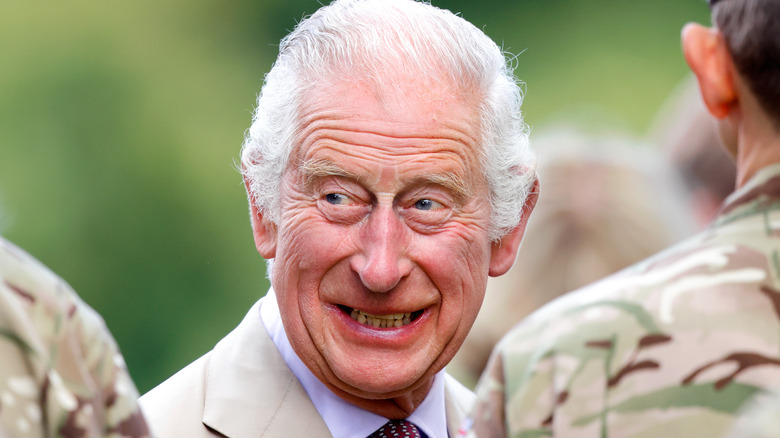 Max Mumby/indigo/Getty Images
It might go without saying, but there's a lot of money in being a member of the royal family. This is generational wealth at its finest, passed down for hundreds of years. However, it's not quite as simple as it may first seem, either. Queen Elizabeth II had both personal wealth and wealth that technically belonged to the crown. If it sounds confusing, that's because it is. 
Regardless, there's only one person that gets access to the late monarch's purse strings, and that's her eldest son and the new king, Charles III. Not only did he inherit the Duchy of Lancaster, worth an estimated £650 million, but he also became the beneficiary of her personal fortune, worth hundreds of millions in itself. It's true that Charles has never known a life of hardship, and that certainly won't change now that he's taken to the throne — though whether he will do anything extravagant with his newfound fortune remains to be seen. 
Interestingly, there are laws in England (and most other countries) that mean tax has to be paid on large inherited sums, but royalty doesn't have to worry about that. In 1993, an arrangement was made between the government and the House of Windsor that exempted the monarchy from that rule. Most people in Charles' position would be looking at handing at least 40% to His Majesty's Revenue and Customs (aka the tax man).
Prince Andrew got the queen's beloved corgis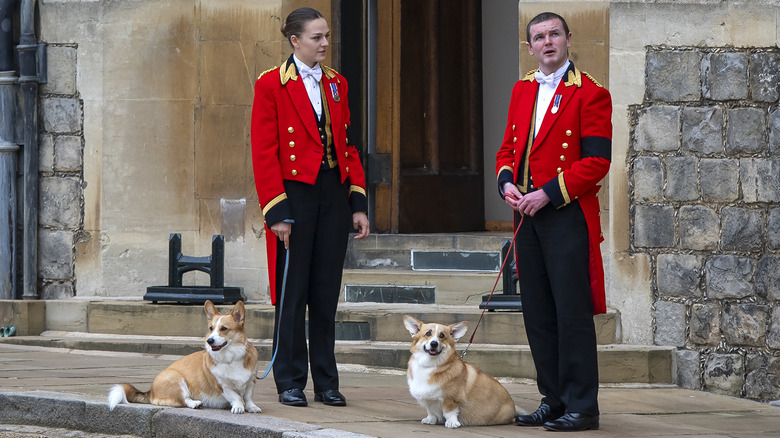 Justin Setterfield/Getty Images
It's safe to say that Prince Andrew probably caused Queen Elizabeth II a fair amount of stress in her latter years. A few years ago, he hit headlines when Virginia Giuffre sued him for alleged sex abuse when she was just a teenager, a case tied to Jeffrey Epstein and Ghislaine Maxwell. As a result of the scandal and a rather shoddy defense that involved a poorly received television interview, Elizabeth's son stepped back from his royal duties. 
How the scandal impacted Andrew's relationship with his mother (if at all) is something only the Windsors know. However, the prince was entrusted with two of Elizabeth's most prized possessions after her death — the queen's corgis, Muick and Sandy. Her sweet four-legged companions went to live with Andrew and his ex-wife, Sarah Ferguson, Duchess of York, at their shared home in Windsor. (Despite having divorced many years ago, the couple remains amicable and lives together.)
You don't have to be an avid royalist to know that Elizabeth absolutely adored her dogs. Her parents first welcomed corgis into the royal household in 1933, making this a tradition that goes back almost 100 years. In a sweet moment, Sandy and Muick were spotted waiting for their late owner's funeral procession in 2022 (above). 
Princess Catherine may receive Queen Elizabeth II's wedding necklace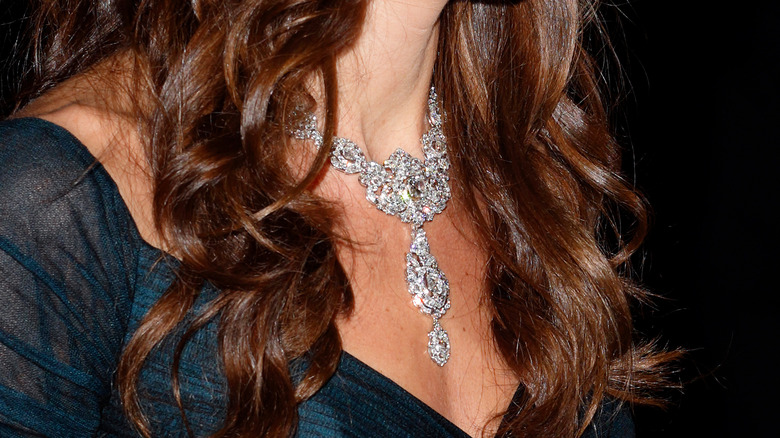 Max Mumby/indigo/Getty Images
Princess Catherine has been a key member of the royal family ever since Prince William put a ring on it in 2011. When he proposed, Catherine became the proud owner of Princess Diana's iconic sapphire and diamond engagement ring. Not only that, but the late princess had stipulated that her jewelry was to be passed down to her sons in the event of her death, so that they may give it to their future wives. As such, Catherine has been spotted wearing several of Diana's pieces over the years.
Passing jewelry down has been the tradition for many years, so perhaps it's only natural that Elizabeth may have given one of her most valuable pieces to the future queen of England. The Nizam of Hyderabad necklace, valued at around £66.3 million, was originally gifted to Elizabeth as a wedding gift from the ruler of Hyderabad in 1947. Made by Cartier, the breathtaking accessory has only ever been worn by one other person besides the monarch — Catherine. 
The mom of three wore the necklace to an event in 2014. Before that, Elizabeth had never lent the piece out before, unlike many of the other precious jewels that have been spotted on other senior members of royalty over the years. Given that information, it's hardly surprising that some reports suggest Catherine could be the necklace's new owner.
Prince William got a £1 billion estate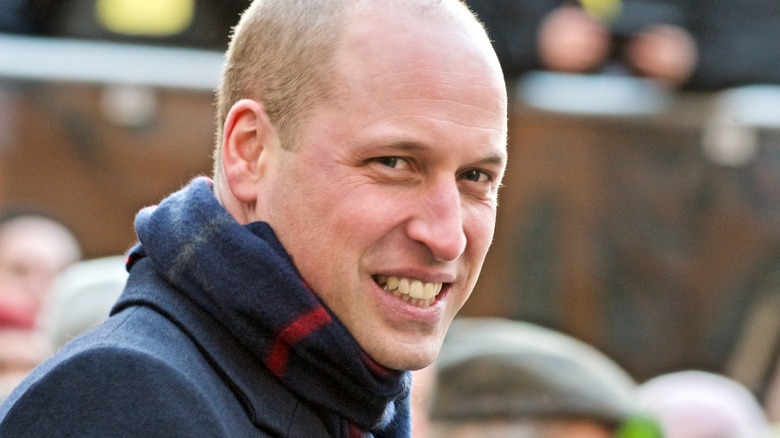 Liv Oeian/Shutterstock
As the eldest son of King Charles III, Prince William stands to inherit an awful lot in the future, as well as the present. When his grandmother Queen Elizabeth II died, William inherited something rather spectacular. Most of us might look forward to getting granny's fine bone china tea set, or a small amount of money she squirreled away over the years. William's case was slightly more grandiose. He became the proud owner of the Duchy of Cornwall, an estate spanning 128,000 acres and worth an estimated £1 billion. His father was the previous owner, but it automatically fell to William when Charles was bumped up the ranks — but what exactly does it include that makes it so profitable? 
In short, property. The Duchy of Cornwall is no mere smallholding, but one of the biggest expansions of land in the country. It goes across 20 counties, with many different types of houses, public spaces, and even the famous Oval cricket ground in its midst. As such, it makes more than a bit of spare change, turning over around £21 million in 2021 alone. 
William will certainly have a lot to live up to as the new Duke of Cornwall, as his father maintained the title since he was just a young man. During that time, Charles put his stamp on the duchy, creating a model village called Poundbury, and founding Duchy Organics, a food business that sells all-natural products.
Meghan, Duchess of Sussex, received nothing of value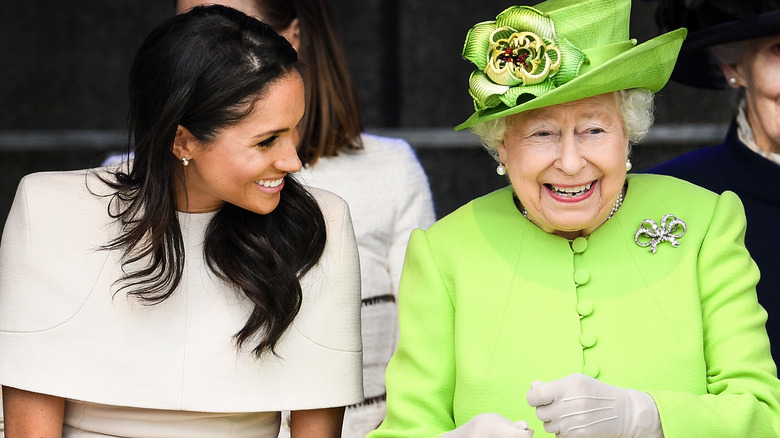 Jeff J Mitchell/Getty Images
Meghan, Duchess of Sussex, has a complicated relationship with the House of Windsor, to say the least. It's no secret that Meghan and her husband, Prince Harry, rocked the royal boat when they decided to step back as senior royals in 2020. Public opinion didn't exactly sway in their favor, but many were left wondering one thing above all else: How did Queen Elizabeth II feel about her grandson's decision? Five days after the news became public, Elizabeth released a statement of her own. 
"Harry, Meghan, and Archie will always be much-loved members of my family," she said (via The Royal Household). "I recognize the challenges they have experienced as a result of intense scrutiny over the last two years and support their wish for a more independent life. ... It is my whole family's hope that today's agreement allows them to start building a happy and peaceful new life."
Meghan and Harry went on to name their daughter Lilibet, after Elizabeth, so it seemed like this was one familial tie that wouldn't be broken. However, that doesn't mean that Meghan is in for any inheritance. An insider reportedly told Radar Online: "There's a very good chance the queen won't leave [Meghan or Lilibet] any jewels of value. It's not surprising, since they're not members of the royal family anymore." The same insider believed Princess Catherine was due to receive the lion's share of the jewels.
King Charles now owns Queen Elizabeth II's properties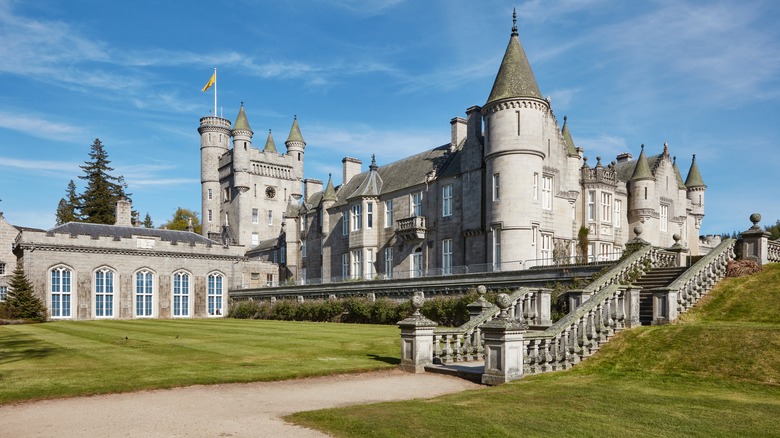 Jon Kempner/Shutterstock
It's no secret that the British royal family has a lot of antiques, jewels, and other worldly possessions that inspire envy, but one of their biggest assets is their impressive property portfolio. Like Queen Elizabeth II's monetary wealth, she had properties that she owned privately, and properties she was responsible for under the crown. As the new sovereign, Charles gets all of the palaces and stately homes, which includes Buckingham Palace. He doesn't actually own them, though. 
The Crown Estate website explains it best: "The crown estate is not the private property of the king. Our assets are hereditary possessions of the sovereign held 'in right of the crown'. This means they belong to the sovereign for the duration of their reign, but cannot be sold by them, nor do revenues from the assets belong to them." 
So, while the king may do as he pleases with them while he's alive, they will simply pass down to the next monarch when he dies. The story is a little different with Elizabeth's beloved Balmoral and Sandringham estates, which she owned privately as they were previously bought by members of her family. Elizabeth was particularly fond of Balmoral, which was where she died in 2020 at the age of 96, with her son Charles and daughter, Princess Anne, at her side. 
Queen Elizabeth II's incredible collection of horses goes to her son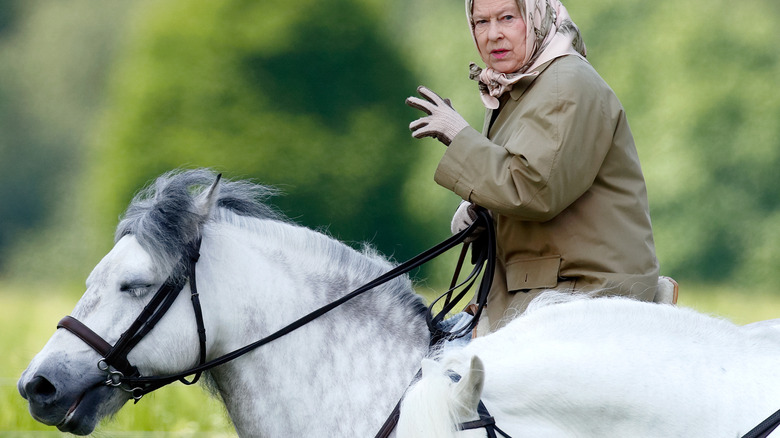 Max Mumby/indigo/Getty Images
The royal family has been riding horses for centuries, with Princess Anne and her daughter, Zara Tindall, having previously competed in the Olympics as equestrians. Queen Elizabeth II didn't just love to ride horses. At the time of her death, she owned around 100 of them. As you may have expected, King Charles III inherited them. Although he could easily have afforded to keep them all, the king chose to sell 30 of them. These horses aren't just worth a couple of thousand, either. It's thought that Charles has made millions from auctioning just 30. 
Over the course of her reign, Elizabeth attended multiple big racing events, including Royal Ascot and the Epsom Derby. Interestingly, she was passionate about breeding horses as well, and even set up cameras so she could watch the newborns come into the world. 
Charles is just as involved in the business as his mother and was there in person at 2023's Royal Ascot to watch his own horse, Desert Hero, pip the other runners to the post. Back in 2013, Elizabeth was also victorious when her horse, Estimate, scooped the trophy, proving that this is a tried and tested family business. 
Queen Camilla got her title from Queen Elizabeth II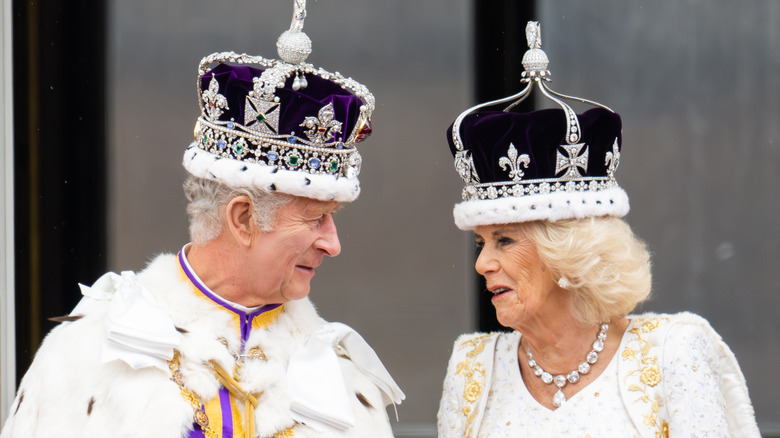 Samir Hussein/Getty Images
When King Charles III's marriage to Princess Diana fell apart in the early '90s, it rocked the House of Windsor. It simply wasn't done for the heir to the throne to divorce, but despite all hopes, nothing could be done to save the partnership. It was a terrible year for Queen Elizabeth II, who saw both Charles and Prince Andrew announce divorces. Of course, the world was intrigued by one thing above all else: Who was Camilla Parker-Bowles, and would Charles ever be allowed to marry her? 
After all, the queen's sister, Princess Margaret, didn't marry Group Captain Peter Townsend because he was a divorcee. It indeed took a little while for public opinion to settle down, but Charles was eventually allowed to marry Camilla in 2005. Whether she would ever hold the title of queen was still for debate, but Elizabeth gave Camilla the best parting gift of all. 
The queen made her wishes known in her Platinum Jubilee statement, which read: "And when, in the fullness of time, my son Charles becomes king, I know you will give him and his wife Camilla the same support that you have given me; and it is my sincere wish that, when that time comes, Camilla will be known as queen consort as she continues her own loyal service" (via The Royal Household).
King Charles inherited the most important thing of all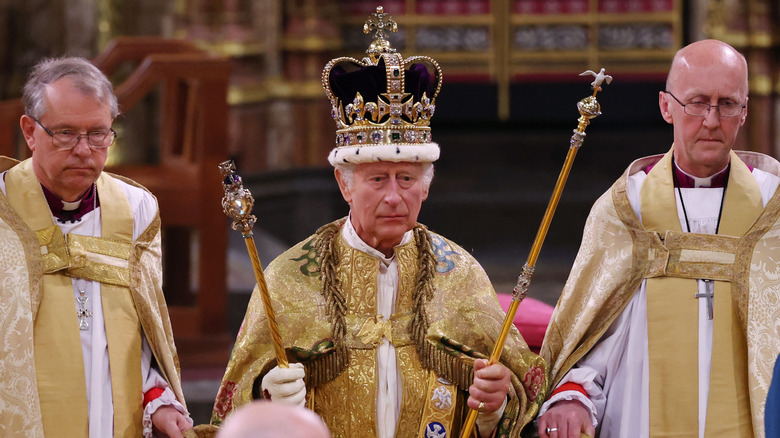 Wpa Pool/Getty Images
Monarchs have the best doctors and medical care at their disposal, but no one knows what may happen to them, or when. Queen Elizabeth II's father, King George VI, died at the young age of 56 after a lung operation. He had only been on the throne for just over a decade, meaning Elizabeth was just a young woman when she became queen. Unlike her father, Elizabeth was blessed with a long and healthy life, living until the ripe age of 96. In turn, this meant that her son, King Charles III, was the Prince of Wales until he was 73 years old. 
Charles inherited many things from his mother, but the most important thing is something that can't be given a monetary value: his position as sovereign. Even though he didn't take to the throne until he was much older, he would have been meticulously prepared for this sacred role from a very early age. 
If it weren't for King Edward VIII's abdication in 1936, Charles would never have been in line for the throne at all. Elizabeth's uncle chose to give up the throne in order to marry American divorcee Wallis Simpson, which meant the crown fell to George, and the line of succession totally shifted. If it weren't for this remarkable twist of fate and Elizabeth's part to play in it, Charles would never have inherited the sovereignty.