How Did Gavin & Jennifer Siebel Newsom Meet?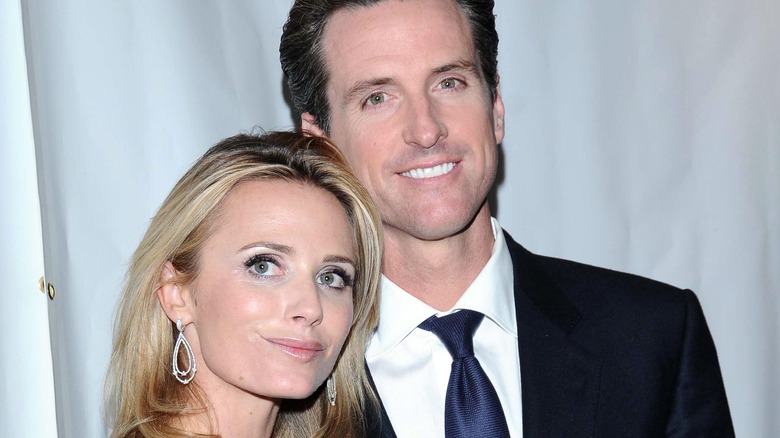 s_bukley/Shutterstock
Though Gavin and Jennifer Siebel Newsom have had quite a whirlwind life in recent years, the way they met was actually pretty basic. They met on a blind date arranged by friend Kathy Wilsey, as per SF Gate. The date took place in October 2006 at the Artists Ball at the Yerba Buena Center for the Arts.
"I actually think they were made for one another," Gatti said about the couple. "You know the kind of thing where people finish each other's sentences? They do." She said they are each quite respectful of one another and on the same page with how they see the world. Jennifer said they were both surprised by how well they got along. "We had so much in common," said Jennifer. " We were blown away, from our love for Africa to our interests in political issues to art and the wine business and college sports."
Gavin Newsom and Jennifer Siebel dated for two years and then got married at Siebel's parents' ranch in Montana in July 2008.
Gavin and Jennifer Siebel Newsom have high-profile exes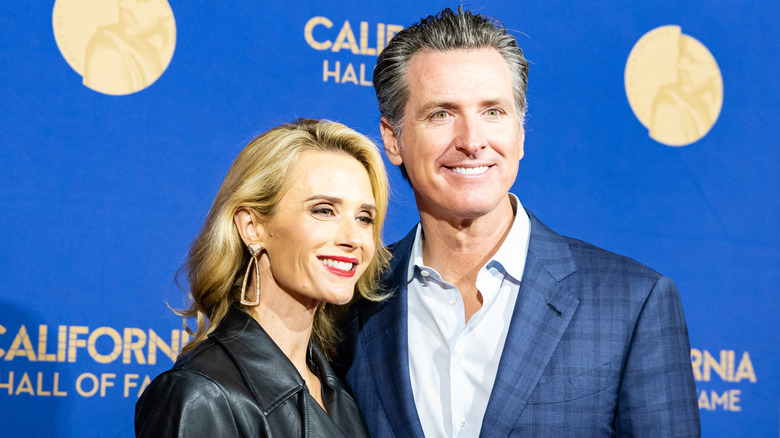 Chris Allan/Shutterstock
Jennifer Siebel was born in San Francisco and has a Master's in Business Administration. She worked with Conservation International and traveled to Africa and Latin America to help women build and sustain their own businesses. In 2002, she moved from a California suburb to Hollywood to pursue an acting career and landed small roles in a few key shows like "Mad Men" and "Rent" (via Insider). For a brief time, she dated actor George Clooney before meeting Gavin Newsom. For Newsom, his marriage to Siebel was his second. He was previously married to Fox News commentator Kimberly Guilfoyle for four years, from 2001 to 2005. 
Oddly enough, though Siebel and Newsom had several things in common, they had conflicting political views when they met. Like Guilfoyle, Seibel was also a Republican when she met Newsom. However, she has since become an independent. 
Now the power couple is often recognized for their commitment to social justice and political ideologies that focus on progressive viewpoints, including healthcare for all, cannabis legalization, and housing for the homeless.
Gavin and Jennifer Newsom have four children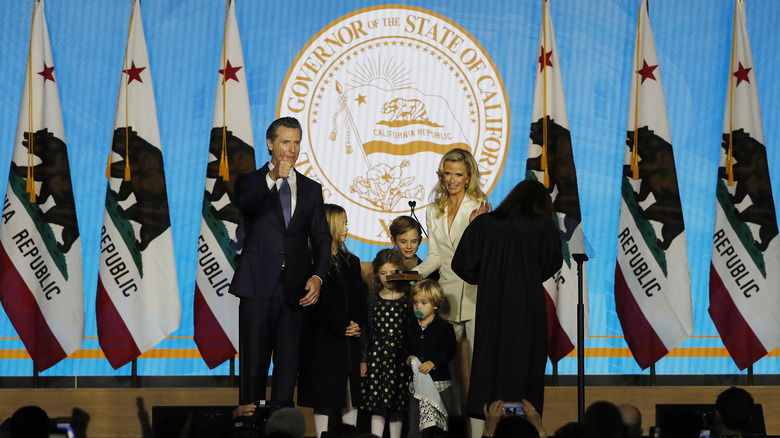 Stephen Lam/Getty Images
In 2009, Gavin Newsom and Jennifer Siebel Newsom became parents and welcomed their firstborn daughter, Montana Tessa. Two years later in 2011, their firstborn son, Hunter, was born. In 2013, another daughter, Brooklynn Stacia, was born. In 2016, their second son, Dutch William, arrived, completing the family with two boys and two girls.
Both Gavin and Jennifer have fought for gender equality, which is one of the reasons why she insists on being known by the title of First Partner rather than First Lady. Their values align on gender equality and women's rights. But even still, like so many women and as a mom, she still bears the brunt of the rude comments and opinions about her children.
In 2019, Siebel wrote an article for Glamour in which she says that Gavin was praised as "Governor Dad" after his inaugural speech while she was criticized and questioned on why her youngest son, Dutch, still used a pacifier. "Until we stop treating parenting as a woman's burden and a man's adorable hobby," she wrote, " the gender gap we see at work and at home won't disappear."