The Stunning Transformation Of James Middleton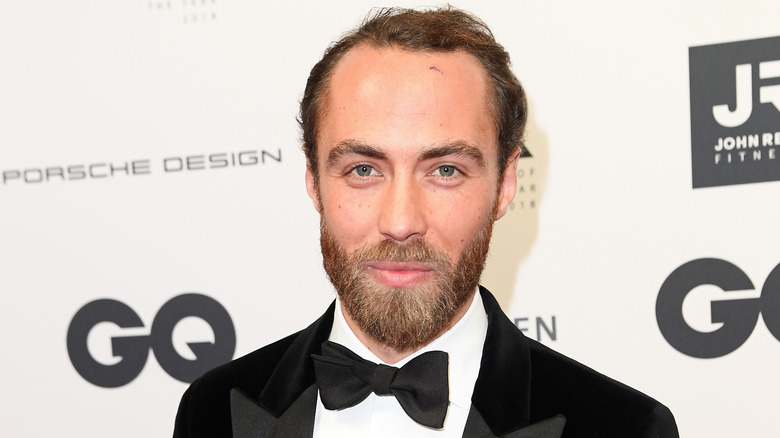 Matthias Nareyek/Getty Images
The following article references depression and suicide. 
In 2011, James Middleton was thrust into the global limelight when his older sister, Catherine, Princess of Wales, married Prince William. On April 29, 2011, a young James stood at the front of Westminster Abbey and read a Bible verse during the ceremony for all the world to hear. He gave the only reading at the historic royal wedding.   
Yet there's much more to James Middleton outside of his ties to his famous royal sister. From his roots in a well-to-do family, he would transform into a successful entrepreneur, activist, and writer. He's also a well-known animal lover, and has several dogs who have played key roles throughout his life.
If you know a lot of very little about the Middleton family, it is likely that you are more versed on all things Catherine, Princess of Wales. However, she is but one piece of the Middleton puzzle. Here's what you need to know about the transformation of her younger sibling James Middleton.
James Middleton was born in 1987 and grew up in a privileged family
James Middleton is the youngest child born to Michael and Carole Middleton. His father, Michael Middleton, came from a wealthy family, some of whom were involved in aristocracy. He met his wife, then known as Carole Goldsmith, when they both worked for British Airways. Michael and Carole were married in 1980 and went on to have three children: Princess Catherine is the eldest, born in 1982, sister Pippa Middleton, born in 1984, and James, born in 1987.
Long before Catherine linked up with Prince William, and long before Pippa's bridesmaid dress turned heads, James was used to being the third Middleton. "It's always been, whether at school or now, that I am Pippa and Catherine's little brother," he told the Daily Mail in 2016. "I am very proud to be 'the little brother of...' but, equally, they are proud that I am who I am." James also shared that, for better or worse, his sisters kept a close eye on him. "I have always joked that I have three mothers. I couldn't get away with anything as a kid," he said.
While they weren't royals, the Middletons grew up comfortably. All of the children attended upscale private schools in Great Britain, such as St Andrews Preparatory School. 
James Middleton dropped out of an elite university and became an entrepreneur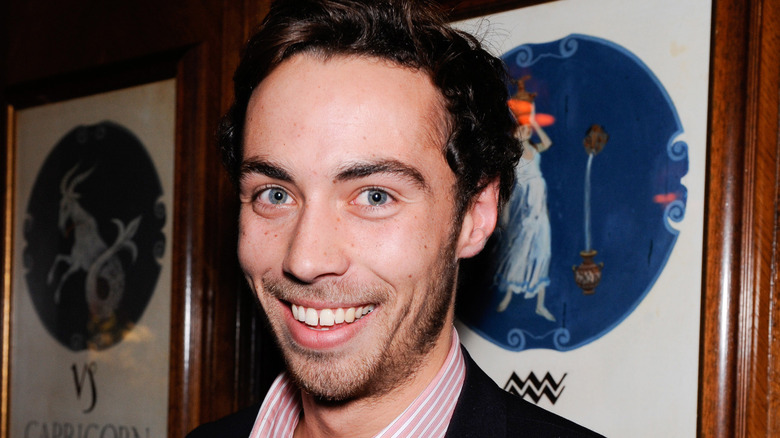 Nick Harvey/Getty Images
After St Andrews, James Middleton's education continued with Marlborough College and then the University of Edinburgh. However, higher education wasn't the right fit for James, so he rerouted. 
James left Edinburgh after a year in order to pursue his entrepreneurial dreams. As he told British GQ in 2012, "I thought I wasn't dropping out but moving on, getting myself ready for the big wide world." He started with a mail-order cake business called The Cake Kit Company. As the name suggests, customers could order ready-made cake mixes directly to their homes. "People think baking cakes is a funny thing for a guy to do, but I am passionate about it," he said. He later founded a specialty marshmallow company, as well as a wine company. Regarding his ambitions, a friend told The Telegraph in 2011, "There is no doubt about it, James would like to be the next Richard Branson." Unfortunately, all three businesses folded by 2015. However, this wouldn't be the last time Middleton would try his hand and entrepreneurship.
James seemingly followed in his mom's footsteps. Carole Middleton founded her own business in 1987 called Party Pieces. Like James' former The Cake Kit Company, Party Pieces is a mail-order party supply shop. (When James launched The Cake Kit Company, he offered his product through Party Pieces.) Unfortunately, Party Pieces struggled to keep afloat during the pandemic, and the family sold the company in May 2023.
James Middleton became famous when his sister married a royal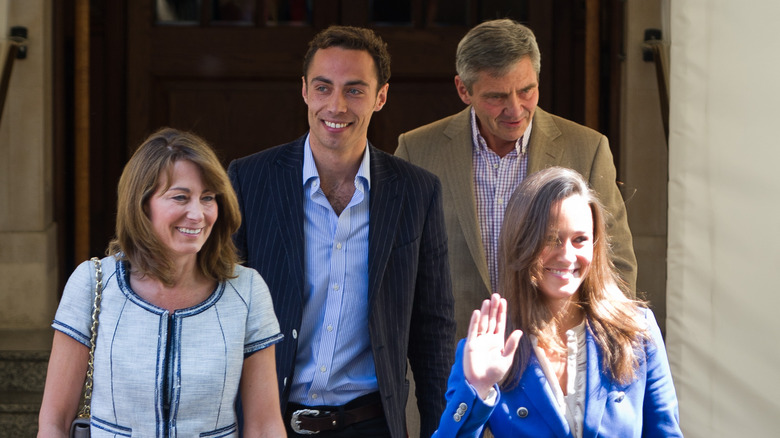 Ian Gavan/gp/Getty Images
James Middleton was 23 years old when his sister Catherine, Princess of Wales, married Prince William in 2011. At the time, his businesses were successful, though there was unfair criticism that Middleton aimed to take advantage of his newfound public attention to make more money. 
On the contrary, the sudden fame and public scrutiny proved to be extra challenging for the younger Middleton. According to The Telegraph, Middleton was trying to improve his image following his sister's high-profile wedding, especially after some edgier photos he'd taken were leaked. A friend told the outlet, "For ages, James was rather embarrassed that he didn't make it at university. It seems to have given him an extraordinary sense of drive — I think he really feels he has to show that he can make it in the world on his own merit."
Later, Middleton himself would comment on the sudden pressures he faced at the time of his sister's royal wedding. "Suddenly, and very publicly, I was being judged about whether I was a success or a failure," he told Tatler magazine in 2019. "That does put pressure on you. Because in my mind I'm doing this irrespective of my family and events that have happened."
After the wedding, James Middleton shared he has dyslexia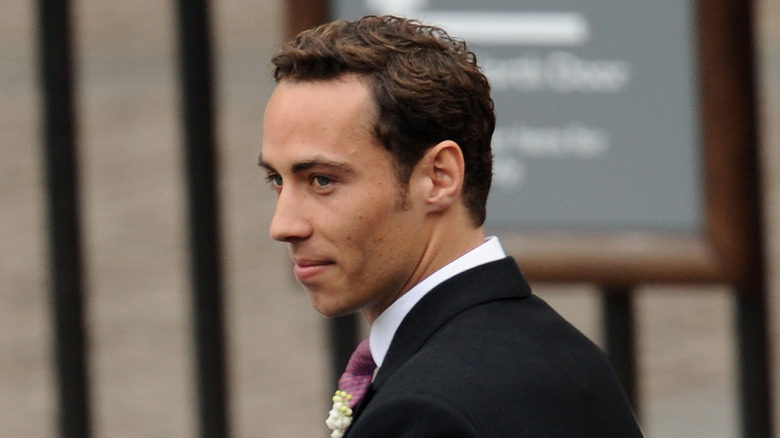 Ian Gavan/gp/Getty Images
Reading out loud is something James Middleton has struggled with for a long time, as he was diagnosed with dyslexia at age 11. When he was invited to give a reading at Princess Catherine and Prince William's 2011 wedding, he put in extra work before the event. "I had to retype the whole of the reading phonetically, and that's how I learnt it," he said, per the Daily Mail. 
The following year, The Telegraph ran a story titled, "James Middleton (finally) speaks up for dyslexia." While the media outlet noted that Middleton indeed decided to commit to raising awareness about dyslexia by teaming up with the British Dyslexia Association, the criticism about any perceived delay in such efforts is arguably unfair. 
Middleton later opened up about his experiences with dyslexia in an op-ed for the Daily Mail, writing, "Since childhood, I've known I was severely dyslexic — both letters and numbers still jump and blur on the page in front of me and some days I have difficulty spelling even the simplest words." Per the Daily Mail, while advocating for the British Dyslexia Association in 2012, Middleton reflected on how dyslexia shaped his experience at the prestigious schools he attended. "When I read out loud in class it was a joy for everyone else because I would mispronounce things so badly," he said. "There was a certain amount of teasing, but I built up a bit of resilience and I was competent in other areas."
In 2017, James Middleton decided to seek help for his depression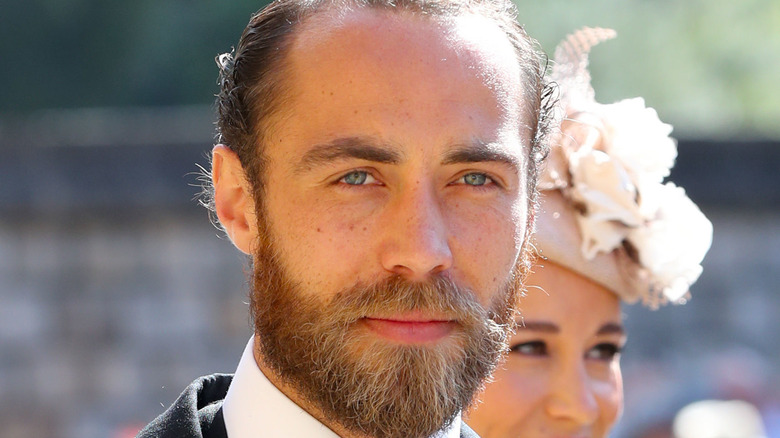 Wpa Pool/Getty Images
In the aforementioned Daily Mail op-ed, James Middleton shared that he experienced a mental health crisis in 2017.  "I know I'm richly blessed and live a privileged life," he wrote. "But it did not make me immune to depression. ... It is an illness, a cancer of the mind." When this bout of depression, which had begun in 2016, came to a head, Middleton left his home with his dogs, headed out into nature, and stayed in a cottage. It was there that he decided he needed to get help. "I knew if I accepted help there would be hope," he wrote. "It was a tiny spark of light in the darkness."
Middleton also shared that he felt compelled to publicly open up about his personal struggles with depression and suicidal thoughts after watching Princess Catherine, Prince William, and Prince Harry advocate for mental health. "They believe we can only tackle the stigma associated with mental illness if we have the courage to change the national conversation, to expel its negative associations," he wrote. "So it wouldn't be honest to suppress my story." He hopes to use his platform for the cause, too.
After coming to terms with his mental health, Middleton sought help, including cognitive behavioral therapy. As he said in Tatler, "I feel like James Middleton again. I feel like I was when I was 13, excited about life. I feel like myself again and I couldn't ask for more."
James Middleton shared he was diagnosed with ADD in 2019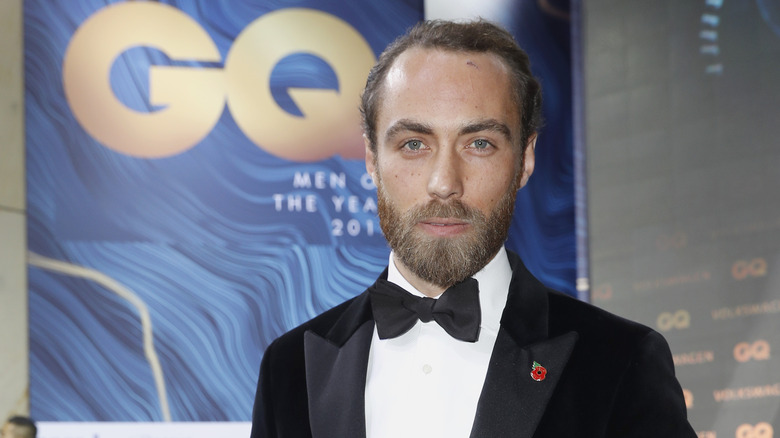 Sebastian Reuter/Getty Images
In the aforementioned Daily Mail piece, James Middleton also shared that he was diagnosed with attention deficit disorder (ADD) as an adult. According to the National Health Service, ADD is a form of attention deficit hyperactivity disorder (ADHD) that doesn't include hyperactivity or impulsive behaviors. ADD is commonly diagnosed in adulthood, as was the case with Middleton. 
When Middleton was diagnosed with ADD, he wrote that he experienced a sense of relief, as it helped him better understand the way his brain works. "It explained so much," he wrote. "It is the reason I have trouble focusing; why my mind wanders off into extravagant daydreams; why simple tasks such as making my bed assume the same enormity as filing my tax return."
Middleton received his diagnosis around the time he was also undergoing treatment following his 2017 mental health crisis. And by all accounts, he embraces his ADD diagnosis. "I also see my ADD as a gift: it accounts for my creativity and emotional intensity. It means that I come up with fantastic, original ideas — but it also explains why I have had difficulties with the minutiae of running a business," he wrote.
In 2018, James Middleton teamed up with Pets as Therapy
In addition to his knack for brewing up creative ideas, James Middleton is known for his love of dogs. In 2018, these two passions, plus his own mental health history, inspired Middleton to start working with the United Kingdom's Pets as Therapy organization. Established in 1983, Pets as Therapy connects people with animals for therapeutic purposes.
Clearly, this is a cause near and dear to Middleton's heart. On his current company website, he describes how dogs have helped him with his own mental health. He shared that his cocker spaniel Ella was his "teacher, therapist, and best friend," going on to become an official therapy dog in 2018. "She saved my life, which was why we are signed up with @petsastherapy_uk as I recognise the huge positive impact animals can have in our lives," he wrote on Instagram in 2020. Ella had a key role with Pets as Therapy, as she would accompany Middleton on visits. "We would go to mental health centres and Ella made a difference just by being herself," he shared in The Times. "She made people smile."
In addition to Pets as Therapy, Middleton has worked with nonprofits Battersea Dogs and Cats Home and Dogs Trust Cardiff.
James Middleton founded a dog food company in 2020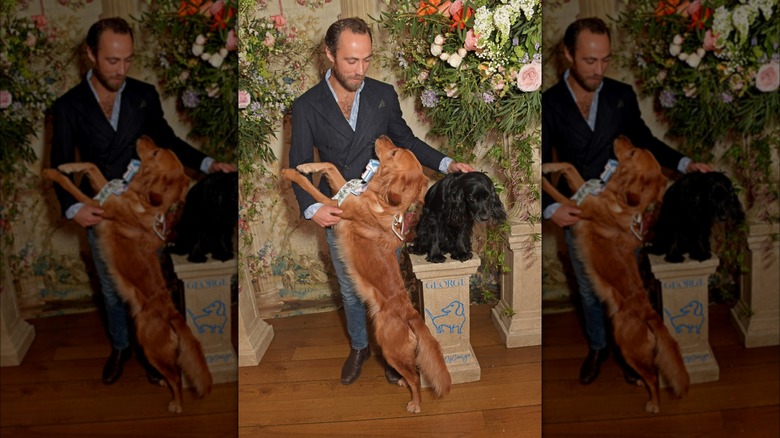 David M. Benett/Getty Images
While James Middleton took some time off from his businesses to focus on his mental health, he couldn't keep his entrepreneurial spirit away for long. This was evident when, in 2020, Middleton established a dog food company. Named for his cocker spaniel Ella, James & Ella is a company that sells a variety of natural freeze-dried raw and cold-pressed quality dog foods as well as treats. according to their website. The company was originally called Ella & Co, though Middleton changed the name in 2023. 
Given his love for his dogs, it should not come as a surprise that Middleton wants to give them the best of the best. James & Ella came about because he wanted to provide pooches with the most nutritious foods possible. Per Tatler, in an early advertisement for the natural food line, Middleton stated, "I started raw feeding and noticed immediate visible effect. ... However after months of continually freezing, defrosting & disinfecting I knew there had to be another way. ... I just wanted dog food with the same health benefits of raw-feeding but was easy to store, feed and travel with." Of all the food-related businesses Middleton has started, this sure seems to be the most personal. 
In 2021, James Middleton married Alizee Thevent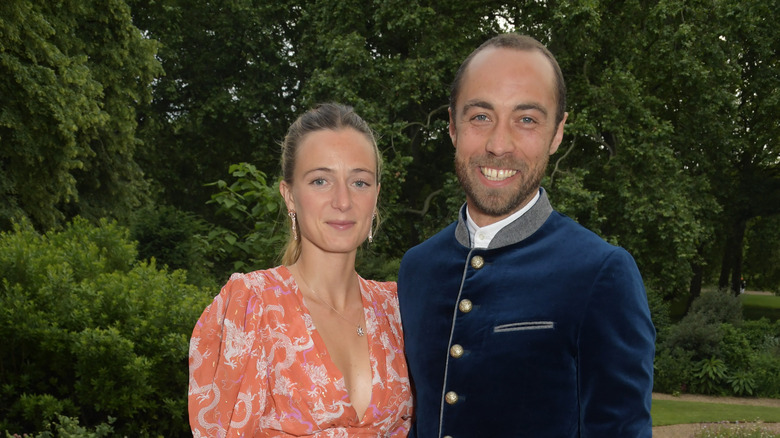 David M. Benett/Getty Images
From helping James Middleton cope with depression to inspiring him to start his very own nutrition-focused dog food company, it seemed there was not anything Middleton's cocker spaniel Ella couldn't do. On top of all that, she played a key role in Middleton's love life, too. In 2018, he met financial analyst Alizee Thevent when, according to People, Ella approached Thevent at the South Kensington Club. "Little did I know, I had just met my future wife, all thanks to Ella," Middleton said, per People. It just so happened that Thevent was a dog lover, too.
In 2019, Middleton and Thevent made it IG official. After much speculation, the pair got engaged in October 2019. While they had to initially postpone their wedding due to the COVID-19 pandemic, the pair finally got hitched in September 2021. Oh and, the month before they walked down the aisle? Middleton and Thevent took another big step: They bought a house. 
And with that, Middleton and Thevent started a new life together. And yes, that new life definitely has included a bunch of dogs.
In 2023, James Middleton penned a touching tribute to his therapy dog, Ella
2023 was off to a tragic start for James Middleton, as his cocker spaniel Ella died in January. Ella had been in Middleton's life since 2008. After she died, Middleton changed the name of his company from Ella & Co to James & Ella. He also penned a touching tribute to honor his late canine companion for The Times titled, "Farewell Ella, the dog who saved my life." 
"Ella had a very short illness, she slipped away in my arms at home and is now buried in the garden alongside Tilly," Middleton wrote on Instagram. "I'm just about holding it together to write this, and despite the fact I knew this day was coming, it doesn't make it any easier." In the aforementioned piece for The Times, he reflected on everything they went through together, from his mental health struggles to her kidney failure diagnosis. Of course, there are the good memories too, as Middleton and his pooch went on many adventures together. "Invitations were always addressed to 'James and Ella,'" he said. Middleton also shared that his family was there for Ella's burial. "She meant something to all of them too," he wrote. 
James Middleton and Alizee Thevenet shared exciting news in July 2023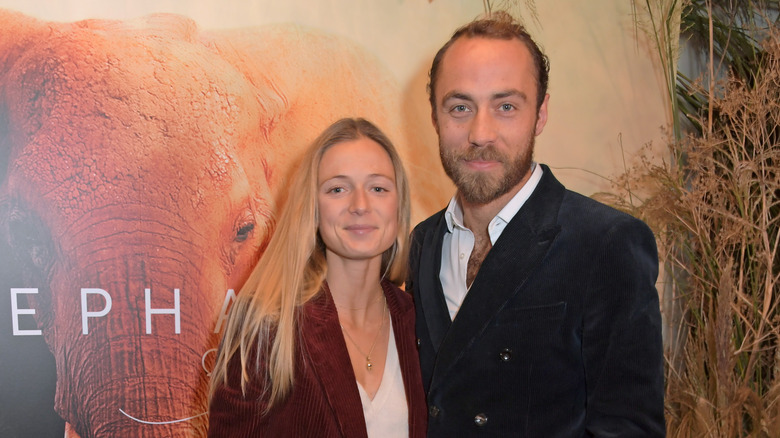 David M. Benett/Getty Images
Though 2023 began on a devastating note, the year certainly took a turn for the better for James Middleton. In July 2023, James revealed happy news that he and his wife, Alizee Thevenet, were expecting their first child. James shared the announcement on Instagram alongside a photo of a visibly pregnant Thevenet with their dog Mable. "It was a very difficult start to the year after losing my beloved Ella however we will end the year with the most precious little addition to our growing family," he wrote. James and Thevenet's baby will be grandchild number seven for Michael and Carole Middleton: Catherine, Princess of Wales, and Pippa Middleton have three children each. 
The day after they revealed a baby was on the way, Thevenet and James were spotted at Wimbledon taking in a match. Not a bad way to celebrate, eh?
And yes, James and Thevenet's child will be welcomed by the family's six pooches. "I have talked with the dogs quite a lot about what we're about to be going through and I think that's a really exciting next step for us as a family and I'm very much looking forward to it," James said on "Good Morning Britain." "I know the dogs are very much excited." While he will always be the "little brother" of the Middleton family, James is all grown up and continuing to pave his own way.
If you or someone you know needs help with mental health, please contact the Crisis Text Line by texting HOME to 741741, call the National Alliance on Mental Illness helpline at 1-800-950-NAMI (6264), or visit the National Institute of Mental Health website.
If you or someone you know is struggling or in crisis, help is available. Call or text 988 or chat 988lifeline.org