The Personal Ties Kate Middleton Has To One Of Her Military Titles
Tim Clayton - Corbis/Getty Images
As if Catherine, Princess of Wales doesn't already have enough royal titles, her father-in-law King Charles III has decided to add a few more. In a reshuffling of honorary titles following his ascension to the throne and familial scandals, Kate Middleton has been assigned three new designations: Commodore-in-Chief of the Fleet Air Arm, Colonel-in-Chief of the 1st Queen's Dragoon Guards, and Royal Honorary Air Commodore of Royal Air Force Coningsby.
While all three titles sound quite impressive, the latter is the most sentimental for the Princess of Wales. Royal Honorary Air Commodore of Royal Air Force Coningsby is close to Kate's heart as her family members have had close ties to the Royal Air Force. Though it's Kate's first time holding a senior role with the RAF, her grandfather worked his way through the ranks to become "Captain" Peter Middleton. At one point, his co-pilot was none other than her husband William's grandfather, Prince Philip, Duke of Edinburgh.
Peter Middleton, Kate's paternal grandfather, was on active duty when Prince Philip took a two-month tour of South America in 1962. There is even a photo of her grandfather looking stately in uniform, standing by his plane as Prince Philip descended the steps at Heathrow Airport. Peter Middleton was reportedly sent gold cuff links and a letter of thanks by the royal family for his piloting services.
Kate Middleton has even closer ties to her new titles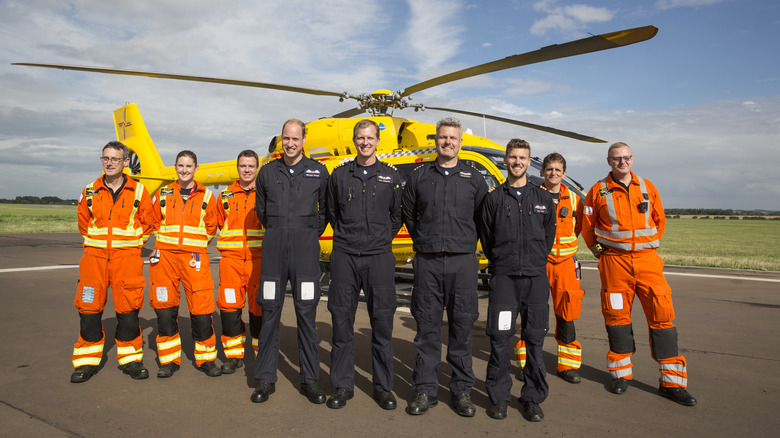 Wpa Pool/Getty Images
Of course, her husband William, Prince of Wales was a pilot, notably a search and rescue pilot for three years beginning in 2010. He started in the Blues and Royals Regiment, part of the cavalry often seen acting as the monarchy's ceremonial guard. Following that, he went on to become a certified pilot after training at the Royal Air Force College. Eventually, serving as a search and rescue pilot and then a med flight pilot with the East Anglian Air Ambulance Services.
The future king flew medical staff into ground zero of emergencies throughout Britain, telling the BBC, "When I put my air ambulance hat on, and I come here and I fly, I'm one of the team." It was a full-time paid job, though he donated all his earnings to charity. In 2017, when William hung up his ambulance helicopter uniform, Catherine, Princess of Wales was probably a bit relieved.
Today, the Prince of Wales holds honorary titles, such as the Honorary Air Commandant of RAF Coningsby, despite serving in the military for seven and a half years. Due to her close family history with the RAF, Kate likely appreciated King Charles' thoughtful delegation of the titles.
What do these new titles mean for Kate Middleton?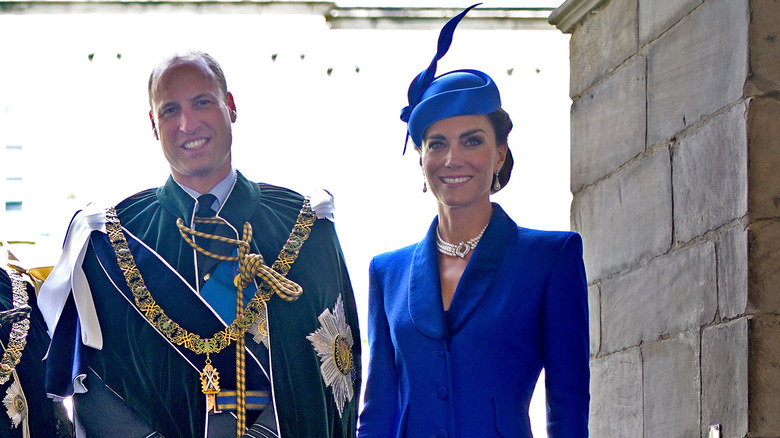 Pool/Getty Images
Even though Kate Middleton is now the proud owner of three new military titles, we won't see her heading into combat anytime soon. The titles are "honorary," meaning they have been given the designation without going through the usual procedures and prerequisites. Kate isn't qualified to serve in a leadership position as a true Colonel or Commodore would.
Instead, according to the British Royal Family, these titles allow working members of the royal family to hold a "special relationship" with the armed forces and act as the "official link" between the family and the forces. Many of the patronages held by working royals strive to support those who serve. For example, Prince William has previously worked with a charity that supports veterans struggling with mental health called the Forces in Mind Trust.
Kate's new honorary titles simply reinforce the relationship between the two parties. The change in her titles also means Kate Middleton can wear a military uniform to events like the Trooping of the Colour. However, most speculate that we won't see her in anything other than her typical wardrobe, as previous titles have done little to impact her impeccable style over the years.