A Look Into Jackie Kennedy's Rocky Relationship With Her Sister Lee Radziwill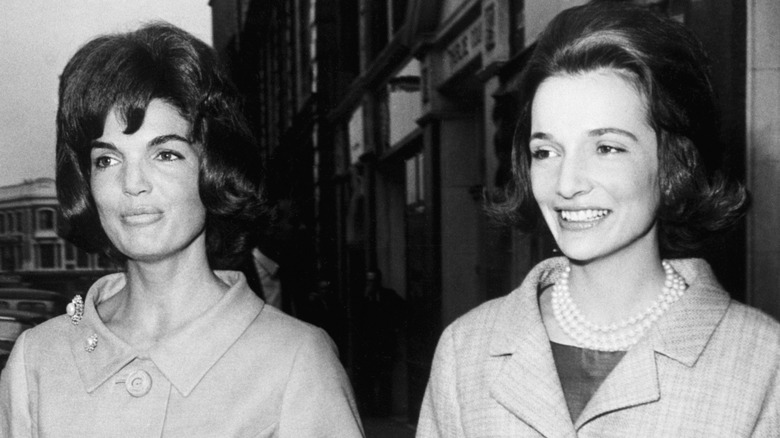 Bettmann/Getty Images
When Jackie Kennedy married former President John F. Kennedy, she entered the ranks of a family rife with complex relationships, soaring reputations, and magnetism to tragedy — but it wasn't her first foray into complicated familial dynamics. The former First Lady was no stranger to tension between relatives. In fact, Jackie Kennedy and her sister were almost always in competition, resulting in a bitter and rocky relationship. 
Greater details of the relationship between Jackie and her sister Lee Radziwill were revealed by J. Randy Taraborrelli, author of "Jackie, Janet, & Lee," which outlined the dynamics among their family, much to the dismay of Radziwill. Columnist Richard Johnson of Page Six reported that a friend told him, "Lee doesn't like her dirty laundry being aired, and she feels betrayed by her cousins, who gave interviews to the author."
And indeed, there was plenty of dirty laundry to air on the line. The sisters ' connection was shaky at best, from petty teen jealousies to fighting over the same men as eligible young bachelorettes. Eventually, the rift between them became irreparable in the final years before Jackie's death.
Jackie was her father's favorite, and Lee was her mother's favorite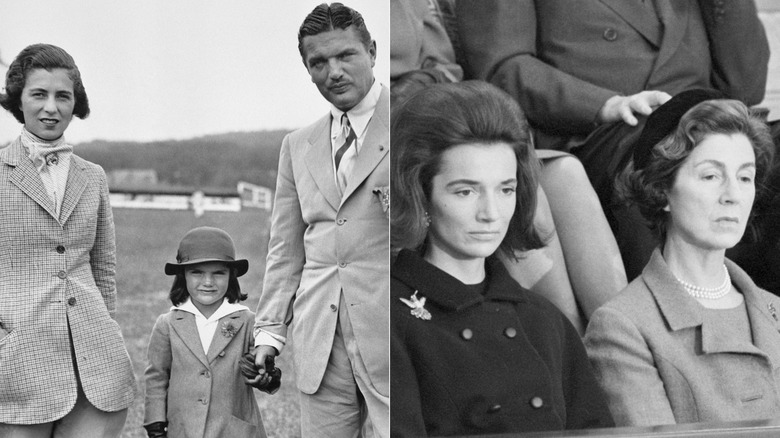 Bettmann & Bettmann/Getty
Jackie and Caroline "Lee" Bouvier were born into a family that was already accustomed to the limelight that extravagant wealth provides. Their father, stockbroker John Vernou Bouvier III, encouraged his daughters to "be the best," something both girls strived for throughout their lives. But in Lee's eyes, it wasn't easy to compete with her highly accomplished, fashionable, and well-liked older sister. 
Adding to the stress of competing with Jackie was a very real sense that their father preferred the older daughter over Lee, partially due to Jackie boasting her father's namesake and physical attributes like her distinct, wideset eyes and high cheekbones, per Vanity Fair.  "[Jackie] was not only named after him ... but she actually looked almost exactly like him, which was a source of great pride to my father," Lee wrote in her memoir Happy Times (via Vanity Fair).
However, according to "Jackie, Janet, & Lee," Lee held the higher esteem of the sisters' mother. Jonathon Tapper, the former butler of Janet and Lee's mother, then known as Janet Lee Bouvier, revealed to Taraborrelli that although Jackie felt more involved in caring for her mother in her old age, "If that phone would ring and it would be Lee — maybe once a month if that much — oh my, Madam would light up! She would say it outright, 'Lee is my favorite'" (per Page Six).
The sisters were sometimes closer in their adult years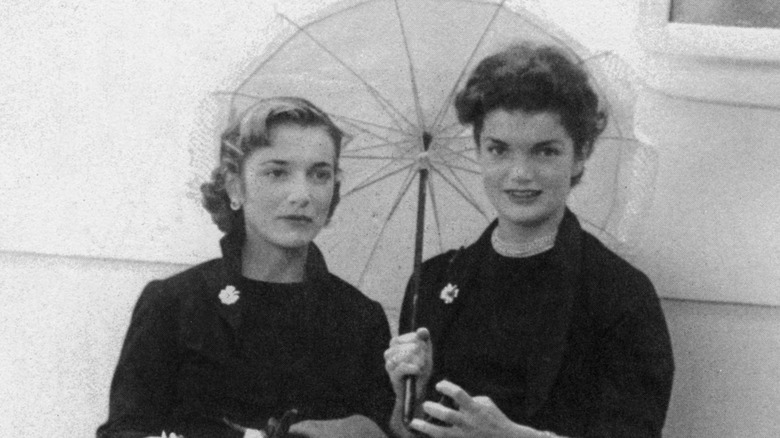 Apic/Getty Images
The competitive spirit between the two sisters bled over into their love lives, with both Jackie and Lee sharing chemistry with the up-and-coming senator John F. Kennedy Jr. that would ultimately end up marrying Jackie ahead of his 1961 presidential inauguration (via People). After JFK's assassination in 1963, the sisters continued to set their sets on the same men — only this time, it was the highly wealthy Greek shipping magnate Aristotle Onassis. 
Jackie Kennedy's second husband, Aristotle Onassis, initially dated her sister before they married in 1968. After receiving the news that Jackie and Aristotle were engaged, Vanity Fair reported that Lee purportedly yelled to Truman Capote, "How could she do this to me!" In public, however, Lee adopted a far more positive outlook, saying that she hoped it would bring Jackie "the happiness she deserves." Unfortunately, it turned out to be a short-lived marriage (Onassis would tragically die of respiratory failure in 1975). 
The nail in the coffin of the sister's relationship proved to be the complicated dynamic between Jackie, Lee, and their mother, Janet Bouvier (later Janet Auchincloss). Per Page Six, Jackie cut ties with her younger sister after Lee failed to be present when Janet died. Jackie would die only five years later, in 1994, leaving no money to her younger sister in her will.