A Look Back At Jessica Simpson And Tony Romo's Tumultuous Romance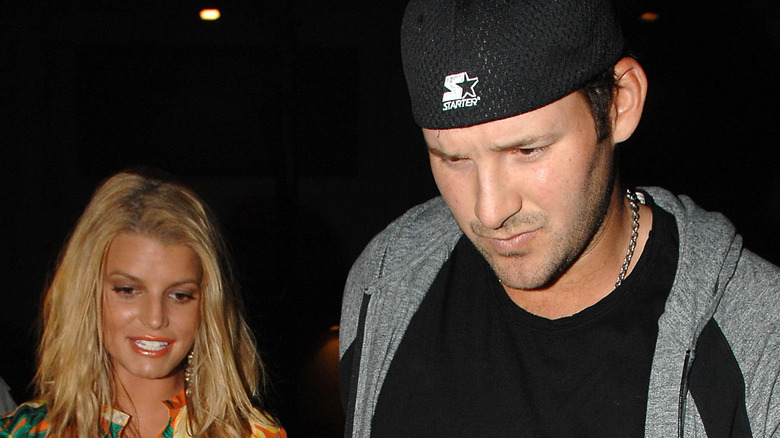 Chris Wolf/Getty Images
We may receive a commission on purchases made from links.
Two years after Jessica Simpson's 2005 separation from ex-husband Nick Lachey, she found love with former Dallas Cowboys quarterback Tony Romo. The two were first linked in November 2007 and remained together for over a year. While the beautiful couple appeared happy in love for a time, their relationship did not commence without its share of chatter from the Cowboys community. 
Football fans and even sports commentators all weighed in on Simpson and Romo pairing up, and many of them criticized the two being together. Interestingly enough, it was the country-pop star who caught a large portion of the backlash for possibly distracting the promising athlete. The blonde beauty had found her own success in music and reality television with "Newlyweds: Nick and Jessica" on MTV prior to her divorce.  Still, his supporters believed she was somehow in the way of his game.
Sadly, their relationship came to a halt in July 2009 as Romo believed Simpson could be cheating with another of her famous exes. This led to Romo dumping the shoe designer in one of the most impersonal ways possible: via email!
Some accused Jessica Simpson of tarnishing Tony Romo's performance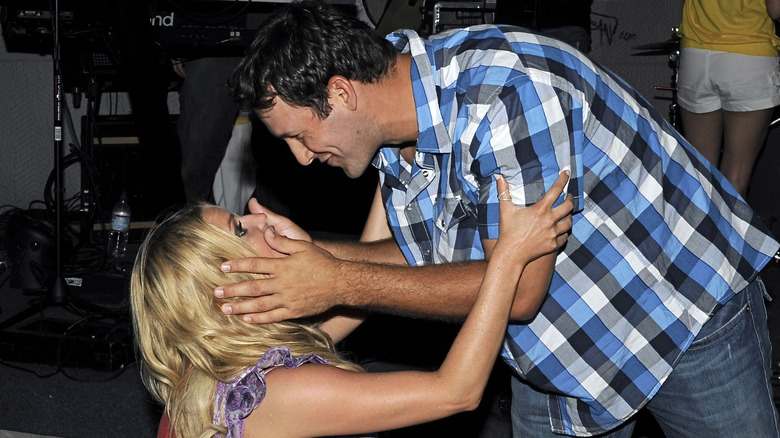 Wireimage House/js/Getty Images
For Cowboys fans, Jessica Simpson became the subject of superstition surrounding the career of her ex-football pro boyfriend, Tony Romo. She infamously wore a pink Dallas Cowboys jersey in the stands during a December 2007 game against the Philadelphia Eagles and angered Cowboys fanatics. The sports community accused her of being a distraction to Romo, resulting in that game's 10-6 defeat.
Years later, this topic still comes up from time to time. Sports journalist Skip Bayless revisited the two years later during an October 2016 episode of Fox Sports 1 show, "Undisputed." "I was also very down in that period on Tony Romo because of his tumultuous relationship with Jessica Simpson, which I thought was affecting his ability to focus and dedicate himself to playing quarterback," he explained (via USA Today). His co-host Shannon Sharpe defended Simpson against such claims, saying "Skip, that's unfair that you put that on Jessica Simpson."
Still, Bayless doubled down on his views, reiterating that drama with the couple off the field translated to his performance and took away from his obligations. Additionally, Bayless pointed out that after Romo separated from Simpson, the Cowboys secured a playoff victory.
Tony Romo dumped Jessica Simpson over email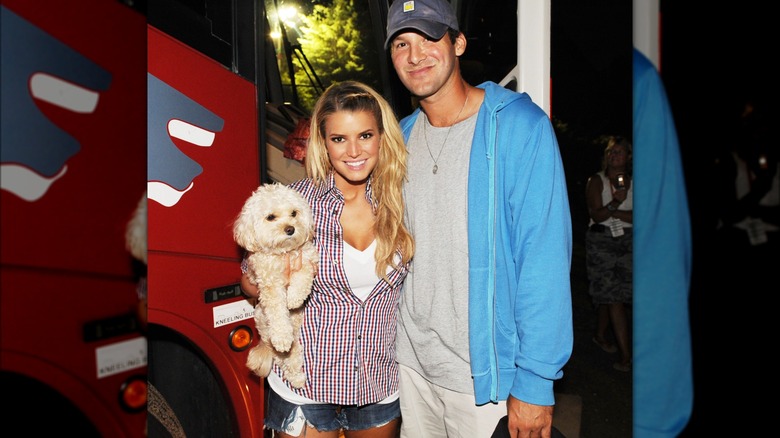 Rick Diamond/Getty Images
Eventually, cheating allegations emerged to derail Jessica Simpson and Tony Romo's union. In May 2008, speculation arose that the "With You" vocalist was still hurt over her breakup with John Mayer, especially since she learned Mayer was dating Jennifer Aniston. Simpson didn't seem to be the same after dating Mayer — the two had a brief connection once her divorce from Nick Lachey was finalized, but they broke things off in 2007.
However, Romo felt the two singers weren't completely done after Simpson hid the fact that Mayer visited her family's home. Though it seemed the run-in was casual, in her 2020 bestseller "Open Book," Simpson revealed that Romo was displeased with being left in the dark. "Tony accused me of seeing John behind his back. I hadn't cheated on Tony at all, but I could not lie and say I hadn't even seen him," Simpson wrote in the memoir. 
Apparently, this was enough to drive Romo away as he informed Simpson via email that he'd had enough. The breakup arrived one day before she celebrated her 29th birthday. As for Romo, he spent Simpson's birthday at a nightclub surrounded by his friends.
The famous exes have since settled into married life with new partners. Romo married former Miss Missouri Candice Crawford in May 2011. Simpson got engaged to former New Orleans Saints player Eric Johnson in November 2010 (on a side note, Johnson had been married when he first met Simpson). While the days of Simpson and Romo are long gone, the memory of their rocky relationship lives on.