The Stunning Transformation Of Taylor Russell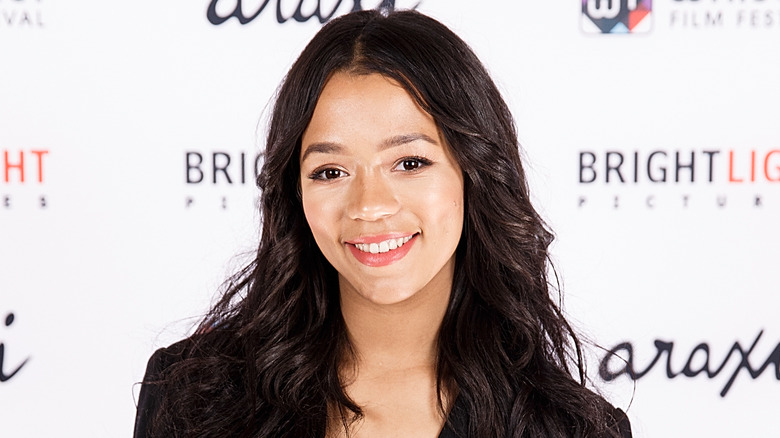 Andrew Chin/Getty Images
Up until a few years ago, you probably hadn't heard of Taylor Russell. After several years of sporadic bit roles, the Canadian actor burst onto the scene in 2018 with a role in the Netflix series "Lost in Space." Next, came roles in "Escape Room" and "Waves." Suddenly, she was on everyone's radar in the industry. Russell's highest-profile role yet came in 2022 when she starred opposite Timothée Chalamet and Mark Rylance in "Bones and All," Luca Guadagnino's cannibal romance. As of 2023, Russell has now made her professional stage debut starring in "The Effect" at London's National Theatre. 
Not only is Russell one of the busiest young actors in Hollywood, but she also stays busy in her spare time. An avid reader with a quiet social life and a harp-playing hobby, Russell's life off-camera may be quiet, but it certainly isn't dull.
Although the young actor has had success after success, it's clear that her career is only just getting started. Let's take a look at her journey so far — here is the stunning transformation of Taylor Russell. 
As a child, Taylor Russell moved 16 times thanks to her actor father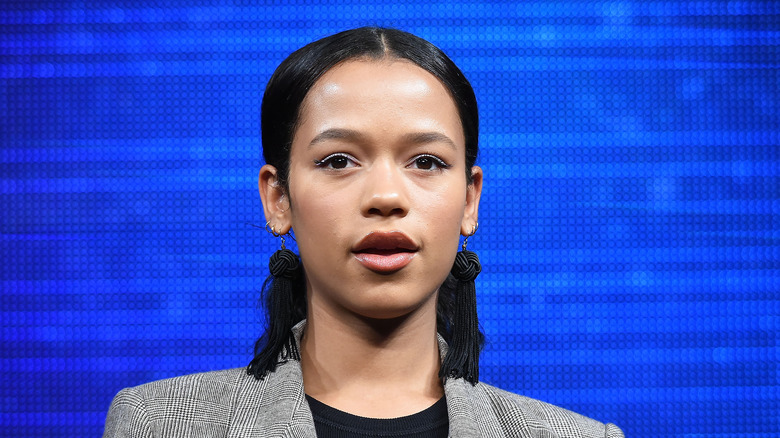 Jun Sato/Getty Images
Taylor Russell, born in Vancouver, Canada, in 1994, had a child defined by constant relocation. Her father, an actor himself, was often forced to move for work. "I didn't grow up in a wealthy family," she told Elle in 2019. "My parents struggled; we were on welfare." 
As she explained to Vanity Fair in 2022, she and her family moved to different Canadian cities a total of 16 times throughout her childhood. "I moved a lot of my life," she said "I was always in new environments." Despite the inconsistency of her childhood, moving around from place to place gave Russell the chance to see and experience new things — something that would later serve her in her acting career. "Things changed a lot, so there was always an opportunity for reinvention, to create something new," she said of the experience to Elle.
She felt out of place as a Canadian child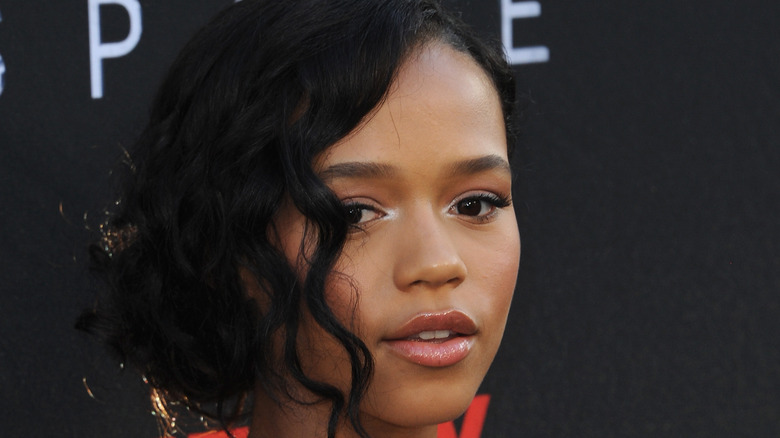 Albert L. Ortega/Getty Images
Growing up in Canada, Taylor Russell always had a sense that she was destined for something else — that her future lay elsewhere. As she put it to Dazed, "I remember being 6, sitting awake in the middle of the night and saying to myself, 'This isn't my life; my life is something else.' It's not because things were necessarily good or bad, it was just that I felt this constant sense of displacement, this feeling that I wasn't where I was meant to be." Of course, she ultimately ended up in Hollywood — so it seems her instincts were right.
But even though Russell felt out of place in Canada, growing up near the bustling film industry in Vancouver eventually proved useful. As she told Deadline, "I got my agent there after high school." But even though Canada gave her her first big break, she soon found a way to leave it behind.
Taylor Russell dreamt of becoming a ballerina but kept coming back to the movies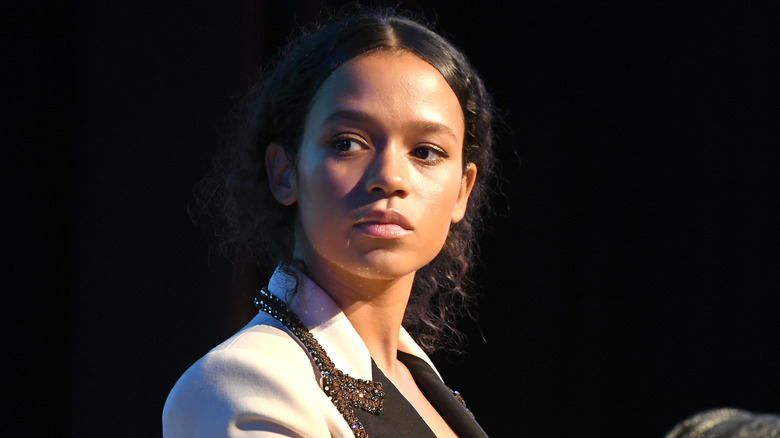 Paras Griffin/Getty Images
Taylor Russell was always an artistic child, but acting wasn't necessarily on her radar when she was young. First, her focus was ballet. "I wanted to be a ballerina first," Russell told Homme Girls. She dreamed of one day studying dance at Juilliard. Later, she thought about taking up painting. "I also really liked psychology and English," she told Deadline.
However, despite her dreams of dancing and painting, the cinema always had a hold on her. "I always loved movies," she said. "I would watch movies and go to my room and then I would try to recite what I remembered from them." 
Luckily, her parents were endlessly supportive of her artistic ambitions. "There was always an element of flexibility and play in my house," she explained. "There weren't really any boundaries or expectations of doing anything but what I wanted. I had a lot of freedom." And so, her creativity flourished.
She fell in love with acting at age 18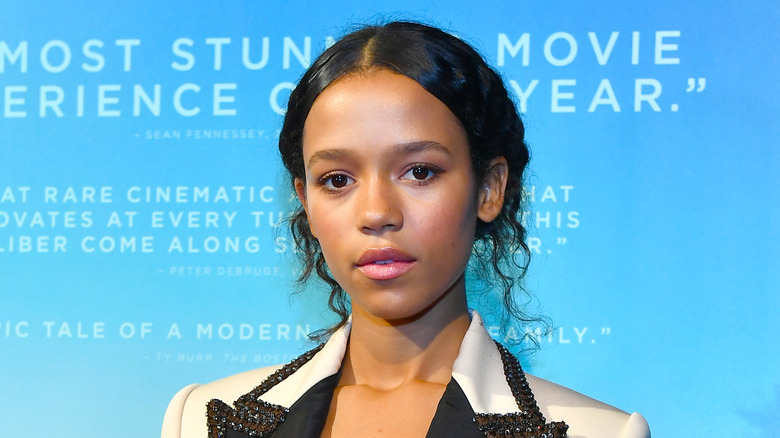 Paras Griffin/Getty Images
Soon, Taylor Russell turned her attention to acting — in many ways, it felt like an inevitability she had always ignored. She had first tried it as a ninth grader but didn't initially enjoy it. "[M]y teacher really didn't inspire me," she told Byrdie of her first acting class. "I felt stifled by her and put in a box — like if I wasn't the way she wanted me to be or if I didn't play by her rules, I couldn't be an actor."
Her first play, as she told Deadline, was "Fame." Even though she broke her wrist one day before the show opened, she still performed. "That was the first time I experienced 'the show must go on,'" she said.
Even though Russell wasn't enamored with acting as a child, she later rediscovered it at the age of 18 when she happened to take another acting class. "I just didn't accept it, necessarily, until I graduated," she said. 
Taylor Russell worked a series of odd jobs as a teen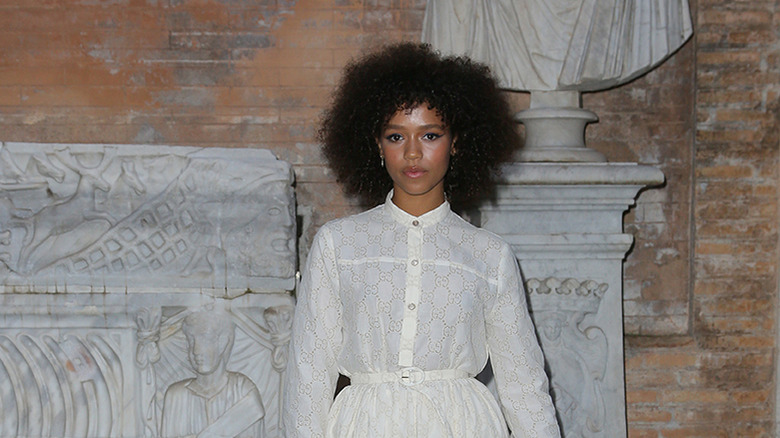 Vittorio Zunino Celotto/Getty Images
Although Taylor Russell had dreams of dancing, painting, and acting as a teen, her first job wasn't in a creative industry. In fact, throughout high school, the young Russell worked a number of odd jobs. "I've worked since I was 13 years old," the actor explained to Deadline. "So many random things. Mostly restaurants, but I worked at a jewelry store, and I almost worked for Amazon, doing shipping and receiving." She even worked at a Szechuan restaurant, Sammy J's, as a hostess.
Russell saw all of these jobs as her ticket out of Canada and into Hollywood. She saved up and used her earnings to buy a Toyota Yaris, which took her to Los Angeles. There, she could audition and pursue her acting dreams. For four years, she kept up her carousel of odd jobs to make ends meet. As she told Dazed, "It was four years before anything happened."
After landing a role in Lost in Space, she finally found herself earning a living from acting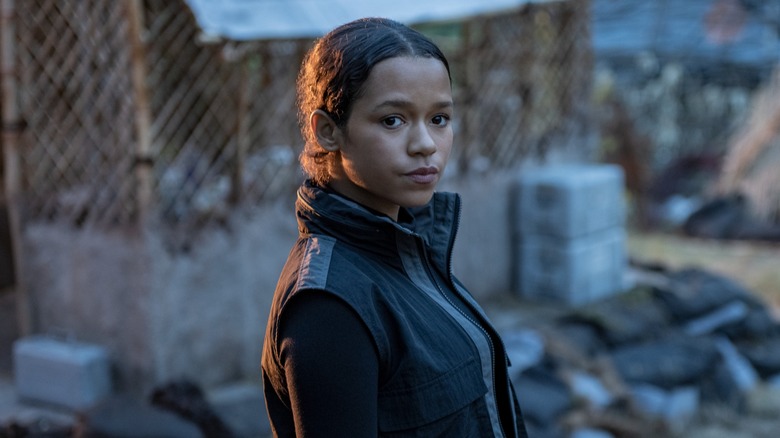 DIYAH PERA/NETFLIX
Taylor Russell's career didn't immediately take off after she began auditioning in Los Angeles. She landed a few parts: a role in the 2013 film "If I Had Wings," a guest role on CBC's "Strange Empire," a part on TNT's "Falling Skies," and a part in Zoey Deutch's 2017 film "Before I Fall." However, it wasn't until 2018 that Russell struck Hollywood gold with a leading role on Netflix's series "Lost in Space." 
For Russell, the role proved to be life-changing. "I was so broke until that point," she confessed to Deadline. "And then suddenly I was making good Netflix money. I finally felt like, 'Oh, I guess I can quit my job now.' But even then, I felt that I would go back to it at some point."
The series ran for three seasons and marked a significant era in her life. As Russell explained to Mama's Geeky, the role was hugely meaningful to her. "I've always loved sci-fi and wanted to be a part of something that is the scope of this show, so my wish got fulfilled in that way," she said. "It's a huge chunk of your life and you grow a lot in that time."
Taylor Russell became fascinated with holistic wellness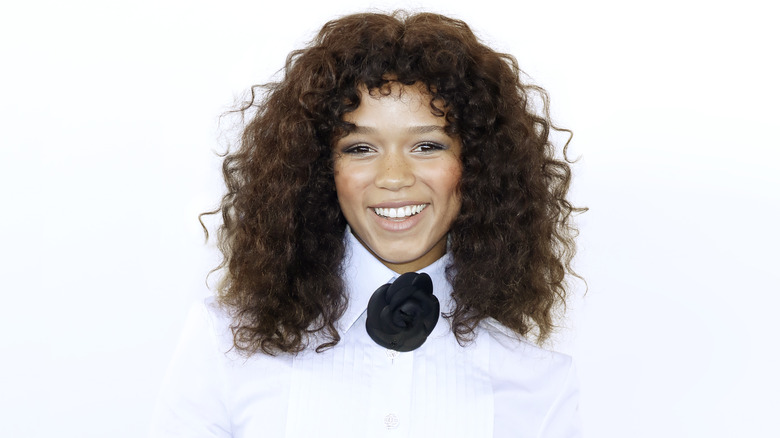 Kurt Krieger - Corbis/Getty Images
Many of the people who work with Taylor Russell know her as a "potion girl." That's because the actor is fascinated with holistic wellness and even makes her own health concoctions. Her recipes include herbal tonics, matcha, and coffee. She also uses plenty of natural beauty products and ingredients, including pearl powder, sea moss gel, and collagen.  
In fact, her reputation for holistic wellness is so great that her "Bones and All" co-star, Timothée Chalamet even asked her about her concoctions during an interview published in Homme Girls. "After spending months with you, I know that you're into holistic wellness," he said. "If you could make a magic potion, what would its effect be?" 
She replied, "[I]t would be pink, and it would be gorgeous. I would blow the glass bottle myself, and it would have all these dark red swirls. More importantly, the effects: Maybe it's cliche, but I think it's important for people to stop judging." Evidently, Russell is famed among her friends for her wellness potions!
She shot to greater fame with Waves
While "Lost in Space" may have been Taylor Russell's first big gig, it wasn't until she landed the leading role in Trey Edward Shults's "Waves" that she really caught the industry's attention. As Russell explained to Elle, she knew immediately that the role was perfect for her. When she read the script, she felt, "I know her, I know this girl." She added, "From that point, I fought really hard to get it — I wanted it so badly."
Russell dove headfirst into the role and, while filming, began to feel like her character. She was even plagued by nightmares because of her connection to her. "It was one of those experiences where it felt it was really impacting my subconscious," she told IndieWire.
The role may have been taxing, but it really put Russell on the map. She won the Gotham Award for breakthrough performer for the film, and director Luca Guadagnino saw the film and was so blown away by her work in it that he asked her to audition for "Bones And All."
She has kept her personal life small, protected, and introspective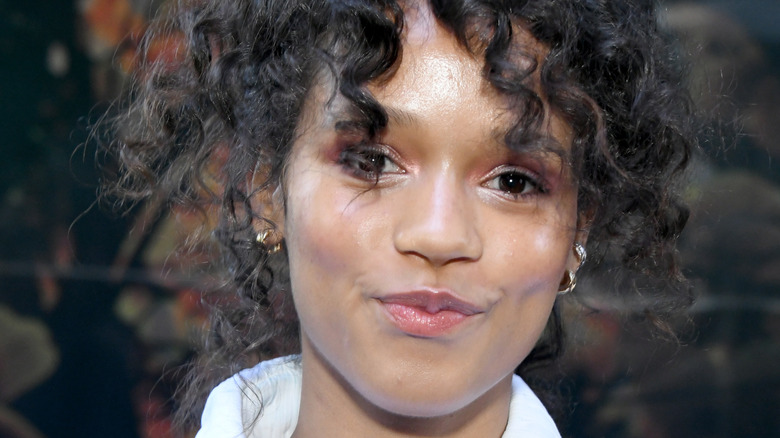 Araya Doheny/Getty Images
As Taylor Russell's fame grew, her personal life began to shrink — the young actor realized that she wanted to keep her social circle small and intimate and her social media presence minimal. "I don't have a lot of people in my life," the actor told Byrdie in 2022. "In the last couple of years, I have been really protected by the people that have come into my life and it's opened my eyes to what it feels like to be really taken care of." As she went on to explain, privacy has become one of her most prized possessions. "I deleted social media for a year before this last September because I needed space in my own head to think," she added.
Instead of spending her time scrolling social media or hanging out with a big group of friends, Russell leads a quiet, introspective life. She spends much of her time reading. In fact, as she told Homme Girls, she had read Patti Smith's "Devotion" "probably 15 times."
During lockdown, Taylor Russell learned to play the harp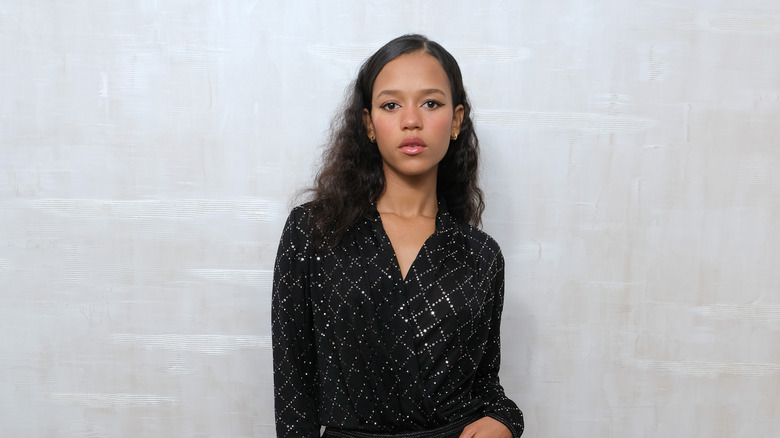 Phillip Chin/Getty Images
As if Taylor Russell couldn't be any cooler, in 2020, she learned the harp. As the actor told Harper's Bazaar, it was her lockdown hobby. "I wanted to play it for a very long time," she said. "I was like, 'What's the one instrument that none of my neighbors are going to hate hearing?'" she recalled, adding, "It's the harp. It could never be annoying. It's such a beautiful, calming thing." The first song she learned, she said, was Radiohead's '"Creep." 
Even after the lockdown, Russell kept up her harp playing. In fact, she keeps her harp with her at all times — even when she's on location for a film shoot. "You can't leave a harp at home and travel," she said. "You have to really take care of it and tend to it daily because the strings break and it can't be in a certain temperature. It's so sensitive." 
She landed her role in Bones and All after a FaceTime call
Taylor Russell's next major role came in Luca Guadagnino's follow-up to "Call Me By Your Name," "Bones and All." Russell starred alongside Timothée Chalamet as Maren, a young cannibal falling in love. 
The role came her way after the director saw her work and reached out. "I got a FaceTime from Luca Guadagnino, and he said he had a script that he wanted me to read, and he sent it to me shortly thereafter," she recalled to W Magazine. "It was the coolest and weirdest and wildest script I ever read, and then he offered me the part."
While the premise of the film may have been a little wild, Russell was immediately intrigued by the script. "The romance and the cannibalism, it just felt like, 'Boy, if I can be a little part of this, it'll be a really great thing,'" she said. "I guess my lucky stars had it that I was a bigger part than I even would've asked for." As she told Vanity Fair, "It was the easiest 'yes' of my entire existence on this planet." Sounds like fate if you ask us.
Taylor Russell was nervous to star alongside Timothée Chalamet
Even though Taylor Russell was thrilled by the prospect of starring in Luca Guadagnino's new film, she was hesitant about playing the love interest of Timothée Chalamet, already a huge star at the time. The pair had previously met, but his celebrity and the size of the production became intimidating at the beginning of the shoot.
"I was starting to feel like, 'Oh, boy. Can I do this? Do I have the capability to hold all this challenge?'" she told Vanity Fair. However, Chalamet ended up being a huge source of support for Russell. "That's when he really supported me, and that never wavered," she said. "I really trusted what he was telling me because he had been there [on a Guadagnino set] prior. That was invaluable." In fact, Russell believes that the film would have been impossible without his help. "I really mean it when I say that I couldn't have done it without Timmy."
Taylor Russell took on a theater role in 2023
After "Bones and All," Taylor Russell took on a new challenge — a role in a West End play. In 2023, she starred opposite Paapa Essiedu in Lucy Prebble's play, "The Effect" at London's National Theatre. The play follows a couple who fall for each other after a drug trial.
The experience was nothing short of thrilling for Russell. For one thing, it was her first time onstage since high school. "I'm terrified," she told Vogue before the show opened. "I just want to be challenged and do things I've never done before."
The play also gave her the chance to learn about the world of drug trials. "I guess what's been really exciting to me is that, from the beginning, we've had all these conversations around trials and different medications, learning about that too, which is stuff that I haven't had a lot of prior knowledge of," she told The Upcoming. She also loved exploring the nature of love. She and the team had "all these conversations about experiences with relationships and love — and it's just been eye-opening and amazing," she said, explaining that the play felt incredibly timely. 
She wants to keep transforming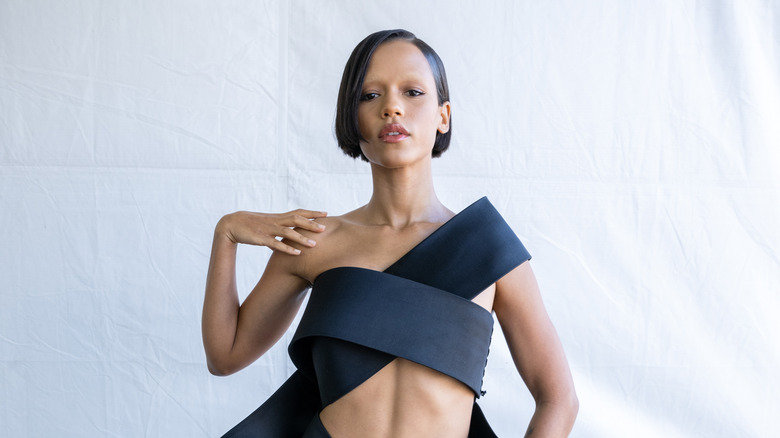 Amanda Edwards/Getty Images
Taylor Russell has already achieved a lot in her young career, from a Gotham breakthrough performer award to a lead role in a Luca Guadagnino film to a West End play. However, Russell still has a lot she wants to accomplish in the years to come. Of course, part of her plan is to continue acting. In 2023, she is set to star in "Mother Couch!" alongside Ewan McGregor. As for other future roles, she'll be looking for, as she put it to Deadline, a role that feels like "a meal that I had never tasted before, metaphorically, and that it also would feel very dangerous."
However, Russell is also keen to explore other facets of filmmaking, like directing. Even though she doesn't have formal training, she's beginning to feel more confident about the prospect. "I've been on set and seen the way things work, and I'll think, 'What about if we tried it this way? Or what if we did this instead?'" she told Byrdie.
No matter what she does next, one thing is certain: Russell will always be looking to stretch herself to new limits. "I always want to be malleable," she said to Vanity Fair. "I always want be flexible and open. I think that's how you stay young, in your spirit and your mind."