Awkward Sophie Gregoire Trudeau Moments That Were Captured By Millions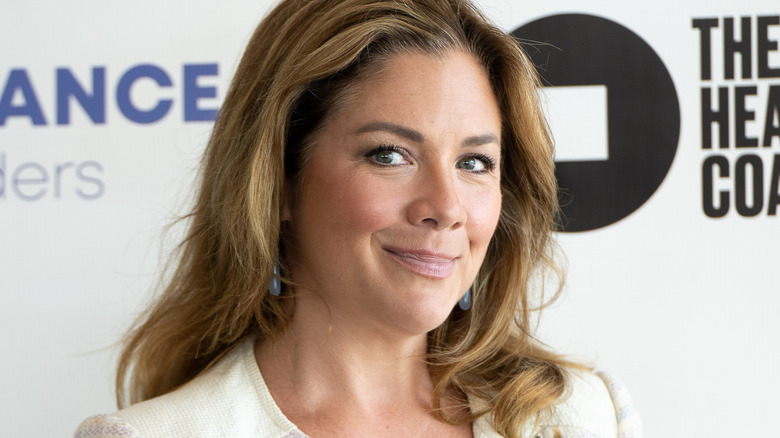 Jared Siskin/Getty Images
Sophie Grégoire Trudeau is used to media attention. Being married to Justin Trudeau, the Canadian Prime Minister, comes with expected time in the limelight, not to mention the Vogue magazine covers. However, the media storm has amped up in 2023 with the announcement of the couple's separation. Sophie and Justin were married for 18 years and share three children. 
Their breakup was announced on Instagram where they professed their continuing mutual respect: "As always, we remain a close family with deep love and respect for each other and for everything we have built and will continue to build." With the Trudeau name trending, Sophie has been on a lot of people's minds. 
All of the renewed attention has us remembering some of the more awkward moments between the couple, and especially with Sophie alone — from impromptu ballads to shunned marital support to virtual yoga classes — that were caught on camera for millions to cringe over. 
The yoga poses
Sophie has often been associated with yoga — with mixed results. She has posted many times about her practice on social media and often celebrates International Yoga Day too. In 2016, Deanna Lankin, an artist from Tofino, painted a portrait of Sophie in exalted warrior pose after hearing that the Trudeaus planned to stop by her shop. They bought the painting from Lankin and posed for a photo with Justin holding it while Sophie dropped down into the same pose. 
The most cringe yoga moment came in 2021, however. Hoping to help Liberal Research Bureau staffers ease their pandemic stress levels, Sophie elected to virtually lead a group yoga session. Several participants told the National Post how they felt about the class after a promise of anonymity. "Yeah, that's going to be a hard pass for me," one commented, while another said, "This is so silly." The class was offered as a thank you from the prime minister's wife. 
The song at the MLK tribute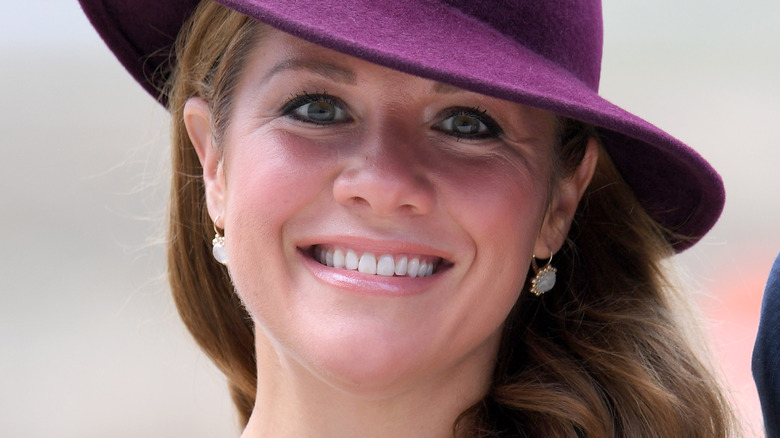 Karwai Tang/Getty Images
Another awkward moment for the books occurred in 2016 at a Martin Luther King Jr. tribute event. The Ottawa affair paid tribute to the legendary Civil Rights leader and also honored Joe Clark, a former prime minister of Canada. Clark received a lifetime achievement award at the event for his work fighting for aboriginal justice. Sophie spoke on the importance of loving everyone, no matter their differences. She also shared personal stories about her children. 
Then, she decided to give an impromptu performance of her own, original song entitled "Smile Back at Me." She wrote the song for her daughter, Ella-Grace, during a period of struggle in her life. While the song did get a standing ovation, some felt it was a little off-topic for the day's events. Plus, Sophie and Clark receiving top billing in the advertising didn't sit well either — especially since there were no Black advocates showcased (not even MLK himself!).
The missing veil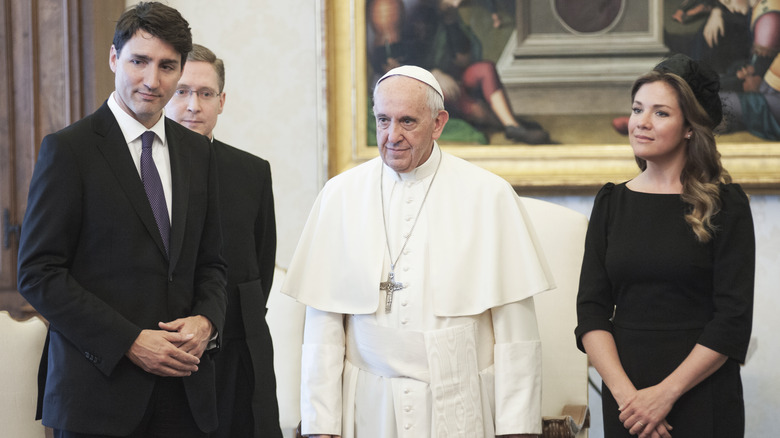 Vatican Pool - Corbis/Getty Images
Back in 2017, the Trudeaus took a trip to the Vatican in order to meet with Pope Francis, the head of the Roman Catholic Church. Justin posted about the meeting to discuss "climate change, migration, and reconciliation" on Instagram, where he called it an "honor." However, the meeting's topics weren't the only aspect of the visit that made headlines. Sophie's wardrobe for the day was also a hot topic of conversation. 
She broke tradition with her outfit — a simple black dress with a pillbox hat — because it did not meet the dress code traditionally worn when meeting the Holy Father. "Per Vatican protocol, women who have an audience with the Pope are required to wear long sleeves, formal black clothing, and a veil to cover the head," explained former White House Press Secretary Stephanie Grisham to CNN.
Grisham was discussing Melania and Ivanka Trump's visit to Pope Francis at the time, during which they both donned black veils as is customary. Former First Lady Michelle Obama also wore a veil on her own visit in 2009.
The Canada Day kiss
News of Justin and Sophie Trudeau's split led people to comb back through all the old footage looking for clues of the couple's demise. One gem that popped up in the search was an awkward interaction captured on Canada Day back in 2020. The pair was sending a message out to fellow Canadians from Ottawa Food Farm while both sporting plaid button-up shirts. The Prime Minister uploaded the message to their official YouTube channel, but CityNews Toronto got their hands on a longer, uncut version.
Most pertinently, the couple ends the message with "Happy Canada Day, we love you!" In the longer version, a brief silence follows, and then Justin whispers something in Sophie's ear. She turns and gives him a brief peck, pulls away, and whips her head around so quickly that her ponytail smacks him in the face. She then proceeds to head off camera in the opposite direction from her husband. It's a stilted interaction lacking the warmth usually showcased between them in public. 
The hand denial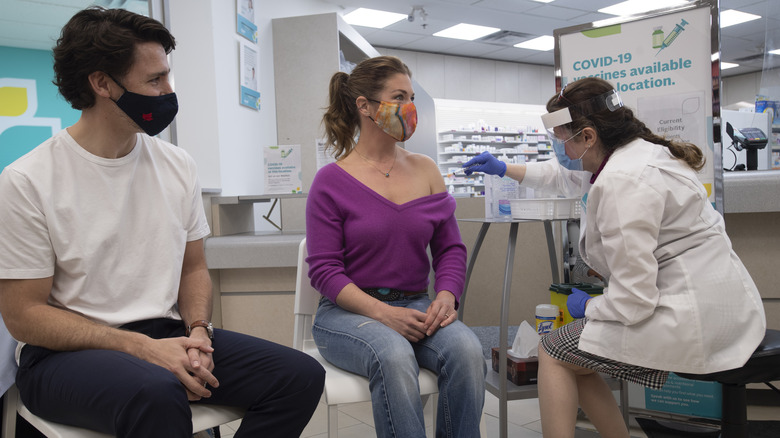 Bloomberg/Getty Images
In April 2021, Canada's first couple visited the Rexall Pharmacy to receive their COVID-19 vaccines. It was the first dose of the AstraZeneca jab for both of them, and the Prime Minister shared his excitement on Twitter. "It was our turn to get vaccinated today, so that's what Sophie and I did — and we're glad we did it!" Justin Trudeau tweeted at the time. Justin got his first with his wife firmly holding his hand for support. 
However, when it was Sophie's turn, she swatted his hand away. A disappointed "Aw" can be heard in the clip, and then Justin shrugs his shoulders while she laughs it off. The video of the interaction was widely shared on Twitter, and most people took it as a playful interaction at the time. Some even thought it was cute. In light of the breakup news, however, the awkward exchange seems more like a portent of things to come.