Princess Maria Chiara Di Borbone: 11 Facts About The Italian Royal Who Is Dating A Danish Prince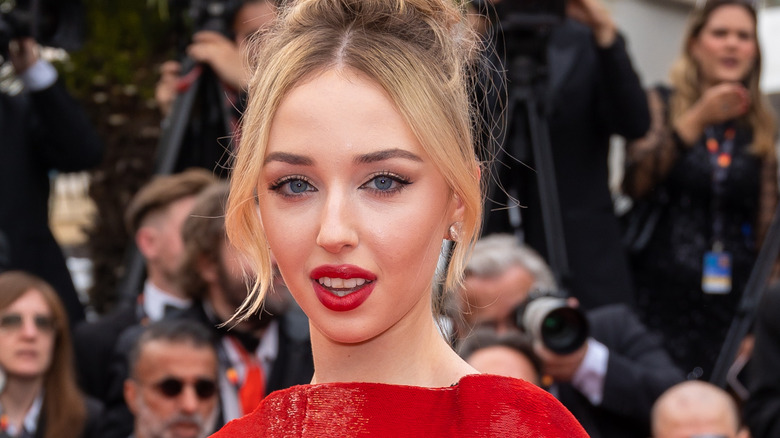 Marc Piasecki/Getty Images
Italy's Princess Maria Chiara di Borbone is being hailed as one half of a "royal it couple," now that she's allegedly dating Prince Christian of Denmark. Christian even reportedly introduced her to his grandmother, Denmark's Queen Margrethe, according to Woman's Day. Some took this as a sign that she could one day be Denmark's queen consort herself.
Not so fast, though: Chiara, as she's known, is only 18 as of writing. Any marriage news is likely a long way off. But one thing's for sure — the Italian princess leads a fabulous life of fashion, philanthropy, and travel all around Europe. Even without publications like The Daily Mail calling her a "future queen in training," she'd be leading an enviable and fascinating life.
Like Princess Beatrice and Princess Eugenie of the U.K., Chiara isn't an heiress to a throne herself. But similar to the British sisters, she's moneyed and well-connected enough to live a very royal lifestyle. So who is Princess Maria Chiara di Borbone?
She's an Italian princess without a throne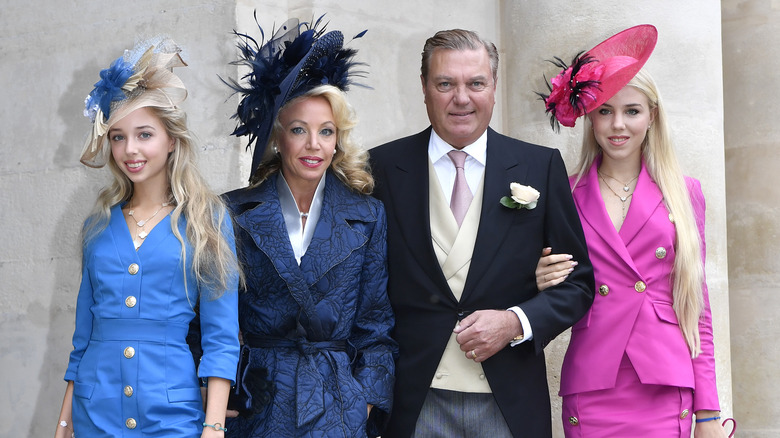 Luc Castel/Getty Images
While Princess Maria Chiara di Borbone uses a royal title, there's actually no officially recognized royalty or nobility in Italy. So how did Chiara come by this title?
King Umberto II was the last king of modern Italy, but he left the throne and the country when citizens voted in favor of a republic in 1946. Long before this, though, Italy was made up of smaller independent states, one of which was the Kingdom of the Two Sicilies. Through her lineage, Chiara is a member of the royal family of Bourbon-Two Sicilies, which is an offshoot of the Spanish House of Bourbon.
Chiara's father is considered the successor of the House of Bourbon-Two Sicilies — by some. His cousin, Prince Pedro, considers himself the heir because he has a son. Although Chiara's ancestors ruled parts of Italy, today the family holds no real or even ceremonial power. Despite her family's lack of an official position, Chiara still publicly styles herself as a princess on her website and Instagram — and her family has a fortune in the high millions.
She speaks six languages, and her sister attends Harvard
Don't let her glam Instagram presence fool you: Princess Maria Chiara di Borbone is highly educated and cultured. Similar to a young Queen Elizabeth II as depicted in early seasons of "The Crown," Chiara was a student of high-end home schooling. Her parents enrolled her with one-on-one tutors instead of sending Chiara to school, but she managed to finish early at 15 years old in 2020.
Plus, she packed a lot into her first decade or so of schooling. She speaks English, French, Italian, Spanish, Portuguese, and Russian, per her mother's official website.
And although Chiara is more likely to be found on the French Riviera, it wouldn't be unheard of for her to turn up at a Boston keg party. Her sister, Princess Maria Carolina di Borbone, is studying at both Harvard University and the International University of Monaco, according to South China Morning Post. And Chiara herself also has Harvard ties. It's unclear whether she's enrolled in the university, but she posted on Instagram about taking part in a Harvard research project in May 2021.
Princess Maria Chiara spends much of her time in Paris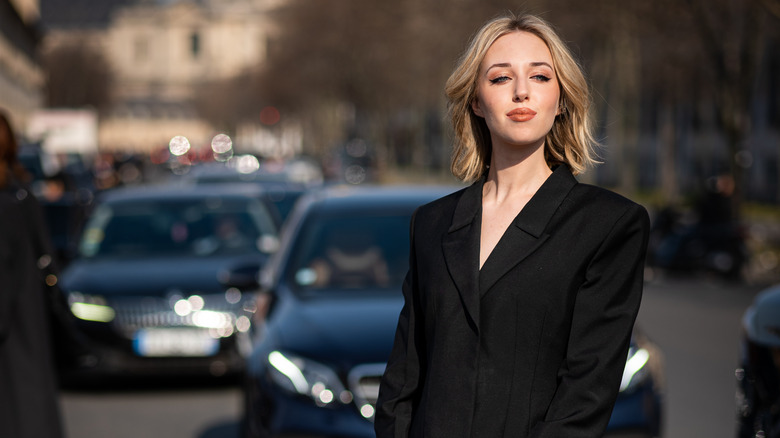 Claudio Lavenia/Getty Images
A true citizen of the world, Chiara was born in Rome, but she never stays in one place for long. She divides her time between that city, Paris, and Monte Carlo, according to her mother Princess Camilla's official website. She doesn't stop at those three, also traveling to other chic locales throughout the year.
Her main home base appears to be Paris. Aside from the jet-setting summer months, she spends much of the year in the French capital. Whether she's posting on her Instagram about Christmas shopping at Place Vendôme or ruminating on Paris' famously gray winter weather, she appears to be an avid Francophile.
Some might prefer the relative warmth of southern Italy if they had the choice, but Chiara has spent the past few winters firmly camped in chillier Paris. She even happily posed for a photo shoot on one of Paris' famous Seine boats in freezing weather, per her Instagram.
She's close with her parents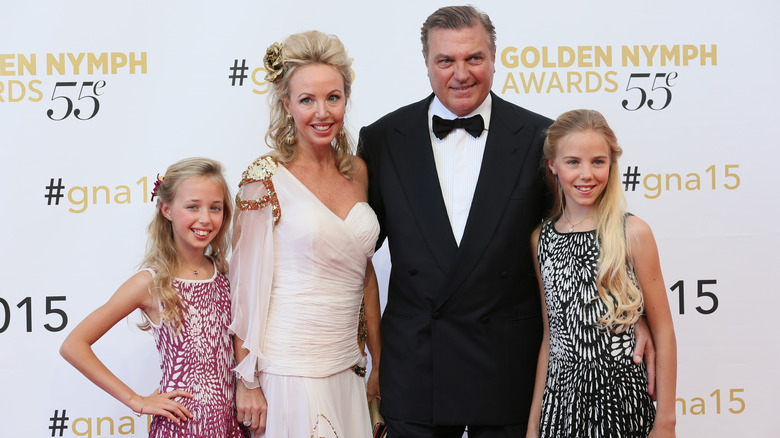 Toni Anne Barson/Getty Images
Between updating followers about her trips to Rolex-sponsored tennis tournaments and Louis Vuitton fashion shows, Princess Maria Chiara di Borbone always makes time to pay tribute to her parents.
Chiara's dad is Prince Carlo, Duke of Castro, and her mother is an Italian heiress known since marriage as Princess Camilla, Duchess of Castro. Chiara never forgets to post about her love for her folks on their birthdays, Father's Day, and Mother's Day. On Mother's Day in 2022, Chiara posted a cute throwback photo with her sister and mom, captioning it, "Every day should be Mother's Day. I love you so much, Mommy." Camilla gushes just as much about her beloved daughters, Chiara and her older sister Princess Maria Carolina di Borbone. She calls the girls "the loves of my life."
Camilla, Chiara, and Carolina also bond over their shared love of philanthropy. The girls are following their mother's lead, especially when it comes to Camilla's position as a United Nations Women for Peace Association ambassador. "One [of] the most important things is that I pass on those values and principles to my daughters, and they already are ambassadors of several humanitarian projects," she told La Voce di New York.
Princess Maria Chiara calls her sister Carolina her other half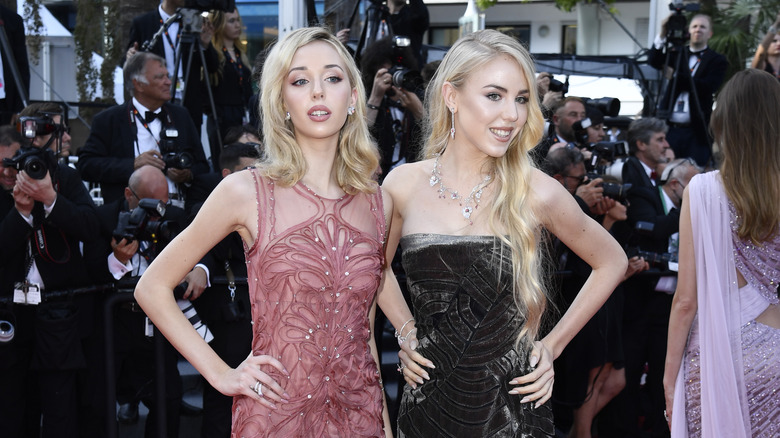 Gareth Cattermole/Getty Images
In another echo of Queen Elizabeth II, who was inseparable from her sister Princess Margaret in their younger years, Princess Maria Chiara di Borbone has a close relationship with her older sister, Princess Maria Carolina di Borbone.
Tatler calls Carolina "the world's most eligible society beauty," but Chiara just calls her "my other half." The two princesses are so close, they even graduated from high school at the same time — two years early for Chiara, one year early for Carolina — according to a proud post on their mother's Instagram.
Now that they're all grown up, the sisters can be seen attending fashion shows and events together while Carolina studies at Harvard. Chiara loves posting tributes to her sister on Instagram. "I'm so thankful to have a sister like you to share life's ups and downs and especially small and big secrets with," Chiara wrote on Carolina's birthday in 2022. She added, "I can't imagine being on this journey through life without a sister as amazing as you."
The sisters appeared in a Nicole Kidman film about Princess Grace of Monaco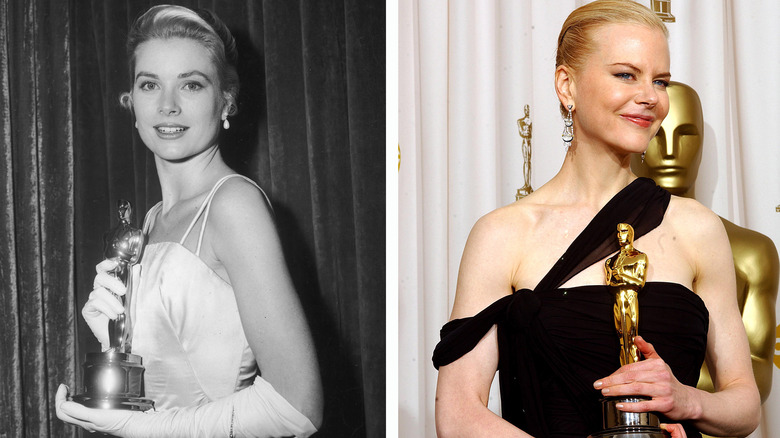 Hulton Archive/Getty Images
Princess Maria Chiara di Borbone and Princess Maria Carolina di Borbone are statuesque, blond royals who love fashion and the French Riviera. It's no wonder they were tapped to appear in a film about Princess Grace of Monaco, the movie-star-turned-royal who had plenty in common with these modern-day sisters.
Grace was known as Grace Kelly before she married into the Monégasque royal family in 1956. She spent much of her married life in Monte Carlo, one of the cities Chiara and Carolina call home. The film premiered at Cannes Film Festival in 2014 — another of the sisters' favorite French Riviera hot spots.
The sisters' roles were small, but they are credited. Their mother proudly posted about their film debut on her website. Not all royals were so pleased, though. The Monégasque royal family issued a statement denouncing the film, saying, "It recounts one rewritten and needlessly glamorized page in the history of Monaco and its family, with both major historical inaccuracies and a series of purely fictional scenes" (via Vogue). BuzzFeed's reviewer also wasn't a fan, calling it "ridiculous and a touch offensive."
Princess Maria Chiara spends summer jet-setting around the French Riviera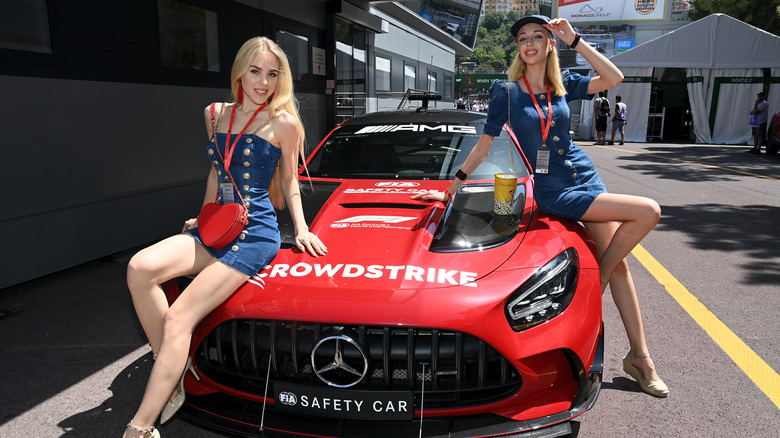 Pascal Le Segretain/Getty Images
Will Princess Maria Chiara di Borbone have an actual queenship in her future? It's a toss-up. But one thing is for sure — she could absolutely make a claim to the title of queen of summering on the French Riviera.
Chiara spends long stints in Paris during colder months, but in the summer, she bops from Saint-Tropez to Monte Carlo to Cannes and more. She started at a Chopard event in Cannes in May 2023 and found herself in Monte Carlo, Monaco, a week later.
She mixed things up in June with a trip to Madrid, Spain, before returning to her favorite seaside French region, specifically stopping in Saint-Tropez. Then, she hung out with fellow royals Prince Nicolas and Prince Aymeric of Belgium in Saint-Tropez in August 2023 while staying at the Château de la Messardière hotel. There was no telling where Chiara would end up after her stay there, but apparently, it was such a good time that the U.K.'s Prince Michael of Kent bailed on the royal family's traditional Balmoral summer holiday to join in the fun, according to the Mirror.
She's one of the few young royals who takes part in TikTok trends
You might think young royals have better things to do than film TikToks, especially those who have travel schedules as dizzying as that of Princess Maria Chiara di Borbone. But the COVID-19 pandemic changed that. Worldwide lockdowns grounded even the best-traveled royals and resulted in a bit of a TikTok boom.
Chiara and her sister, Princess Maria Carolina di Borbone, filmed jokey videos of themselves doing trending TikTok dances in funny outfits, and garnered plenty of followers. Post-pandemic, Chiara elevated her TikTok account to show more professional-looking lifestyle videos. But her earlier pandemic TikToks live on — and helped her hit the 33,000-follower mark. Her sister, Carolina, told Tatler that the pair wouldn't give up on TikTok and could pivot to highlighting "important messages such as fighting against gender inequality, racism, or climate change."
Chiara and Carolina also recorded a series of three longer sketches entitled "Enigma of a Quarantine" and posted them on YouTube. The princesses boast over 4,000 subscribers on their channel. However, their careers as YouTubers might have been yet another COVID casualty: The channel hasn't been updated since May 2020.
She's happy to promote French and Italian fashion — and Swiss diamonds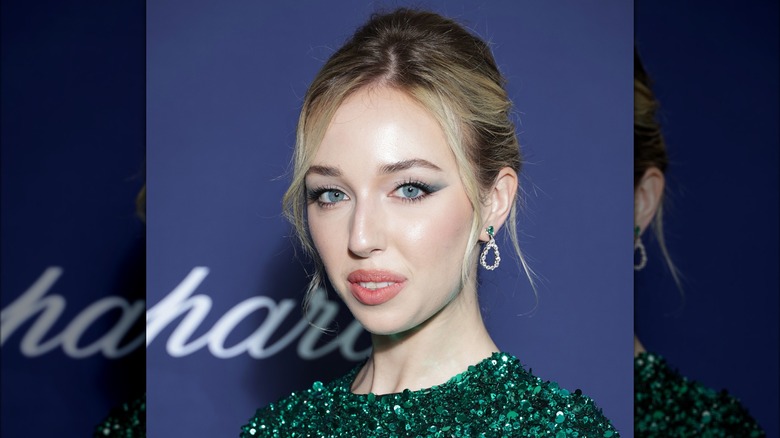 Pascal Le Segretain/Getty Images
The only thing more varied than Princess Maria Chiara di Borbone's list of vacation hot spots is the roster of designers that share their wares with the heiress. While Chiara doesn't have a day job, per se, she appears to have working relationships with Europe's top fashion designers.
Chiara pops up at events thrown by French design houses Louis Vuitton and Chanel when she's in Paris. She also has a working relationship with Chopard, the Swiss diamond firm. Wearing a sparkling green dress to a Chopard event, she posted on Instagram, "Diamonds are a girl's best friend" before thanking the house for an "amazing evening."
She repped her homeland by wearing Giorgio Armani during the Cannes Film Festival more than once, and made sure to thank the designer for working with her. She paid homage to another Italian fashion house, Moschino, with a surrealist question-mark-studded skirt suit in June 2023.
She's a World Wildlife Foundation ambassador with a special emphasis on saving the ocean
Believe it or not, Princess Maria Chiara di Borbone doesn't spend all of her time posing for Instagram pics around Europe and attending fashion events. She also works with several environmentally focused nonprofits. She's an ambassador of the Passion Sea Project, according to her mother's website, and works with the Salvamamme Association and UNICEF.
"Maria Chiara cares a lot about animals and nature," her mother's website reads. "Indeed, she has adopted animals in danger from an animal welfare organization, and helped them with their recovery and well-being."
She also teased a possible future collaboration with the World Wide Fund for Nature on her Instagram in September 2022. "Courtesy visit this morning to the Headquarters of World Wide Fund for Nature France (WWF) in Paris to develop humanitarian projects together in the near future," she captioned a picture from the visit. She punctuated the caption with a fingers-crossed emoji, so only time will tell what Chiara and the WWF are cooking up.
Family members might be worried Chiara and Christian are too young to commit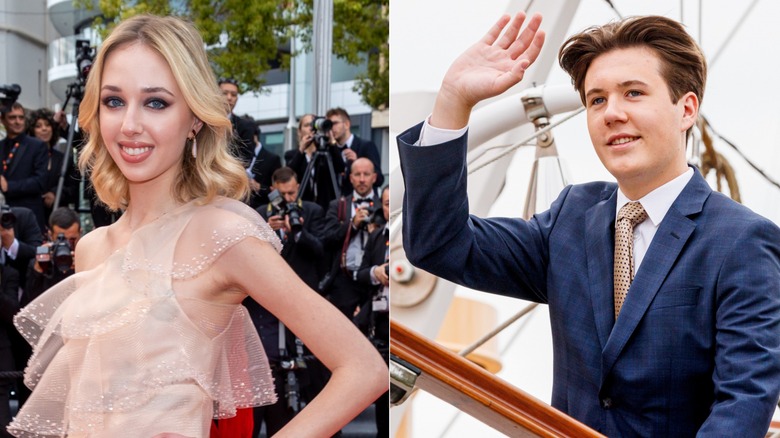 Patrick Van Katwijk & Marc Piasecki/Getty
Despite all of the headlines Princess Maria Chiara di Borbone and Prince Christian of Denmark's friendship has generated already, there's an elephant in the room: They're only teenagers. Very few teens marry their first boyfriend or girlfriend, especially when they're royal.
Chiara told the Italian newspaper Corriere della Sera in July 2023 that she would like "to meet Queen Margrethe soon. My parents know her." Although she's friends with many young royals, she added that she has a special connection to the prince: "With Christian, there is a good understanding, a beautiful friendship. We have a lot of fun together."
When news broke of their possible relationship, Chiara was 18 and Christian was 17. A royal source told Woman's Day that despite the families' mutual fondness, this might be a deal-breaker for Christian's parents. "Both Mary and Fred think she's wonderful and brings out the best in their son, but they're worried about their ages," the source said, referring to Princess Mary and Prince Frederik of Denmark. "Mary wants them both to experience the world before buckling down to a very serious partnership."