How Austin Reaves Shut Down Those Taylor Swift Dating Rumors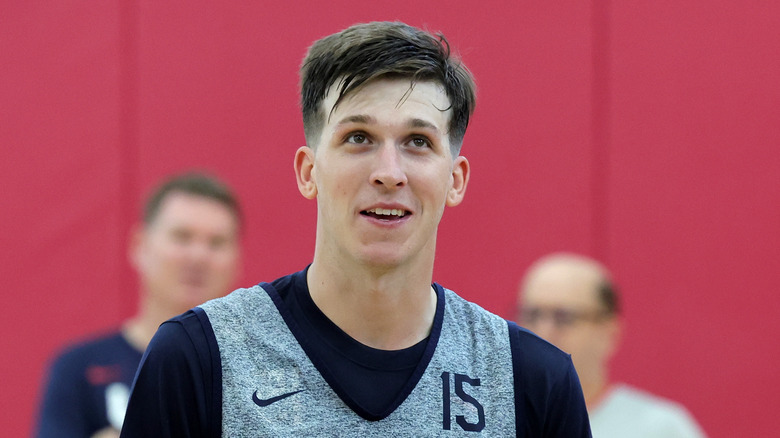 Ethan Miller/Getty Images
It's Taylor Swift's world; we're all just living in it — except Lakers player Austin Reaves, who would very much like to be excluded from this narrative, thank you very much. In Episode 192 of the "All the Smoke" podcast, the basketball player addressed rumors that he started seeing the international pop icon following her controversial fling with Matt Healy.
The rumors began with a meme posted to a Lakers parody Twitter account claiming that Swift was spotted in an Arkansas bar with Reaves in June 2023. "All the Smoke" host Stephen Jackson steered the conversation toward these rumors, stating, "I heard [Reaves] was riding down the street, and Taylor pulled up, she hopped out [of her car], jumped in with him, and then he just pulled out. That's what I heard." 
However, the athlete was quick to shut these rumors down. "I have never met her, never talked to her," he clarified. "All bulls**t. I ain't never talked to her."
The internet had mixed reactions to the Taylor Swift-Austin Reaves mash-up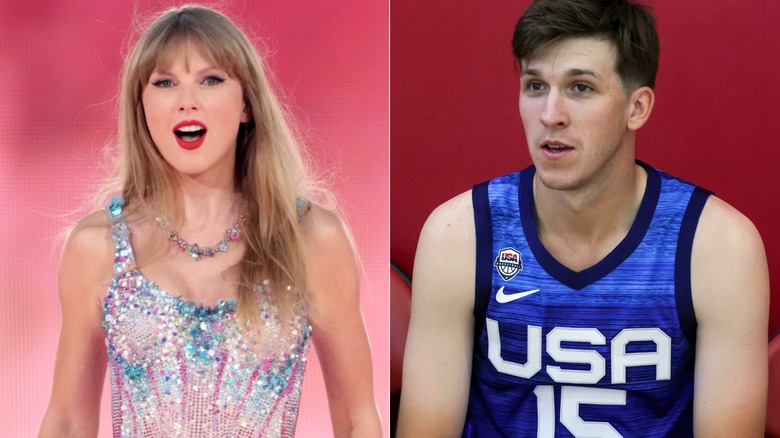 Ethan Miller & Jeff Kravitz/tas23/Getty
Few romantic sagas are followed as closely as Taylor Swift's past relationships, so it's unsurprising that the internet was quick to add their two cents about the purported fling. Some Twitter users were staunchly against the potential couple, with one commenting, "You'll end up in a song, Austin. Just like the rest of them. Don't do it." Another wrote, "Please Austin, back off. We don't need no drama in your head." 
Others were far more complimentary and supportive, such as a commenter who wrote, "Lebron and Jordan could never. This kid is a god." But regardless of whether you were for or against an Austin Reaves-Taylor Swift mash-up, it looks like it won't happen anytime soon. When asked by Jackson if he was interested in dating Swift, Reaves delivered a tight-lipped response: "I'm gonna stay out of the media." 
However, it isn't just an aversion to getting wrapped up in the powerful orbit of pop icon Swift keeping Reaves from turning the rumor true. The Lakers shooting guard is already taken by his high-school sweetheart.
Austin Reaves and his girlfriend Jenna Barber have been together since 2014
According to the New York Post, Austin Reaves has been dating his girlfriend Jenna Barber since they were both Cedar Ridge High School students in Newark, Arkansas. The couple maintained a long-distance relationship as Barber attended the University of Arkansas and Reaves attended Wichita State University and the University of Oklahoma.
Reaves, who clearly prefers to keep his personal life as private as possible, doesn't talk much about his longtime relationship with Barber. However, the couple appears to still be together, with Barber's Facebook page showing photos of the couple vacationing in New York in August 2023 and visiting the U.S. Open in May of the same year. On Reaves' birthday, May 29, Barber posted a photo of the couple with the caption, "Happy birthday to my person!!! I hope your day was full of golf. Love you so much!"
As for Taylor Swift? She's a bit preoccupied with her showstopping Eras tour and topping herself with impressive Billboard records. While Reaves and Swift likely won't be an item any time soon, both parties seem happy and successful in their own right.