How Does Alec Baldwin's Daughter Ireland Baldwin Get Along With Her Step-Family?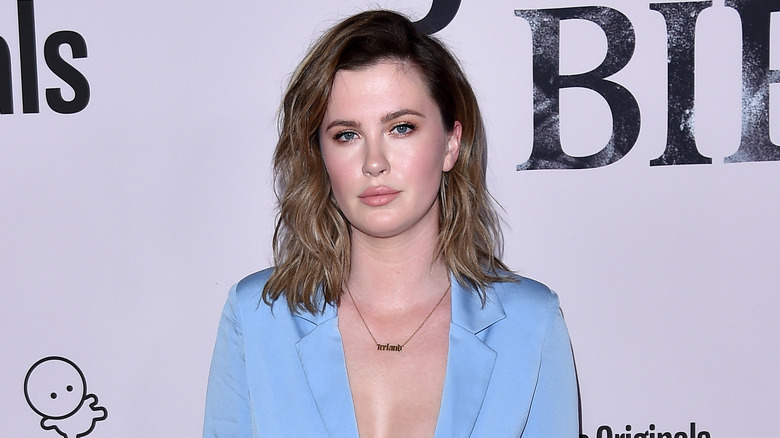 Axelle/bauer-griffin/Getty Images
The Baldwin name carries quite a bit of weight in Hollywood. There's top model and controversial internet "clean girl" Hailey Baldwin-Bieber, who's been married to Justin Bieber since 2018. Brothers Alec, Stephen, Daniel, and William Baldwin started starring in movies in the '80s, and Ireland Baldwin, Alec's only child with actor Kim Basinger, has been in the public eye her whole life. Although Ireland's parents are no longer together — Basinger divorced her father in 2002 — she's developed a bond with Alec's new wife, Hilaria Baldwin, and their growing brood of seven (yes, seven!) children. She's even vacationed with them in the Hamptons, devising games for her younger siblings.
Hilaria Baldwin, who once had to set the record straight about her made-up Spanish heritage, is a big Ireland fan. "I love my stepdaughter as much as I love my biological children and I become a mommy lioness when I see comments that insinuate otherwise," the former yoga instructor wrote on Instagram in 2019. Hilaria, who tied the knot with Alec in 2012, was thrilled to hear about Ireland's pregnancy in 2023, telling People, "We're so excited, we're just so excited." 
Given that Hilaria is only about a decade older than Ireland, their bond is more like a friendship than a mother-daughter relationship. "[Hilaria] is a good person," Ireland said in a since-deleted 2020 Instagram post, adding, "She's a caring person who has always respected my relationship with my dad and I have a great relationship with her ..." (via Fox News).
Ireland and Alec Baldwin have a complicated relationship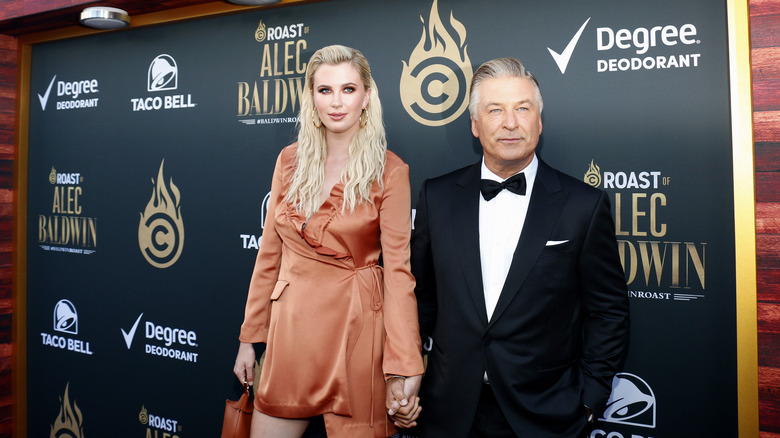 Tinseltown/Shutterstock
As is the case for many celebrities and their children, Alec and Ireland Baldwin have a pretty complicated relationship. As the former model explained on an episode of "Vulnerable Podcast," she remembers testifying in court as a kid — they were involved in a contentious custody battle at the time. In 2007, Alec Baldwin lost visitation rights when an angry voicemail he left for Ireland was leaked to the press. In the recording, he can be heard calling her a "little pig" and struggling to remember her age, per BuzzFeed.
In 2019, Ireland participated in a memorable Comedy Central roast, joking that she didn't know her father all that well. "I know him as that guy from like half of my birthday parties," she told the audience. More recently, Alec left out Ireland in an Instagram tribute to his kids captioned, "Seven reasons to carry on during tough times ..." Ireland, the oldest of his eight children, hasn't made many appearances on his social media in general, although Alec's seven younger children with Hilaria are regular guest stars. Ireland has pointed out that her dad's new family is "none of [her] business" (via The Daily Mail). 
As Kim Basinger revealed on Red Table Talk she and Alec didn't always see eye to eye when parenting Ireland, although they all (pretty much) get along these days ... That being said, Ireland still hesitates to go to her dad when she's struggling with anxiety.
Ireland Baldwin started a family of her own
Ireland Baldwin has been happily dating boyfriend André Allen Anjos (also known as RAC) since 2021 — they're based out of Portland, Oregon. In a since-deleted May 2023 Instagram post, she announced the birth of her daughter, Holland. Ireland has been open about the ins and outs of motherhood on social media. "Breastfeeding is so weird," she told her TikTok followers, joking, "I think I have Z cups." She's also shared her postpartum tips and tricks. First and foremost, she advised new mothers to "Get a bathrobe you like,"  also promising listeners, "You're gonna sleep again" (via TikTok). As for her baby's unique name? "We're naming her Holland. I'm Ireland, so another country name because we wanted to keep that consistent," the aspiring screenwriter explained in a conversation with Girlboss Radio.
Ireland and RAC also share six dogs together — yes, six. When she's not being a dog mom (and a human mom, too), Ireland is a business owner. "I just started a business with my boyfriend. We are opening up a cafe, wine bar, and a boutique. And we are starting a brand together (Good Times)," she explained, attempting to put the rumors that she gets an allowance from her famous parents to rest once and for all, per TikTok.