The 5 Best Lacey Chabert Hallmark Movies For A Lazy Sunday Afternoon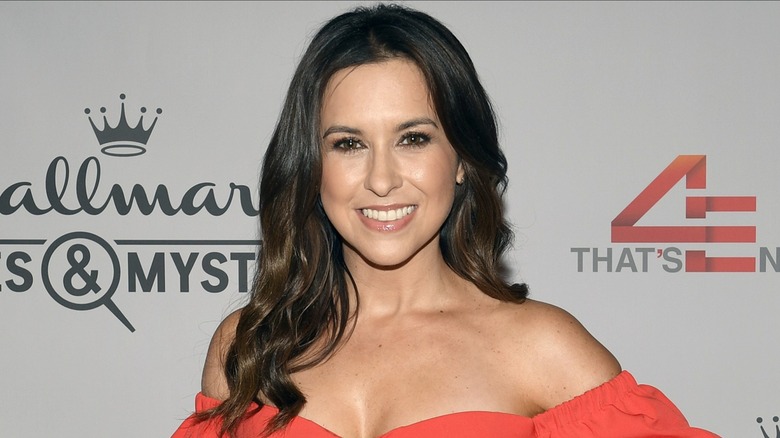 Michael S. Schwartz/Getty Images
Lacey Chabert has an insane Hallmark movie career and is the unquestionable queen of the channel, but she has also appeared in other notable projects outside the network. Chabert rose to fame and became a household name through her role as Claudia Salinger on the popular TV drama "Party of Five," which aired from 1994 to 2000. Many also may know her from the iconic movie "Mean Girls," as well as from the Broadway classic that gave the actor her showbiz start.
While we love absolutely everything Chabert has been in, Hallmark movies hold a special place in our hearts. Chabert is a go-to figure for the network's romances and holiday-themed features, which are ideal for tuning in to on a lazy weekend afternoon. From heartfelt storylines to murder mysteries, there are over 30 Hallmark titles Chabert has starred in for you to choose from. Here are our top five picks for the ultimate Sunday at home with the channel's favorite.
The Wedding Veil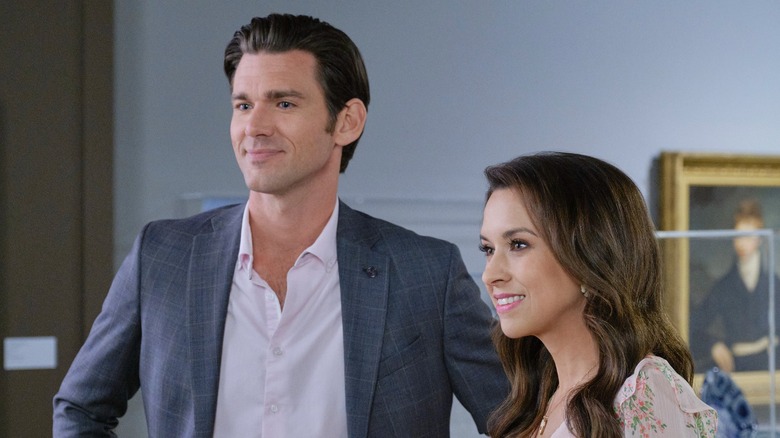 2021 Crown Media United States LLC/Allister Foster
One of Lacey Chabert's most iconic Hallmark movies is undoubtedly the first installment of "The Wedding Veil" trilogy. And if you haven't seen any of them, it's only right to start off with the first one. Alongside Chabert, the movie stars Autumn Reeser and Alison Sweeney. The trilogy follows longtime friends Avery, Emma, and Tracy, who get together once a year to hunt for antiques.
Their adventure starts with the trio reuniting in San Francisco, where they stumble upon a wedding veil that's fabled to bring true love to its wearer. They decide to purchase it together despite being skeptical of its magical abilities. Each of the movies in the series focuses on one woman at a time and how the veil is working in their lives. "The Wedding Veil" is all about Avery, an art curator who's played by Chabert.
Avery is the first one to test the powers of the mysterious veil in the midst of her hot and cold romance with Peter (Kevin McGarry), a board member of the museum at which she works. Emma (Reeser) and Tracy (Sweeney) back Avery at every turn, making this movie a sweet homage to female friendship in addition to its endearing love story. It's the perfect feel-good choice to turn those Sunday blues into a relaxing afternoon.
Groundswell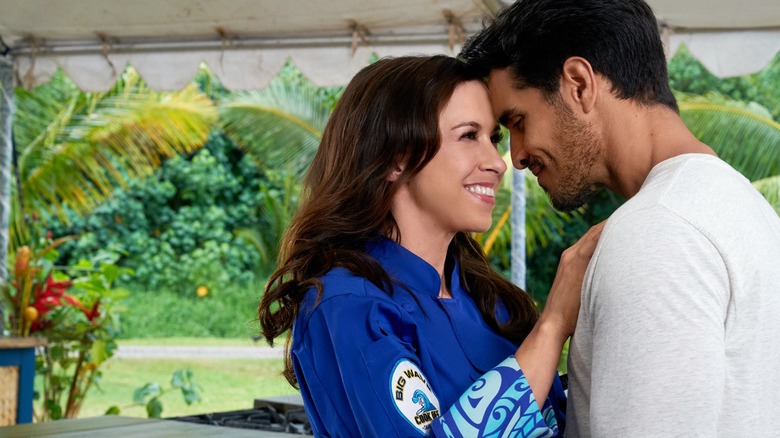 2022 Crown Media United States LLC/Karen Neal
With a plot based on Katie Lee Biegel's eponymous novel, Hallmark's "Groundswell" is the movie for you if you're on the lookout for a summertime film with some seriously stunning visuals. Lacey Chabert is Emma, a chef whose life is falling apart in every way possible — she's broken up with her boyfriend, lost her job, and doesn't know what to do next. In order to regain some clarity, Emma goes to Hawaii to visit her aunt.
Her tropical romance kicks off at the beach, where she meets Ben (played by Ektor Rivera), a professional surfer from whom she gets lessons. The movie is easy to follow because of its excellent writing and striking backdrops, as well as the obvious chemistry between Chabert and Rivera. The two work so well together that you're going to be asking yourself how Emma could've ever gotten along with her ex-boyfriend.
The surfing scenes in the movie are quite advanced, which is why Chabert had to have a stunt double tackle some of them. In an Instagram post, the actor gushed about the filming experience, while also offering a glimpse of the magical sights on show in the movie.
Sweet Carolina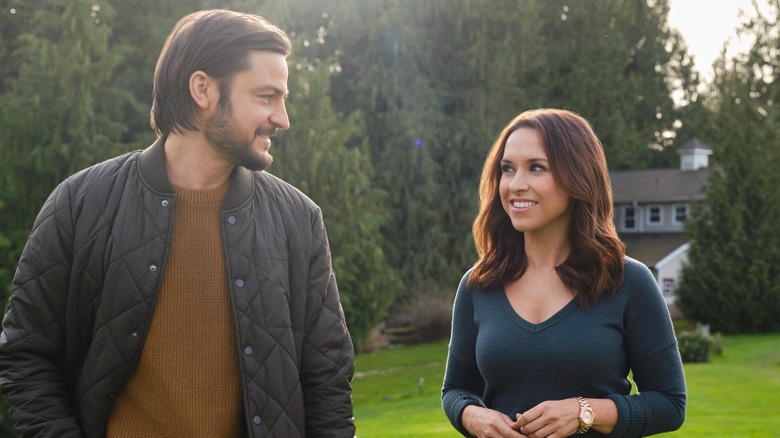 2021 Crown Media United States LLC/Allister Foster
Maybe the most heartfelt movie on the list, "Sweet Carolina," will likely have you shedding a tear or two. Starring Lacey Chabert and Tyler Hynes, this touching drama is all you need for a cozy Sunday at home. Josie, Chabert's character, is an ambitious marketing executive following her dreams in New York City. After her sister dies in a car accident, Josie finds out she's listed as the legal guardian of her two teenage children. 
Dishevelled and confused, Josie has to move back home to North Carolina in order to care for her niece and nephew. She is not, however, alone. Her high school boyfriend, Cooper (Hynes), steps in to help her, prompting old feelings to quickly come back to the surface. This Hallmark flick is not your usual frolicking romance as it deals with loss, mourning, and acceptance. 
When speaking about the project to Hollywood Life, Chabert said, "Unfortunately, this is a premise that many people can relate to. But in keeping with what Hallmark does so well, it was most important to me that, through tragedy, these characters find hope and learn how to put one foot in front of the other and move forward." It is one of the actor's most notable performances for Hallmark to date, so don't hesitate to add "Sweet Carolina" to your to-watch list.
Family for Christmas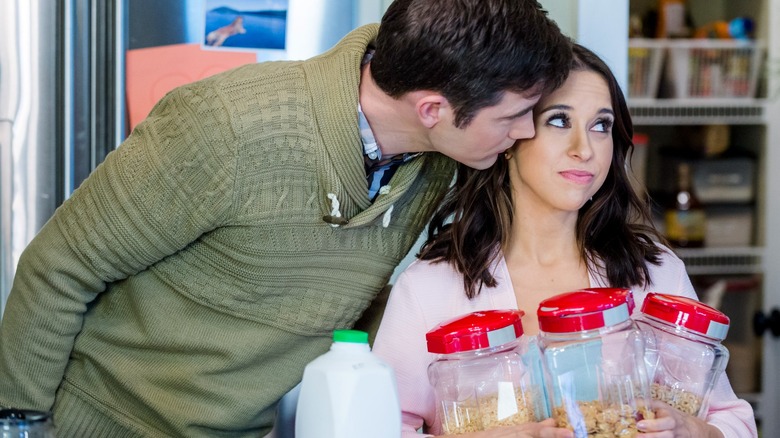 2015 Crown Media United States LLC/Cate Cameron
There must be at least one Christmas movie on every list of Hallmark movies to watch, right? Whatever the season, there's just something about a holiday-themed romance that makes us feel good. Lacey Chabert is one of the network's favorites when it comes to Christmastime, and one of her best holiday films is 2015's "Family for Christmas." Anchorwoman Hanna, played by Chabert, is a workaholic who's devoted all of her time to advancing her career. 
One winter's day, she starts pondering what her life would have been like if she had stayed with Ben (Tyron Leitso), her ex-boyfriend from a decade ago. When a neighborhood Santa Claus overhears her wishful thinking, he whisks Hanna off to an alternate reality where she has married Ben and is a mom of two. As the story progresses, Hanna realizes what she really wants out of life, and it isn't to work till she drops. 
Despite not being as talked about as some of the other holiday movies Chabert has starred in for Hallmark, "Family for Christmas" delivers this classic tale of high school sweethearts reuniting in a refreshing way, expressing the traditional meaning of Christmas as the narrative unfolds. Whether it's the season or not, tune in on a random Sunday and watch the scaries flutter away.
Crossword Mysteries: Riddle Me Dead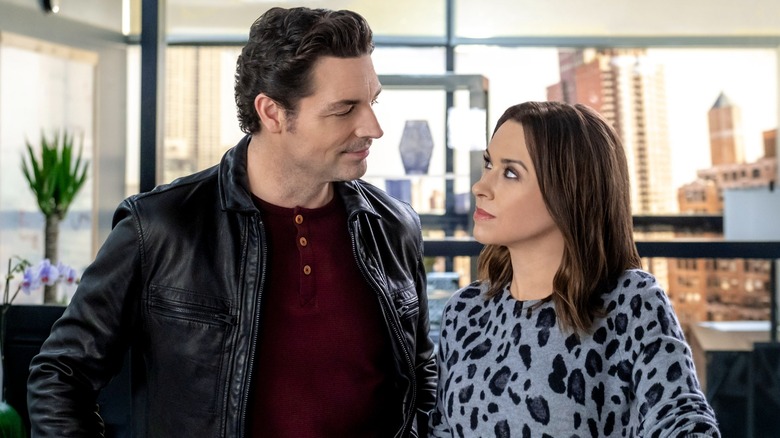 2021 Crown Media United States LLC/Allister Foster
When compiling a list of Lacey Chabert's Hallmark movies to watch on a Sunday afternoon, make sure to include a title from the "Crossword Mysteries" series. Our favorite is the second installment of the bunch, "Crossword Mysteries: Riddle Me Dead," and it might soon be yours as well. Look no further if you want a more engaging Hallmark storyline that isn't too romance-heavy. Chabert delivers a great performance as Tess, a crossword puzzle editor who teams up with an NYPD detective to solve a murder. 
The character represents a major departure for Chabert from the dreamy narratives she's known for on the network. Tess gets invited to a puzzle-solving game show, but things don't go as planned — the host is found dead on stage. Together with Detective Logan (Brennan Elliott), she must solve a few riddles to figure out who did it before they kill again. While the crime-solving duo's chemistry is undeniable, it isn't the main focus of the movie. 
Instead, their burgeoning romance is a sweet addition to the plot that doesn't distract from the fact that you're watching a mystery drama. "I'm lucky to be a part of [the series]," Chabert enthused about the project in a backstage interview with Hallmark Movies & Mysteries. The actor noted that she's friends with Elliott, her "Crossword Mysteries" co-star, in real life, which is why the two work so well together on screen. Don't miss out on this one!