The Touching Reason J.Lo Walked Down The Aisle To Marc Cohn's Music At Ben Affleck Wedding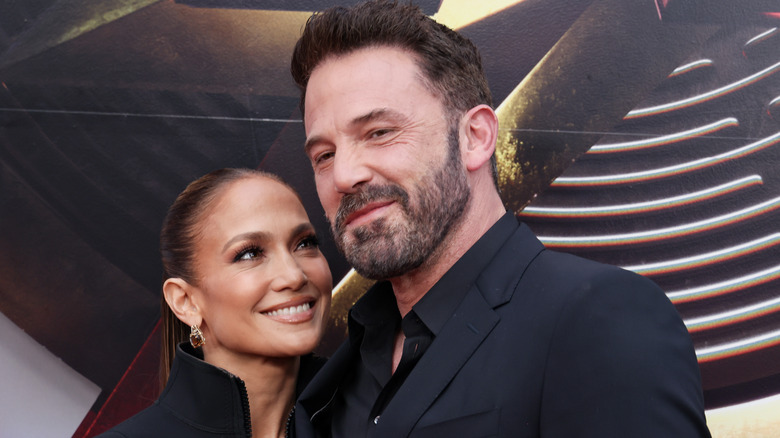 Rodin Eckenroth/Getty Images
Jennifer Lopez and Ben Affleck's short-lived relationship took the world by storm in the early 2000s before the couple parted ways in 2004. Almost two decades later, the A-list duo finally tied the knot in a private Las Vegas ceremony in 2022, proving that if it's meant to be, love will find a way — a sentiment summarized by "Walking in Memphis" singer Marc Cohn's romantic ballad, "True Companion."
Ben Affleck's relationship with Jennifer Lopez was intensely scrutinized by tabloids when it first began, something Lopez blamed for the couple's initial split in an MTV interview for her documentary "The Ride." Unsurprisingly, they chose to keep their ceremony private and later celebrated with friends and family at Affleck's sprawling Georgia estate. During their second wedding party, J.Lo surprised her new hubby with a special performance by Marc Cohn. 
Lopez explained in her subscriber-only On the JLO newsletter that she and Affleck had always considered Cohn's "True Companion" to be their top pick for a wedding song since they were first engaged in 2003, per People, making Cohn's performance the perfect addition to their long-awaited nuptials.
Jennifer Lopez asked Marc Cohn to perform at the wedding unbeknownst to Affleck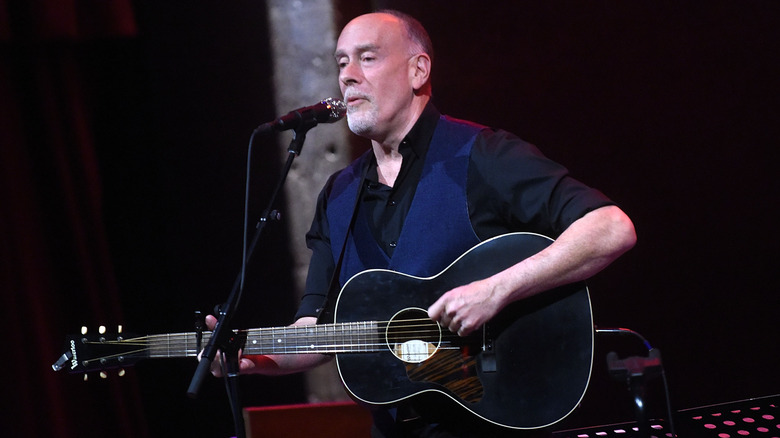 Bobby Bank/Getty Images
The international pop icon explained in her newsletter that she and Ben Affleck had loved Marc Cohn's music for years, writing that "True Companion" was a song they "first listened to together what seemed both like yesterday and forever ago — and life came, strangely, beautifully, mysteriously, divinely full-circle." However, Lopez chose a different Cohn track for the singer to perform as she walked down the aisle, which she said better reflected the couple's current life chapter.
"The first song [Cohn] played wasn't 'True Companion.' It was his 'The Things We've Handed Down' — a song about the wonderful mystery of children — something we could only guess at back then, but it was the perfect choice as our five children preceded me on the walk," the musician and actress wrote. 
Indeed, both parties of "Bennifer" had experienced plenty of life outside their relationship between their first and most recent engagement, including other marriages and having children of their own. When the two reunited in the early 2020s, inside sources revealed Lopez and Affleck weren't rushing into wedding plans, a decision that only added to the gratitude and emotional power of their special day, per Lopez.
The A-list couple not only wed each other; they also wed their two families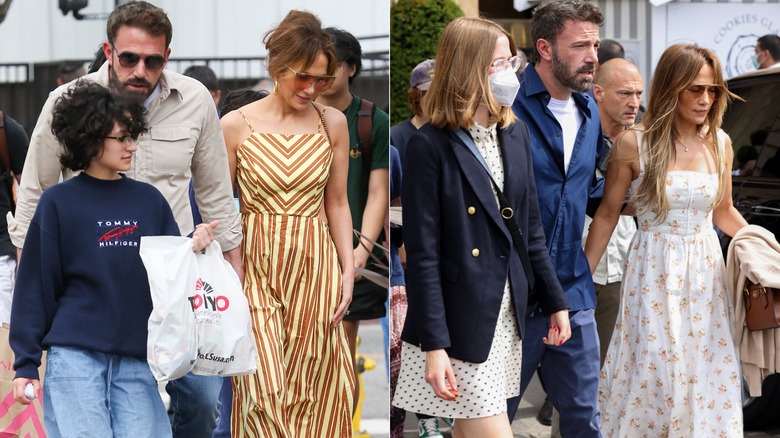 Pierre Suu/Getty & Thecelebrityfinder/bauer-griffin
Jennifer Lopez's kids, twins Maximilian "Max" David Muniz and Emme Maribel Muniz, were born in February 2008 while Lopez was married to her ex-husband, Marc Anthony. Ben Affleck welcomed his first daughter, Violet Anne, in 2005 with his then-wife Jennifer Garner. Affleck and Garner had a second child, Seraphina Rose Elizabeth, in 2009 and a third, Samuel Garner, in 2012. 
Blending a family with five kids is no small feat, but it appears that Jennifer Lopez and Jennifer Garner's co-parenting relationship is highly positive. Lopez spoke about the experience in a Vogue interview, saying, "The transition is a process that needs to be handled with so much care. [The kids] have so many feelings. They're teens. But it's going really well so far. What I hope to cultivate with our family is that his kids have a new ally in me, and my kids have a new ally in him." 
The couple's wedding ceremony — and the addition of a musician they listened to together when they first fell for one another — was a heartwarming testament to the enduring nature of true love Marc Cohn sings about in his 1991 hit: "So don't you dare and try to walk away. I've got my heart set on our wedding day. I've got this vision of a girl in white — made my decision that it's you, alright."