The Real Meaning Behind Taylor Swift's Bad Blood
Only Taylor Swift could make 1989 one of the most memorable parts of 2014. The album, which featured hits like "Blank Space," "Shake it Off," and "Wildest Dreams" was an instant chart-topper. The iconic star-studded music video for "Bad Blood" received 1.5 billion (yes, billion) views on YouTube over the past decade, defining Swift's somewhat infamous "girl squad" era. Following the contentious sale of her music catalog to Scooter Braun, the singer is re-recording her discography, album by album. So far, we've been treated to "Taylor's version" of "Fearless" and "Red." Up next is "1989" and another taste of the girl power song that is "Bad Blood."
"There's been a lot of discussion about this video and what it means," Swift said at the 2015 Video Music Awards, accepting the highest honor of the night. "I'm just happy that in 2015 we live in a world where boys can play princesses and girls can play soldiers," she continued, referring to the warlike imagery in the video. Although "Bad Blood" debuted just as Swift was finding her voice as a feminist (allegedly, thanks to Lena Dunham), the lyrics are directed at another woman — a pop star who tried to "sabotage" the singer during her "Red" tour. Backed up by famous friends like Selena Gomez, Zendaya, and Gigi Hadid, Swift fired some pretty intense shots at the unnamed artist who "made a really deep cut." Here's what we know about the feud that inspired the Billboard No. 1. 
'Bad Blood' is almost certainly about Katy Perry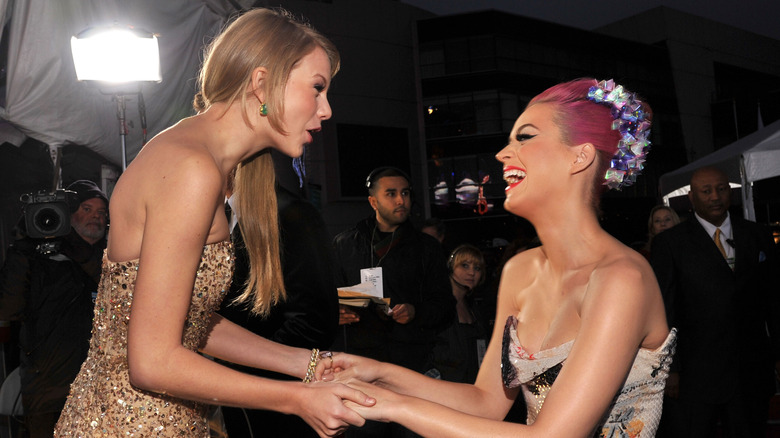 Lester Cohen/ama2011/Getty Images
Way back in 2009, Taylor Swift and Katy Perry "used to be mad love." Well, at least they were friendly on social media. "You're as sweet as pie! Let's write a song together about the subject we know best ... for my new record. It'll be brilliant," Perry wrote to Swift on Twitter that year. Swift was a famous guest at Perry's birthday party, and, in 2010, they even performed "Hot 'N Cold" together during a Swift concert. However, things (allegedly) took a turn in 2013 when several backup dancers left the "Red" tour to join Perry on the road — this was likely the "really deep cut" Swift referred to in "Bad Blood," per Genius.
As one of the dancers in question told The Examiner, "We weren't really dancing in Taylor's tour anyway, so I had got a little bored and I really wanted to do a promo tour." The "All Too Well" singer didn't take this news well, to say the least. "Take a look what you've done," she sang, "I was thinking that you could be trusted." Swift explained her side to Rolling Stone in 2014, saying that an anonymous pop star (a.k.a., Perry) "tried to sabotage an entire arena tour" by "[hiring] a bunch of people out from under me." Then she realized, "Oh, we're just straight-up enemies."
Perry seemed to respond with a statement of her own, Tweeting, "Watch out for the Regina George in sheep's clothing..."
Taylor Swift and Katy Perry (eventually) put their differences aside
For years, Taylor Swift and Katy Perry weren't on speaking terms. "I wish that I could turn the other cheek every single time, but I'm also not a pushover, you know? Especially when someone tries to assassinate my character with little girls. That's so messed up!" the "Dark Horse" singer told NME in 2017, reflecting on the overwhelming success of "Bad Blood." In 2015, after Taylor Swift and Nikki Minaj entered into a feud of their own, Perry alluded to the hypocrisy of Swift's feminism. "Finding it ironic to parade the 'pit women against other women' argument about as one unmeasurably capitalizes on the [takedown] of a woman ..." she wrote on Twitter.
However, Swift later seemed to distance herself from the rumor that "Bad Blood" was about Perry. "It doesn't point to any one person or any one situation," she told GQ. Still, Perry's public comments were evidence enough for many.
Although Swift sang, "Now we've got problems/ And I don't think we can solve 'em," she and the "Hot N Cold" singer eventually put their differences aside. In the 2019 star-studded music video for "You Need to Calm Down," Swift hugged it out with her former rival. In an interesting twist, the two singers were dressed as fast food items. Now, they're back in each other's good graces. Swift even hand-embroidered a baby blanket for Perry's daughter with Orlando Bloom.