Taylor Swift Worried Her Rerecorded Songs Would Be An Embarrassing Flop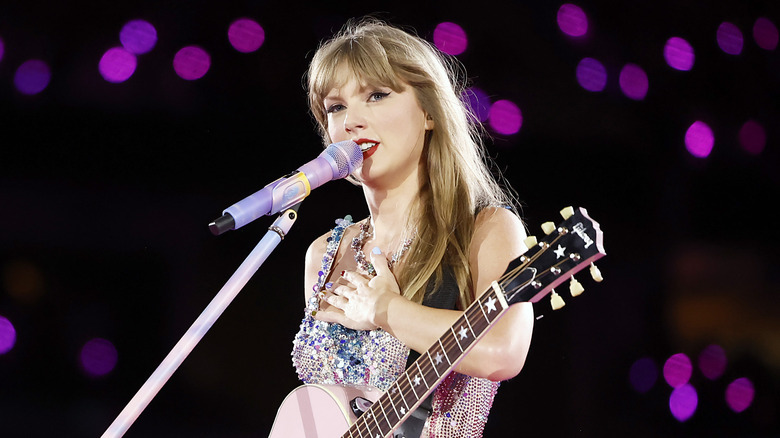 Emma Mcintyre/tas23/Getty Images
For many artists, their inner critic sticks around no matter how successful they might become — and international pop icon and millionaire Taylor Swift is certainly no exception. Footage of Taylor Swift and fellow singer-songwriter Maren Morris performing in Chicago posted on Twitter shows Swift revealing her true thoughts (and concerns) about her string of rerecorded albums. 
While speaking about Morris' work on Swift's first rerecorded release, "Fearless (Taylor's Version)," Swift thanked Morris for agreeing to work on the album because "nobody knew if this was going to be, like, a success or a very embarrassing project. It could have been very embarrassing for you," Swift said with a laugh. 
Swift's big news for "Fearless" fans first broke in February 2021 when Swift announced on Good Morning America that she would be releasing a new version of her Romeo and Juliet-inspired 2008 hit "Love Story" ahead of the full "Fearless (Taylor's Version)" album drop. And as sales and streaming records would later show, Swift's worries were all unfounded.
Maren Morris wasn't the only collaborator Taylor Swift invited back for her first rerelease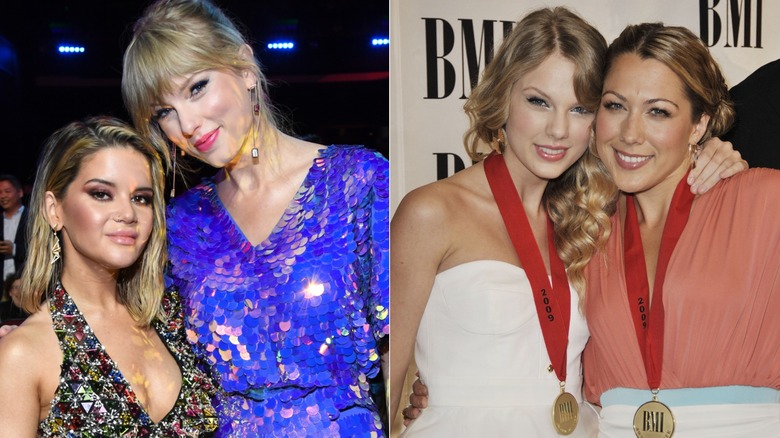 Kevin Mazur & Kevin Winter/Getty
Taylor Swift's "Fearless" album was first released under Big Machine Records in 2008 and included smash-hits like "Love Story," "You Belong With Me," and "Breathe." After Big Machine Records sold Swift's masters to producer Scooter Braun without her knowledge (thanks to a lousy contract deal Swift signed when she was only 15, as she explained in a Tumblr post from 2019), Swift decided to reclaim her music — and prevent Braun and others from unfairly profiting off her works — by re-recording all her old albums starting with "Fearless."  
Swift spoke to People about the re-recording process, including analyzing the songs line by line to determine what could improve in terms of production and performance. The pop star also decided to add another six songs to the album from her vault of unreleased music, which included her collaboration with country star Maren Morris. But Morris wasn't the only collaborator Swift asked to return to the studio with her. 
"Bubbly" singer Colbie Caillat was originally featured on Swift's track "Breathe," and luckily, she agreed to come back and re-record Taylor's version of the song. "I'm so lucky because she agreed to do the same backup vocals on my version of 'Breathe.' It absolutely would not have been the same without her," Swift said while speaking to iHeartMedia.
Taylor Swift continues to reclaim and breathe new life into her past works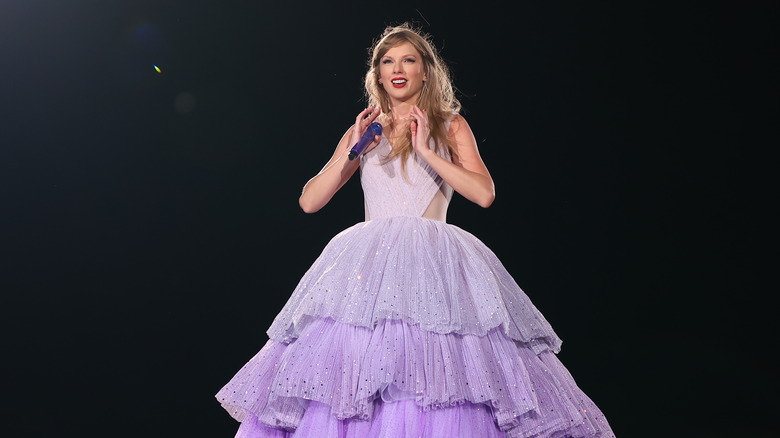 Hector Vivas/tas23/Getty Images
Despite her initial concerns, Taylor Swift's re-recorded albums — and her groundbreaking international Eras tour — are a testament to her reclaiming her artistic identity, pursuing her creativity on her own terms, and shattering any glass ceilings she encounters along the way. Swift's iconic, over three-hour concert tour, has broken records left and right, including in terms of the amount of repertoire covered in a single show, her economy-altering ticket sales, and the record-breaking attendance of her devoted fans, lovingly titled Swifties.
It seems that Swift can't stop releasing her own versions of past albums, and if the records' overwhelming success is any indication, she shouldn't. Per Billboard, "Fearless (Taylor's Version)" has earned three times more than it did when Swift first released the record in 2008. Her other re-recorded albums, "Red" and "1989," have also outperformed the originals in terms of streaming and sales by the millions. 
In May 2023, Swift topped herself yet again with the impressive Billboard record of being the only living artist to have a whopping ten albums charting on the Billboard 200 at the same time. As for those concerns over whether the re-recorded albums would be a "success" or a "very embarrassing project?" Well, it's clear that Swift has proved the endeavor to be the former countless times over.