Miranda Cosgrove Confessed To A Mortifying Wardrobe Malfunction While Filming iCarly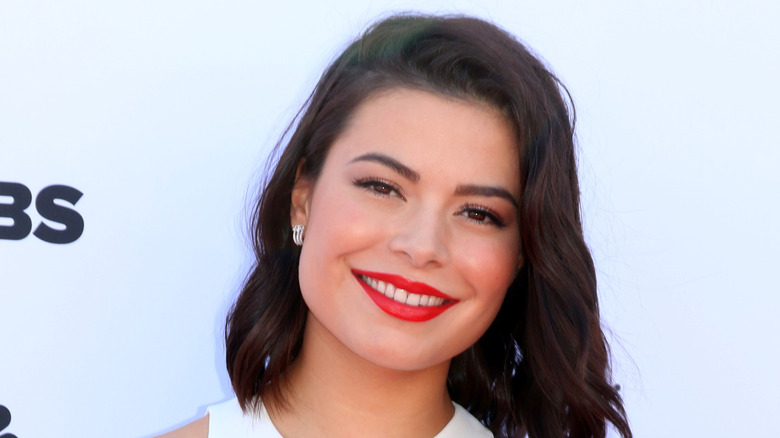 Kathy Hutchins/Shutterstock
Miranda Cosgrove was named one of Forbes magazine's 30 under 30 in Hollywood and entertainment in 2022, and it was her time as the child star on the Nickelodeon show "iCarly" that helped catapult her to fame. Cosgrove became the highest-paid child actor ever; "iCarly" ran from 2007 to 2012, and by the end of its run, she was making $180,000 per episode.
Nearly 10 years later, Cosgrove is playing Carly again on "iCarly: All Grown Up," a reboot of the original show, now showing on Paramount+. Though this time, she's also an executive producer and is excited about that change. Cosgrove explained to Forbes about the original series that, "I didn't have any creative control over what I was doing ... Now, I get to have a say in everything." While she may have much more control over the series today, there was one memorably embarrassing moment for Cosgrove that was definitely out of her control when she was filming "iCarly." And it came down to a combination of jumping on a trampoline and stuffing her bra to make her boobs look bigger.
Miranda Cosgrove's bra inserts and a trampoline led to disaster
When Miranda Cosgrove first started playing Carly on "iCarly," she experienced a feeling that many young girls have felt — wanting to have bigger boobs sooner. And it led to an embarrassing moment. While filming one of the web show scenes, Cosgrove had to jump on a trampoline. However, she also stuffed her bra with "something" to make her boobs look bigger. Cosgrove told People, "I was jumping on the trampoline and one of them flew out. [...] It was a cutlet or some little thing. ... It flew through the air and they yelled, 'Cut.' And nobody really knew what happened. I knew, of course." Yikes!
Cosgrove went looking for the rogue cutlet to get rid of the evidence so she and the cast and crew could move on from the embarrassing incident. But in a dramatic turn of events, a co-star — one who wasn't likely experienced with padding their bra: Nathan Kress, who played Freddie Benson on iCarly — also began trying to figure out the mystery of what had flown through the air.
Miranda Cosgrove is pretty sure Jennette McCurdy knew what happened
Miranda Cosgrove described to People how Nathan Kress reacted in the moment after the padding from her bra flew out: "[Kress] kept saying, 'What was that? What flew through the air'" [...] He would not let it go because he just wanted to figure it out." Kress didn't figure it out then, or even remember what happened when Cosgrove talked to him about it more than 10 years later. It goes to show that as mortifying a moment might feel to us at the time, other people probably won't remember it with the same emotional charge. Though Cosgrove was pretty sure that at least one of her co-stars knew exactly what had happened: Cosgrove's real-life friend Jennette McCurdy.
McCurdy was going through her own ongoing and personal struggles on the set of "iCarly," many of which she detailed in her book "I'm Glad My Mom Died." Cosgrove acknowledged how little she realized about what McCurdy was going through at the time. "When you're young, you're so in your own head," Cosgrove told The New York Times. "You can't imagine that people around you are having much harder struggles. You don't expect things like that from the person in the room who's making everyone laugh."