RFK Jr.'s Drastic Offer To Wife Cheryl Hines To Protect Her From Public Backlash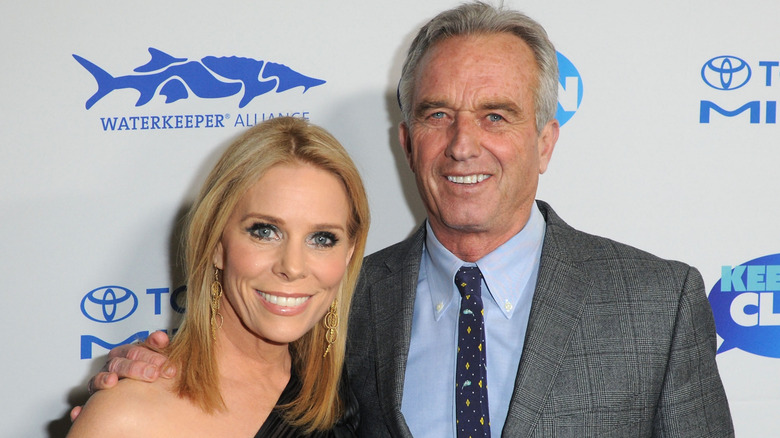 Joshua Blanchard/Getty Images
There are plenty of ways to prove your love, respect, and commitment to your partner, but choosing to separate likely isn't the first option that comes to mind. Nevertheless, such is the case for Republican presidential candidate hopeful Robert F. Kennedy Jr. and his wife, "Curb Your Enthusiasm" actress Cheryl Hines, who floated the idea of announcing their split to distance Hines from Kennedy's politics. 
The anti-proposal began after Kennedy's controversial comments at an anti-vaxxer rally in Washington, D.C. in 2022, during which he likened the push to vaccinate Americans against COVID-19 to the Holocaust, even suggesting that Anne Frank had more freedom while hiding from the Nazis, per CNN. In an interview with The New York Times, Kennedy cited these comments as the catalyst for his proposed public split from Hines. 
"I felt so desperate about protecting her at a time where my statements and my decisions were impacting her," Kennedy recalled. And although they never followed through with the separation announcement, Hines has been careful to maintain a healthy distance from her husband's political rhetoric.
Hines issued a statement following Kennedy's Holocaust comments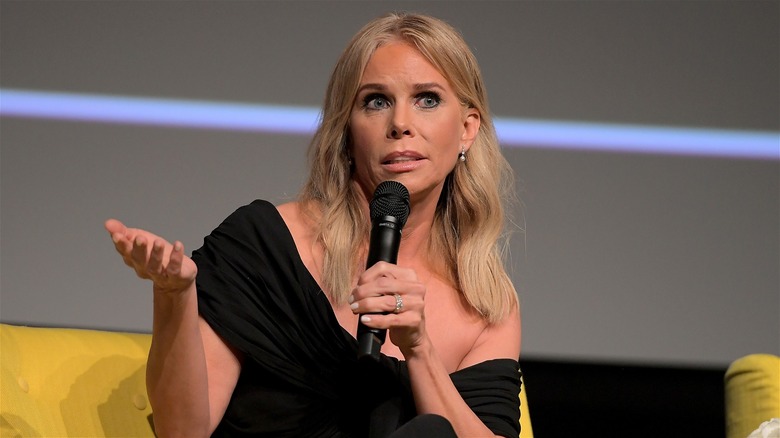 Charley Gallay/Getty Images
For the most part, Cheryl Hines, who is most well-known for playing the wife (and later, ex-wife) of Larry David in "Curb Your Enthusiasm," has opted for a vaguely neutral approach to her husband's political career, choosing instead to focus on her own professional acting and entrepreneurial endeavors. However, Hines called Robert Kennedy Jr.'s rally remarks 'reprehensible' following his insensitive Holocaust comparison. 
"My husband's opinions are not a reflection of my own. While we love each other, we differ on many current issues," Hines tweeted in an initial statement. The next day, she followed up with a second tweet: "My husband's reference to Anne Frank at a mandate rally in D.C. was reprehensible and insensitive. The atrocities that millions endured during the Holocaust should never be compared to anyone or anything." 
Kennedy's initial idea to separate was to help further distance his divisive political statements from the reputation of his comedic actress wife. Still, he isn't the only one worried about the other's safety. Despite publicly disagreeing with his commentary, Hines shared that she found RFK Jr's request for Secret Service security being denied to be a huge shock given his family's tragic history, per TMZ.
Hines continues to pursue her career and passions separate from her husband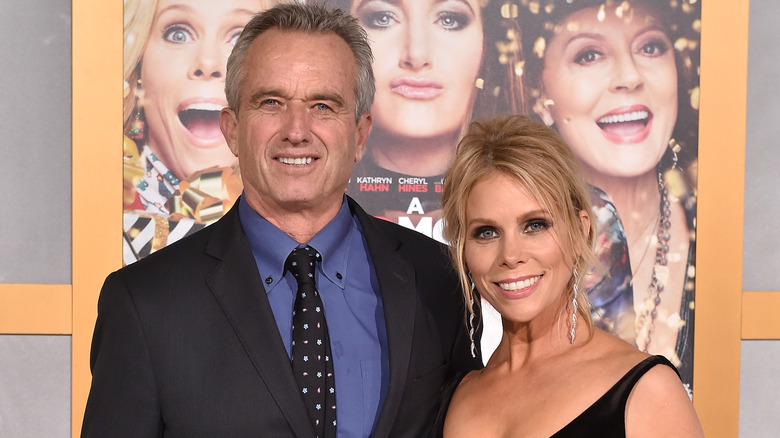 Axelle/bauer-griffin/Getty Images
As someone who got their biggest break on "Curb Your Enthusiasm," a famously and unabashedly Jewish television series, it's unsurprising that Cheryl Hines would've chosen Robert Kennedy Jr.'s Holocaust comments as the exception to her otherwise neutral stance. What is slightly more unexpected is that Hines was first introduced to her future husband by her "Curb" co-star and on-screen husband, Larry David. 
According to Hines' NYT profile, David first introduced the actress to Kennedy at a 2006 ski event, though he never intended to spark a romance. While on Alec Baldwin's "Here's the Thing" podcast in 2022, Hines recalled her "Curb" co-star expressing his regret over the introduction. "Larry was like, that's a terrible idea. No, no, no, don't get involved. That's a terrible idea. Cut to, yeah, we've been married for eight years." 
Overall, it doesn't seem Hines is worried about her husband's political campaign affecting her career or friendships, telling the NYT that Kennedy's candidacy hasn't prevented her from working. Kennedy added, "I feel a lot of support and love from most of her friends, including Larry." The "Curb Your Enthusiasm" star later clarified his feelings in a text to the newspaper, writing, "Yes, love and support, but I'm not 'supporting' him."