What Erin Krakow Did Before Becoming A Hallmark Star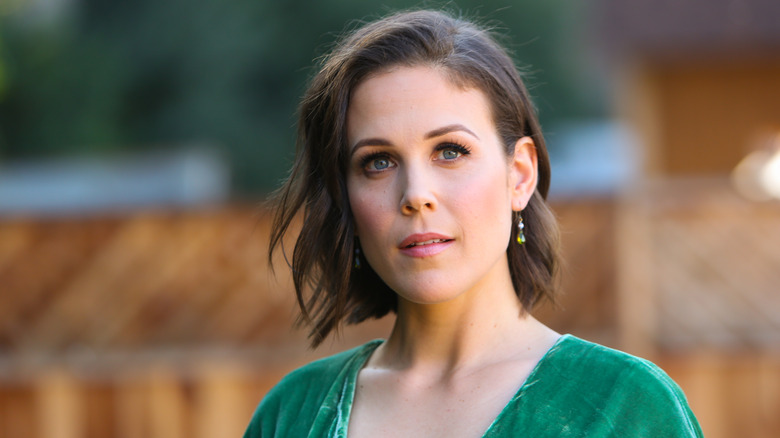 Paul Archuleta/Getty Images
On the Hallmark Channel, Erin Krakow is most known for portraying Elizabeth Thatcher in the long-running period drama "When Calls the Heart." For more than ten seasons, the actor has warmed the hearts of at-home audiences as the lead of the show, coming into her own as a small-town teacher while adapting to the customs of the Canadian frontier.
Beyond this, she's also been the lead of several of the network's feel-good movies, starring in flicks such as "Engaging Father Christmas," "It Was Always You," and "The Wedding Cottage." While some Hallmark stars like Alison Sweeney and Rhiannon Fish have years of acting credits that predate their Hallmark fame, Krakow has actually spent the majority of her professional career on the family-friendly channel.
That being said, she does have some notable moments in her pre-Hallmark history, including her background in theatre arts and her stint on a war drama series. Here are all the details about what Erin Krakow did before becoming the star we know and love. 
Krakow studied at two performing arts schools
Erin Krakow's interest in drama and performance began at a young age, with the actor recalling that the birth of her younger brother is when her mother pinpoints the first sign of her budding dramatics. "I had to share the attention," she told Patheos. "And that meant singing songs at the top of my lungs and doing dances around the house to get the attention of my parents. I wasn't neglected or ignored, but that's where it started."
As a teenager, Krakow attended Alexander W. Dreyfoos Jr. Palm Beach County High School of the Arts in Florida, where she was able to study acting. "We had all of our regular academic classes, but I also got to take a lot of acting classes and classes learning about theater in general," the actor explained. Taking classes in subjects like musical theater and scene study was enlightening, and these experiences helped cement her path forward in life, she said. "[It] helped me realize this was my passion and that this was what I wanted to do. That was a great learning experience."
After high school, Krakow studied at Juilliard in New York, a fact that would connect her with future Hallmark co-star Luke MacFarlane. Regarding this experience in a performing arts school, she told From the Desk, "I wouldn't be where I am today without my education. I'm very grateful to my teachers and it's an honor to get to play one on TV."
The star appeared in another series before taking to Hallmark
While Erin Krakow's acting expertise began on the stage, she soon transitioned to television in her post-grad life. The Hallmark star recalls a small part on the soap opera "Guiding Light" as her first onscreen role, but long-time fans of Krakow might recognize her as Specialist Tanya Gabriel from Lifetime's "Army Wives."
Even though her time on the drama series was limited to 18 episodes, the "Sense, Sensibility, and Snowmen" star recalls the period positively. "I loved that experience. I was living in New York at the time and we shot in Charleston, South Carolina," she shared with Sidewalk Entertainment. "It kind of felt like summer camp every time I'd go down there and get reunited with the cast and crew. I loved getting to play that character. It was a real honor to play an army medic."
Coincidentally, Krakow actually worked alongside an existing Hallmark staple while on "Army Wives," as Catherine Bell starred in the drama series in addition to working on "The Good Witch" made-for-TV movie franchise. Though Krakow wrapped up her stint on the Lifetime series in 2012, she didn't have to wait long for her big Hallmark break, as she began starring in "When Calls the Heart" in 2014.