Steve Harvey's Messy Divorce Cost Him $30 Million And Nearly Left Him Penniless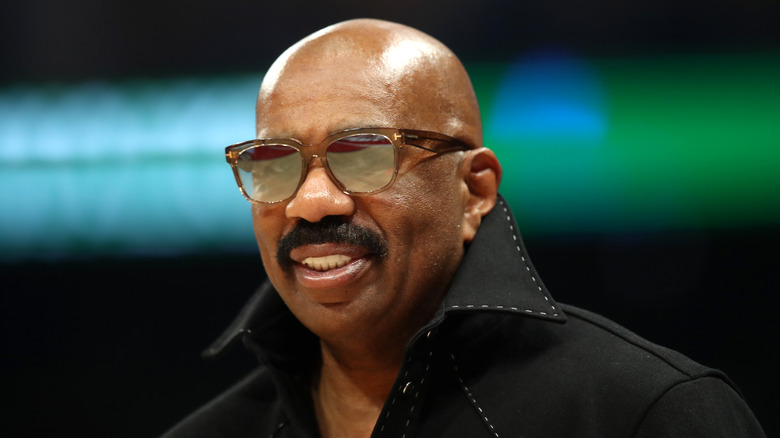 Francois Nel/Getty Images
Before the "Family Feud" host made it big, Steve Harvey had to go through trials and tribulations to reach success. Harvey revealed on the "Club Shay Shay" podcast that he struggled with losing all of his assets after a complicated divorce. In 2005, he had already found relative success in the entertainment world, snagging his own sitcom, "The Steve Harvey Show." The series ran from 1996 to 2002 and established Harvey as a bonafide comedian.
Thus, the young entertainer was selected to co-headline the "Kings of Comedy" tour from 1997 to 1999. The tour was followed by "The Original Kings of Comedy" special in 2000. Directed by Spike Lee, the concert film also featured comedians Bernie Mac, D.L. Hughley, and Cedric the Entertainer. Though they were not yet mainstream, the comedians grossed over $37 million during their tour run. Despite this commercial success, Harvey found himself in deep financial trouble after divorcing his second wife, Mary Lee Harvey.
He told "Club Shay Shay" that an unnamed individual stole the money he set aside for taxes, leaving him with a seven-year tax bill. "The divorce was over. It was just, 'Let's split the assets,' but you took all the assets,' and I was stuck with this tax bill," Harvey explained to host Shannon Sharpe. "So, I had to pay seven years of back taxes with interest." After getting paying back the IRS, the comedian was left with just $1,700.
Steve Harvey bounced back by taking on various roles in entertainment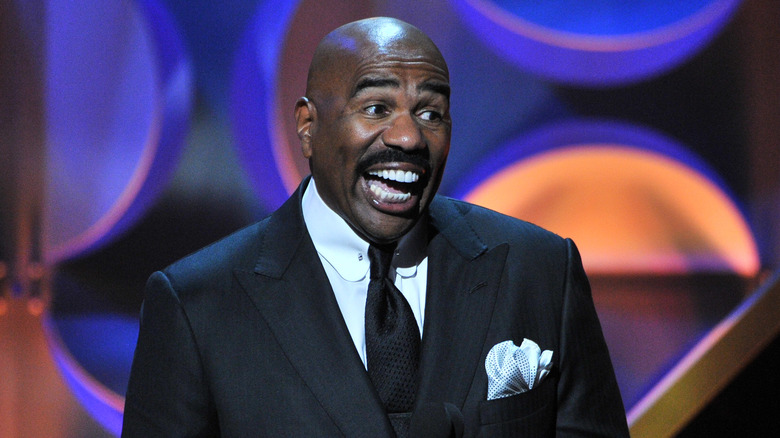 Allen Berezovsky/Getty Images
After this setback in 2005, Steve Harvey was luckily able to take control of his finances once again. Through various stints on television, radio, and even the courtroom, he has made it clear that no job is beneath him. After Harvey decided to quit doing stand-up comedy, he moved towards different roles in the entertainment world.
During the same year of his tax slip-up, he launched "The Steve Harvey Morning Show," which helped him get back on his feet. It's still on-air as of this publication and has become America's number-one syndicated radio show. Over the years, Harvey has also hosted the Miss Universe pageant five times — even after making a viral slip-up in 2015. Nowadays, he is best known for being the charismatic host of ABC's "Family Feud", where he brings in around $3.6 million per season.
In 2022, "Judge Steve Harvey" went live, allowing the TV personality to oversee small suits that are legally bound by his decision. No — Harvey is not really a judge. He cited his successful 30-year television run as his credentials for the coveted TV judge role. "I'm going to dig up the story behind why people came to court versus what they're in court for," Harvey told TV Insider. "I lean on decades of experience dealing with all types of situations and people, and I rely on my street savvy, common sense, and humor to get it done."
The road to success has been a tough one for Steve Harvey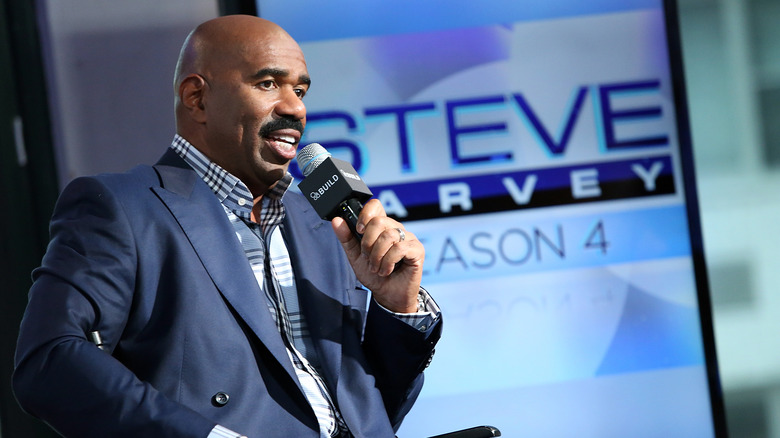 Monica Schipper/Getty Images
As of this writing, Steve Harvey is a successful entertainment superstar, business mogul, and certified style icon. Now happily married to his third wife, Marjorie Harvey, Harvey still reflects on his humble beginnings and tough journey to success. Raised in Cleveland to a working-class family, realizing that his dreams have come true is a surreal experience.
Even small moments, like an upscale DJ playing the "Family Feud" theme song, made the comedian shed a few tears. "I'm a hood guy. I'm from Cleveland, I come from nothing," Harvey reflected on "The Ellen DeGeneres Show." "And these people are doing the 'Family Feud' theme song in the South of France? I went to Glenville High School!"
Aside from facing problems with his finances, Harvey also went through a rough patch that he hid from audiences. The "Act Like a Lady, Think Like a Man" author has spoken openly about his struggle to reach fulfillment, despite outward signs of success. "In 2005 I was at my unhappiest point in life," he tweeted, captioning a clip from the "Steve" talk show. "You saw me on TV making money, but I was miserable I had reached the Kings of Comedy but I was only happy while I was on stage. I was in pain you would not believe."