Why Steve Harvey Is Determined To Keep His Outfits Trendy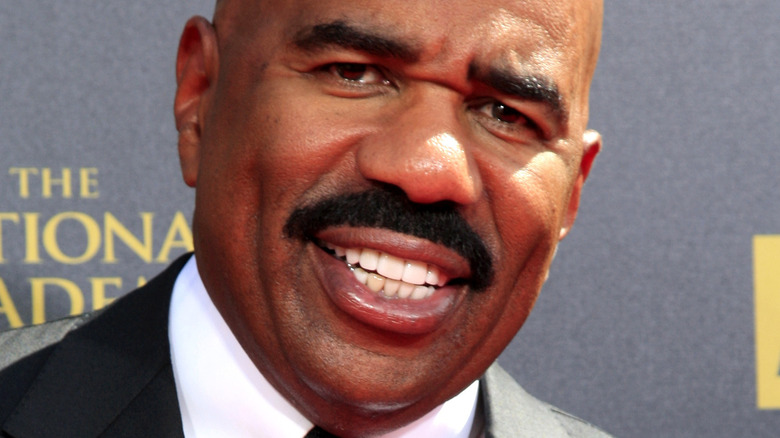 Joe Seer/Shutterstock
Steve Harvey has been an entertainment mainstay for a very long time. As Us Weekly notes, Harvey began his career as a stand-up comedian in the early nineties, before transitioning to TV hosting after he fronted Showtime at the Apollo from 1993 to 2000. Harvey's hugely successful syndicated radio program, "The Steve Harvey Morning Show," kicked off in 2000, while his acting career began with a role in 2003's "The Fighting Temptations."
In fact, Harvey's comedy career ultimately stalled because he was so successful elsewhere, juggling his radio show, a hit sitcom, and lots more simultaneously. These days, the West Virginia native is most well known as the host of long-running game show "Family Feud." Per Good Housekeeping, Harvey also currently hosts "Family Feud Africa," "Celebrity Family Feud," "Judge Steve Harvey," and Facebook Watch series "STEVE." His radio show, meanwhile, is also ongoing. 
Clearly, Harvey loves to keep busy, and despite how long he's been in the business, the beloved TV star shows no signs of slowing down. This extends to how he dresses too, since Harvey has no intention of showing his age any time soon either. 
Steve Harvey doesn't want to feel old if he can help it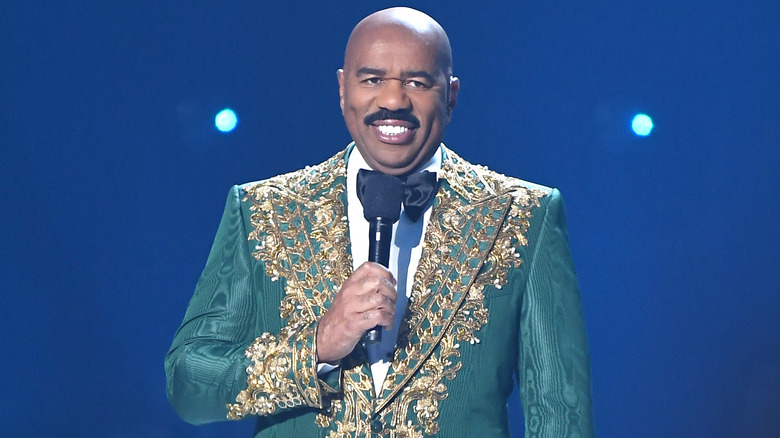 Paras Griffin/Getty Images
Steve Harvey is no stranger to red carpets, and recently he's emerged as quite the snazzy dresser. Appearing in a variety of stylish suits, typically accessorized with a pair of flashy sunglasses, and always decked out in designer gear, the "Family Feud" host has had fans salivating over what he's wearing. As Harvey admitted, during a recent episode of his Facebook Watch series, it's all by, well, design. "I'm not just gonna sit over here and just let old age come and take me away," Harvey reasoned during a chat with a group of fellow well-dressed gentlemen hilariously calling themselves The Silver Fox Squad. 
In fact, Harvey quipped, "Pick me up and just walk me holding my grave." As far as he's concerned, walking old and dressing old lead to looking and, by extension, feeling old, hence his decision to dress well for every occasion. For this particular segment, the host chose a white blazer, black shirt and tie with matching dress pants, and stylish loafers.
Men's fashion bible GQ dubbed the former stand-up comedian a "style icon" in October 2021. As Harvey told them simply, "My motto is to be fly 'till I die." Although the "Family Feud" host is aware that he's getting on in years, and understandably wants to be comfortable as a result, Harvey is willing to push the envelope whenever possible. Typically, as we've seen, it more than pays off for him.