Is Steve Harvey Really A Judge?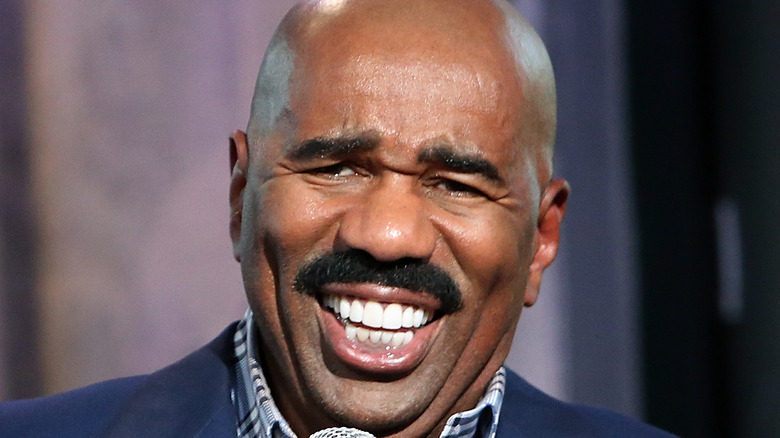 Monica Schipper/Getty Images
Steve Harvey has been a fixture on our screens for many years, but most people were understandably surprised when his latest role landed Harvey behind the bench. "Judge Steve Harvey," which debuted in early January 2022, found the "Family Feud" host occupying a similar space to the legendary Judy "Judge Judy" Sheindlin, by trying small-claims cases on TV with an imitable sense of humor. 
However, whereas each episode of "Judge Judy" opened with an assertion that what we were about to see was real, Harvey's show is more focused on entertainment than the rule of law. In an interview with TV Line, Harvey admitted he's long dreamed of being a TV judge. "I came up with this idea 12 years ago and I just never told anybody," the former stand-up comic revealed.
As Harvey explained, he finally brought the idea up during a pitching session with network ABC, who were eager for Harvey to front another sitcom following the short-lived "Steve Harvey Show." The "Family Feud" host suggested "Judge Steve Harvey" instead. "I told them, I wanted it to be funny. I wanted to be insightful," he clarified. "I wanted it to not be about the verdict, but about the story — and the next day, they greenlit it." 
Regardless of his enthusiasm for the project, though, the question on everybody's minds is whether Harvey is actually qualified to dispute real legal cases. 
Steve Harvey relies on his own judgment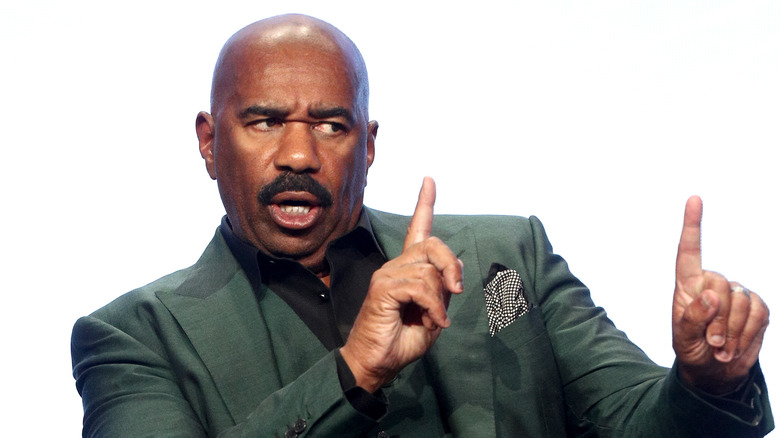 Frederick M. Brown/Getty Images
Steve Harvey is a lot of things, but a judge isn't one of them. That shouldn't stop him from trying cases, though. As Distractify points out, the casting website for "Judge Steve Harvey" states that "all awards/judgments are paid by production." In other words, litigants don't stand to lose anything by taking their dispute to the "Family Feud" host. Likewise, similar to "Judge Judy," it's reasonable to assume participants agree to be bound by his ruling, too.
Good Housekeeping details the lengthy process required to qualify as a judge, and really who's got the time? According to TB News Watch, Harvey himself is under no illusions that he's an actual judge, even telling a defendant who "objected" to something the plaintiff said by quipping, "You must think this is a real court!" while openly laughing at them. 
In reality, Harvey is ruling on a common-sense basis, rather than on any kind of legal footing, which will likely be more entertaining for those watching at home. It also plays to his strengths. As Harvey himself told TV Insider, "Most judges are interested in the law: These are the facts, and that's it. I'm going to dig up the story behind why people came to court vs. what they're in court for." 
The former comedian elaborated, "I lean on decades of experience dealing with all types of situations and people, and I rely on my street-savvy, common sense and humor to get it done."