Hallmark's Kavan Smith Witnessed A Scary Accident On The You Had Me At Aloha Set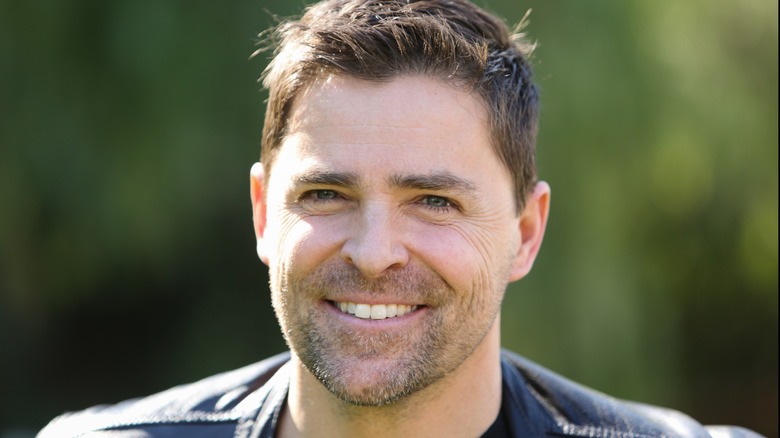 Paul Archuleta/Getty
Kavan Smith plays Pascale Hutton's onscreen husband in "When Calls the Heart," and the two actors have also starred in some of Hallmark's movies together. However, when Hutton was not on set, Smith witnessed a scary accident while working on their 2021 flick "You Had Me at Aloha." Smith was standing cliffside because his character Ben was about to cliff dive, and he and the crew witnessed someone fall.
"While we were shooting the scenes up there, there's actual cliff diving in and around that spot," Smith told TVFanatic. "And there were a bunch of tourists there. So we had all these really high-end stunt guys, actually very famous stuntmen that are big in the surfing community. And they were making sure I didn't fall off a cliff, which was great. But a tourist did fall off the cliff! Literally, while we were looking at him, he fell down the cliff."
Smith explained the tourist's life was saved because he hit a tree branch on the way down, which slowed his descent. The tourist broke his leg, which is much better than the alternative. The film's stunt team then helped get the person to safety. Smith added, "And the irony is the first thing I have to say into the camera as soon as we finish this rescue is, 'Who's ready to jump off a cliff?'"
Smith and Hutton loved shooting in Hawaii
Despite seeing that scary moment, Kavan Smith told TVFanatic that there were no safety concerns when he and Pascale Hutton were doing their stunts: "Everything to do with the show and to do with the crew that we had was all very, very safe."
Filming on location at such gorgeous (yet dangerous) spots gave the movie a beautiful backdrop. In a behind-the-scenes video on the making of "You Had Me at Aloha," Hutton said, "Hawaii is the perfect place to shoot a romantic comedy because it's the most beautiful place on earth." She also said how great it is that the film showcases many spots on the island, adding, "That's what we wanted this movie to capture, is the exploration of travel." One such spot that they got to shoot at is Waimea Valley Falls.
Smith said similar things about their film's setting, remarking, "It couldn't have been better anywhere else in the world." In addition to the setting, another neat thing about the film is that Smith and Hutton came up with the concept themselves.
Hutton wanted to play someone different than Rosemary
Hallmark's "You Had Me at Aloha" was dreamed up by Kavan Smith and Pascale Hutton. When learning from a Hallmark executive named Samantha DiPippo that another Hallmark film was shooting in Fiji, Smith began brainstorming.
"I kept kind of busting [DiPippo's] chops to see if we came up with a pitch with a tropical destination, would she listen?" Smith said to MediaVillage. "[DiPippo] said she would." Although DiPippo and Hutton assumed it was all a joke, Smith wanted to make it happen. He asked Hutton how she'd want her character to be — someone different than her character Rosemary from "When Calls the Heart."
"I said, 'Great. I'll be the opposite of that. Let's go pitch that,'" Smith told the outlet. "So, we came up with the premise, then Rick Garman and [DiPippo] cranked up the story." With their characters in place — Smith's character Ben as an adventurous type, with Hutton's Paige being more cautious — Hawaii became the backdrop. Smith said Hallmark had never filmed in Hawaii before "You Had Me at Aloha." However, Hallmark has filmed other hits on the Hawaiian islands since then, such as "Hidden Gems" — which actor Hunter King would love a sequel to.