Why Miley Cyrus And Sinead O'Connor Once Feuded Over The Wrecking Ball Music Video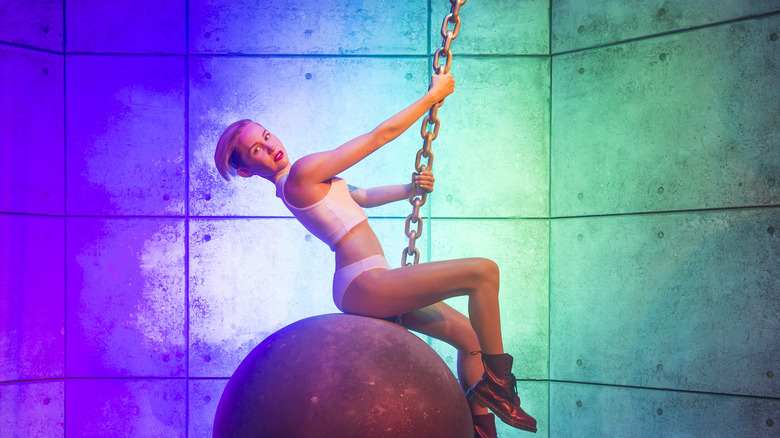 Kobby Dagan/Shutterstock
Ever an activist, the late Sinead O'Connor was always known for speaking her mind. She has never been known to back down, even to the Catholic Church. So when Miley Cyrus attributed O'Connor as an inspiration for her controversial music video, the Irish songstress had some choice words. Cyrus broke the internet in 2013 when she released visuals for her breakout single, "Wrecking Ball." The song came as one of Cyrus' first major releases post-Disney, and it surprised the world to see the "Hannah Montana" alum in this new light.
In the "Wrecking Ball" music video, Cyrus notoriously straddles a wrecking ball while completely nude — bar a pair of Doc Martens. She even noted that her video was inspired by O'Connor's "Nothing Compares 2 U" visual. Of course, O'Connor took to her blog to write an open letter to the young pop star. "It is in fact the case that you will obscure your talent by allowing yourself to be pimped, whether its the music business or yourself doing the pimping," part of the letter read (via The Guardian). "Yes, I'm suggesting you don't care for yourself. That has to change."
After releasing this letter, a then 20-year-old Cyrus had some choice words for O'Connor on Twitter — particularly related to her mental health. Nearly a decade after this feud and after O'Connor's recent passing, Cyrus spoke out about how she regretted her quick clapback.
Miley Cyrus took a jab at Sinead's mental health troubles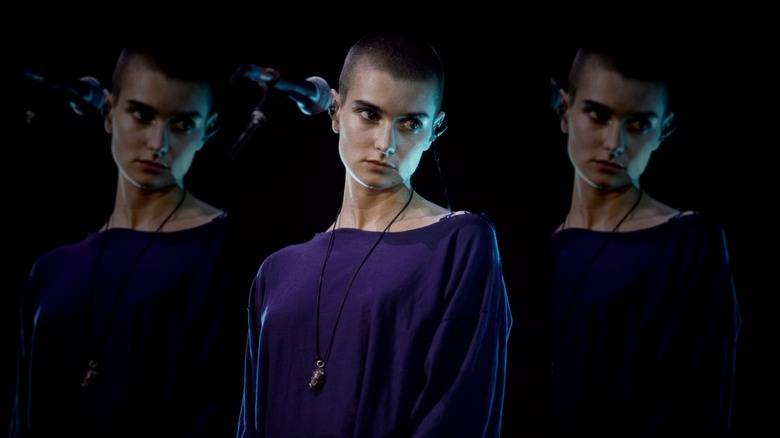 Michael Putland/Getty Images
Sinead O'Connor's message to Miley Cyrus was anything but comforting. The "Mandinka" singer didn't hold back in providing Cyrus with some genuine — albeit blunt — industry advice. "I am happy to hear I am somewhat of a role model for you and I hope that because of that you will pay close attention to what I am telling you," O'Connor wrote. "I repeat, you have enough talent that you don't need to let the music business make a prostitute of you."
In response, Cyrus took to Twitter with a screenshot of O'Connor's past concerning tweets, comparing her to fallen Nickelodeon star Amanda Bynes. Fans quickly flocked to the replies, criticizing Cyrus for taking a jab at O'Connor's well-known struggle with mental health. The Irish songstress responded: "You have posted today tweets of mine which are two years old, which were posted by me when I was unwell...In doing so you mock myself and Amanda Bynes for having suffered with mental health issues and for having sought help. I mean really... who advises you?" (via Cosmopolitan).
In the following years, Cyrus went on to have a controversial relationship with the media as she rose to pop stardom. Her career trajectory has been riddled with controversy, including her world-stopping MTV Video Music Awards performance. In the years since, Cyrus has admitted that she should've heeded O'Connor's advice.
Miley wishes she had responded to Sinead differently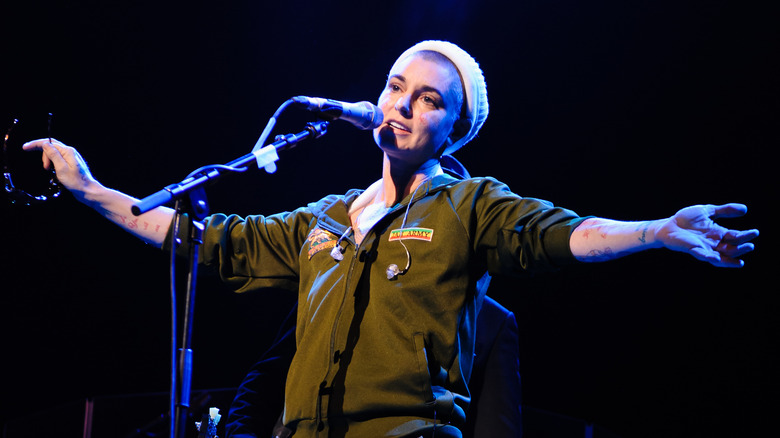 Joseph Okpako/Getty Images
After gaining wind of Sinead O'Connor's words, the "We Can't Stop" singer said while she was hurt by the criticism itself, who it came from stung more. She spoke about the moment during the ABC special "Endless Summer Vacation: Continued (Backyard Sessions)." "I was expecting for there to be controversy and backlash, but I don't think I expected other women to put me down or turn on me," Cyrus said during the special, per Insider. "Especially women that had been in my position before."
Cyrus also apologized for her insensitive take on mental health, citing her age and ignorance on the topic as causes. O'Connor spoke openly about living with bipolar disorder and depression throughout her career. After the heartbreaking death of her son in 2022, she was never the same. In the days before her passing, O'Connor tweeted about how hard it was to live without her boy. During the concert special, Cyrus dedicated her "Wonder Woman" performance to the late songstress.
She also admitted that she eventually realized O'Connor's advice rang true. "And all that I saw was that another woman had told me that this idea was not my idea," she explained (via Pitchfork). "And even if I was convinced that it was, it was still just, you know, men in power's idea of me and they had manipulated me to believe that it was my own idea when it never really was."