Meet The Young And The Restless Star Peter Bergman's Wife, Mariellen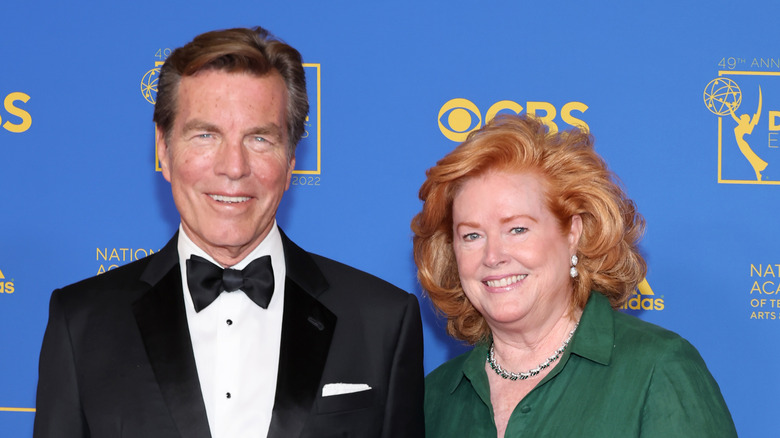 Amy Sussman/Getty Images
Jack Abbott (Peter Bergman) has had many different lovers over the years on "The Young and the Restless." From his long, checkered history with Nikki Newman (Melody Thomas Scott), to his dalliances with Phyllis Summers (Michelle Stafford) and his most recent love affair with Diane Jenkins (Susan Walters), Jack isn't the kind of guy who knows how to stay single for too long. When asked about Jack and Diane's love and marriage, Peter said he knew Diane was the one for Jack for quite some time now. He told Soap Hub that their marriage "is forever. I have nothing but praise for Susan Walters."
Forever might seem like a long time, but in the soap world, that word takes on a different meaning. Jack and Diane could last just one season or they could go on for 50. And while it might be hard for some people to watch their partner make out with beautiful soap opera stars on a hit daytime television show like "The Young and the Restless," that's not the case for Peter and his real-life wife, Mariellen Bergman. That's because Mariellen is one of his biggest supporters, both on and off-screen.
Mariellen has always been very supportive of Peter's soap career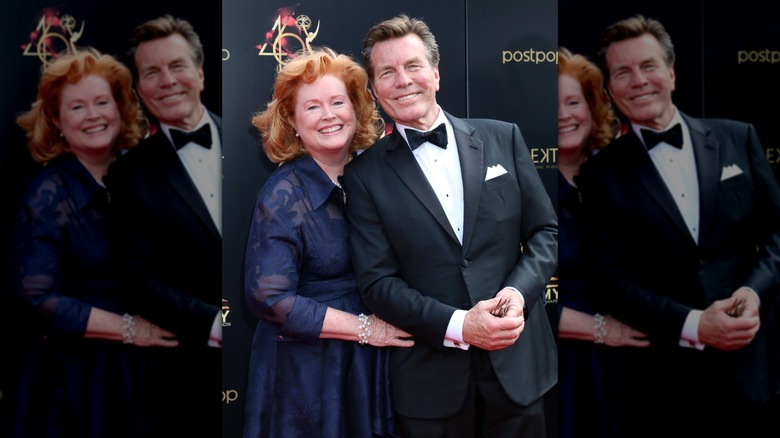 Kathy Hutchins/Shutterstock
On "The Young and the Restless," some marriages last as long as some of the business deals made at Jabot: it's all over by the end of the storyline. But Peter Bergman is one lucky man as he's had some great love affairs in Genoa City — and an even better one in his real life. He's been married to his wife Mariellen Bergman since 1985. According to Closer Weekly, they have two children together, Connor and Claire. And it seems like their love is just as strong today as it was nearly four decades ago because Mariellen almost always accompanies Peter to all of his red carpet events as his No. 1 fan. 
Mariellen also knows her husband is someone who deserves to be celebrated for his accomplishments. Back in 2019, Peter told Michael Fairman TV that his wife insisted on doing something special for his 30th anniversary on "The Young and the Restless." He said, "You know, it's so funny. My wife, Mariellen said to me more than once in the last couple of weeks, 'All of this stuff keeps coming up, and you've not made a big deal of this at home,' and it's true. I feel like we just celebrated 25. That seems like just 2 years ago. But, here we are again."
That wasn't the only time Mariellen knew what she was talking about.
Peter Bergman only has eyes for his wife, Mariellen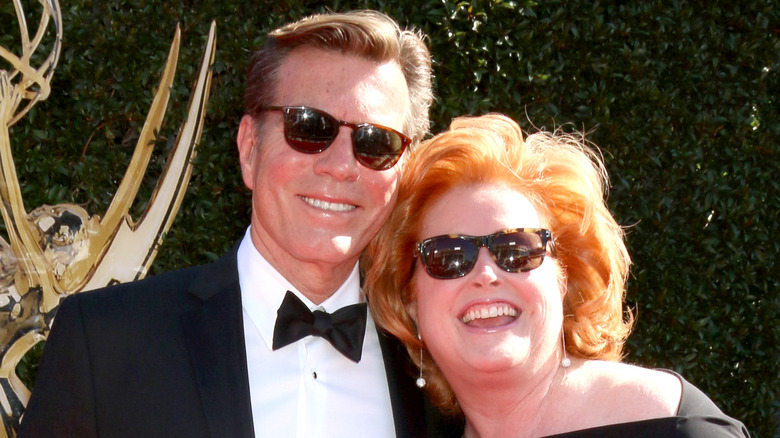 Kathy Hutchins/Shutterstock
So, what is the secret to Peter Bergman's long-lasting marriage to Mariellen? It might be the fact that the two are very quiet about their private life together. Peter is one of the few daytime television stars who doesn't have a presence on social media. 
But Peter did tell Soap Opera Digest back in 2022 that he did have a memorable argument he once lost with his wife. He recalled, "It was the first argument that Mariellen and I ever had. We were in a taxi cab in New York City, 38 years ago, and I said that when we had kids, I didn't want a TV in the house. She said, 'What?! You work in television. That's the stupidest thing I ever heard!' I lost that argument in the biggest way because we have a TV in every room of our house."
Well, if there's one person who probably doesn't believe that, it's the fictional Phyllis Summers, as she's had plenty of fights with Jack Abbott over the years. No one can forget the time Jack threatened to fire Phyllis or when they had a very public fight over Diane. It's probably also why Phyllis tried to frame Diane for her fake murder. Jack Abbott, just like Peter Bergman, is the kind of guy who is just worth it. Thank goodness Mariellen is nothing like the women Jack has to deal with in his everyday life.