Jill Duggar Dillard Admits Reality TV Wasn't Great For Her Marriage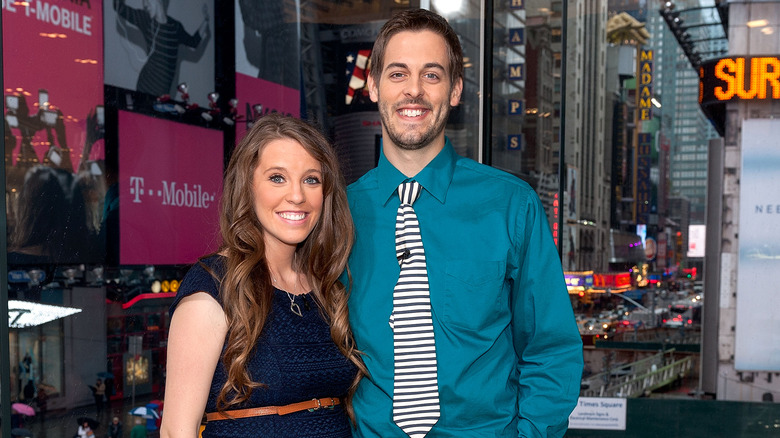 D Dipasupil/Getty Images
If you've watched the TLC show "19 Kids and Counting," then you probably know the name Jill Duggar. Now Jill Dillard after marrying Derick Dillard, she is a mother to three boys and a devoted wife to her husband. From the beginning of their courtship and marriage, Jill and Derick, like the rest of the Duggar clan, were in the spotlight. And the spotlight wasn't always kind to them.
In 2015, the eldest Duggar son, Josh, admitted to molesting five girls, four of whom were his sisters. The family's do-good image was shattered and the family's name was shamed, putting the Duggars through turmoil. Following the court hearings for Josh, in 2023, a documentary was released on Prime Video called "Shiny Happy People," which targeted the Duggar family and their adopted Fundamentalist values.
These two events put a huge strain on the Duggar family and everyone involved with them. Of course, this would be enough to make a newlywed couple fall apart, but add TV filming on top of that and you have the reality of Jill and Derick's first married years. 
How TV affected their marriage
Many fans of the show would like to think that there are some Duggars who are still happy and shiny and living perfect lives, but the stress of television filming along with criticism of their religion is overwhelming for all. In an interview with People, Jill Dillard opened up about her marital trouble that stemmed from the show. "It caused a lot of frustration in our marriage ... Especially early on, where he would feel a certain way about filming something. I'd be like, 'I hear you, I feel you, I also don't want to do whatever it is they're asking us to do either. But we have to,'" she explained.
Following the Fundamentalist guidelines, Jill was taught to always obey her parents, which got tricky once she was married. Derick told People, "Whenever we were at odds with what her dad thought we should be doing with filming, he would say things that would be very damaging ... He would weaponize the relationship and say, 'Is this you Jill, or is this you, Derek? Are you leading your wife astray and doing things that are not supportive of marriage?' And I think that was a red flag."
In fact, the impact was so great on their marriage that Jill wrote a book with the help of her husband, Derick, called "Counting the Cost." Along with the hardships, the book discusses the intimate moments that allowed them to break free from Jill's upbringing and raise their family in their own way.
Jill and Derick's family
Despite the hardship that TLC brought them, Jill and Derick managed to overcome it with grace and honesty, as explained in their new book, "Counting the Costs." The two have three children together, all boys: Israel, Samuel, and Frederick. Jill's Instagram shows many fun, silly, and loving pictures of the boys, but she has recently avoided posting their faces, leaving fans to wonder if this is her attempt to try to protect her own children from stardom.
From Jill's posts on social media, it's obvious these children are well-exposed and growing healthily. From posts of homemade pizza nights to helping with chores to playing checkers and building snowmen, the Dillard children look happy and cared for. Despite the times that Jill's parenting caused a stir, it seems like she's doing a great job, as she is risking everything to tell her truth and be the best parent and wife she can be.