All Of The Royal Drama So Far Since Charles Became King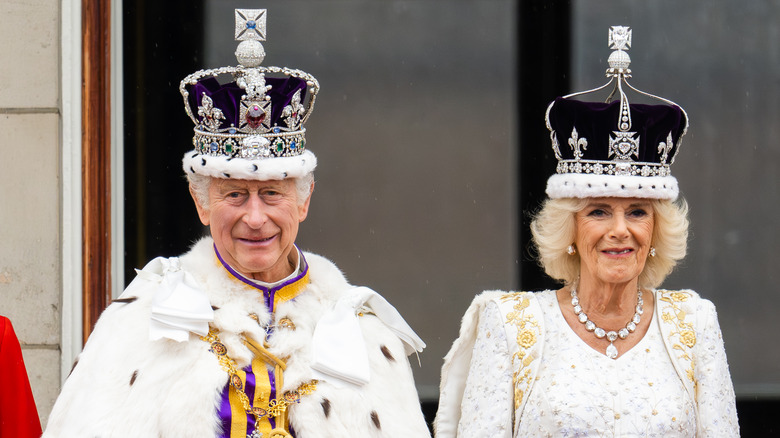 Samir Hussein/Getty Images
Long live the king! Many will tell you that this phrase has taken some getting used to since Queen Elizabeth II died on September 8, 2022, and Prince Charles officially became King Charles III. 
But just because the royal family has a new monarch doesn't mean the drama of the past couple of years has disappeared into thin air — on the contrary, some might argue that the monarchy resembles a well-written soap opera more than ever since Charles ascended the throne. From the widespread gossip about the cold shoulder Prince Harry and Meghan Markle received at the queen's funeral, to several A-listers declining to perform at Charles' coronation, and the media speculation that Prince Harry got snubbed with the seating at the ceremony, you seriously can't make this stuff up.
While Charles has been the center of plenty of royal drama in the past (like Tampongate), he now gets to experience firsthand what it's like to be at the head of a complex family that's constantly the subject of media scrutiny. Still, many royal experts told Newsweek that they believe Charles is up to the task. After all, he's had over seven decades to prepare for this role. "If he follows [the queen's] example, he will scarcely put a foot wrong," royal expert Paul Goodman said. However, whether the rest of the family will fall in line is another matter entirely.
Charles had a bit of an altercation with a pen — twice
It's been a while since the whole world's been obsessed with Queen Elizabeth II's eldest son, so perhaps it's understandable that King Charles III didn't think twice about showing some frustration in public shortly after his mother's death. Between mourning the queen and attending dozens of engagements, it's likely the new monarch was more than a little exhausted. 
In a video published by The Guardian, Charles can be seen getting impatient when a palace aide doesn't notice he needs a tray of pens removed in order to have enough room on his desk to sign the documents in front of him. Charles can be seen gritting his teeth and impatiently signaling to someone out of the shot to remove the pens. Naturally, this video soon went viral, and the media had a field day.
As if his very obvious irritation at a couple of pens weren't making enough waves already, Charles had another blunder a few days later when he loudly complained about a leaky pen while signing another round of documents. "Oh god, I hate this!" Charles could be heard saying in the now-viral video. He added, "I can't bear this bloody thing!" Soon, Charles was the subject of every headline once again. Clearly, the new monarch and expensive pens weren't getting along, and while some were sympathetic to Charles' situation, others thought him spoiled.
The palace flip-flopped when it came to Prince Harry's funeral attire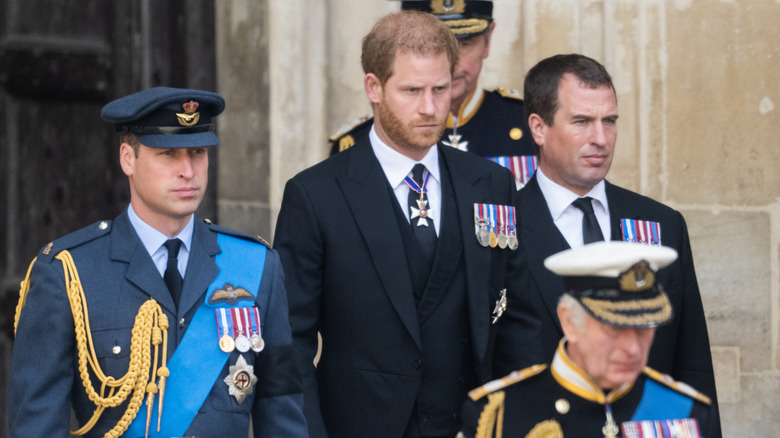 Samir Hussein/Getty Images
King Charles III inherited a boatload of royal drama, and mere days after he became the new monarch, critical headlines were swirling after it became public knowledge that Prince Harry would not be allowed to wear his military uniform to Queen Elizabeth II's vigil. The fact that Harry was no longer a working member of the royal family was cited as the reason for this decision, but media outlets like The Independent quickly pointed out that Prince Andrew, who was also no longer a working royal thanks to his ties with the sex offender Jeffrey Epstein, was allowed to wear his military uniform at the vigil.
This perceived snub set tongues wagging, but it appears Charles was already fed up with all the drama, because not long after the press ran with the story, it was announced that the palace had changed its mind. Word first came from The Daily Mail's royal editor Rebecca English, who took to Twitter to share that Harry would be allowed to wear his military uniform at the vigil, thanks to Charles requesting that an exception be made for his youngest son. 
That wasn't the end of the drama, however. The queen's initials were removed from Harry's uniform, whereas Andrew's suit was left unaltered. Oof! Harry felt this was intentional and was left feeling so hurt and embarrassed that he nearly opted for a mourning suit instead, sources told the Sunday Times.
Charles and Camilla got egged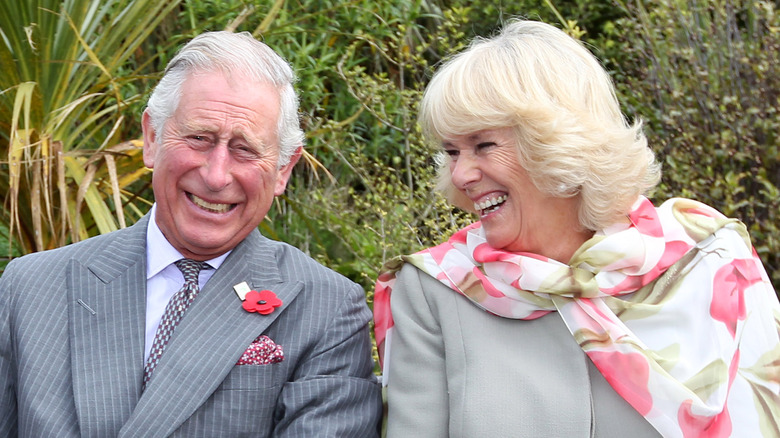 Rob Jefferies/Getty Images
It's already bad enough when the press writes derogatory stories about you, but getting publicly humiliated by a crowd is another sort of hell altogether. King Charles III and Queen Camilla made headlines for something other than the unveiling of the statue of Queen Elizabeth II in York in November 2022 when a lone protester among the gathered crowd threw several eggs their way. One of the eggs nearly hit its target, landing just shy of Charles' right foot, according to Hello Magazine. But Charles ain't scared of some roadside scramble — he continued greeting the gathered officials as if nothing happened. Camilla, on the other hand, threw a concerned look at the crowd, perhaps fearing that the assailant was armed with more than one egg.
The crowd started booing after the first egg hit, and the protester could be heard shouting, "This country was built on the blood of slaves," as police officers moved to detain him (via The Northern Echo). Eyewitness Kim Oldfield told the BBC that she saw the whole incident unfold from her storefront. "About five eggs he'd managed to send," she said. "Camilla sort of flinched a little bit when the booing started but they quelled it really quickly."
Charles kept his cool and reportedly calmly turned to Jo Ropner, Lord-Lieutenant for North Yorkshire, and said, "Let's get out of the way. Where do we go next?" He handled it like a true pro — we bet the queen would've been proud.
There was a racism scandal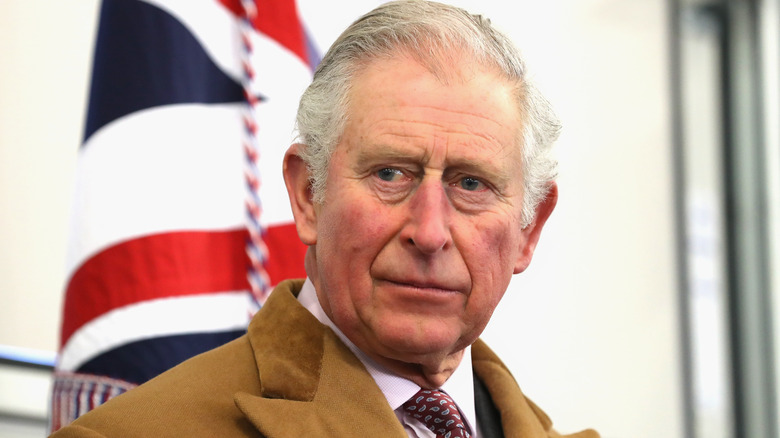 Chris Jackson/Getty Images
Not long after ducking eggs in York, King Charles III was faced with yet another royal scandal, this time thanks to his late mother's lady-in-waiting, Lady Susan Hussey, who caused quite a stir at a palace reception.
Various heads of several charities gathered for the Violence Against Women and Girls reception, and while most seemed to have a great time, Ngozi Fulani, the founder of Sistah Space, found herself questioned extensively by Hussey about her origins. Fulani said that, after telling Hussey multiple times that she was born and raised in the U.K., Hussey refused to accept the answer, asking, "No, what part of Africa are you from?" The more Fulani tried to explain that she was a British citizen, the more Hussey pressed, eventually asking, "No, but where do you really come from, where do your people come from?" after which Fulani had about enough.
An eyewitness told the BBC that Hussey was "offensive, racist, and unwelcoming" toward Fulani. Fulani granted an interview to The Independent in which she explained that it was a case of "institutional racism." Hussey resigned from her role with immediate effect, and the palace released a statement condemning her actions and calling her behavior "unacceptable and deeply regrettable." Despite Hussey being Prince William's godmother, the Prince of Wales released a statement of his own that proclaimed "racism has no place in our society." Needless to say, it'll take the palace a while to live this one down.
Harry and Meghan released a Netflix docuseries about their time as royals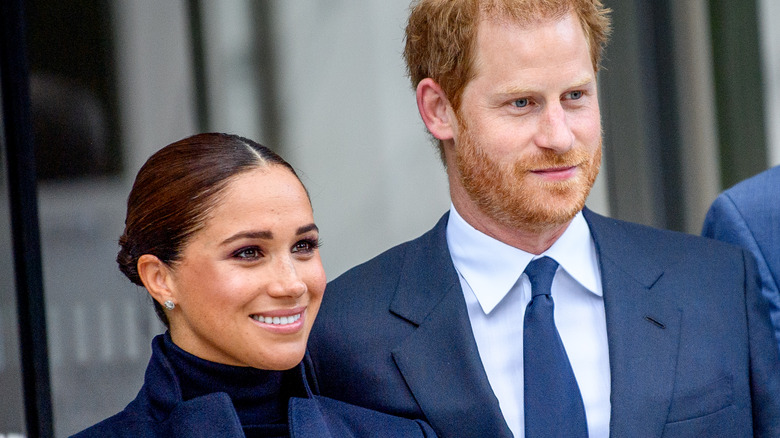 Roy Rochlin/Getty Images
It might be safe to say that, by the end of 2022, King Charles III was just about ready to take a very long vacation, but despite all the balderdash he had to deal with since stepping into the role of monarch, he simply couldn't catch a break. Things were just starting to quiet down after the palace's latest racism scandal when Prince Harry and Meghan Markle dropped their long-awaited Netflix docuseries, "Harry & Meghan." To make matters worse, Netflix released the series in two installments, which meant Buckingham Palace's agony would last twice as long.
Harry and Meghan both made some pretty shocking claims in the documentary. Harry revealed how, when he had a talk with his family about stepping back from their royal roles, things quickly turned nasty. 
"It was terrifying to have my brother scream and shout at me and my father say things that just simply weren't true, and my grandmother quietly sit there and sort of take it all in," Harry said. A friend of Meghan's also claimed that the royal family was happy to let Meghan take all the media heat so they could keep their own misdemeanors out of the press. "I wasn't being thrown to the wolves. I was being fed to the wolves," Meghan said, with Harry adding that his family was "happy to lie to protect my brother. They were never willing to tell the truth to protect us."
Some royal family members seemed to silently clap back at the Netflix documentary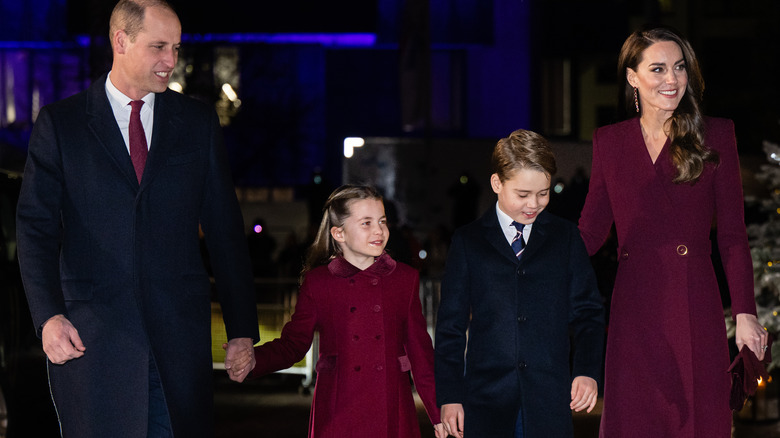 Samir Hussein/Getty Images
While Buckingham Palace hasn't publicly commented on the contents of Prince Harry and Meghan Markle's Netflix documentary, it did appear as if some members clapped back at one of the allegations Meghan made in one of the episodes.
Meghan said that she put a lot of thought into her fashion choices while she was a member of the royal family and that the muted tones she chose to wear were intentional. "To my understanding, you can't ever wear the same color as Her Majesty if there's a group event," she explained in the documentary.
It seems the royal family might've been binging the docuseries along with the rest of the world, because not long after it dropped, Princess Catherine, Princess Charlotte, and Zara Tindall were all seen wearing the exact same shade of burgundy as they stepped out for a 2022 Christmas concert at Westminster Abbey. Naturally, everyone noticed, and outlets like The Mirror speculated that the royals wanted to show the public that they shouldn't believe everything Meghan and Harry said in the documentary. Even Zara's husband, Mike Tindall, and Prince William wore burgundy ties. King Charles III and Queen Camilla did not join the fray. Charles wore a classic suit with a light blue tie while Camilla was dressed in a cream-colored coat.
Camilla invited Piers Morgan and Jeremy Clarkson to a Christmas lunch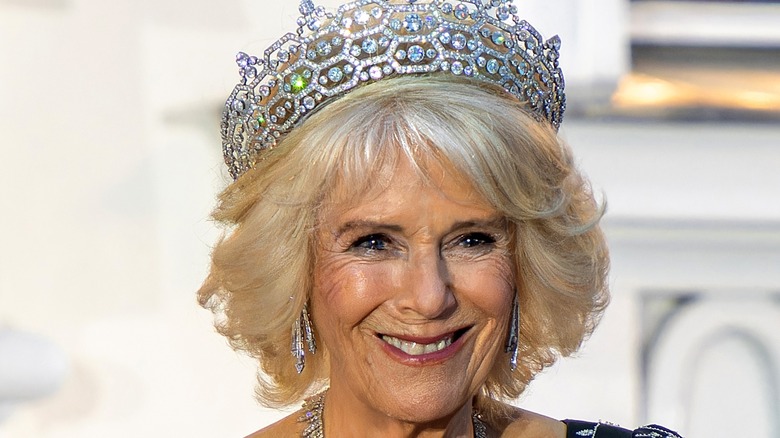 Heide Pinkall/Shutterstock
It's no secret that both Piers Morgan and Jeremy Clarkson loathe Meghan Markle. One would think that the palace would want nothing to do with them, but then Queen Camilla made the dire mistake of inviting both reporters to the 2022 Christmas lunch at Buckingham Palace. Gasp!
It might've been the season to be jolly, but King Charles III found his household facing an omnishambles shortly before Christmas arrived. The lunch, which was attended by upstanding guests like Dame Maggie Smith, Dame Judi Dench, and Claudia Winkleman, was tainted in the public eye by the presence of Morgan and Clarkson. Their presence alone raised some eyebrows, but then Clarkson went ahead and published what was possibly one of the most derogatory articles about Meghan to date the very next day.
"I hate her," Clarkson wrote in a column for The Sun, adding, "I hate her on a cellular level." He then rambled on about how his hate for Meghan keeps him up at night, "grinding my teeth and dreaming of the day she is made to parade naked through the streets of every town in Britain while the crowds chant, 'Shame!' and throw lumps of excrement at her." Might we suggest a mouthguard, sir? Several people denounced the piece, including Clarkson's daughter. The palace remained silent.
Prince Harry released an explosive tell-all memoir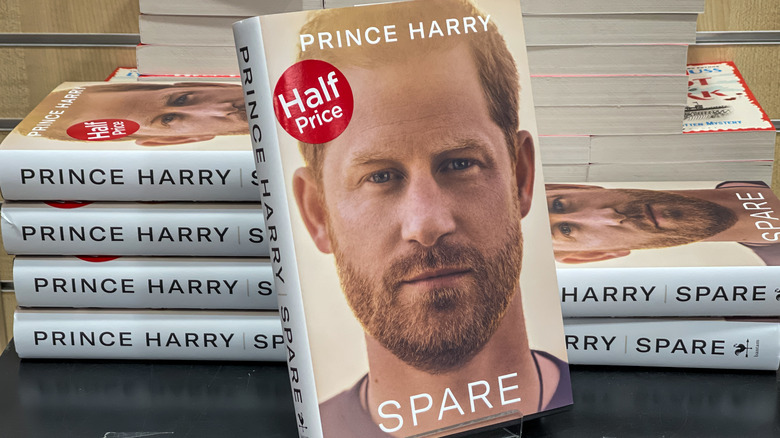 Matt Cardy/Getty Images
King Charles III barely had time to heave a sigh of relief after the buzz surrounding Prince Harry and Meghan Markle's Netflix documentary died down before Harry dropped yet another bombshell: his tell-all memoir, "Spare."
In the book, Harry gives the world a glimpse of what Charles is like as a father, and it's clear that, despite their differences, Harry and Charles have had a loving relationship for most of their lives. It wasn't always smooth sailing, however. Harry also revealed that Charles once made a hurtful joke, which referenced the media speculation that Harry isn't actually Charles' son but James Hewitt's, with whom Princess Diana had an affair. During a public engagement, Charles joked to Harry, "Who knows if I'm even your real father? Perhaps your father really is in Broadmoor, my dear son!" Harry also revealed that he and Prince William "pleaded" with Charles not to marry Camilla.
Aside from chronicling his relationship with his father, Harry described a nasty fight he and William had over Meghan. Harry alleged that William physically attacked him, after which he told the Prince of Wales to leave. Harry also revealed that his family members weren't the first to tell him his grandmother had died — as he was traveling to see them, Meghan alerted him something had happened via text, and he saw the news on the BBC.
Charles evicted Harry and Meghan from their U.K. home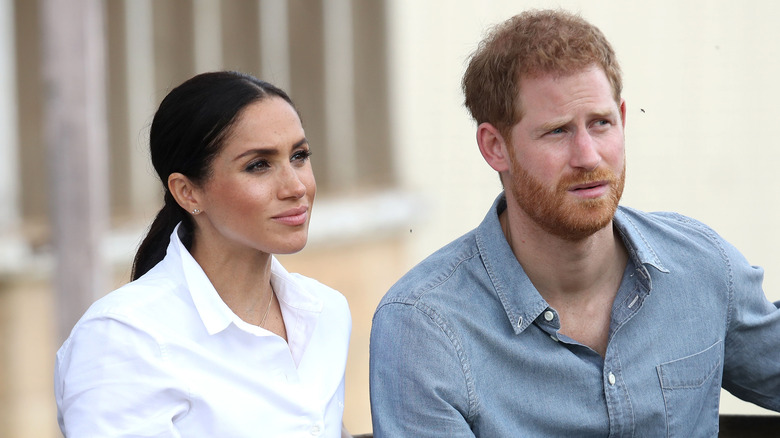 Chris Jackson/Getty Images
It might be safe to say that Prince Harry's memoir, "Spare," caused quite a stir within the royal household, and soon after the book hit shelves, news broke that King Charles III had asked Harry and Meghan Markle to vacate Frogmore Cottage. The couple used to live there while they were working royals and used it as a home base whenever they visited the U.K.
According to The Sun, Charles set the eviction in motion shortly after Harry published his tell-all memoir, offering the cottage to his brother, Prince Andrew, instead. Many thought this a little ironic, given that Andrew has caused plenty of trouble for the royal household in the past couple of years due to his infamous friendship with convicted sex offender Jeffrey Epstein. Regardless, sources told The Sun that Charles evicting the Sussexes from their U.K. home, which was initially a wedding gift from Queen Elizabeth II, signaled nothing but trouble. "This surely spells the end of Harry and Meghan's time in the U.K.," one insider claimed. Others speculated that this latest development meant Harry and Meghan could forget about receiving an invite to Charles' coronation ceremony taking place later that year.
Meanwhile, Harry and Meghan appeared unruffled by the eviction, with their spokesperson telling The Times that they weren't resisting the king's request. "It's not going to work out for them there, and that's okay," their spokesperson said.
Meghan declined the invitation to Charles' coronation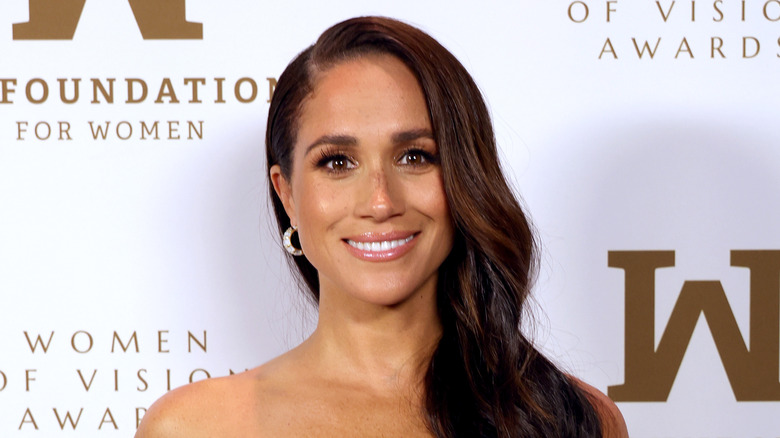 Kevin Mazur/Getty Images
Many seemed to think that Prince Harry and Meghan Markle wanted to be invited to King Charles III's coronation, but then Meghan shocked the world when it was revealed that she would not be in attendance at Westminster Abbey on May 6, 2023, to witness her father-in-law ascending the throne.
Tabloids immediately started speculating about why Meghan had turned down the invitation, with some, like The Mirror, claiming that it had something to do with their correspondence after her and Harry's explosive interview with Oprah Winfrey. The Telegraph reported that Charles reached out to Meghan after the interview, saddened by the couple's gradual estrangement from the royal family. He and Meghan also discussed the comments that were made about Archie's possible skin color, to which Meghan replied that she'd like to address the "unconscious bias" some members of the monarchy seem to have. The exchange, according to The Telegraph, was warm and pleasant. Meghan's spokesperson told People that the idea that Meghan declined the coronation invite over a letter sent years before was untrue. "We encourage tabloid media and various royal correspondents to stop the exhausting circus that they alone are creating," the spokesperson said.
Meanwhile, The Telegraph reported that one of the reasons Meghan stayed home was because it was her son Prince Archie's birthday on May 6, and because she suspected her attendance would cause controversy and take media attention away from the main event.
Harry didn't stay for the coronation's after-party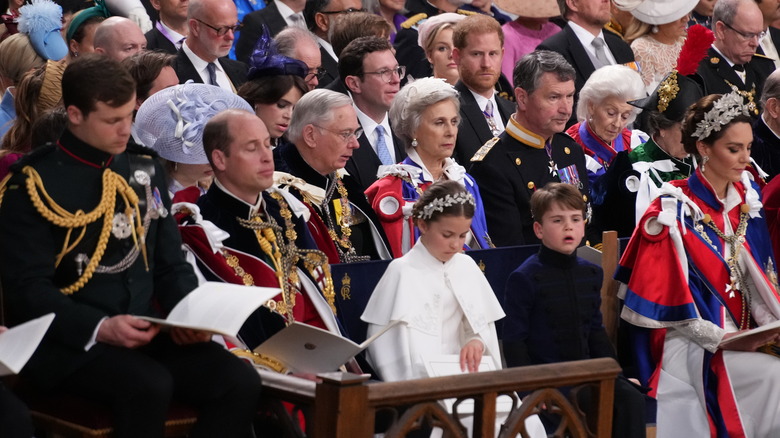 Wpa Pool/Getty Images
As royal fans already know, Prince Harry didn't play any significant role in King Charles III's coronation ceremony because he's no longer a working member of the royal family. This extended to post-coronation activities like the royal procession and the new king and queen's first historic balcony appearance. It makes sense, then, that the prince decided to make a duck for it instead of awkwardly standing around by his lonesome. The Telegraph reported that Charles extended an invitation to his youngest son to feature in the new family portrait, but Harry was eager to get home to his own son's birthday celebrations and forfeited the photo session.
The BBC reported that, moments after the coronation ceremony ended, Harry was seen making his way to a waiting car outside Westminster Abbey. A source told Page Six that the prince had always intended to leave early. "Harry's going to make every effort to get back in time for Archie's birthday," the tipster said. 
Meanwhile, Harry's seating during the ceremony was making headlines. Page Six claimed that Harry being seated in the third row was one giant public snub. "Harry has not been told where he's sitting yet, but I highly doubt that [it's as far back as the 10th row]," an insider told the outlet prior to the ceremony. Harry never actually met with Charles during this quick trip, and apparently, he didn't mind the apparent seating snub nearly as much as the public did.
The venue of a coronation party was vandalized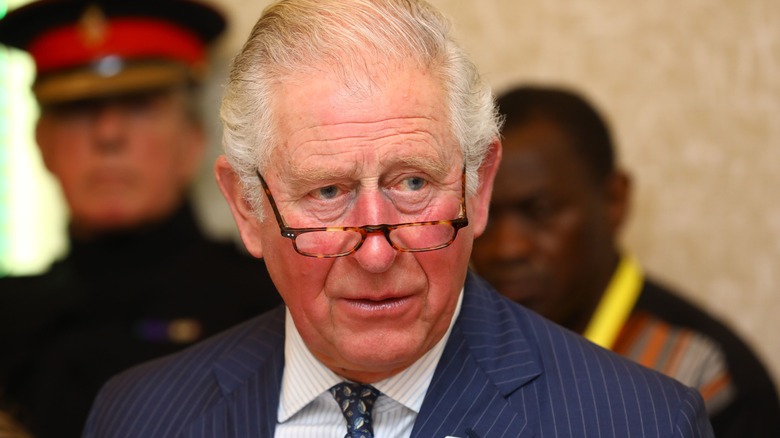 Tim P. Whitby/Getty Images
While King Charles III was getting ready for his coronation ceremony and the grand after-party, some unknown pranksters were gearing up to throw a wrench in some of the public's party plans.
On May 4, two days before Charles was set to officially be crowned the new king, residents in Bath woke up to a rather, erm, shocking surprise. On the picture-perfect lawn of the Royal Crescent where a fun coronation party for the public was set to be held, some pranksters mowed a penis that even the passengers on a passing plane would've found hard to miss. Naturally, the phallic symbol made headlines, and people quickly took to Twitter to weigh in with their two cents. "This is the best thing that could've happened to this coronation," one person tweeted. Another user blamed the aliens, to which another replied, "Or the ghost of Queen Elizabeth." "King Charles has always been a prankster but I did not expect him to do this," another quipped.
Law enforcement didn't seem to be making speedy progress when it came to figuring out who the culprits were. How the pranksters managed to vandalize the lawn in the middle of the night without anyone noticing remains a mystery.
Prince Harry made history by taking the newspapers to court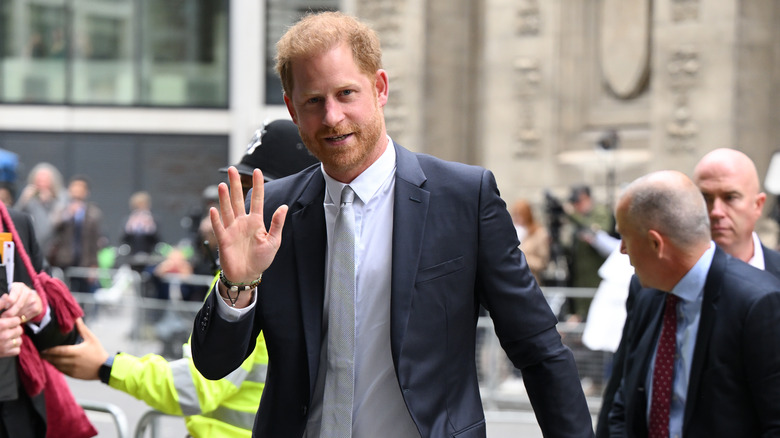 Karwai Tang/Getty Images
It's no secret that Prince Harry and Meghan Markle's relationship with the press is more than just a little complicated. The couple talked extensively about the challenges they faced because of the media during their time as working royals, with Harry going as far as to say that the British tabloids were responsible for Meghan's miscarriage.
It's no surprise, then, that Harry took legal steps against Mirror Group Newspapers, which owns the newspapers that have been publishing royal news and scandals since their inception, and Associated Newspapers, which publishes The Daily Mail. Harry sued the former for unlawful information gathering and the latter for breaches of privacy. Harry didn't initially appear in court but did provide evidence in June 2023, becoming the first senior royal to do so since Edward VII in 1890, who appeared in a slander trial (clearly, nothing much has changed since then).
Harry and Meghan have also publicly condemned the way photographers invaded their privacy, and in May 2023, the couple's spokesperson released a statement regarding a "near catastrophic car chase" the couple experienced while in New York for an event. Several vehicles pursued them for some time, but luckily, the chase didn't result in any accidents. The incident made headlines, given that Harry's mother, Princess Diana, died in an accident that resulted from a paparazzi chase.
It came to light that the royals prevented Harry from filing lawsuits in the past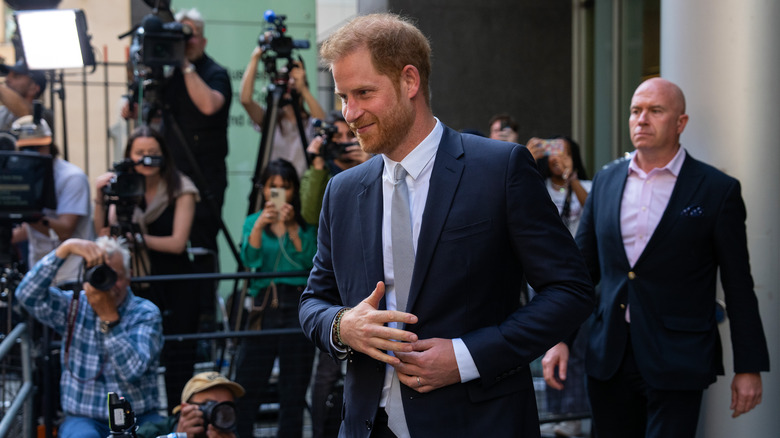 Carl Court/Getty Images
In one of the court filings in his ongoing lawsuit against the press, Prince Harry revealed that the royal family is the reason he didn't file a lawsuit against the tabloids in the past. He said he learned about a secret agreement between the royal family and News Group Newspapers, which publishes The Sun, which curtailed an earlier attempt to sue them. Under this agreement, the family agreed not to bring legal action and settle out of court. Harry grew frustrated with the lack of progress in the case.
This is probably why King Charles III reached out to Harry to try and convince him to drop the lawsuit when he finally decided to take legal action against the company in 2019. "I was summoned to Buckingham Palace and specifically told to drop the legal actions because they have an 'effect on all the family,'" Harry revealed to the court, adding, "This was a direct request (or rather demand) from my father, Edward Young, and my father's private secretary, Clive Alderton" (via the BBC). Young was Queen Elizabeth II's private secretary.
Harry alleged that The Sun had hacked Prince William's phone in the past. William, however, settled with the newspaper outside of court and received a massive settlement in return. Apparently, this is in line with the agreement the palace has with the publisher.